Hi-van is supported by its audience. When you purchase using our links, we may earn an affiliate commission (no added cost to you). Learn more
As the first members of Generation Z reach their twenties, many are seeking out alternative lifestyles. While nomadic life on the road may seem carefree, van living can be as expensive as stationary living. However, with budgeting and planning, van life can be an exciting and sustainable way to tour the country and pursue a free-spirited lifestyle.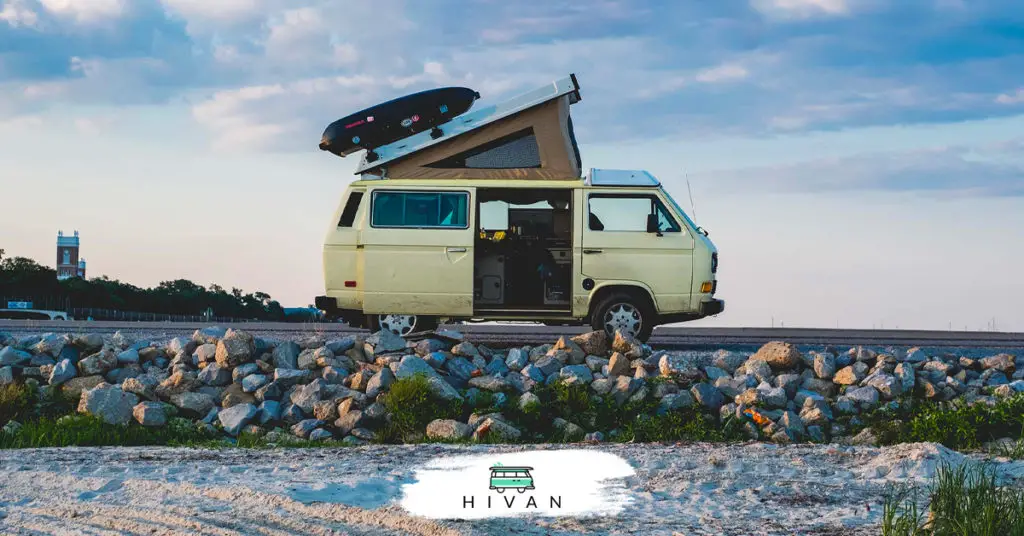 Here is how to financially prepare for vanlife: 
Keep a careful budget.
Manage your goals.
Figure out your expenses and trim as needed. 
Start saving right away. 
Get ready to travel light.
Convert the cargo van yourself. 
Earn income while you're on the road.
Plan your route along with your budget.
Clear as much debt as possible.
Always have a safety net of savings.
With planning, van life can be an incredible opportunity both to see the country and to cultivate an online following. Popular van lifers can support their lifestyle by posting updates to their followers and promoting products for sponsorship. Keep reading for more details about how to financially prepare yourself for successful, sustainable van life.
1. Keep a Careful Budget
The first step towards a successful nomadic van lifestyle is a well-planned financial outline. Money makes the world go round, even the world of camper vans. According to Always the Adventure, budgeting is a crucial element of van-living.  
Managing money is difficult, especially for young people in the modern economic climate. As more of the world's market becomes reliant on gig economy/remote workplaces, the methods of money management must evolve to match.
Let's take a look at a few tips on how to create and manage a budget so that you can effectively start saving towards your vanlife goals.
Personal tip: One amazing and free tool I love to use is this Google Sheet tracking tool made by Deborah Ho. If you like it, don't hesitate to comment and share her youtube videos.
Identify Your Sources of Income
If you have a traditional job or a single source of income, it makes budgeting much easier. If you have multiple jobs or if you're a freelance worker, however, it can be difficult to keep track of where your money comes from. 
Keeping track of how much you make on a weekly/monthly basis from each source can be helpful in allocating money to expenses and savings. If you have a single source of income, it is still a good idea to familiarize yourself with this method of budgeting, as earning an income from the road will almost certainly demand it. 
Track Your Spending 
Identifying your own spending habits will be a necessity to realizing the van life goal. Grouping your expenses into categories can help to identify where spending can be decreased.
Here are some examples of spending categories that are helpful for money management: 
Groceries 
Transportation 
Dining out
Entertainment
Work expenses
Rent/utilities
Subscriptions
Drinks/alcohol 
The rate at which your savings increase depends on your own spending habits. 
If you are motivated to financially prepare yourself for a grand van adventure, you can accelerate that process by making sacrifices in your daily spending habits. 
Be Willing To Change Bad Spending Habits
It's easy to fall into spending patterns without realizing it. 
Expenditures such as overlapping monthly subscriptions and convenient delivery services are easy to normalize into everyday life. It is easy to forget just how expensive those services become over time. 
By critically evaluating your own spending habits and adjusting them to meet your vanlife objective, you can put yourself on a track towards realizing your dream. At the same time, saving towards an achievable lifestyle goal will help to establish money management habits that will be beneficial before, during, and long after your van life experience.  
---
2. Manage Your Goals 
Influencers capitalizing on the van life trend promote a luxuriously bohemian lifestyle. Before committing to van life, it is important to acknowledge that not every experience will be as glamorous as it appears in the photos. 
If you don't have unlimited funds to bankroll your van life or millions of followers to support your adventures, it doesn't mean you cannot enjoy the splendor of a road trip from the convenience of a van.
However, van living on a budget is a good deal more rustic and often less photogenic than the glamorous travel shots filling the feeds. It's important to manage your expectations based on your budget. 
Design your van life excursion based on your resources and means. 
Trip Duration 
If you are preparing to spend a year living in a converted camper van, you will have different requirements and priorities than someone who is planning to live permanently in their van. How you prepare for the trip and the severity of the budgeting and financial planning will depend on how long the trip is meant to be. 
Lifestyle 
If you want a way to tour the country affordably, your van life will look a little different than that of the more glamorous influencers and van lifers. Utilizing free resources whenever available, such as camping in the parking lot of a Wal-Mart or another establishment that permits overnight parking is an effective way to save money. 
However, van life in a parking lot may not satisfy the desire many potential van lifers have for romantic adventures and natural beauty. 
Solo/Couple/Family Vanlife
The number of people in your van will also affect how you prepare. 
While more people make a merrier party, they also provide more mouths to feed and extra expenses on the balance sheet. Traveling alone is naturally the most affordable option, with only one person to consume resources and spend money. 
However, it also comes with a number of safety risks that discourage many van lifers from going solo. 
Traveling with adults can provide potential van lifers with multiple and diverse sources of income, making the trip more affordable and ultimately achievable. Whether you're traveling with friends, couples, or traveling roommates, it helps to have someone else sharing the bills. 
Family van living is less common for the simple reason that campervans are small. 
Families with multiple children tend to choose trailers or RVs for their additional space and accessories. Families also tend to be more stationary, unless the children are doing virtual learning in place of school, which is more common since the COVID-19 pandemic. 
---
3. Figure Out Your Expenses and Trim As Needed
While the bohemian aesthetic of van life appeals to many, the initial cost prevents most from even starting. If you have the means to get started, then anticipating your expenses on the road will help you plan your budget and trip. 
Here is a list of some of the largest expenses associated with van living, along with their rough monthly costs:
Gas and fuel: $800/month
Food: $600/month
Recreational activities: $200/month
Van repairs and maintenance: $75/month
Auto Insurance: $130/month 
Campground expenses: $40/month
Showers: $25/month
Miscellaneous: $200/month
Internet access: $20/month
These cost averages are based on data from Far Out Ride. 
Based on the above averages, you will need to earn at least $2,100 per month just to break even. However, if you don't earn anywhere close to that, but still want to live on the road in your van, you will need to trim down expenses as much as you can.
Related Articles:
How much it really costs to put solar on a van?
How Much Does Van Life Cost Per Month? Full Breakdown
How Much Does It Cost to Travel the US in a Van?
How Much Does It Cost To Get a Van?
The heftiest lump sum you will face before you can start out on your van life journey is the acquisition and conversion of the van itself. Camper vans are converted from traditional cargo vans, and the Mercedes-Benz Sprinter is a popular option to start with, which will be used as an example throughout the article.
A 2021 Mercedes-Benz Sprinter cargo van, unconverted, starts at roughly $35,000. Professional conversion of the van will typically cost another $30k-$35k. Including all the trappings and luxury features, the total conversion cost can reach as high as $200,000 or more. 
If you are skilled in construction and installation, you can save a lot of money and make van life a more practical possibility by converting the cargo van into a camper yourself. However, many deem the expertise and quality assurance of professional conversion as necessary. 
How Much Does Van Life Cost per Month?
According to data from Bearfoot Theory, van life costs an average of $800-$2,000 per month. Because the expenses depend on the individual and circumstances of the trip, however, it is difficult to pin down exactly how much van life will cost for any one person or group. 
The monthly expenses of van life will vary depending on the individual. Some factors may be unpredictable, too, such as vehicle malfunction or emergencies. To get a general idea of how a real van-life budget breaks down, check out this one from Far Out Ride.
Gas and Fuel
Trekking cross-country in a van consumes a lot of gasoline, so potential van lifers should provide roughly $200-$600 in their monthly budget for fuel. 
As gas prices continue to trend upwards, however, that number will increase steadily. 
Van lifers can reduce their monthly gas expenses by spending longer periods at each destination and traveling by foot, bicycle, or public transit whenever possible. 
Food and Drink
Most campervans have either a travel stove built into them or a place to plug in a hot plate, so van lifers have the option of cooking their own meals. This will help keep the cost of food down, as buying from grocery stores and cooking yourself is cheaper than relying on dining out or ready-made food. 
Between restaurants and groceries, van lifers can expect to spend roughly $400-$600 per person per month on food. 
That said, part of the draw of van life is experiencing the different cultures of the places you visit, and that means trying the local food and drink. When budgeting, potential van lifers should allow room to experience the places they visit the fullest extent possible. 
Recreational Activities
Similar to food, part of the joy of van life is engaging with new communities wherever you go. 
Taking part in recreational activities often incurs new expenses, for tickets, supplies, gear, as well as other needed items. If you don't allow for recreation in your budget, it will dampen the adventurous nature of the trip. 
Van lifers can reasonably expect to pay about $200 per month for recreational activities. 
How much you spend on recreational activities depends on your budgeting abilities and your interests.
Finding free activities, such as hikes or bike trails, can free up money in the trip's budget to be spent on other necessities or even to prolong the life of your van life escape. 
Van Repairs and Maintenance
In order to prevent major damages to the camper van, it is crucial for van lifers to keep their vehicles regularly maintained. This means frequent oil changes and tune-ups so that the van remains sound and the adventure can continue. 
Keeping on top of vehicle maintenance tacks additional costs on to the already high monthly expenses of van living. Although it is unlikely you will need mechanical work done every month, you need to put aside money for vehicle maintenance in any given fiscal month. 
On average, van lifers spend $1,000-$2,000 per year on maintenance. It's important to note that this number does not include the potential cost of repairing incidental damages. 
Auto Insurance
Making sure that your camper van is adequately insured is crucial to van living. 
Your auto insurance policy covers the vehicle, but may not cover your belongings, work tools, computers, or other important items.  Check with your insurance agent to determine what coverage is best for your camper van and for your needs.
Related Articles:
How Much Does Insurance Cost for a Van Conversion?
5 Reasons Why You Need Campervan Insurance
Are Campervan Taxes Cheaper Than Regular Vans?
Campground Expenses
The monthly cost of campgrounds will vary depending on the location, the season, and the rate of a business. Van lifers can expect, however, to pay about $40 per month to cover campground fees. 
Picking out the right campground to park your van can make or break your budget. Potential van lifers should research campsites and compile a list, balancing cost against location desirability. 
If you're looking for ways to save money on the road, it can be helpful to choose a campsite further away from your destination point, as they tend to be cheaper. This allows van lifers to stay in a single campsite for a longer amount of time, taking day trips from there to see the local destinations. 
Showers 
Most campervans do not include showers, differentiating them from RVs. 
The importance of hygiene on the road is ultimately up to the individual. However, most van lifers do eventually choose to shower, so shower expenses must be included in the budget. On average, van campers spend roughly $15-$25 per month on showers. 
If you belong to a franchise gym, such as 24hour Fitness, you may be able to shower for free wherever there are locations. Other van campers utilize outdoor beach showers or coin-operated camp showers to keep clean on the road. 
Internet Access  
If earning an income on the road is part of your van life plan, then you'll need to consider how to access the internet on your trip. Unlimited data plans can be worth their monthly prices, so many van lifers use cell service to turn their phone into a mobile hotspot. 
Some van lifers use MiFi, or mobile WiFi hotspots, which can be carried in the cab and provide internet for the entire vehicle. MiFi, like WiFi, has an initial purchase price followed by a monthly bill to the carrier. 
Depending on the carrier, MiFi devices can cost from $100-$500, and monthly plans range from $5 per month to $25 per month.
If you make a purchase, you support Hi-van.com by allowing us to earn an affiliate commission (no added cost for you).
The Verizon MiFi Jetpack is a good example of a mid-range MiFi device, found on Amazon.com. This product allows you to connect up to 15 devices, and it provides universal charging to charge your devices while on the road.
Other van lifers get by utilizing free public WiFi provided for customers in cafes, restaurants, or establishments.
Related Articles:
How to Get Internet in Areas Without Service
Can You Put Wifi in a Van?
7 Cheap Unlimited WiFi Options for Van Life
---
4. Start Saving Right Away
If you're setting out on the road in a van, it's crucial to have a cache of savings to get you started. Even if you have a plan for how to earn an income on the road, it is recommended that each member of the van life party maintain a financial safety net of at least $10,000 per year.
This will guard against unexpected expenses such as break-down or medical emergencies. 
If you're still in the planning stages of your van life excursion, it's crucial to start saving right away. Save what you can afford every month, even if it's not a large amount. Over time, the savings will add up, and you will find yourself nicely cushioned when you set out. 
Save Intelligently and Invest
There are differing theories about what is the most effective and secure way to save money. Channeling your monthly savings into a low-risk investment is a good way to grow your nest egg at a faster rate than provided by most banks.
This keeps your money working for you while you're preparing and eventually living your van life adventure. Investing is inherently riskier, however, as there is always the possibility of market fluctuation irrevocably draining your savings.
That risk can be mitigated by choosing stocks that are not highly volatile or handing your portfolio over to a stockbroker agency.
Related Article:
How Much Money Should You Save Before Van Life?
---
5. Get Ready To Travel Light
Life on the road means downsizing everything, from sleeping quarters to compactable miniature appliances. If you're getting ready to live in a campervan for an indefinite amount of time, chances are you'll have to scale down your belongings, which include wardrobe, personal effects, and furniture.
Based on storage space alone, you will have to pack efficiently. Every article of clothing must have a necessary function, or it isn't worth the precious storage space it takes up. 
In terms of finances, holding a garage sale or selling unneeded items and furniture online can not only help you downsize for life on the road but can also help to offset the cost of the van and conversion. 
---
6. Convert the Cargo Van Yourself
If you're handy with tools and have the means to do so, doing your own conversion can save you a significant amount of money and accelerate you, at least financially, towards being ready for the road. 
DIY van conversion typically costs between $5,000 and $15,000.
Compared to the cost of professional conversion, DIY is the more affordable option by far. Doing your own conversion allows potential van lifers to put that money towards other supplies and necessities. 
The trade-off, however, is that DIY conversion often results in lower quality standards of the finished product. Professionally converted camper vans are also less likely to suffer structural damage, therefore negating the cost of future repairs.
Related Article:
Is a Van Conversion Worth It? Costs and Benefits Compared
How Much Does It Cost to Convert a Minivan to a Camper?
---
7. Earn Income While You're on the Road
Once you've got your budget plan in place and you've managed the van conversion, the key to sustainability as a successful van lifer is earning an income while you're on the road. The Wayward Home supplies
There are a variety of ways  in which van lifers can make money while they're traveling: 
Remote workplaces: More and more workplaces are adapting to accommodate telecommuting or remote working. This allows for steady income while you're on the road. 
Freelance: Freelance or gig work is an increasingly popular option for nomads and stationary dwellers alike. The independence of freelancing allows you to earn from anywhere, even a van.
Corporate sponsorship: If you have cultivated a following, either on social media or some other platform, then corporate sponsorship might be a means of earning income. By promoting products in association with the van lifestyle, you can turn your adventure into a marketing tool and means of revenue. 
Crowdfunding: Many influencers, provided they have a large enough following, can at least partially fund their nomadic van lifestyle with donations from their fan base. 
Campground job boards: Slightly less glamorous than being an influencer, picking up part-time jobs while you're staying in an area can help offset the cost of van living. Campgrounds often have boards with job listings posted either for the local area or the campground itself. 
Busking: Busking is "the activity of playing music in the street or another public place for voluntary donations." Playing for tips, while not a very steady or reliable source of income, fits nicely with the alternative lifestyle and aesthetic van life is known for. 
Having multiple sources of income across diverse markets helps maintain at least some economic stability so that you can enjoy living the van life without constantly worrying about the money.
Related Article:
Van life how to make money on the road - 40+ ideas
How to Live on the Road With No Money (8 Tips)

---
8. Plan Your Route Along With Your Budget
Where you're going and how you're getting there will affect how you manage your budget. Planning your route ahead of time may take away some of the spontaneity of your van life adventure, but it can save you money and thereby prolong the adventure in the long run. 
Knowing the economic landscape of your destination is crucial for effective budget planning. For example, in the budget calendar provided by Far Out Ride, the trip took place through Canada, which has socialized medicine.
Based on that information, money that would have been set aside for medical insurance/emergency situations is free to be reallocated to other expenses and luxuries. 
Creating a trail of affordable campgrounds to follow on your expedition can also be helpful. At the end of a long day of driving, nobody wants to spend time comparing campsite prices.
By planning out your campsites when you're planning the budget, you can make an economically informed decision without the pressure of a ticking clock or exhausted passengers. 
---
9. Clear as Much Debt As Possible
The mobility and nomadic nature of van life make it difficult to manage to pay off debts while you're on the road. In order to avoid missing payments and incurring higher rates and penalties, prospective van lifers should settle as much of their debt as possible. 
Once you're on the road, avoid acquiring new debt. Use cash or debit as much as possible. 
Van life presents an opportunity to live more simply, an atmosphere that is ruined by the looming presence of debt and credit scores. 
---
10. Always Have a Safety Net of Savings
Before you strike out into the wide world in your decked-out camper van, it's essential to make sure you have some money set aside in case of emergencies. 
Dedicate a small portion of your monthly income to an emergency fund, just in case. This can be done leading up to the trip and should continue for the extent of your journey if you are earning income on the road. 
Setting aside money for an emergency situation could mean going without some day-to-day comforts and luxuries, but it's worth it to be prepared in case the worst happens. 
---
Van Life Can Be Cheaper Than Stationary Living
The image of van living is one of simplicity and implied affordability. While that can be the case, the quality of life required to make van living significantly more affordable than renting an apartment is more rustic than most people can handle for long. 
For most, and in order to achieve the #vanlife lifestyle as popularly portrayed on social media, van living is just as expensive as stationary living, if not more so. 
However, if you are willing to live pretty rough, sell the majority of your worldly belongings and live freely on the highways of the world, you can avoid many of the living expenses incurred by renting or home owning. 
---
Conclusion
Van life, while exuding all the bohemian charm of rustic living, requires careful financial preparation in order to be sustainable. If you are planning a camper van excursion, it is crucial to create a strict budget and plan to earn income while you're traveling.
After the initial price of the campervan and conversion, van living costs about $800-$3,000 per month, about the same as renting in most major cities.
By understanding the expenses associated with van life before you take off, you will be better equipped for success once you're on the road.