Hi-van is supported by its audience. When you purchase using our links, we may earn an affiliate commission (no added cost to you). Learn more
Van life and full-time travel have gained quite a reputation amongst wanderlust-full people. Having the flexibility to get up and go whenever you like and see any type of scenery you choose is enticing for many. But what about showering, and how's that supposed to work when you're on the road full-time?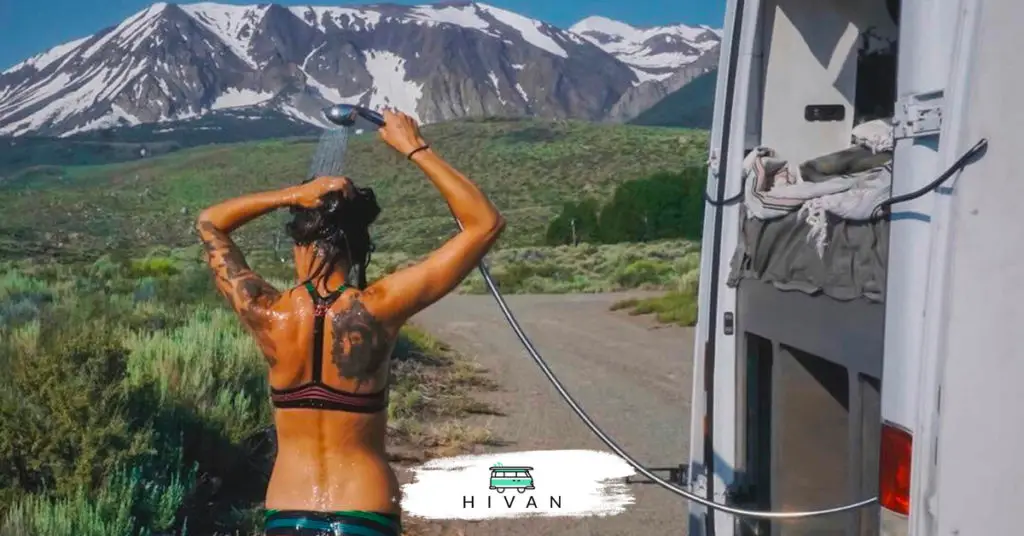 You can shower on the road by using the following places:
Gyms and recreational centers
Campgrounds
Natural water sources.
Truck stops
Portable camping showers
Splash pads
Community pools
Beaches with rinse showers
Ask a friend
Make your own DIY shower
In this article, I'll go into more detail about all of the different ways to shower on the road, how to make your own shower if you choose, and what you need to shower while you're traveling successfully.
---
1. Gyms and Recreational Centers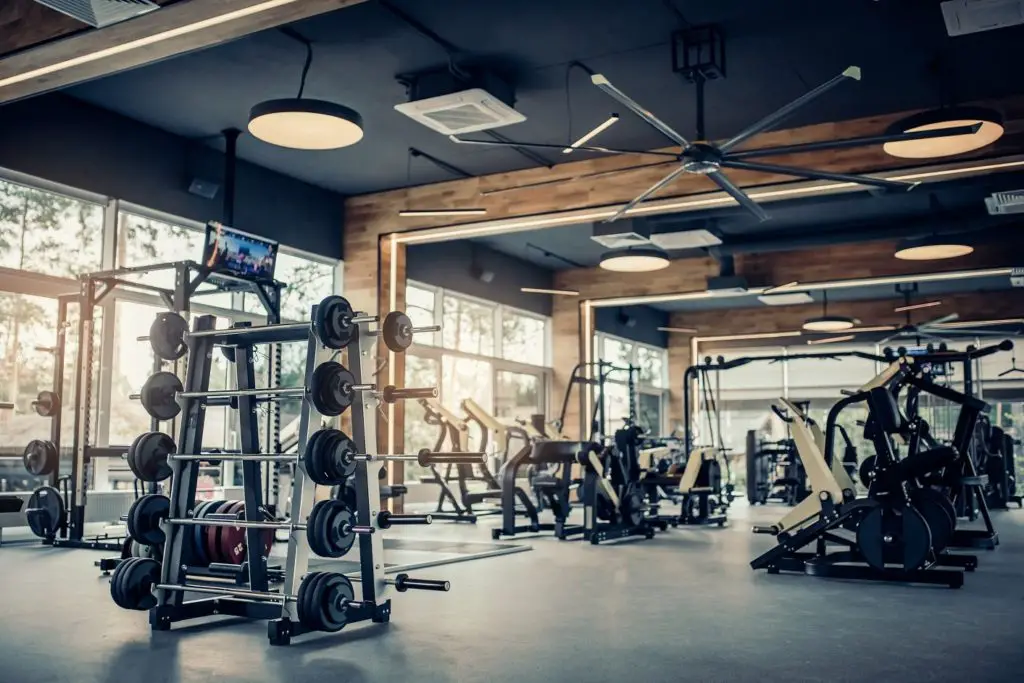 Many van lifers and full-time travelers purchase gym memberships specifically for showering on the road. 
All major gyms across the country have an area dedicated to showers as well as other amenities that may be enticing. The only caveat here is that you need to choose a gym membership compatible with other locations across the country. 
If this is the route you want to take, consider using one of these widely available gyms: 
Planet Fitness
24 Hour Fitness
Cross Fit
LA Fitness
Equinox
Anytime Fitness
Each of the gyms listed here has locations throughout the United States. Others, like Equinox and Anytime Fitness, are available in some Canadian areas too. 
Pros of Gym Showers
They're widely available in the United States.
Many facilities have saunas and other amenities.
Many offer free trials to prospective members.
They're relatively inexpensive.
You can work out too if you enjoy doing so.
Cons of Gym Showers
They may not be available in your specific location.
Although inexpensive, gym memberships still cost money. 
Personal note:

 There are many public showers across the United States, many of which are free. However, some may charge a small fee. You can check out public showers by state here.
---
2. Campgrounds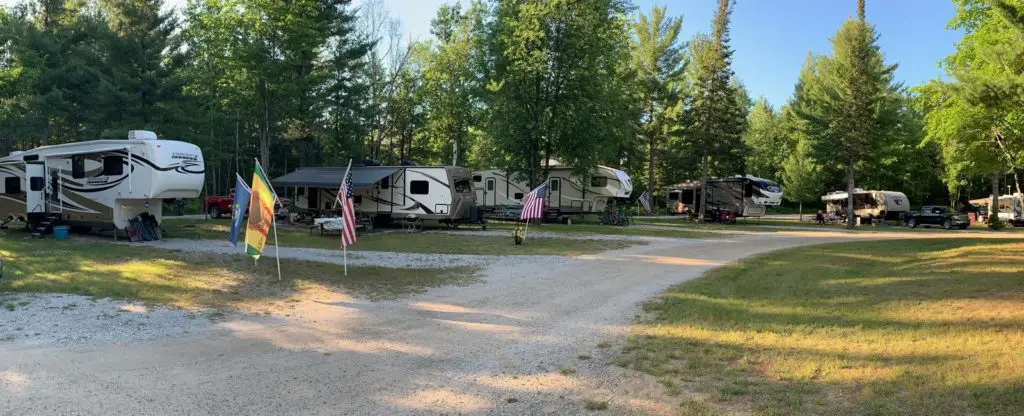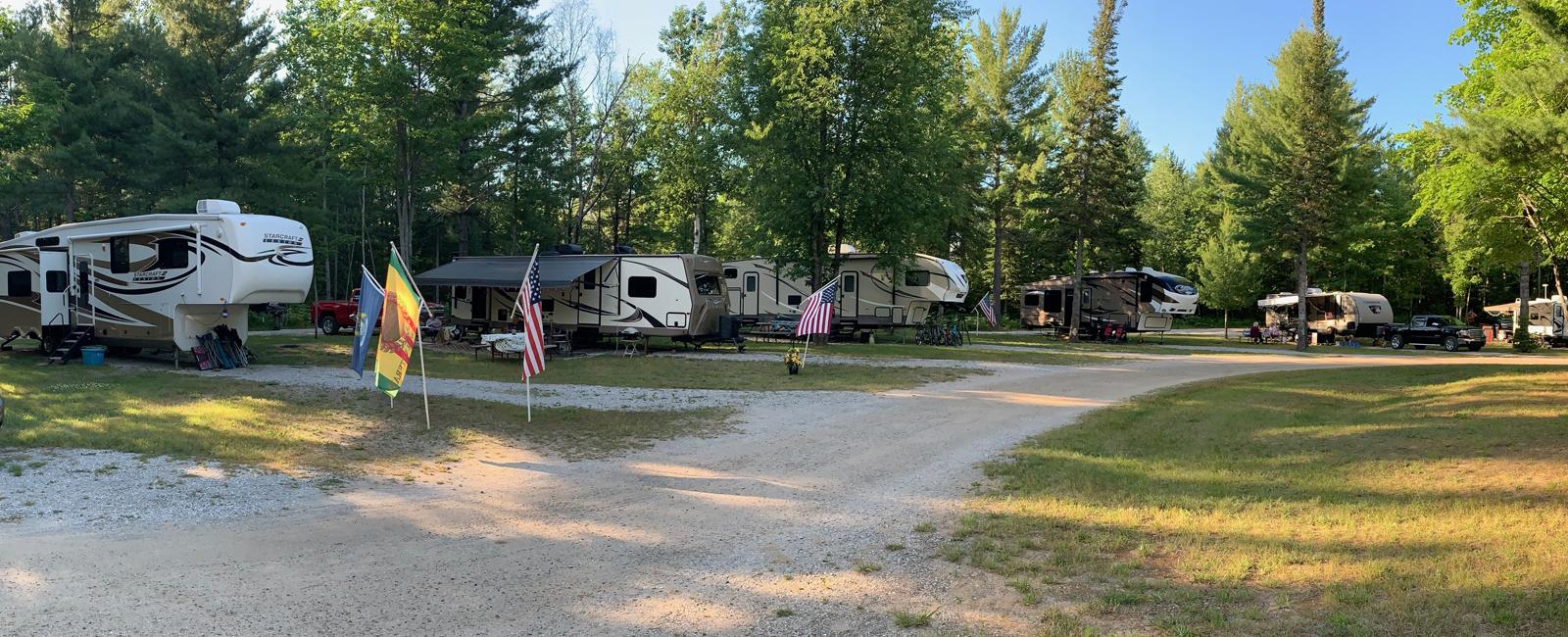 Cross-country traveling means you'll have access to several campgrounds at your disposal. Privately owned campgrounds are guaranteed to have a shower. However, you will likely need to pay for at least one night of camping to use it. 
On the other hand, you may come across a state-owned facility with off-site parking. If that's the case, you could park somewhere else for free and walk into the grounds to use their shower.
Pros of Campgrounds
You can park there and stay overnight when you need a break.
All private-owned and most state-owned facilities have showers available. 
There are plenty of campgrounds located throughout the country.
If you stay overnight, you can enjoy any campground-run activities and events.
You can meet other travelers easily.
Cons of Campgrounds
You have to pay to stay there for at least one night.
Overnight prices could be costly.
---
3. Natural Water Sources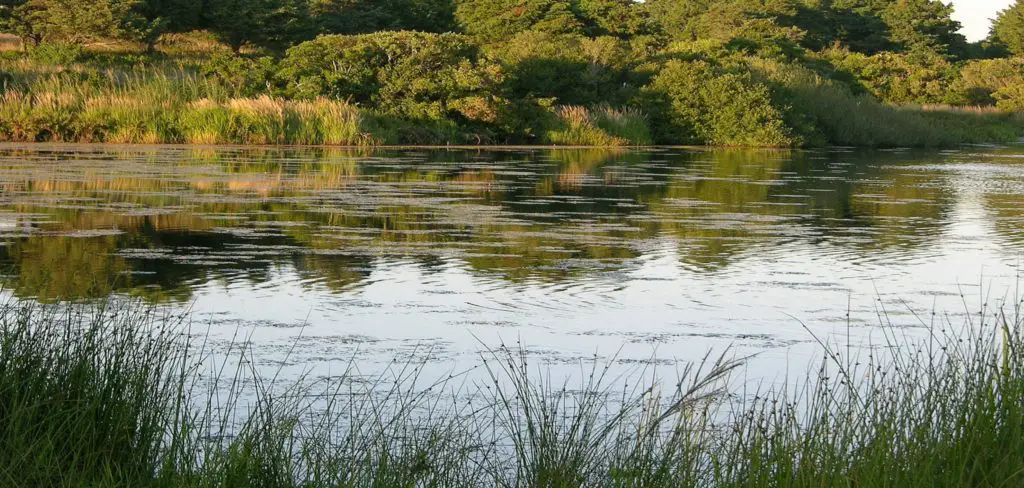 If you're traveling full-time throughout the states, chances are high you'll encounter a few natural bodies of water. 
Natural water sources are a great way to get a shower/bath, whether that be the ocean, a lake, or a river. The only major downside to this is that the ocean will have a large amount of salt, which could dry out your skin.
Another thing to keep in mind here is that the products you use to clean yourself should also be eco-friendly. Don't use any product that could cause harm to the ecosystem there.
Pros of Natural Water Sources
They're free to use.
You don't have to worry about treatment chemicals.
It's a great way to reconnect with nature.
You can also wash your clothes and other items in it.
There's no wait time to get a public shower.
Cons of Natural Water Sources
Bathing in the ocean can dry your skin out.
The water may be contaminated.
Related Article: How Much Water Do You Need for a Camp Shower?
Find this content useful 🙂 ?
Subscribe to our Newsletter and get a free Solar Electric Diagram + shopping list.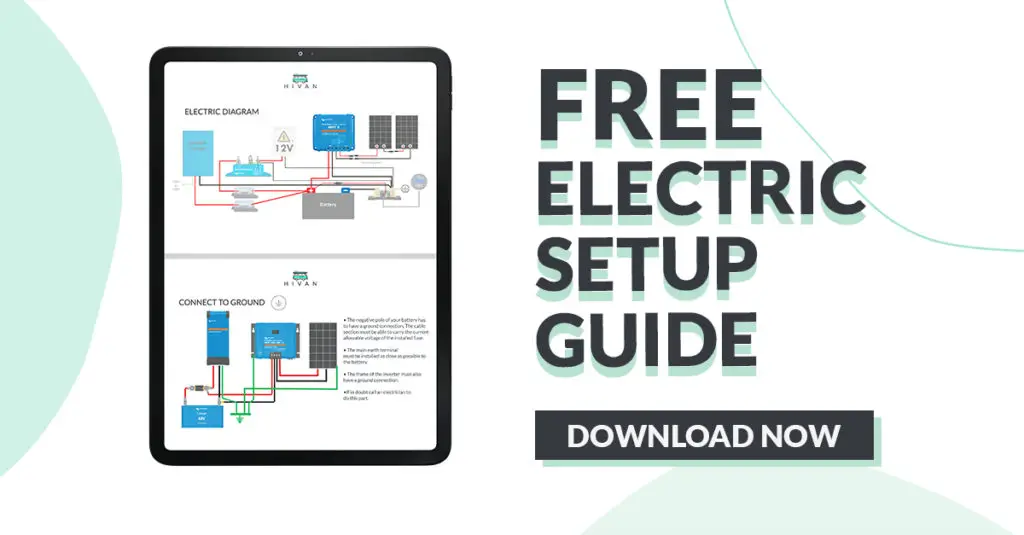 4. Truck Stops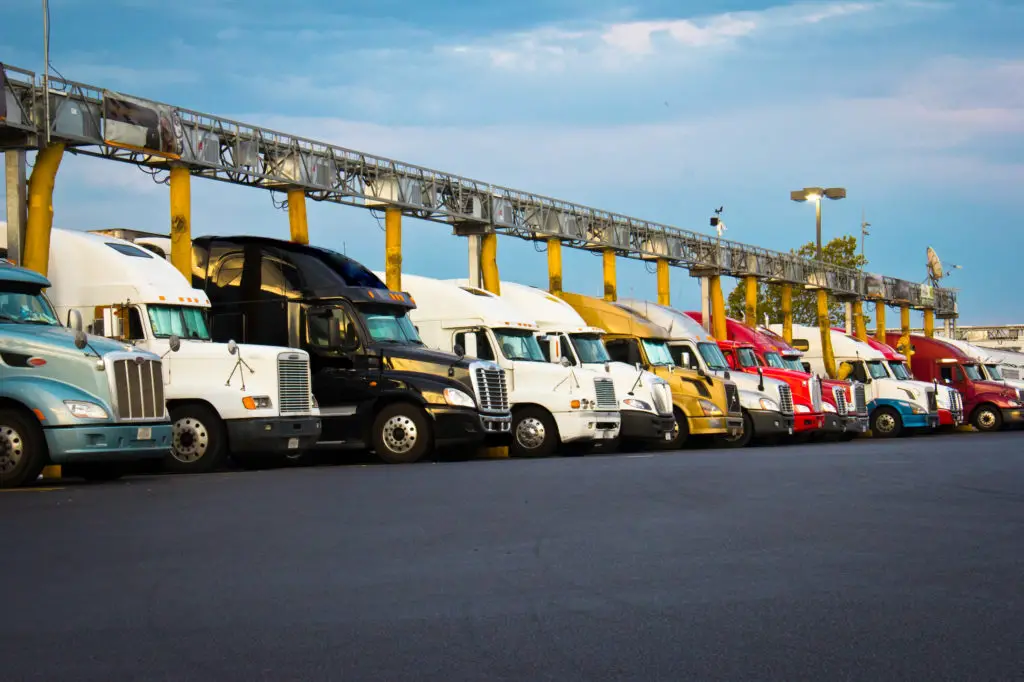 Technically, truck stops and Pilot Gas Stations are supposed to be for truckers who are on the road a lot, but they're open to anyone who needs them and can pay. 
The cost usually varies between $7-$15 to rent out a bathroom at a Pilot Gas Station. Although this price may seem a little pricey, it's something to think about if you don't plan on formally showering too often.
Pros of Truck Stops
They work well when you need a legitimate shower.
You get your own shower and bathroom with no time limit.
You can stock up on food and snacks while you're there.
They're widely available across the country.
You can also refill your gas tank there.
Cons of Truck Stops
Renting a bathroom out can be a little pricey.
You may have to wait in line depending on how busy it is.
---
5. Portable Camping Showers
Our Pick
Advanced Elements Summer Solar Shower
Camping shower; ideal for hiking, hunting, fishing, and other outdoor adventures.
3-gallon capacity; designed to heat water fast in the warm sun; has a water temperature gauge.
If you make a purchase, you support Hi-van.com by allowing us to earn an affiliate commission (no added cost for you).
Portable camping showers are really nice to have on hand if you plan on traveling in rural or desert areas where you won't be close to any specific town or city. These showers can be as simple as watering cans hung from a tree branch to a vehicle-mounted and battery-operated shower system.
However, each system has a few things in common: a showerhead, water tubing, and a container to hold water. 
If your camping shower is heated, it will likely come with a small propane tank and a water pump too. Some portable camping showers are also solar-powered. The type of portable camping shower you choose will largely depend on the kind of trip you plan to take. 
Pros of Portable Camping Showers
You can make one yourself or buy one.
There are a variety of different types to suit your needs.
Solar-powered portable showers will reduce your carbon footprint.
They're good to have when you're in rural or desert areas.
They're easy to use.
Cons of Portable Camping Showers
You'll likely need to have extra batteries on hand.
They're only ideal for shorter showers (15 minutes or less).
Related Articles:
​​How to Easily Hang a Camp Shower (Tips and Tricks)
How Much Water Do You Need for a Camp Shower?
---
6. Splash Pads to Shower on the Road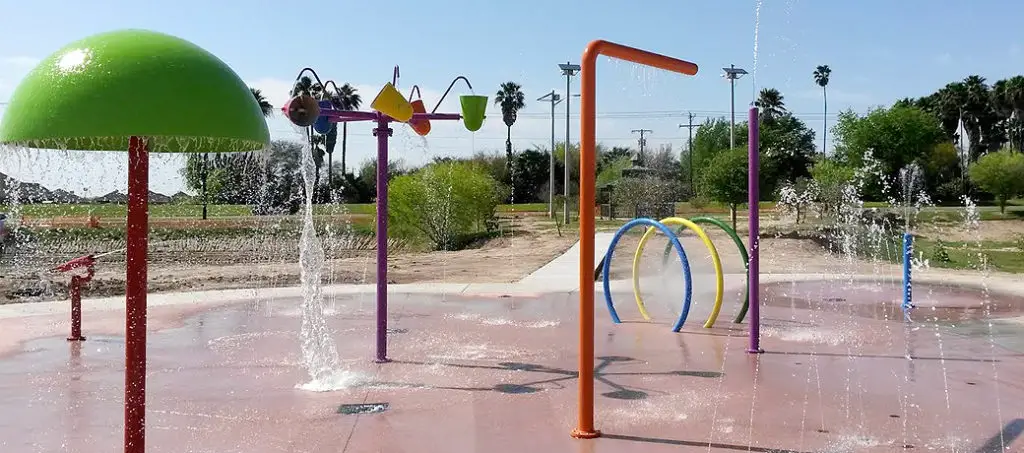 Using a splash pad may seem unconventional, and you may get some looks depending on the foot traffic. However, if you find the facility isn't busy and you don't mind using a children's attraction to scrub off the yuck, a splash pad is a solid substitute for a regular shower.
Of course, you can't use it like you would a private shower. However, you can at least get wet enough to refresh yourself until you can find a normal shower where you can use soap.
Pros of Splash Pads
They're cheap to get entry.
You'll get the same pressure as you would in a shower.
You can clean your body evenly.
If you're traveling with kids, they can play for a little bit.
They're a good tool for cooling off in the summer too.
Cons of Splash Pads
They're only useful during hot months.
They're for children and very public.
---
7. Community Pools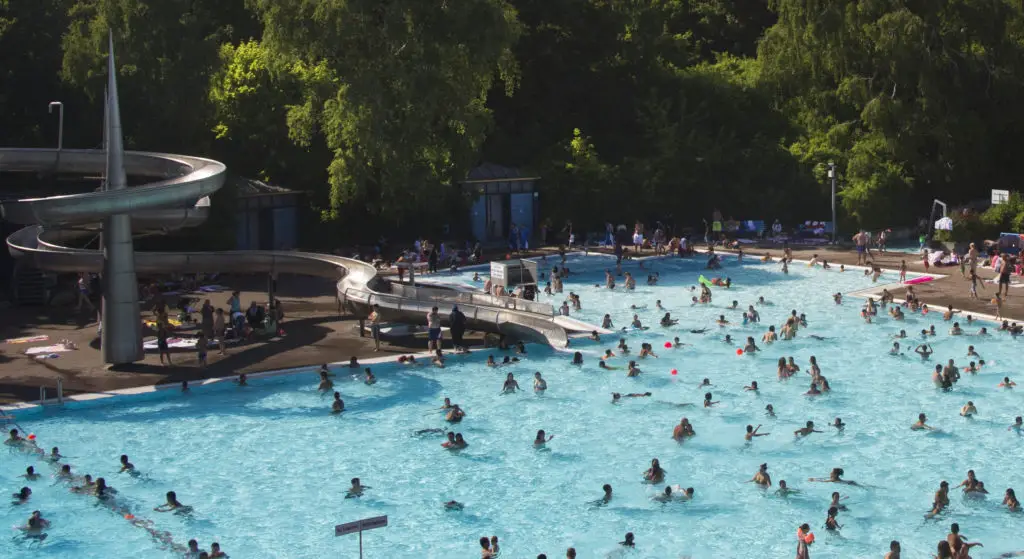 If you don't want to spend money on a gym membership, getting a day pass to a community pool may be a better option. 
These will typically have showers in the changing area, and you'll have the chance to relax by the pool for a bit before leaving again. Some locations may be free, but keep in mind that there's likely a small admission fee, usually between $5-$15.
Pros of Community Pools 
They're great for cooling off in the summer.
Community pools only charge a cheap entrance fee.
Many also have a snack bar you can utilize.
The showers are private.
Pools give you a chance to stretch your legs and spend time outside of your van or camper.
Cons of Community Pools 
They're only open during the summer.
You may need to wait in line.
---
8. Beaches With Rinse Showers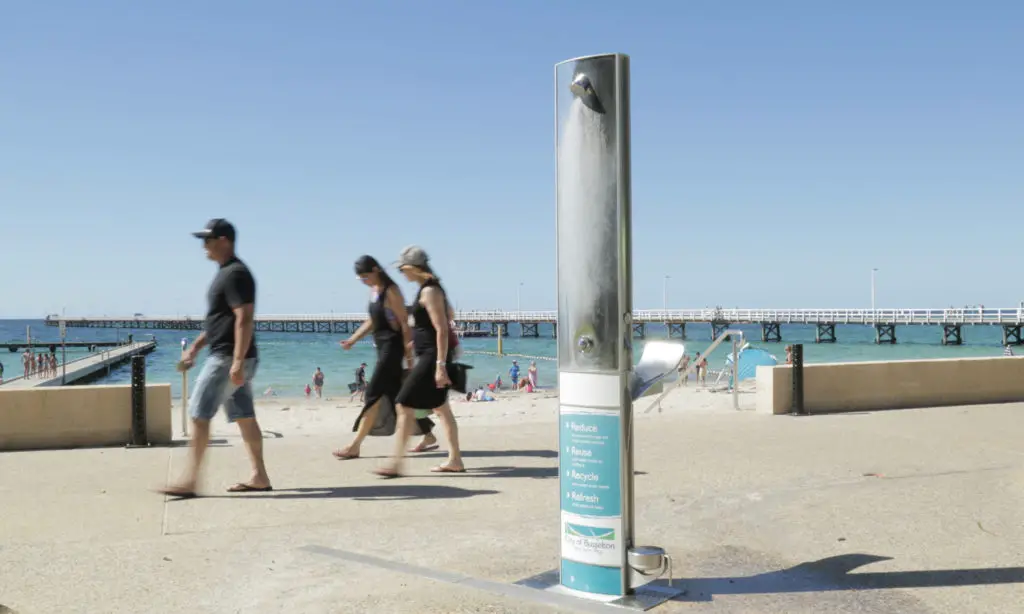 Many beaches have sand showers near each exit. Although you're supposed to use them to rinse off sand before you leave, you can certainly use them to take a roadie shower too. The best thing about these is that they're entirely free to use. 
You are, however, pretty exposed to the public, so you'll likely get a few looks while showering. You might want to wear a bathing suit when using these rinse showers.
Pros of Beaches With Rinse Showers
They're free to use. 
You get good water pressure in most cases.
There isn't a time limit.
You can spend the day at the beach beforehand.
They're good for quick rinses.
Cons of Beaches With Rinse Showers
You can only use them during the summer.
They're very public.
You won't be able to get a full shower with these.
---
9. Ask a Friend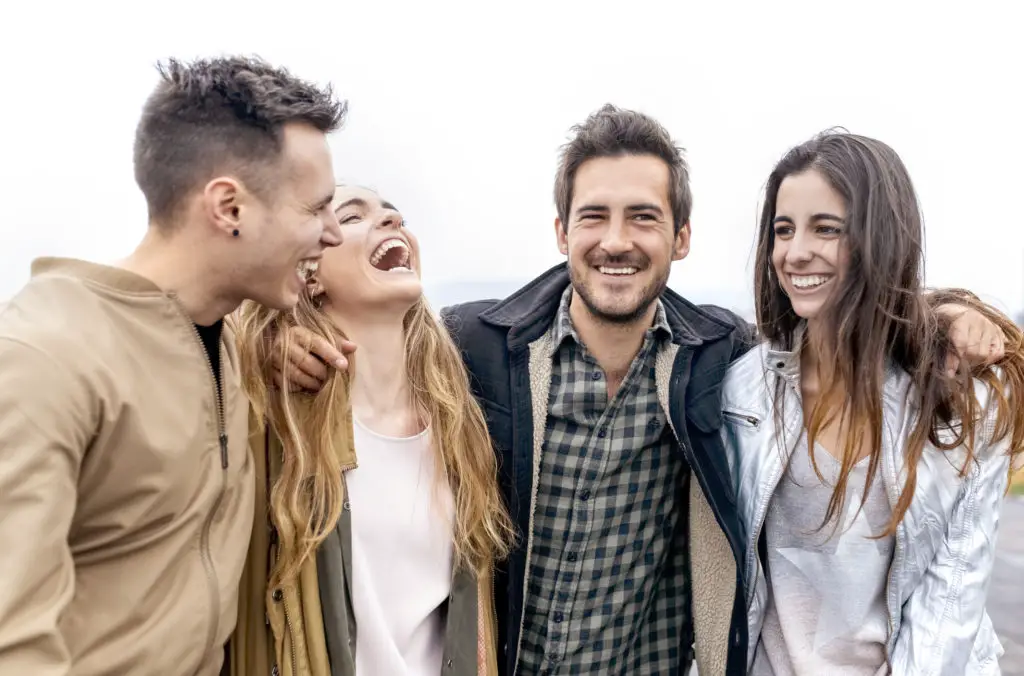 Do you know someone who lives near your travel route? If you're close enough to them, it could be worth asking to hang out at their house for a little bit. You can shower there and then spend the day socializing and exploring the local scene together afterward.
Pros of Asking a Friend
It's the most private option.
You can catch up with old friends.
You're showering in a completely safe and comfortable environment.
The water pressure is ideal.
You can take a longer shower without worrying about holding up a line.
Cons of Asking a Friend
You have to have a friend in the area.
You may feel like you're imposing.
Find this content useful 🙂 ?
Subscribe to our Newsletter and get a free Solar Electric Diagram + shopping list.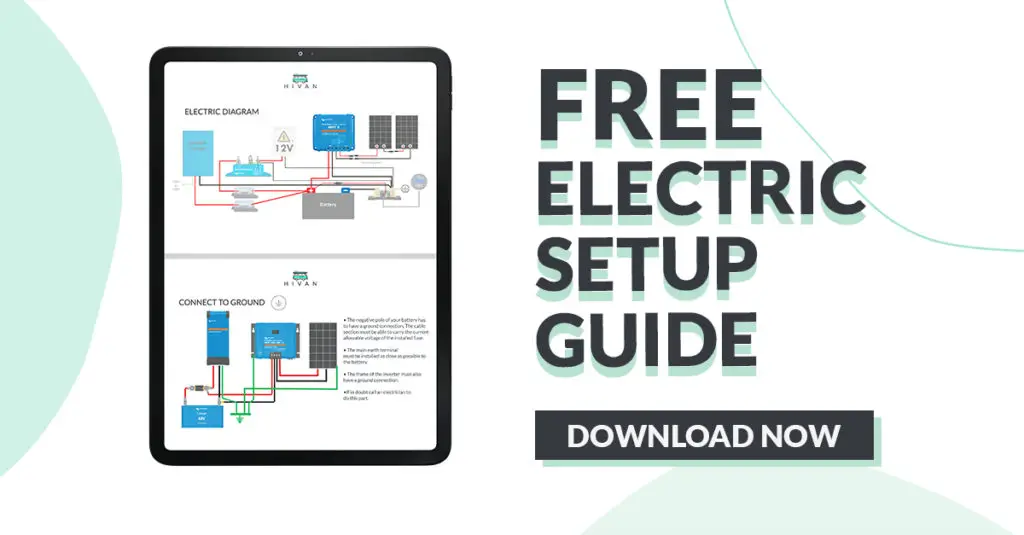 10. Make Your Own DIY Shower
If you consider yourself handy and you love a good challenge, you may consider DIYing your own solar-powered portable car-top shower. To build it yourself, follow these steps:
Determine how much water you need. A 6 ft (1.8 m) shower will hold roughly 4.5 gallons (17 L) of water. This size and amount are typical for most portable showers that mount to your vehicle. These measurements will give you approximately 15 minutes of showering.
Cut your main pipe. An ABS pipe measuring 10 ft (3.05 m) should be cut in three ways: 5' 6", 6", (1.5 m 15 cm, 15 cm), and one extra piece.
Cut your foam blocks. Foam blocks aren't required, but they offer a way to mount the shower more securely. Use the short piece of your pipe to trace onto the foam block. Then, use a hacksaw to cut around the outlined line.
Drill a spigot hole. You'll want to place a brass locknut inside an end cap as close as possible to the outside edge. Mark the spot with a marker and then make another mark in the middle. Drill the spigot hole on the dot close to the edge. Do this by starting with a ⅛" (0.32 cm) bit part and working your way up to a ¾"  (1.91 cm) bit part.
Install the Schrader valve. Place a dot directly above your spigot hole. Drill through that with a ⅜" (0.95 cm) drill bit and run the valve through the back into the front. It should stick out of the smooth-faced side. Place the flanged washer on the front of the stem and then use silicone to the front opening around the stem.
Install the spigot. Put a rubber O-ring over the spigot threads and apply silicone all the way around. Another bead of silicone should be used around the spigot threads inside the endcap to keep it in place. Screw the fastener onto the spigot by hand as tight as you can and let the silicone cure the parts.
Assemble and glue the shower body. Use ABS cement to put the body pieces together in this order: plain end cap, five-foot (1.5-m) ABS pipe, T-joint, six-inch (15-cm) ABS pipe, and end cap with spigot. Let everything settle and dry thoroughly before mounting.
Mount it onto your car. If you're using foam blocks, slide them into the crossbars. Rest the shower on top of the blocks and use tie-down straps to secure it into place. Make sure the spigot is facing down before finishing.
Fill the shower with water. Take off the cap on the T-joint opening and use a hose or jug to fill with water. It would be best if you didn't fill it all the way so air can pressurize inside and adequately run the water. 
Pressurize your shower. Screw your hose with a nozzle onto the spigot. Unscrew the Schrader cap and attach a bike pump or air compressor. Pump until you get your desired pressure, and then screw the cap back on. The recommended amount for this size portable shower is around 30 psi.
For a helpful visual on the process of building this type of portable shower, check out this video: 
Pros of DIY Portable Shower
You can take this with you wherever you go.
You can adjust the water pressure to your preference.
It'll save you money.
You don't have to worry about holding up a line.
You aren't confined to a small space.
Cons of DIY Portable Shower 
It takes a lot of handy work to build.
Your shower will only last about 15 minutes.
Related Guides:
How to Repair Your Motorhome Shower Tray
Are These The Best Camper Van Shower Toilet Combo Units Around?
---
What Do I Need When Showering on the Road?
When showering on the road, you'll only need shampoo and conditioner, along with body wash or any other products you use during a typical shower. However, if you use a portable shower that requires batteries or other supplies, it's important to have extras on hand, so you're always prepared.
Unless you plan on showering exclusively at a gym or other designated facility, it's important to use shampoos, conditioners, and body washes that are free of plastics and safe for the environment. 
The best brands to consider for this are Dr. Bronners, Ethique, Friendly Soap, Tom's of Maine, and Beauty and the Bees.
Dr. Bronners
Dr. Bronner's - Pure-Castile Liquid Soap
Dr. Bronner's Pure-Castile Liquid Soaps are made with over 90% organic ingredients. Over 70% of ingredients are certified fair trade, meaning ethical working conditions & fair prices.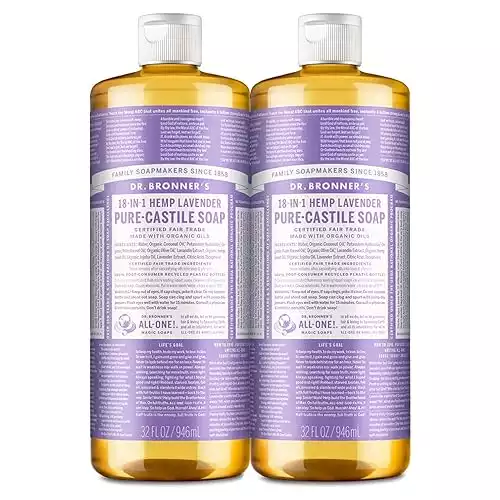 If you make a purchase, you support Hi-van.com by allowing us to earn an affiliate commission (no added cost for you).
Dr. Bronners was founded in 1948 by a Jewish immigrant named Emanuel Bronner. He was a master at making soaps, so much so that the business has become one of the top-selling organic and fair trade body care brands in the United States.
All soaps made by this brand contain all-natural and certified organic ingredients. They're also traditionally made and they contain no hidden ingredients. On top of this, the company regularly works with farmers and workers in other countries to ensure a living wage.
For hair and body washing, many people recommend one of two products available on Amazon.com: Dr. Bronner's Pure Castile Liquid Soap or Dr. Bronner's Pure Castile Bar Soap. 
The bar soap is supposedly more moisturizing as it contains extra oils that the liquid soap doesn't. If you have naturally oily hair, it's best to use the liquid version, but the bar will work better if your scalp is dry.
Ethique
Ethique Eco-Friendly Solid Shampoo Bar
 Ethique is the world's first zero waste and most sustainable lifestyle beauty brand. We use biodegradable ingredients and compostable packaging so all our solid bars leave no trace (except the luscious skin and hair it leaves behind, of course!).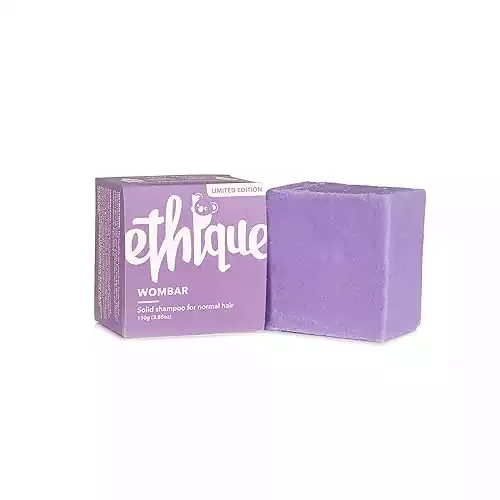 If you make a purchase, you support Hi-van.com by allowing us to earn an affiliate commission (no added cost for you).
As the French word for "ethical," Ethique emphasizes offering eco-friendly and sustainable products. Based out of New Zealand, all of Ethique's soaps are plastic-free, plant-based, cruelty-free, sustainable, long-lasting, and palm oil-free.
The company also donates 20% of all profits to various non-profit animal rescue and rehabilitation organizations. I like this company because they offer various for several different hair types and textures. The company has ten different body wash bars, and all scents are entirely natural.
The best one seems to be the Ethique Bindi Irwin Shampoo bar available on Amazon.com. It's shampoo in solid form, and it is easy to transport in the confines of your van. It doesn't harm the environment and it replaces up to three normal bottles of shampoo.
Friendly Soap
Natural Handmade Shampoo Bar by Friendly Soap
✅It contains essential oils of lavender and tea tree, as well as castor oil for hair conditioning and scalp treatment.
🌱 It is free from palm oil, parabens, sulphates, triclosan, phthalates, and cruelty, making it a natural and vegan option.
📦 The shampoo bar comes boxed in plastic-free, recycled, and recyclable packaging, making it eco-friendly.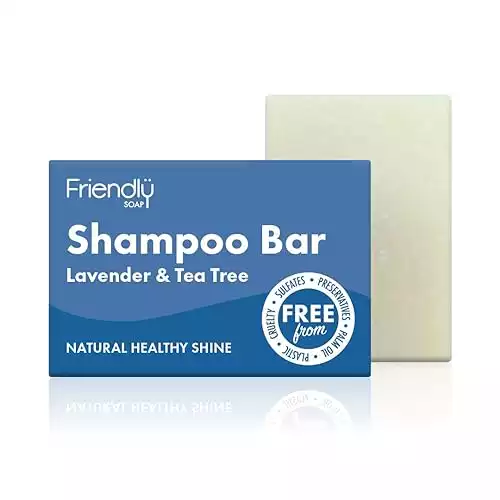 If you make a purchase, you support Hi-van.com by allowing us to earn an affiliate commission (no added cost for you).
Based in the United Kingdom, Friendly Soap offers various bars that are all vegan, cruelty-free, plastic-free, and those who make the soaps are guaranteed a living wage. 
Their products are also biodegradable, don't contain palm oil, and are paraben-free too.
I like this company because rather than using microbeads to provide exfoliation to your skin, they use poppy seeds and hemp brain to get the same effect. Microbeads are harmful to the environment because they don't fully break down and they adsorb and release harmful toxins into the ocean. 
Friendly Soap shampoo bar available on Amazon.com offers two different options: lavender/geranium and lavender/tea tree. They also have a body wash bar made of coconut oil, aloe vera, shea butter, and olive oil.
Tom's of Maine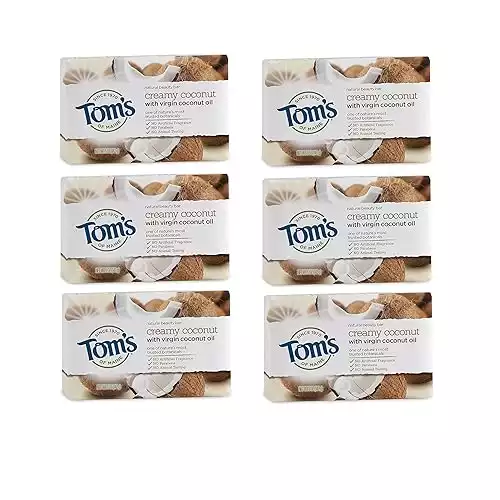 If you make a purchase, you support Hi-van.com by allowing us to earn an affiliate commission (no added cost for you).
Tom's of Maine is a brand that has been around since the 1970s. They regularly advocate for clean products and sustainable business practices. The company recently partnered with TerraCycle to create a free recycling program for its natural care products and packaging. 
Tom's of Maine also donates 10% of all profits to various organizations throughout Maine.
All product ingredients are derived right from nature and are fragrance-free, preservative-free, and they don't have any added colors, flavors, or sweeteners either. However, the company does use palm oil. It's worth noting, though, that they're Rainforest Alliance Certified, and their use of palm oil is considered sustainable.
You can buy Tom's of Maine Natural Beauty Bar on Amazon.com.
Beauty and the Bees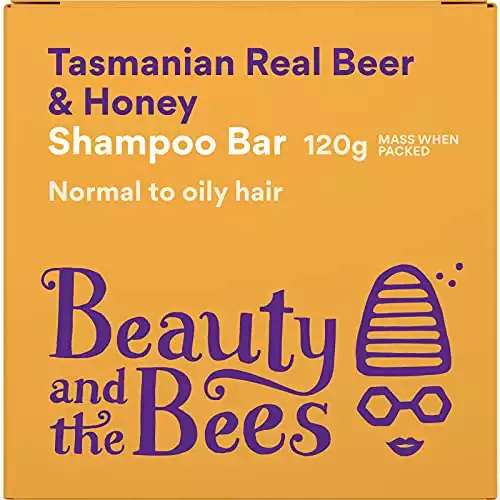 If you make a purchase, you support Hi-van.com by allowing us to earn an affiliate commission (no added cost for you).
This Australian-based company makes all of its products entirely from scratch. They make their soap by hand and only use pure and natural local food ingredients. Their goods are 100% chemical and plastic packaging-free, and they have an extensive collection of soap and shampoo bars to choose from.
Beauty and the Bees shampoo bar, available on Amazon.com, uses raw coconut oil and soy wax to get the same effect instead of using palm oil in their products. While it's worth noting that a few of their products still use trace amounts of palm oil, the company is Rainforest Alliance Certified.
---
Where Can You Shower While Traveling?
You can shower in a rec center or in the middle of nowhere while traveling. You'll likely find facilities that will let you shower for free or at a low price. And, even if you're seemingly in the middle of nowhere, you can create your own shower if necessary.
But what can you do when you can't find a shower? 
Fortunately, with the advanced technology of camping equipment today, this shouldn't be too much of an issue. But there will be times when you can't find a shower. In those cases, you'll need to improvise a little to avoid stinking up the enclosed space you're traveling in.
Let's take a look at some of these methods.
When You Can't Find a Shower
Unfortunately, there will be times when a shower just isn't available to you. You may start to feel a little desperate, but there are some things you can do and products you can use to hold you over until a shower becomes available. Let's take a look at them now.
Use Dry Shampoo to Combat Greasy Hair 
If you feel your head getting a little itchy from all of the dirt and oil build-up, dry shampoo is an excellent product to have on hand. To use, just spray at your roots and massage it into your scalp. The dry shampoo particles will soak up excess oil and give you a little bit of relief.
Don't Skimp On the Deodorant 
Antiperspirants and deodorants are your best friend in these situations. Whenever you feel yourself developing body odor, spray yourself down or use a stick to remove any sweat or stink. Or, you might want to spritz a very small amount of perfume or cologne on your shirt to keep the smell down. 
However, don't go overboard, as you may end up stinking in another way, which is not very nice to be around.
Rub Your FaceDown With Facial Wipes 
A greasy face can make you feel pretty gross. If you don't have a way to wash your face when you start to feel too much oil, facial wipes are good to have on standby. Or, you might take a washcloth with you into a bathroom at a rest area and wash your face that way.
Find Yourself a Perfect Hat 
Whether you're into ball caps or beanies, wearing a hat will help conceal unsightly hair roots that have accumulated a little too much oil over the last few days or so. You can also, if your hair is long enough, pull it into a ponytail to hide the grease.
Use Body Wipes 
Just like with your face, your body is going to get oil build-up too. Using a body wipe will give you an instant refresh and are suitable for tidying you over until you reach a proper shower spot. But if you don't have body wipes, baby wipes are a suitable option.
Fill a Spray Bottle With Water 
Spray bottles will not only cool you off, but you could potentially use them to give yourself a makeshift shower too. However, keep in mind the pressure from the spray bottle likely won't be enough to do a complete hair rinse.
Wear Breathable Clothing For Aeration 
The most important thing you can do is dress appropriately. If you're summertime traveling, wear breathable clothing to avoid an abundance of sweat. While this seems like common sense, it should be the first thing you do when going out in the summer.
Go Commando 
We've all done it, and you might as well not deny it. If you're hunting for a shower and your underparts are feeling a little questionable, ditch the underwear and let yourself air out. It might not be the best solution, but at least you can have a little reprieve until you find a shower.
Final Thoughts
Figuring out how to shower while on the road doesn't need to be stressful. This task could be as simple as finding your nearest natural water source, or it could involve making your own DIY portable shower. 
Regardless of what you choose, the most important thing to remember is to use eco-friendly products and be mindful of those around you.
Keep in mind any rules, regulations, or pricing information on the different shower options for travelers and find which option best fits your needs. And, when in doubt, use dry shampoo or go commando!
Find this content useful 🙂 ?
Subscribe to our Newsletter and get a free Solar Electric Diagram + shopping list.