The best part about van life is exploring different parts of the world where people don't usually go. But taking your van into some of these areas is not possible due to the terrain. Would an electric bike be the thing you need, and if so, which ones are the best?
The best electric bike for van life for most people is the ANCHEER Electric Bike 20MPH. This bike offers excellent value with a powerful motor for superior speed, range, and energy efficiency and an aluminum alloy for enhanced durability.
However, there are instances in which I wouldn't recommend the ANCHEER Electric Bike 20MPH, and they are…
If you don't have enough storage space, go with the SWAGTRON Swagcycle EB5.
If you are traveling uneven mountain terrains, go with the Hicient Electric Mountain Bike.
If you are looking for a more affordable electric bike, go with the ANCHEER Electric Folding Bike.
If you want a hybrid electric bicycle that combines the abilities of a road bike and a mountain bike, go with the WJSWD Electric Snow Bike.
E-bikes are pretty expensive; therefore, it's important to put every necessary factor into perspective before choosing what's suitable for you. Often, it can be challenging to decide the proper bikes that beat these factors, and that's why I've written this article.
Factors to Consider when choosing your E-Bike
The whole process of buying an electric bike can be overwhelming, especially with so many options available in the market. Here are four main factors you should consider when you are purchasing an electric bike:
The Battery 
The Motor
The Range
Cost
I will now talk about all four in-depth below.
---
Battery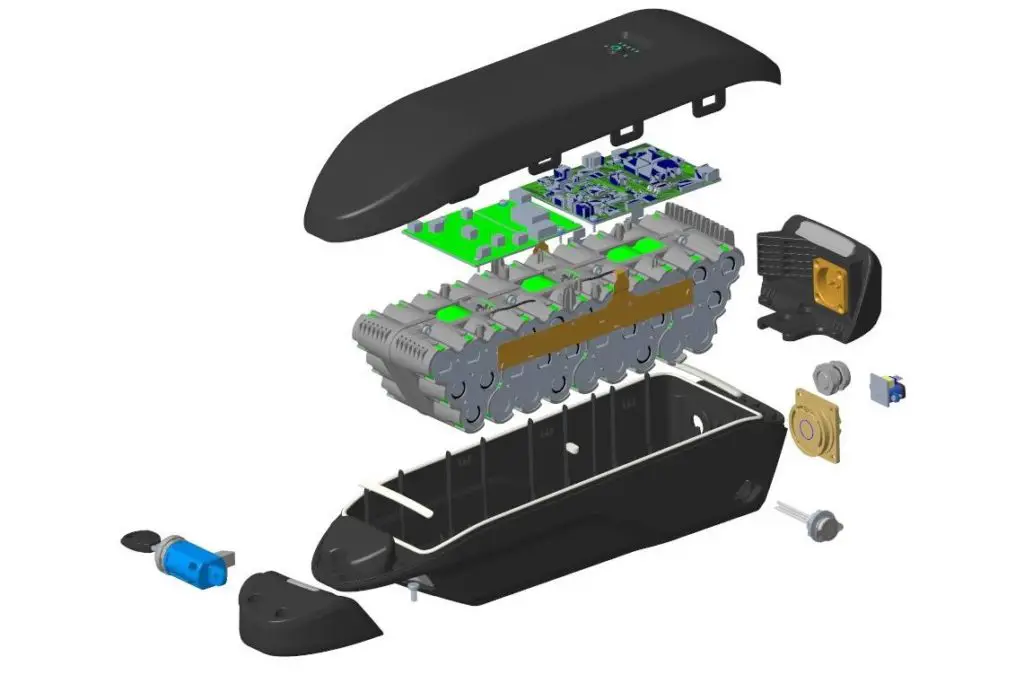 Battery comparison
| | |
| --- | --- |
| Electric Bike | Battery capacity |
| ANCHEER Electric Bike 20MPH | 36V 10AH |
| SWAGTRON Swagcycle EB5 | 36V 8AH |
| Hicient Electric Mountain Bike | 36V 8AH |
| ANCHEER Folding Electric Bike | 36V 8AH |
| WJSWD Electric Snow Bike | 48V 10AH |
Winners: WJSWD Electric Snow Bike, ANCHEER Electric Bike 20MPH (32.19KMH)
When choosing an electric bike, the battery is the most vital component to look out for because it determines:
How long the bike will work without charging.
How much the bike weighs.
The terrain you intend to ride in.
Characteristics of a Good Battery
Different batteries feature different characteristics, and you must understand these characteristics to pick the right one for your needs. 
For example, the characteristics like capacity, voltage, size, weight, and charging time, will determine the efficiency of the battery of an electric bike and the distance you can travel from only one single charge.
Voltage Measured in Volts (V)
Volts are used to determine the speed of electrons when they move. 
Higher voltage will cause more electricity to flow to an electric bike and make it faster and climb higher. The average battery on most electric bikes is 36V. However, because of the cost, some manufacturers make e-bikes with 24V. 
Also, some e-bikes are 48V and even up to the 72V range.
Note: when using electric bikes with high voltage, there is a possibility of getting shocked. Ideally, human skin protects you from getting shocked from up to 40-45 volts. However, anything above this is considered a shock hazard and a safety concern.
Capacity Measured in Watts Hour(WH)
The average capacity of most e-bikes is 250/500wh, which is the charge stored by the battery and measures the maximum amount of energy you can get from the battery. The capacity determines how far the battery will last.
What Is the Lifespan of an E-Bike Battery?
The average electric bike battery can last for 3 to 5 years before it starts to lose its efficacy. With good management and care practices, you can prolong an electric bike's lifespan. Efficient care practices differ from battery to battery, and you must understand what suits your e-bike battery. 
What Affects the Lifespan of a Battery?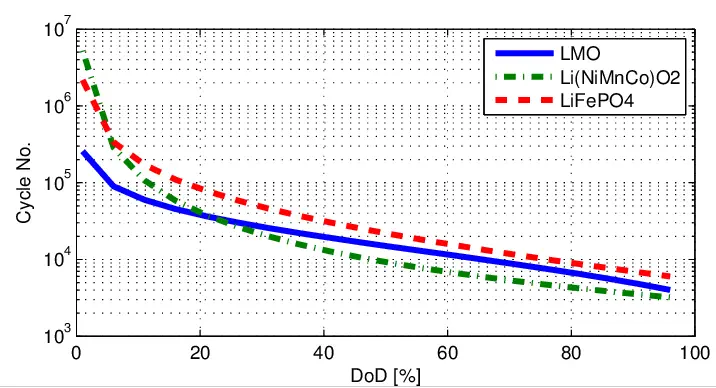 The number of years your e-bike battery will last depends on certain factors. These factors do not just affect the lifespan of your battery; they also affect the overall functionality of your battery. 
Wondering what they are? Here are some of them. 
The Type of Battery
This is the first factor to consider when buying any battery. There are three types of batteries used for electric bikes;
Lithium batteries (1000 charge cycles): They generate more power and have a higher energy density. They also weigh less and have a longer life. However, the downside to this type of battery is that they are costly.
Nickel (500 charge cycles): They have less capacity than lithium batteries but more capacity than lead batteries. However, they are difficult to recycle and constitute an environmental pollutant.
Lead (300 charge cycles): They are cheaper but come with many downsides, such as weighing more than nickel or lithium batteries. Many users also complain of their short lifespan. 
The Battery's Pedal Assist System (PAS)
The Pedal Assist System is the amount of assistance that the electric bike's motor gives you during your ride. There are two types of PAS, and they both have significant effects on the battery life of an e-bike. 
Cadence sensing: It uses sensors and magnets and exerts more pressure on the battery, affecting the battery life.
Torque-sensing: Uses motor assistance to determine the help needed from the pressure applied to the pedals. If you apply more pressure on the bike, it tells the bike that you need help, which makes the bike more responsive and efficient.
How To Prolong Battery Life 
For many e-bike users, battery life will significantly affect the biking experience. Fortunately, the following steps can help you extend the battery life of your bike. 
When charging, make sure you use the charger and adapter provided by the manufacturer. It protects the battery against any power surge. Also, make sure you disconnect the charger when you're not charging.
Do not allow the battery to drain completely before charging; allow it to cool before charging it or before using it after setting.
When it comes to storage, do not keep batteries outdoors in frigid weather and never close to a heat source. Cold temperatures affect air pressure by lowering it, and when you have insufficient air pressure, your battery will run out quickly, possibly leading to the destruction of the rims.  
When cleaning, ensure you remove the battery from the bike before you wash it. Also, remember to use a damp cloth when cleaning the battery instead of water.
Do not use a steam pressure cleaner when cleaning your bike.
---
Motor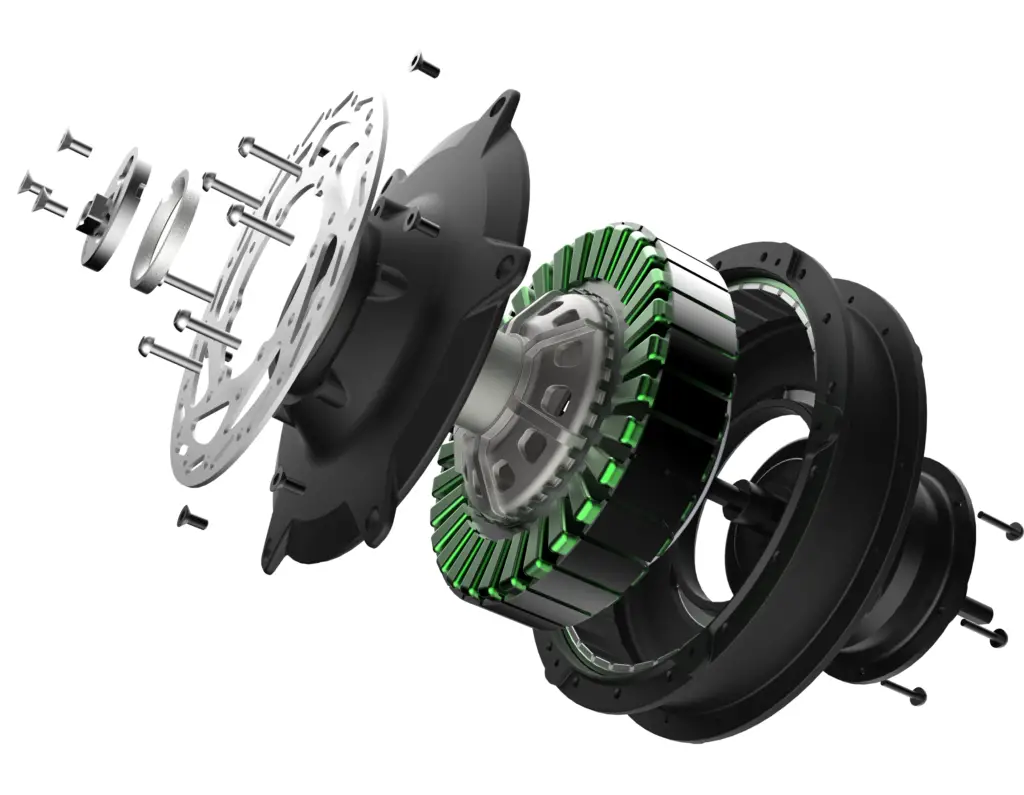 Comparison of the motor
| | |
| --- | --- |
| Electric Bike | Motor Capacity |
| ANCHEER Electric Bike 20MPH | 350W |
| SWAGTRON Swagcycle EB5 | 250W |
| Hicient Electric Mountain Bike | 250W |
| ANCHEER Folding Electric Bike | 250W |
| WJSWD Electric Snow Bike | 350w |
Winners: WJSWD Electric Snow Bike, ANCHEER Electric Bike 20MPH (32.19KMH)
The motor converts electrical energy into mechanical energy. This conversion process is essential because the energy it produces serves as the bike's moving energy and stored energy.
The motor is essential because it determines the power and weight of the e-bike while offering pedal assistance without weighing the bike down. On the other hand, power is the torque measurement that gives the bike power to move forward, which is measured in Newton-meters (NM).
The motor is indispensable and cannot be easily replaced like other components, so it is essential to know what you want before buying the bike. 
Types of Motors
Like every other component of an e-bike, the motor comes in different types and styles. 
Therefore, it's crucial for biking enthusiasts to understand the features of the different kinds of motors before purchasing one. Let's briefly review the two most common types of e-bike motor. 
Mid-Drive
The mid-drive motor is mounted at the center of the bike's frame and located near the cranks and is designed to allow bikes to climb steep hills better, and because it is situated in the center, it provides more balance. 
However, the downside to the mid-drive is that it increases chain wear, is more expensive and has more mechanical components.
Hub-Driven
There are two types of hub-driven motors; the front and rear hub-drive. 
Both hub-driven motors are positioned inside the wheel. The advantage to this is that they don't wear chains and are cheaper. However, the downside to the hub-driven motor is its inability to climb steep hills efficiently, and its weight distribution is not balanced.
---
Range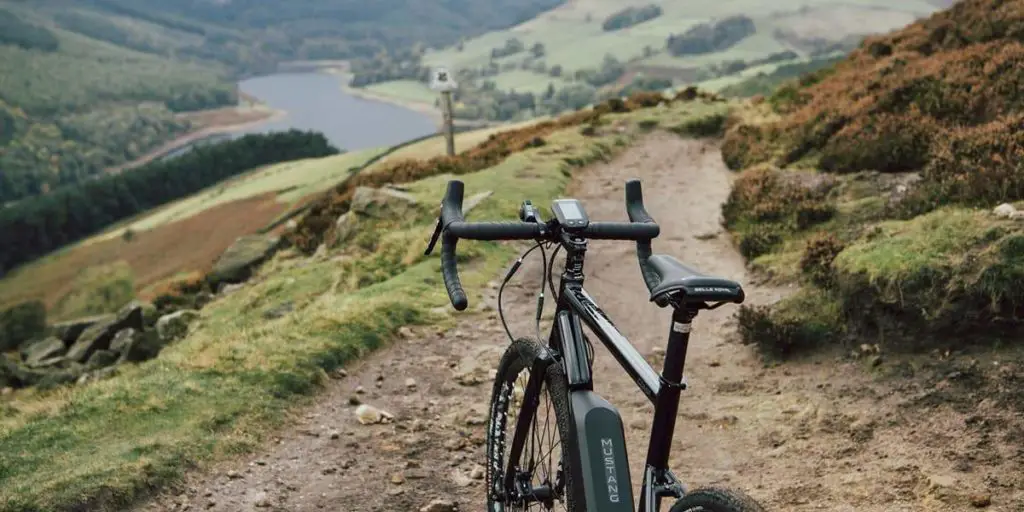 Comparison for the range
| | |
| --- | --- |
| Electric Bike | Range |
| ANCHEER Electric Bike 20MPH | 20-40mi (32.2-64.4km) |
| SWAGTRON Swagcycle EB5 | 15mi (24km) |
| Hicient Electric Mountain Bike | 13-17mi (21-27.6km) |
| ANCHEER Folding Electric Bike | 15-40mi (24-64.4km) |
| WJSWD Electric Snow Bike | 31-43 mi (50-70 km) |
Winners: WJSWD Electric Snow Bike, ANCHEER Electric Bike 20MPH (32.19KMH)
The range is the maximum number of kilometers you can go from a single charge before your battery runs out. Several factors can affect the range of an electric bike, including:
The Motors
The more powerful the motor, the more energy it expends, and as a result, the lesser the range you will get from this. Also, the more assistance a motor uses, the less distance you can travel.
The Weather
Headwinds make the bike expend more energy because you are pushing against the wind. Also, batteries do not like extreme temperatures (whether hot or cold), and some companies now provide protective cases for batteries.
Terrain 
Going up a mountainous terrain requires more energy from the battery to assist you in going uphill because of the lack of momentum from climbing. Conversely, flat landscapes need less support because of the momentum created from the speed of the bike.
The Gear
Relying entirely on assistance and forgetting to switch gears will not save battery power and, as a result, will affect the range of the cycle. 
For example, if you are going at high speeds or downhill, you need higher gears, and if you are climbing hills, on the other hand, you need lower gears. However, if you decide to climb a mountain in high gear and turn up the assistance, this will consume the battery power faster, affecting the distance you can travel. 
Therefore, it is essential to constantly switch gears according to the terrain to preserve energy.
Tire Pressure
Proper tire pressure preserves energy because your motor will not need to consume more energy to maintain speed.  
Underinflated tires make your ride feel soggy and increase wear on your tubes and on the rest of your bike. They not only make your battery and engine work harder, but they can also wreak havoc on your suspension and gears.  
The Weight Placed on the Bike
The weight placed on the bike (whether that of the rider or cargo weight) also determines the distance it can go before the battery runs out. The weight will make the engine consume more energy for the battery to move, thus reducing the distance covered.
---
Cost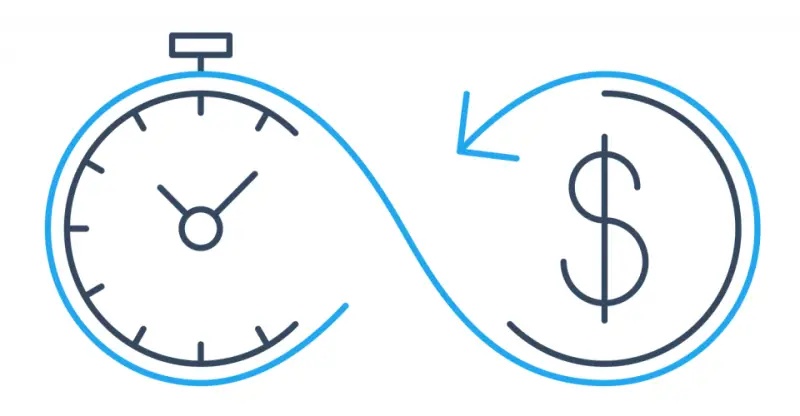 When you are looking at the cost of an electric bike, you also have to consider the initial unit cost of the bike and the costs of maintenance and repairs. Generally speaking, the cost of an e-bike ranges from $600 to $8000. 
However, below are some factors that you should consider alongside the cost of an electric bike;
The Purpose of the Bike
Most bikes come with additional features because of the terrain they are designed to run on, causing additional costs. 
For example, a bike for more rugged terrain requires other features to make it function optimally and cost more. Likewise, climbing a hill requires a PAS or an electric cargo bike to transport heavy items. 
However, some of the additional features that make riding more enjoyable and convenient are not entirely necessary.
Examples of additional features in an electric bike include:
Batteries: Some batteries are single charge, and you can recharge other batteries while using the bike. Most batteries have a range of 25-70 miles (40-113km) and buying a battery you can recharge while using the bike is not important.
Hub-drive or mid-drive: Hub-drive bikes are harder to ride, while mid-drive is more manageable and smoother. However, mid-drives are more costly than hub-drives
Hydraulic brakes or mechanical brakes: Hydraulics don't need much adjusting and are more efficient and long-lasting than mechanical brakes. As a result, they are costlier.
Find this content useful 🙂 ?
Subscribe to our Newsletter and get a free electric diagram + shopping list.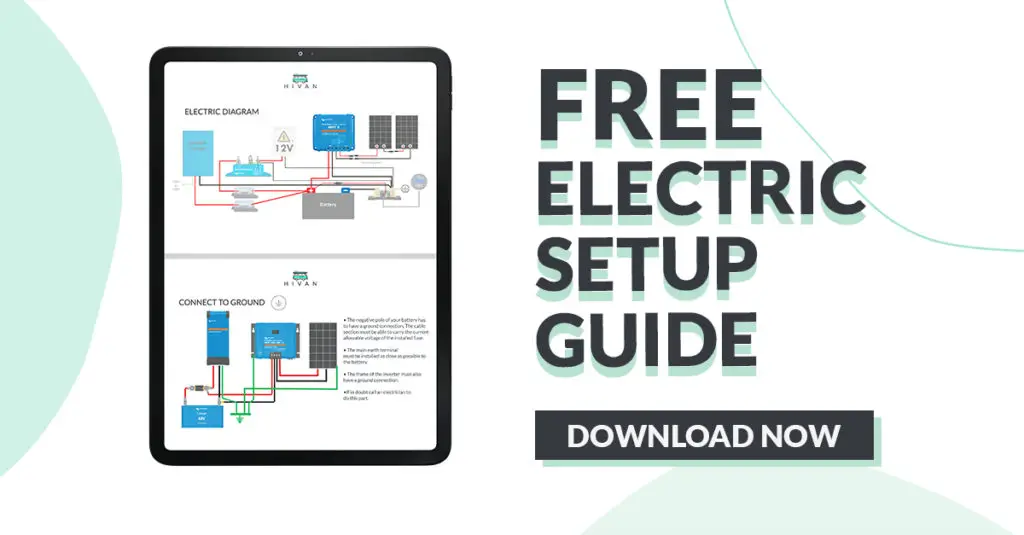 Safety
Helmets, locks, and lights are essential for safety and often constitute additional costs. You need a helmet that provides adequate protection because e-bikes can travel at high speeds. You might want to buy a helmet that is certified by the American Society for Testing and Materials (ASTM).
Maintenance
Long-lasting bikes require a good battery and motor. Note that even when you are not using the bike, the battery will still wear out. Therefore, good maintenance will help your e-bike last longer.
Experts often recommend carrying out routine maintenance and tune-up after every 500 miles (804.7km). The average cost of maintaining an electric bike is $150. 
Routine maintenance includes:
Checking the tires and fixing flats
Adjusting brakes
Checking the drive chain
Battery Cost
It is best to go for durable batteries, and lithium batteries are the best and most durable batteries out there. However, they cost more, up to $500, but this will pay off in the long run because they are long-lasting. 
ANCHEER is fast becoming one of the leading manufacturers of electric bikes with a whole range of products. This particular model, found on Amazon.com, is made from aluminum alloy, making it lightweight, easy to maneuver, and durable with less drag and a faster ride. 
All these come at an affordable price.
The bike comes with a high-speed electric motor that reaches speeds of up to 20MPH (32.19KMH) with four different assistance modes you can select from. It also comes with a regular bike mode, and you can turn the motor off. 
In addition, the controller is placed on the bike's handle to help you quickly change riding modes according to your mood.
With a 350W high-speed brushless motor, it packs enough power to allow you to meander along your favorite trail or climb mountain paths and even just your daily commute around the city.
Pros
Stronger and powerful motor: It is equipped with a 350W high-speed brushless motor with a 20MPH (32.19KMH) speed that enables you to ride swiftly to your favorite trail paths or cruise the mountains.
Removable battery. This bike comes with a 36V 10AH Lithium-ion battery, which will allow you to reach a range of 20-40 miles (32.2 – 64.4km) on a single charge. The battery comes with the ability to charge even while riding.
Durable and comfortable: The frame and rims are made with an aluminum alloy making it more durable. Meanwhile, the bike has front and rear mechanical disc brakes, 21-speed gears, and high-strength front suspension forks for comfort.
Three bike modes: The bike modes allow you to choose your riding experience by selecting either the electric bike, assisted bike, or standard bike or even combining the three.
Available service: The bike is already 85% assembled. However, it comes with video tutorials to allow you quickly assemble the remaining part of the bike. 
Cons
The motor is noisy. 
The bike is quite heavy, and you will need to use pedal assistance often.
SWAGTRON is another reputable brand known for its wide range of products, from electric scooters to electric hoverboards. The SWAGTRON electric bike, which is available through Amazon.com, combines top-level features with the added benefit of being lightweight and portable.
The bike is easy to maneuver and suitable for places that are low in storage space. 
It reaches speeds of up to 15MPH (24.14KPH) with a 250W Hub motor which can travel distances of up to 15.5 miles (24.94km). The bike weighs up to 37lbs (16.78kg) and can accommodate riders up to 264lbs (119.75kg). 
Many users are impressed by the bike's adjustable heights, which are suitable for teenagers and adults across different terrains. 
Pros 
It is pre-assembled. The electric bike comes already pre-assembled, and you don't have to spend precious time reading manuals and trying to assemble it. Just unpack and ride away.
It is compact. It has a triple fold feature which means you can fold this e-bike three times and is perfect for stowing away in tight places such as closets or trunks.
It comes with an auto guard. An auto guard is a safety feature that allows for adequate stopping power when you hit the brakes, which means that your bike will automatically stop once you hit the brakes, even if you still hold the throttle. The function is helpful for moments when you will come across surprise obstacles on the way.
Cons
The charging time. The bike takes too long to charge, up to 5 hours.
Return Policy: If you need to replace a part, you will have to ship the whole bike back to the company for any replacements, which can be stressful.
The beauty of van life is the ability to travel and explore parts of the world that are difficult to access. In addition, it offers you an opportunity to climb beautiful mountain trails when you come across them. 
However, to do this, you will need a very powerful bike that combines all the useful features of an electric bike with additional features for mountain climbing.
This bike has a powerful motor with a 36V 250W brushless motor and can cover a range of 22-28km (13-17 miles). It features a double-layered aluminum alloy wheel and a front aluminum V brake with LED front lights that ensures safety. 
It is also equipped with a fast-charging 36V 8AH lithium battery. 
Pros
Powerful motor: The 36V 250W brushless motor has a unique hill-climbing ability. It also provides enough power to cruise and meander through uneven mountain terrains. The motor produces enough power to travel a distance of 22-28km (13.7mi – 17.4mi).
Durable and comfortable: The bike's configuration consists of professional speed gear and disc brakes that provide reliable shifting and braking.
Shock absorption: The bike has a high-quality aluminum frame with the front fork made with high-strength carbon steel that provides shock absorption.
Strong wheels: The wheels are 26" (66.04cm) and made from aluminum alloy with anti-slip and wear-resistant thick tires for traveling any terrain.
Three bike modes: It comes equipped with a pure electric bike, assisted bike, and standard bike, which you can easily switch according to your mood.
Cons
The range covered is small. The bike only travels a range of 13 to 17 miles (21-27km).
The speed is low. The bike travels at a maximum speed of 18MPH (29KPH), which is considered slow by others. 
This bike, available on Amazon.com, offers you the best value for your money with all the fantastic electric bike features at an affordable price. 
You don't have to worry about sacrificing value for the price because the bike comes with high quality and durable materials. A 250W brushless DC motor powers the bike, which means that its speed can go up to 15.5MPH (25KPH) and a distance up to 15-30 miles (24 – 48km). 
It also has a 36V 8AH lithium-ion battery that you can charge either on or off the bike. The e-bike also comes with the ability to be folded and stored in compact spaces.
Pros
Removable battery: It is equipped with a 36V 8AH Lithium-ion battery, which travels 15-30 miles (24 – 48km) on a single charge. The battery also charges quickly.
Efficient brake and gear system: It comes equipped with a front and rear disc brake for stopping power.
Collapsible frame: The compact design of this e-bike makes it compatible with storage and transport.
Good ergonomics: The ergonomic design makes this mini foldable bike lightweight and durable with increased efficiency and safety.
Three bike modes: It comes with a pure electric mode, assisted bike mode, and normal bike mode with LED display buttons to help you switch easily between modes.
Cons
The frame is small. The e-bike is 16 inches (40.64cm), and its compact size is too small for tall people.
The bike travels at a low speed. This electric bike only travels at a speed of 15.5MPH (25KMH), which is lower than most electric bikes.
If you want a bike with the combined ability to travel up steep mountains and run errands around the city, the WJSWD snow bike is perfect for you, and it's available on Amazon.com. 
It has a powerful 350w motor with a 60nm torque. It is made with high-quality, lightweight aluminum with an integrated PAS sensor and weighs about 61.7lbs (28kg) with a weight capacity of nearly 400 lbs (180kg).
Pros
Powerful motor: This e-bike has a very efficient 48V motor with a capacity of up to 350w. This capacity rivals most e-bikes.
Fast speed: The bike travels at high speeds of 21.7 MPH (35KPH) and can climb hills as steep as 30°.
Can travel a good distance and has a range of 31-43 miles (50 – 70km).
Cons
It weighs a lot. The WJSWD Electric Snow Bike weighs nearly 62 lbs. (28 kg).
Expensive: The WJSWD costs over twice as much as our winning bike.
Key Takeaways
Electric bikes offer a lot of value and after considering the factors that make an excellent e-bike, such as motor, battery, range, and cost, the best overall e-bike for van life is the ANCHEER Electric Bike 20MPH. 
When you compare the ANCHEER Electric Bike 20 MPH to most other e-bikes, you will agree that it offers a more excellent value using the features discussed in this article.