If you want to enjoy cruising through town on your e-bike while on an RV trip, it's worthwhile to invest in the best RV bike rack for electric bikes. While it's a great idea, in theory, to carry electric bikes on an RV trip, practical considerations may prevent you from doing so. Fortunately, the task is made simple by an RV bike rack.
There are a lot of RV bike racks for electric bikes out there. Some famous brands are Thule, Yakima, Kuat and others. Therefore, picking the right one for you involves some serious consideration. We've rounded up three of the best e-bike racks for RV.
| | What we love about it | Bike Capacity | Is it RV approved? | Does it include a lock? | Mount Style | |
| --- | --- | --- | --- | --- | --- | --- |
| Yakima Onramp | Features a built-in ramp to easily load and unload bikes | Can hold up to 4 bikes via its expandable carrier | Yes | No | Hitch-mount | Full Review |
| Thule EasyFold XT | Compatible with a variety of vehicles and comes with a tilting feature | Can hold up to 2 bikes | Yes | Yes | Hitch-mount | Full Review |
| Kuat NV | Provides extra safety with a locking cable and hitch pin | Can hold up to 2 bikes | Yes | Yes | Hitch-mount | Full Review |
| | | | | | | |
---
What is an RV Bike Rack?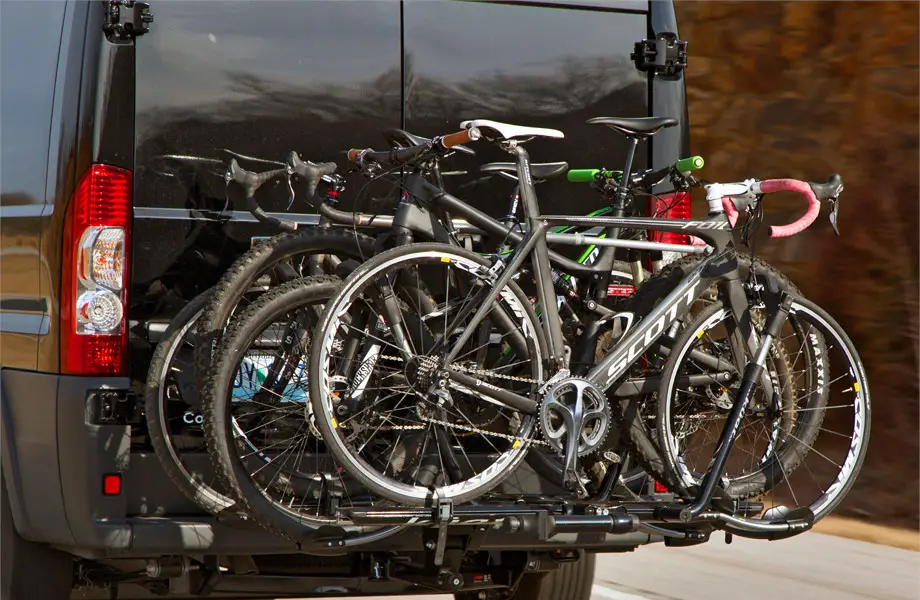 An RV bike rack is used to carry bikes on recreational vehicles. These bike racks are designed specifically for the back of your big rig, and they feature extra stability and shock resistance to keep your bikes from jiggling around. While the RV's interior might look like it's spacious enough to store a bike, doing so might be troublesome because of the RV's limited storage capacity.
---
Why Should You Get an RV Bike Rack?
RV life is all about discovering what's out there. You drive around and find the perfect spot on a peaceful lake or a breathtaking mountaintop. Now that you've parked, you can enjoy your e-bike for some fun. It's no surprise that having an RV bike rack is helpful for a variety of reasons, given how common they are among RVers.
Saves Space Inside Your RV
If you're an RVer who also happens to be a biker, you know how much of a hassle it can be to bring your bikes along on the trip due to space constraints. After all, there is usually not a lot of room for everything inside an RV.
A good bike rack can hold several bicycles without taking up too much room. Because of this, you won't have to worry about finding space for your bikes inside your RV.
Makes Your Bikes Easy to Mount and Unmount
The difficulty in detaching the bikes from the RV is another issue that can arise when storing them inside. It's a hassle when it takes more than a minute or two to take your bikes out of your RV.
A bike rack may turn this fantasy into practical reality by making it easy to remove and store your bikes. Naturally, this element will depend on the bike rack you wind up getting since some varieties need more work than others.
Keeps The Dirt Outside,
In addition, an RV bike rack keeps your e-bikes in pristine condition. After all, cramming bikes into a tight space increases the likelihood of damage and scratches, diminishing the quality of the bikes as a whole. This problem becomes even more apparent when you include the uneven terrain of a typical RV journey. Thus, it's important to choose a high-quality RV bike rack to prevent your bikes from colliding with one another. Not to mention all that bike dirt that could make a mess inside your RV.
---
Things to Consider When Choosing a Bike Rack for Your RV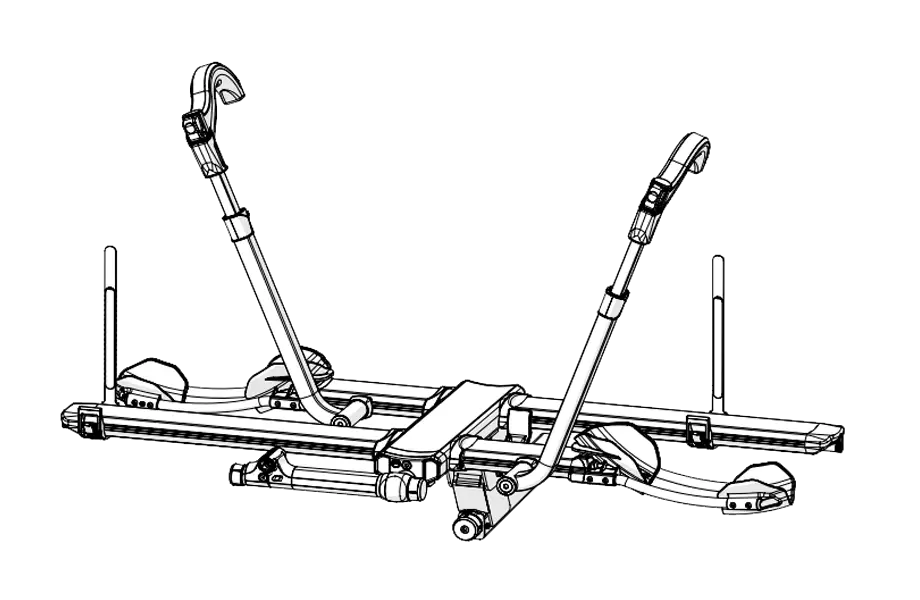 When choosing a bike rack, it's important to keep in mind a few key factors. It's not possible to find a universal RV bike rack. There are several factors to think about while selecting a bike rack, in addition to considering your specific RV.
RV Approval
Just as it's important to check out the specs of the bike rack you plan on getting, it's just as crucial to make sure your preferred bike rack will work for your RV. Before buying, check to see if the bike racks you're eyeing are suitable for use in an RV. RV bike racks are not universal thus you need to choose one that suits your RV model. 
A bike rack that is "RV-approved" has been tested and authorized for use on RVs. To prevent your bikes from being damaged by the bouncing and shaking that can happen in a typical car bike rack, RV-approved bike racks are built with precise size, weight, and shape criteria and have additional stability features. RV-approved bike racks are built with the ability to absorb significant "bounce" to ensure your bikes are stable during transport.
Bike Number and Weight
There is a maximum number of bikes that can be stored in a particular bike rack. There are bike carriers that can hold as few as two bikes or as many as four bikes.  You'll need a bike rack that's rated to hold the number of bikes you intend to carry.
In addition, the weight of bikes also varies widely. A lightweight frame is a feature of some bike models. Certain electric bikes can weigh quite a bit. You should check the weight capacity of the bike rack you intend to buy against the total weight of the bikes you plan to carry. And make sure to leave an extra margin to spare to err on the safe side.
Quality
A high-quality bike rack will be durable and long-lasting. As long as it's built from durable materials that can take a beating while carrying your bikes across rough terrain and harsh elements, it will last a long time and serve its purpose. Consider the durability of the bike racks you're considering by reading reviews written by those who have already used them and shared how well the bike rack has stood over time and miles.
Security
If you're taking an RV trip, dealing with losing your electric bike should be the least of your problems. Having an RV bike rack will ensure that your e-bikes don't get stolen or lost in all the bumps of your journey.
There are also accessories that you can use to keep your e-bikes secure, from keys to locking thread hitch pin.
Ease of Use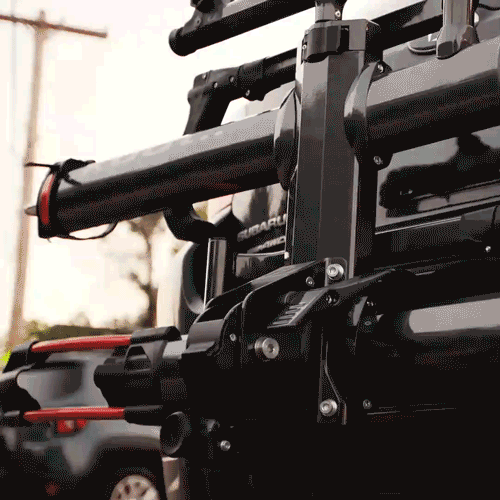 Another aspect to consider is how easy will it be to use the bike rack. Ask questions like, "How tall is the bike rack?" and "Can I still open the backdoor of my RV?" are worth noting. A complicated bike rack is not what you want to buy. 
Mounting and unmounting the bikes should be a breeze. Although the weight of your bikes is the main factor if the RV bike rack is hard to install and use, you may think twice about bringing your bikes along on travels, which would be counter to the whole point of getting the rack.  If you're trying to decide between two different types of racks in terms of how user-friendly they are, it's also a good idea to read some user reviews.
Price
You should also think about how much money you can spend on an RV bike rack. A solid RV-approved bike rack is essential, but you might have to save up for a while to have the exact setup you want to carry your bikes on your RV trips.
Consider the Weight and Installation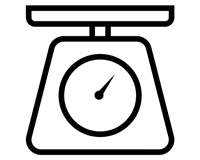 If you want to bring bikes along on your RV trip, you may want to see if one of the many bike racks designed for the RV's back wall will fit on your vehicle. Alternately, there are several that may be mounted on your vehicle's a-frame. Since the length of racks varies, you'll need to find one that's a good match for your RV. Certain bike racks also involve drilling into the RV, so think about if you're OK with that. It's also crucial to check the combined weight of your bikes and their storage in your RV to make sure it's not too much for your RV. 
Note the Construction Quality
The functionality and durability of a bike rack for your RV depend heavily on the style, materials, and construction of the rack itself. Consider a rack that uses a heavy-gauge metal pipe or framework that has been treated with a powder coat to prevent rusting and corrosion. Latch and plastic parts should be sturdy enough to resist a great number of openings and closings without cracking, fracturing, or breaking. The straps should be made of durable woven nylon that won't break down in constant exposure to harsh elements.
---
Should You Get an RV-Approved Bike Rack?
When it comes to RV bike racks, there is a lot of debate over whether or not you need a rack that is RV-approved. Here are reasons why you should go for an RV-approved bike rack.
RV-Approved Bike Racks are Durable
Do you recall how, as a kid, you desperately wanted to sit in the very rear of the school bus where you could get a feel of the motion of the bus as it moved? It's the same in theory, but now it's your expensive bike and rack that are getting bashed around.
This means RV-approved bike racks are built to withstand rough rides. When mounted on the rear of RVs, bike racks are subject to what is known as the "dog tail effect," in which they sway to and fro and sometimes even tilt. Some bike racks aren't made to withstand the constant rattling.
To add insult to injury, towable RVs like travel trailers and fifth wheels don't have the same high-tech suspension as standard vehicles. They are not built to provide a comfortable ride because they are intended to be towed rather than driven. Although RV's improved suspension is a result of their intended use as a vehicle, movement and bumps will still be accentuated behind the rack. All recreational vehicles have a longer distance between the hitch and the rear axle, which puts more wiggle room into the equation and more stress on whatever is attached to the hitch.
RV-Approved Bike Racks are Tested by Manufacturers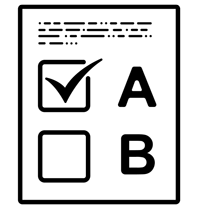 Manufacturers are responsible for ensuring that their bike racks are stable on a variety of vehicles. There are two possible explanations for why a manufacturer might state their bike rack is not suitable for use on an RV: either they haven't tested it on an RV, or they have but it didn't pass their criteria.
RV-Approved Bike Racks are Warrantied for RV Use
For many, this is the decisive factor, and it's best to err on the side of caution. Eventually, you'll probably spot a bike rack that isn't RV-approved dangling off the back of an RV.  This is how some campers have been carrying their bikes for years. But the reality is that your guarantee will not be honored by the manufacturer, and bike racks are expensive. You'll find many stories of people using a rack that isn't RV-approved who ended up with a damaged rack, a damaged bike, and a lot of regrets.
Related Articles:
Best electric bike for van life, top 5
5 Ways To Charge An Ebike In An RV


---
Different Types of RV Bike Racks
Taking your electric bike on your RV trip doesn't need to be challenging. All you need is a rack made especially for electric bikes. It's important to make sure your RV bike rack can handle the load before you set off. 
RV bike racks come in different types. It is essential to know the distinctions between them as not all of them will meet your needs. The four main types of RV bike racks you can find are ladder, bumper, front and hitch mounts.
Ladder Mount RV Bike Rack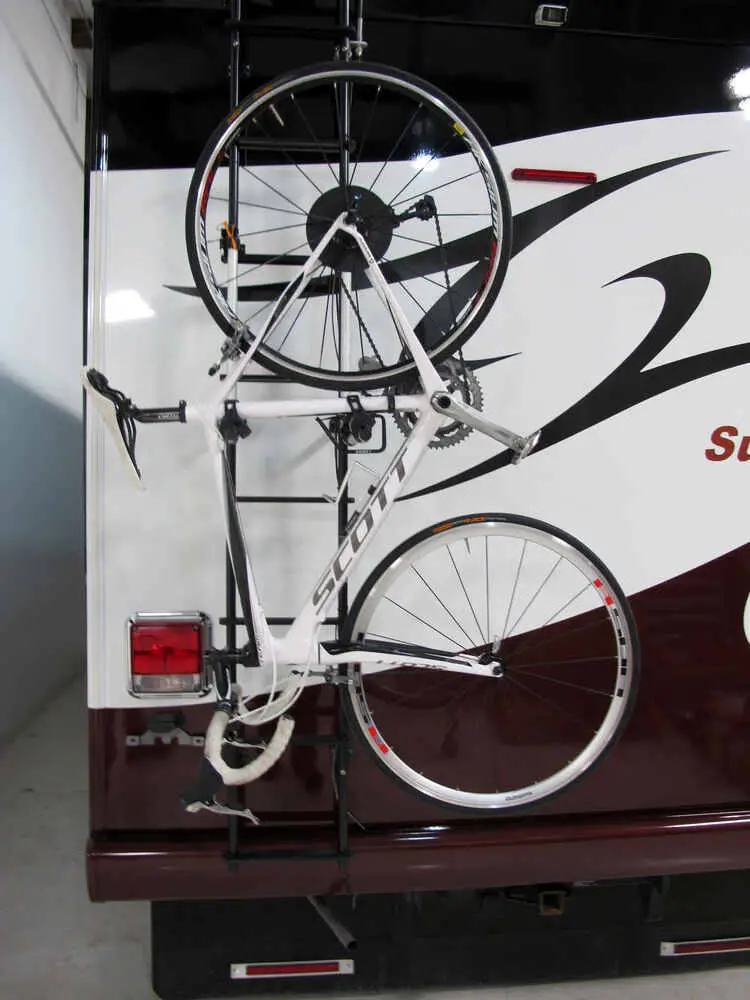 Ladder mounts have the advantage of not increasing the total weight of your hitch, which is a major advantage. Those of us who aren't as handy will appreciate how simple the ladder-mount bike racks are to set up. Ladder-mounted bike racks often can only accommodate a few bikes, which is a considerable downside. Unfortunately, most have a weight limit of 60 pounds, making them impractical for use on e-bikes.
Bumper Mount RV Bike Rack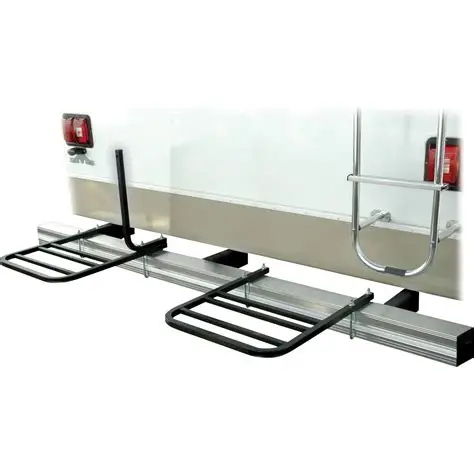 RV owners can also choose to install a bike rack on the vehicle's bumper. In general, you can strap four bikes to a rack that attaches to the bumper. In most cases, they can support more weight as well. This style of rack is preferable for bigger e-bikes due to its higher weight capacity (up to 120 pounds in some cases). 
Front-Mounted RV Bike Rack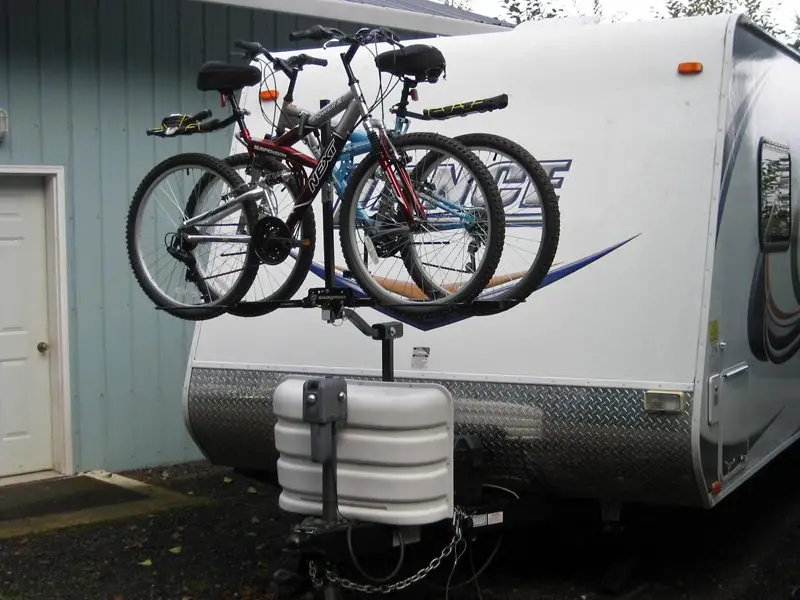 RV bike racks positioned in the front of the RV experience less shaking than those mounted in the back, although they are still rarely used. However, there are a few campers who either can't or won't secure their bikes to the rear of their RV. There could be something in the way (like a spare tire) or their back hitch could be in use for another purpose, making it difficult to fit the rack with bikes mounted on the rear hitch. In this case, a front-mounted RV bike rack is suitable although this will depend on factors such as the bumper's design, the number of bikes they need to carry, and so on.
Hitch Mounted RV Bike Rack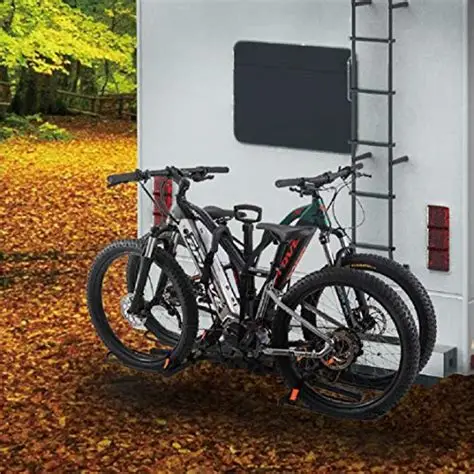 The hitch-mounted bike rack is the most convenient option. You may feel hopeless if you have a tow truck or RV behind your motorhome. But fret not as a dual hitch receiver can be installed with little effort.  This will let you tow normally while also carrying a bike rack. Bike racks that attach to a tow hitch can typically support more weight and hold up to four bikes. You just need to make sure that you choose a bike rake that fits your RV's hitch receiver.
---
Can You Carry Other Things in the RV Bike Rack?
The answer is yes, as long as the weight does not exceed the RV bike rack's capacity. For instance, a bike rack designed for two bikes that weigh 50 pounds can only hold a total of 50 pounds in additional weight. If the RV bike rack is overloaded, it could be damaged.
Some RVers use the RV bike rack to secure other gear like tents, tarps, ropes, cables, etc. It's okay to carry other items on the rack but make sure you don't exceed the maximum weight capacity of the rack.
---
Top 3 RV Bike Racks for Electric Bikes
Driving through rural backroads, coastal boardwalks, urban explorations, and scenic mountains are just some of the many reasons why biking is among the top pastimes of RVers. Biking adds more fun and excitement (plus saves money) for your RV adventures. Now that we've covered all the basics, it's time to buy your new RV bike rack. Here are our Top 3 RV bike racks for electric bikes.
Yakima Onramp
YAKIMA OnRamp
Engineered to carry 2 bikes up to 66-lbs each. Integrated ramp for easy, roll-on loading, and stows away neatly.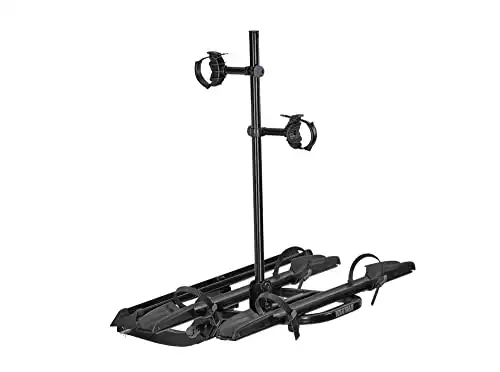 If you make a purchase, you support Hi-van.com by allowing us to earn an affiliate commission (no added cost for you).
The Yakima OnRamp is a reasonably priced rack that features a ramp to make it easier for riders to mount their bikes. The OnRamp is one of the most popular RV bike racks since it is both sturdy and affordable, making it one of our top picks for RV e-bike racks.
With its frame-mounted design, this rack is ideally suited for fenders-equipped bikes. However, it is not without flaws. The maximum allowed bike weight is 66 pounds per bike and 50 inches in size. 
Tray positions can be altered to prevent saddle or bar interference, which is a convenient feature that expedites subsequent loading after the initial setup. However, anyone riding a bike with tires wider than 29 x 3.25 inches will need to purchase a separate adapter to use the Yakima OnRamp. 
The BackSwing is one noteworthy feature of Yakima. It allows the hitch rack to swing out 90 degrees from the hitch, providing convenient access to the RV's cargo area. This is one of the best electric bike racks because of its low cost and versatility.
Pros
Able to handle bikes with fenders
Features a built-in ramp to easily load and unload bikes
Adjustable tray position to prevent interference
Has an expandable carrier that can hold a maximum of four bikes
Lightweight
Comes with a backswing feature
Cons
Requires adapter for bikes with large tires
---
Thule EasyFold XT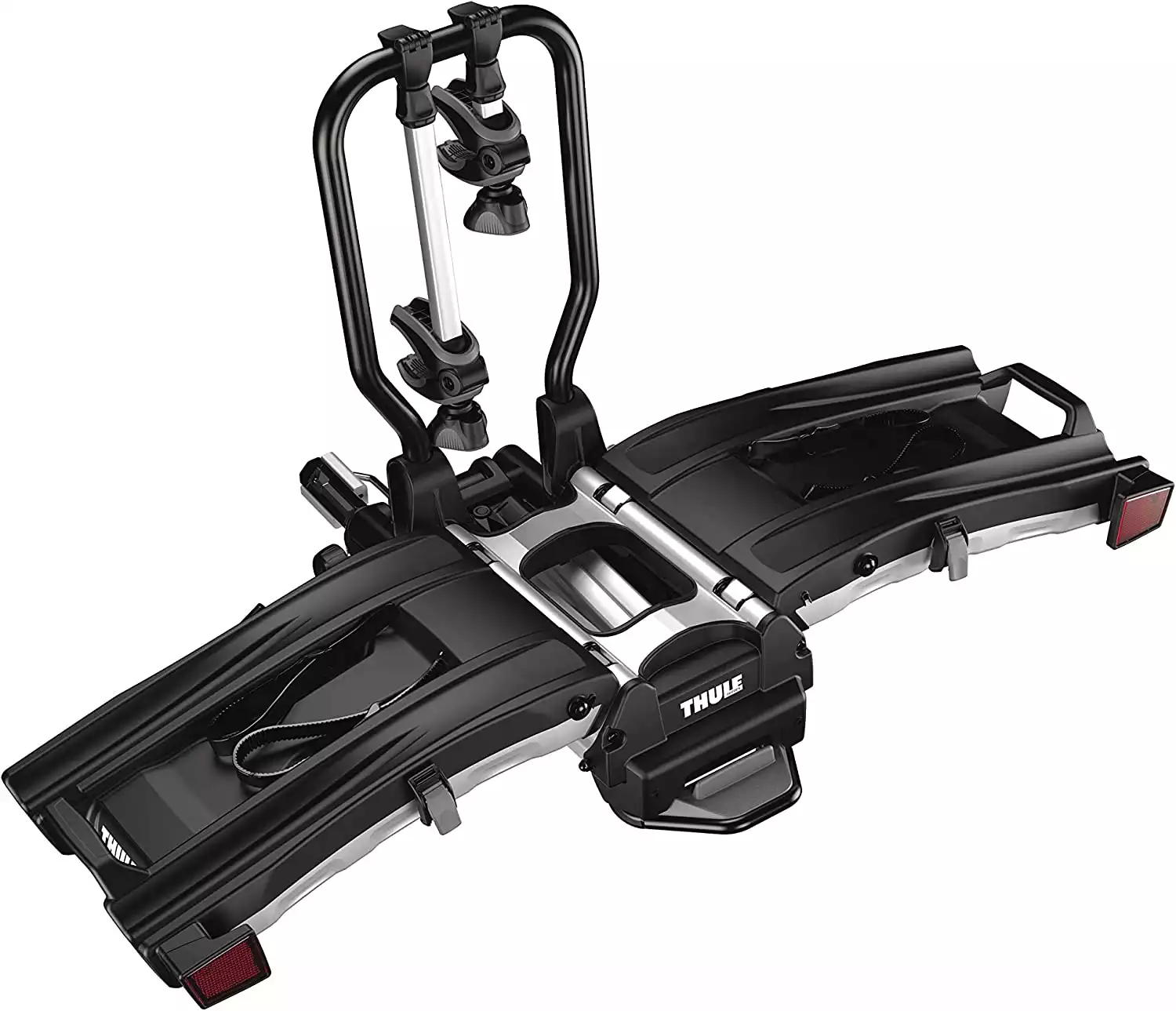 If you make a purchase, you support Hi-van.com by allowing us to earn an affiliate commission (no added cost for you).
Thule EasyFold XT 2 Hitch Bike Rack is our runner-up for the top 3 RV bike racks for electric bikes. This is a bike rack that, as the name implies, can be folded up and stored away to free up a lot of room when it is not in use. It also eliminates the need to remove the rack from your vehicle after each trip. As one might expect from a product composed of aluminum, it is lighter than other bike racks but the downside is it's on the pricier end of the spectrum.
A total of around 130 pounds can be carried by the Thule EasyFold XT 2 Hitch Bike Rack. It allows for two electric bikes to be securely stored on the rack at once. The ramp that comes standard on the rack expedites the process of loading and unloading bikes. This bike rack is designed to fit both 1.25-inch and 2-inch receivers. Tilting the rack allows you to remove the bikes from it or gain access to the trunk.
Pros
Compatible with a variety of vehicles
Top quality materials that can withstand wear and tear
Power grip mounting option
130 pounds maximum weight capacity
Foldable 
Comes with a built-in ramp for easy loading and unloading
Tilting option available
Cons
---
Kuat NV 2.0
The Kuat NV comes in 1.25 and 2-inch hitch receiver options, making them suitable for a wide range of vehicles. Fast, straightforward, and entirely tool-free, the setup couldn't be easier.
The rack's pivot design lets you lower it easily with the tap of a foot, and the stand lets you make repairs wherever you happen to be. This will please any electric bike aficionado.
This rack is the best option for you if you're a happy owner of a fat-tire bike because it works right out of the box with your specialized wheels. But if you have a road electric bike, you'll need to pick up an adapter.
The built-in ramp makes loading and unloading bikes a breeze. Thus, you need not bother yourself with the inconvenience of lifting a heavy e-bike; rather, you just wheel it on and leave it there. Fitting them securely requires using tire scoops after the bike has been fastened in place. Additionally, rear tire straps that are co-molded into the design offer protection. Plus, the Kuat NV has a locking hitch pin and locking wires for extra protection.
Pros
Comes with a ramp for easy loading and unloading
Able to carry bikes with 60 pounds maximum weight capacity
Provides extra safety with a locking cable and hitch pin
Cons
Can only accept fat-tire bikes and requires additional accessories for other bike types
---
Bringing a bike with you on your trip is a fun way to get some exercise, see the sights, and cut down on your travel expenses. And with your RV bike rack, you can rest easy knowing you can always carry your electric bikes wherever you go.