Hi-van is supported by its audience. When you purchase using our links, we may earn an affiliate commission (no added cost to you). Learn more
In the past, the elderly and disabled were limited when they wanted to go outdoors and enjoy the camper lifestyle. But now, modern RVs have the amenities needed to accommodate their travel needs while ensuring they have a safe experience.
Once you have an RV with the necessary amenities, the next step is to focus on the safety products needed for emergencies. Whether you are a senior citizen or a disabled person, what you buy will depend on your personal needs. 
This guide will cover the five essential products seniors, and RVers with disabilities need to stay safe and be ready for any situation
---
Sabre Pepper Spray 
SABRE Tactical Pepper Gel
SABRE is the #1 pepper spray brand trusted by police & consumers & a leader in the personal safety category. SABRE Pepper GEL is made in the USA​.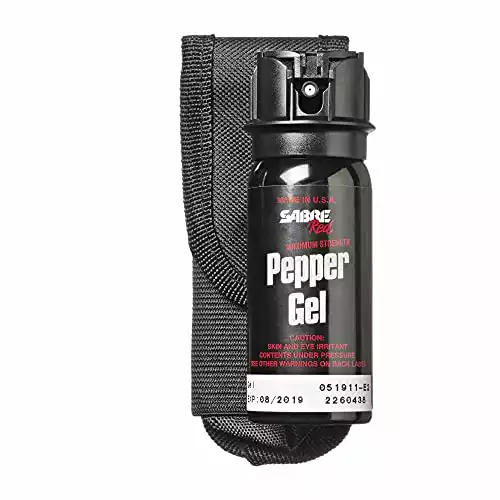 If you make a purchase, you support Hi-van.com by allowing us to earn an affiliate commission (no added cost for you).
Pepper spray is a valuable tool in your RV and a must-have if you are traveling alone and unable to defend yourself. The Sabre brand is a perfect choice, and we recommend you keep one in every room of your camper, plus try to have one with you whenever you live your RV. 
Sabre pepper sprays are well known and used by law enforcement workers all over the United States. This product has double the strength of your average pepper spray and can take down anyone that shows up to your camper uninvited. It can handle multiple attackers at once if you are ever ambushed because it shoots 25 bursts with a 10-foot-long range. Lastly, if it's your first time buying one, the instruction booklets have a link that includes videos with all the training you need to increase your safety.  
pros
Most Affordable price
Small enough to fit in your pockets
5-year expiration date
Shoots across long distances 

cons
The tip of the bottle leaks a little after use
Cannot refill after liquid runs out
---
First Alert HOME1 Rechargeable Fire Extinguisher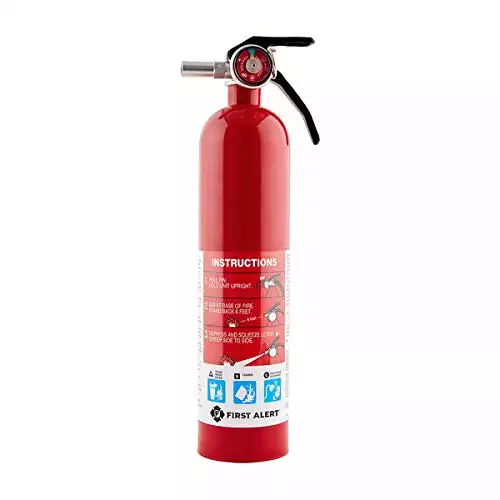 If you make a purchase, you support Hi-van.com by allowing us to earn an affiliate commission (no added cost for you).
Most RVs will come with an installed fire extinguisher, but some don't, and many have lower-quality models. It's best to buy your own, and the First Alert Rechargeable extinguisher is the best quality option for the price. These are important because if you are disabled or elderly, you might be unable to leave your RV in time if there is a fire. 
This First Alert extinguisher is rechargeable if you have a certified expert to do it for you and comes with a metal pin to keep it safe when you don't need it. Lastly, the canister is constructed using metal, so it is not easy to break if accidentally dropped. 
pros
Comes with sturdy metal parts
Comes with free mounting brackets
Economical price tag

cons
Not easy to install for most
---
Arlo Pro 3 Spotlight Camera for RV Safety
Arlo Pro 3 Spotlight Camera
Arlo Pro 3 Add-on Camera requires an Arlo SmartHub or Base Station, sold separately
Zoom in to see sharp details - See and record video in 2K with HDR for a clearer, undistorted picture, day or night.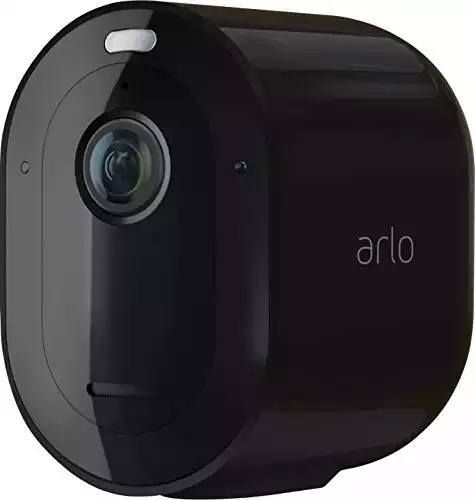 If you make a purchase, you support Hi-van.com by allowing us to earn an affiliate commission (no added cost for you).
Wireless security cameras suit disabled people or senior citizens to monitor outside their RV. If they see someone or something suspicious, they can call for help and get a law enforcement officer to help. These cameras are the most useful for campgrounds and places that are a bit out of the way. You and your camper will be fine no matter where you go. 
The Arlo 3 Spotlight Camera can store videos in 2k and is usable 24 hours daily, from morning to night. When a stranger approaches your RV, you are notified immediately to determine whether you need to protect yourself. The Entire installation is wireless, and you can customize the camera to get the best angle. Lastly, your video footage is saved in the cloud with their Arlo Smart hub.  
pros
Installation is quick and simple
Long-lasting battery
Crystal clear live stream
Notifications are sent when people are near

cons
Notifications lag sometimes
Cameras only turn off when they sense movement
Related Articles:
4 Best Van Security Cameras for Van Life
---
Able Life Auto Cane
Able Life Auto Cane
Prevent Falls: The handle provides users with stability and balance when standing or sitting from the car; compatible with most vehicles, the grab bar fits parallel to your car when inserted into a U-shaped door striker or latch; no modifications are required.
If you make a purchase, you support Hi-van.com by allowing us to earn an affiliate commission (no added cost for you).
When you are ready and have the experience, Able Life Auto Cane gives you the independence to move around inside and outside your RV. This cane is helpful to anyone with some leg mobility but not enough to get around without support. It's specifically designed to assist you when you want to get out of your vehicle and there is no one nearby to assist you. 
The Auto Cane handle is adjustable and can fit in your RV's driver or passenger area, and you won't need to buy any extra accessories. It can only support someone that weighs less than 300 pounds, so if you weigh over this amount, we recommend you pick a sturdier support cane. 
pros
Solid steel handle
Affordable price tag
Gives a senior the independence and dignity they deserve

cons
The cane starts to shift and wobble if the senior weighs over 300 pounds
---
Vive Bed Rail
Vive Bed Assist Rail
Providing additional assistance when getting into or out of bed, the safety rail is stable and secure. The bed rail is held securely in place with a stabilizing bar and rubber-tipped legs.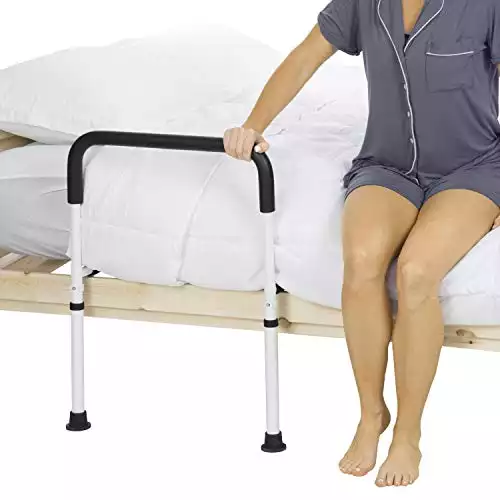 If you make a purchase, you support Hi-van.com by allowing us to earn an affiliate commission (no added cost for you).
The Vive Bed Rail is ideal for disabled people with weak legs or rehabilitating from spinal surgery. It is compatible with beds in RVs, so if you are alone or don't want to burden your partner, the bed rail will help you stand up in the morning unassisted. Attaching this accessory to your bed is easy and takes less than a minute. 
This option is perfect if you want a bed rail lasting 5 to 10 years because it's constructed using strong aluminum. You don't need to worry about this rail starting to form rust or start to bend while you are standing. 
pros
A bonus is it prevents people from falling off their bed
Adjustable according to your needs
Installation is simple and takes a few minutes
Tightly grips your bad and does not shift while you sleep

cons
Some parts are made of plastic.
---
Final Thoughts
Now you have all the products you need to stay safe outdoors as someone disabled or a senior citizen. 
We recommend you start your journey with someone who has experience with campers and can teach someone with your unique needs the ropes. Lastly, before buying a camper, always rent first to ensure you can handle and enjoy the camper lifestyle before purchasing an RV with amenities for someone disabled. 
Here's an infographic quickly resuming all the information: