Hi-van is supported by its audience. When you purchase through links on my site, I may earn an affiliate commission. Learn more
If you've been living in your van for some time, you should know by now how crucial water is. If you don't have water or your water system is broken, you can't stay in your van.
I've been using an electric water pump until it broke down in the middle of nowhere.
I had to drive back to the closest city to get it fixed. This is when I decided to install a manual foot pump. It's easy to use, you don't need any electricity to run it, it's almost indestructible and you can save a lot of water thanks to it.
In this article, I'll explain how you can install a van foot pump in your camper.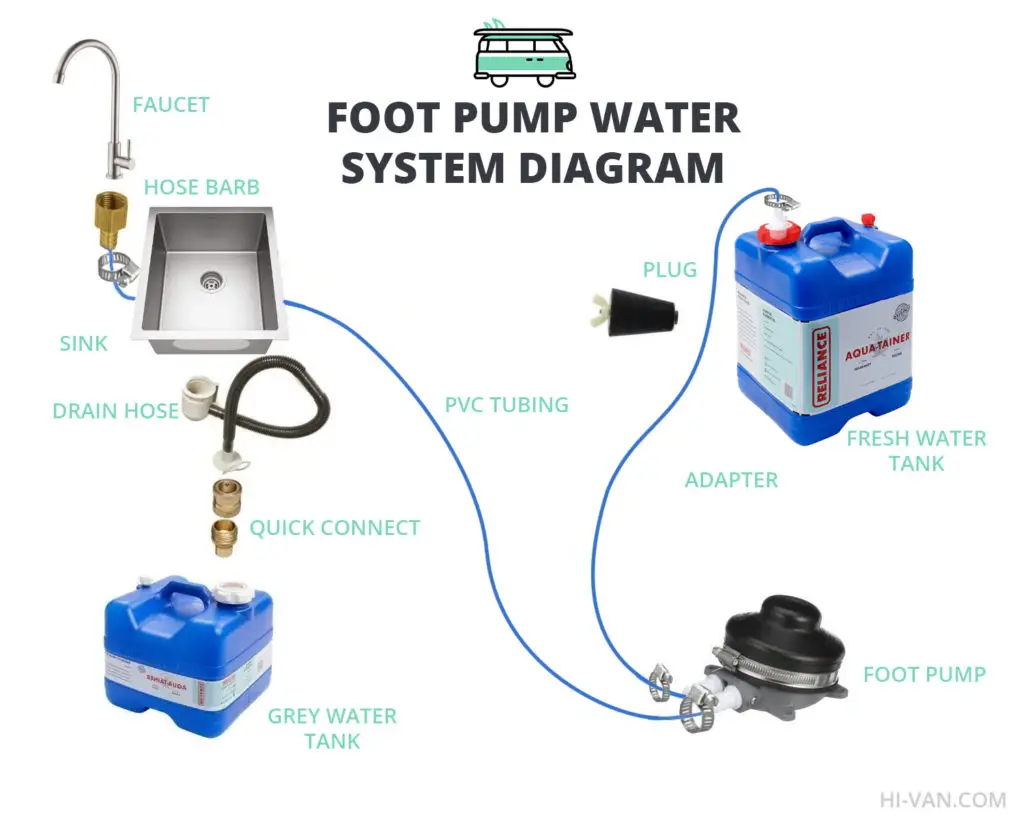 Here's what you need:
How to Install a Water Foot Pump in your Camper
Must Have
Manual Freshwater Galley Pump
Foot-operated galley water pump makes it easy to draw water in a galley for a wide variety of applications.
Simply pump on this unit with the bottom of your foot to draw water
Conveniently angled top design for easy operation
Connects to ½-inch flexible hose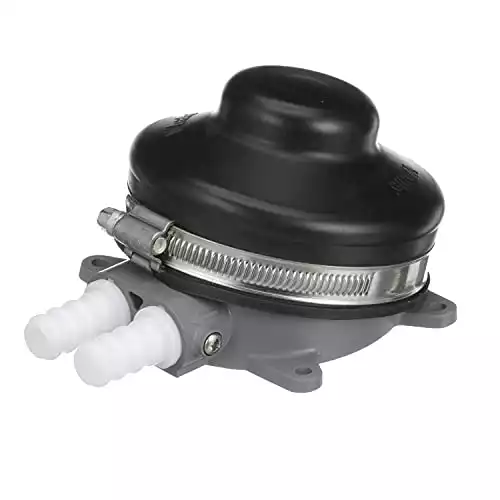 If you make a purchase, you support Hi-van.com by allowing me to earn an affiliate commission (no added cost for you).
– Prepare the water tank you will use for your fresh water.
You need to connect it to your water pump with PVC tubing. Ideally, connect your tubing to the tank lead and don't drill any holes in your tank. Therefore, you'll be able to easily take out your fresh water tank whenever you need to refill it and you won't risk any leak.
As a manual foot water pump isn't as powerful as an electric pump, you should put your fresh water tank as close to your faucet as possible. You also want to keep easy access to it for refills.
– Place your foot water pump on the floor
Place it somewhere easy to access with your foot while avoiding it blocking all your floor space.
– Connect your foot pump to your faucet.
– Ensure that you tighten each connection with hose clamps.
– Connect your drain hose from your sink to your grey water tank using a quick-connect fitting.
You can use a quick-connect fitting to easily dump your grey water when full. Remember to always dump your grey waters in appropriate locations.
– Test your water system and double-check for leaks.
– Fit your water tanks to avoid any movements while driving.
You're set to go. Enjoy a reliable water system that will save you a ton of water at the same time.
It shouldn't take you long to notice a big decrease in your water consumption. Furthermore, while saving water thanks to your camper foot water pump, you also exercise while using it.
Here's a quick video to show you how Gene & Shay (@geneandshay) did their water pump installation.
If You Don't Want to Use a Foot Water Pump:
You can simply purchase a small spray bottle that you refill and use to do your dishes and other tasks that require water. Before purchasing my Foot Water Pump, I used this simple Water Spray for 1 years. I could spend on average 1-2 days extra before refilling my fresh water tank, that's huge!
Empty Amber Glass Spray Bottles with Silicone Sleeve
2 LARGE 16 OUNCE BOTTLES with easy-to-pull, durable nozzle. Two spray settings: fine mist or a strong stream.
SILICONE SLEEVE prevents the glass from breaking on tile and countertops. 2 colors to identify your cleaning solutions.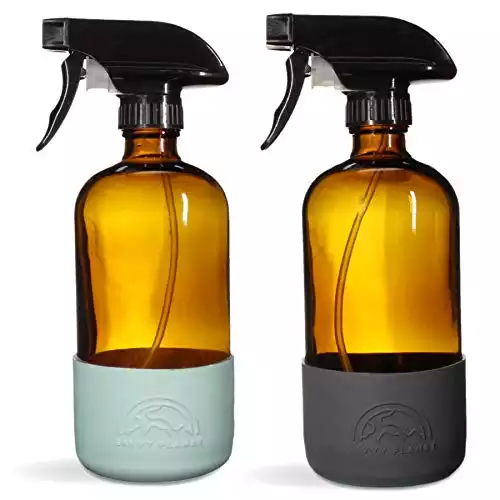 If you make a purchase, you support Hi-van.com by allowing me to earn an affiliate commission (no added cost for you).
Here are some of my favorite van build tools:
Thank you for reading this article. I hope you found it helpful as you build your own campervan. Here are some tools that I use daily while living on the road that made my life easier. I hope you'll also find them as useful as me. These are affiliate links, so if you do decide to purchase any of them, I'll earn a commission.
But in all honesty, these are the exact tools that I use and recommend to everyone, even my closest friends and family.

Electricity: When I first started my van life journey, I was using the Renogy 200W RV Kit, and I've recently upgraded my setup to the Renogy 400W RV Kit. I'm fully autonomous regarding power now, thanks to this upgrade. I don't know why I didn't choose this option from the beginning.
Quick Fixes: Whenever I need to fix something inside my van, I use my multitool from Victorinox. It's compact and comes with a leather pouch that lets you store it wherever you want. Whenever I need more tools, I get my Cartmann toolset out.
Power tools: If you're converting a van, you'll need some serious tools for the building process. I can assure you, good power tools can make a huge difference. You'll save time and avoid a lot of frustration while having some professional-looking final results. I personally went big with the full combo set from Dewalt.
To see all of my most up-to-date recommendations about van build, check out this resource that I made for you!