Hi-van is supported by its audience. When you purchase using our links, we may earn an affiliate commission (no added cost to you). Learn more
Buying a campervan kitchen provides unparalleled convenience and peace of mind. Knowing you don't have to create blueprints or worry about potential safety hazards will be a huge weight off of your shoulders. You can choose your favorite kitchen for light cooking on the road or a full-on chef's paradise!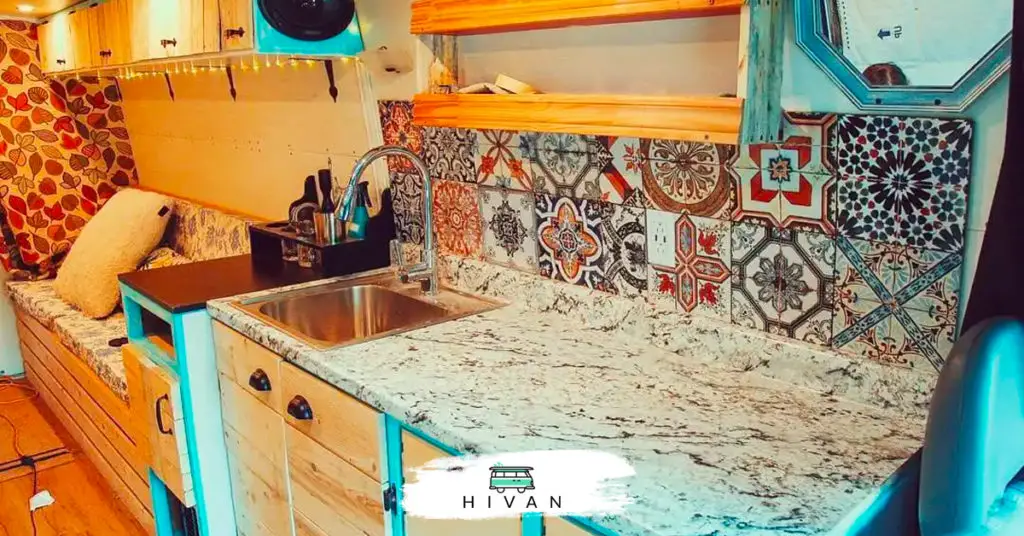 Buy your campervan kitchen from Freeway Camper Kits, Happier Camper's Adaptiv System, Van Do It, Trail Kitchens, or Contravans. ZenVans and Wayfarer Vans also provide top-notch kitchens for your van. Make sure you have a sink and counter space with any van kitchen you purchase.
In this post, we'll discuss what you need to know before getting a campervan kitchen pod. We'll also cover the seven best kitchen kits to turn your campervan into a functional cooking and cleaning space without taking up too much room. Check our van build resources page to find even more inspiration for your build.
What to Look For When Buying a Camper Van Kitchen
Knowing what to look for will prevent you from finding a kitchen that either doesn't fit your van or suit your needs (Check The Best Van Kitchen Plans For Your Conversion). Luckily, modern kitchen pods are clean, easy to install, and stylish. Assuming those three needs are met, let's check out a handful of additional factors to consider below.
Multipurpose: Your campervan kitchen should have everything you need, which could include a sink, fridge, water tank, counter space, cabinets, and so on. While some people only need one or two of these appliances, many others also prefer a freezer, outlets for coffee makers, and so on. Ensure your pod serves several purposes.
Compact: How much space do you have to spare? Some kitchen pods slide under the bed, while others are standalone amenities that take up a lot of room. It's up to you to decide how much square footage you can spare or if you need a compact design for your campervan kitchen.
Quality: Compare your chosen kit to a few others on the list. Do they have the wood you're looking for? Is there a warranty or return policy? Does the kitchen setup have airtight seals and water-resistant coats? Ask yourself these questions to ensure the quality of the kit.
Compatibility: Perhaps the most important feature is whether or not the kitchen will fit into your van. Many of the listed pods have specifications that show which campervans they work for, but if not, measure your vehicle and compare it to the model. Shipping the kit back to the company can be expensive if it doesn't fit!
Location: Some kitchen kits are designed for indoor spaces, whereas others are made to slide outside. A select few of them can work inside or outside, providing all-year use wherever you go. Where do you prefer to cook, wash dishes, and so on? It's worth considering before investing in a long-term kitchen.
Choosing a campervan kitchen should be a fun, worry-free experience. Rather than sifting through hundreds of potential candidates, why not review our list of the best campervan kitchen companies on the market? We've done the research, so you don't have to.
Without further ado, here's our list of places to buy your campervan kitchen: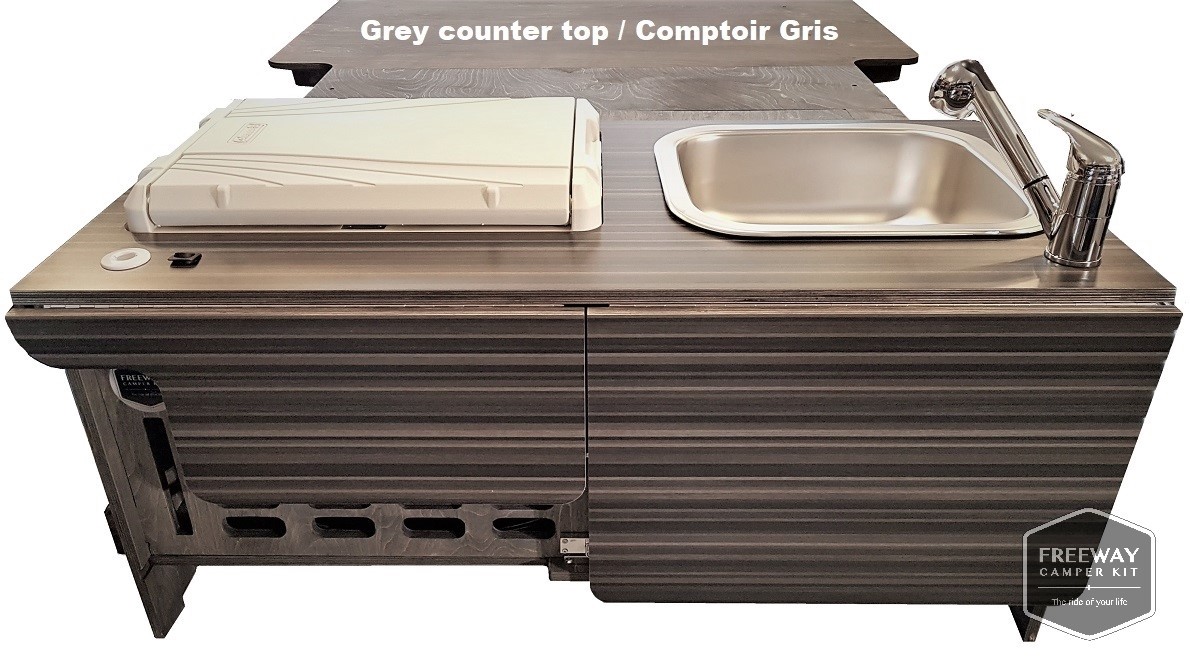 Freeway Camper Kit sells several campervan conversion kits with great kitchen designs. They pride themselves on multifunctional layouts that come with showers, bathrooms, kitchens, beds, and more. Their kitchen kits include many options, including a 52-gallon water tank hooked to a wide sink.
Many of their kitchen pods also include a large 40-gallon fridge that's powered by a battery. You can wire the battery to your car, or a solar panel mounted to the roof. Either way, you'll have a sink, fridge, counter space, and plenty of water; What else could you want in a compact campervan kitchen?
Bottom Line: Freeway Camper Kit does an excellent job of covering the essentials without taking up too much space. Every square inch of their design serves a purpose, embracing the minimalist campervan lifestyle without compromising modern luxurious amenities. Choose from one of their many models to find the perfect fit for your vehicle.
Pros
Several designs for a wide range of makes and models.
Every appliance has a multipurpose functionality.
Includes an optional fridge, counter space, shower head, sink, large water reservoir, and more.
Their kits are reasonably priced and easy to install with one or two people.
Cons
These kits don't include microwaves or stoves, but you can mount a portable camping stove.
---
Happier Camper's Adaptiv Kit is one of the most unique campervan kitchens available. These interesting layouts work with cubes, and each cube serves a purpose. For example, their models come with cooler/fridge cubes, sink cubes, toilet cubes, and kitchenette cubs. You can customize the campervan's kitchen based on each cube's dimensions.
The primary reason this company is gaining traction is its flexibility. Rather than choosing your make and model and hoping for the best, you can find exactly what fits your vehicle. From a nesting tabletop to a compact pantry, you can create the ultimate campervan kitchen for your next adventure.
Bottom Line: Happier Camper managed to change the way people view camping as a whole. Instead of roughing it in the wilderness, you can make a wonderful kitchen to eat your favorite foods. They even have a space designed to mount your stove or microwave for hot meals on the road.
Pros
These kits are as customizable as they get.
You can make your kitchen look and function however you want it to.
Many cubes can combine to create a bed, preventing it from taking up too much space.
They offer wiring for USB and DC outlets.
Cons
The installation process requires floor squares, which can take a long time to mount.
Find this content useful 🙂 ?
Subscribe to our Newsletter and get a free Solar Electric Diagram + shopping list.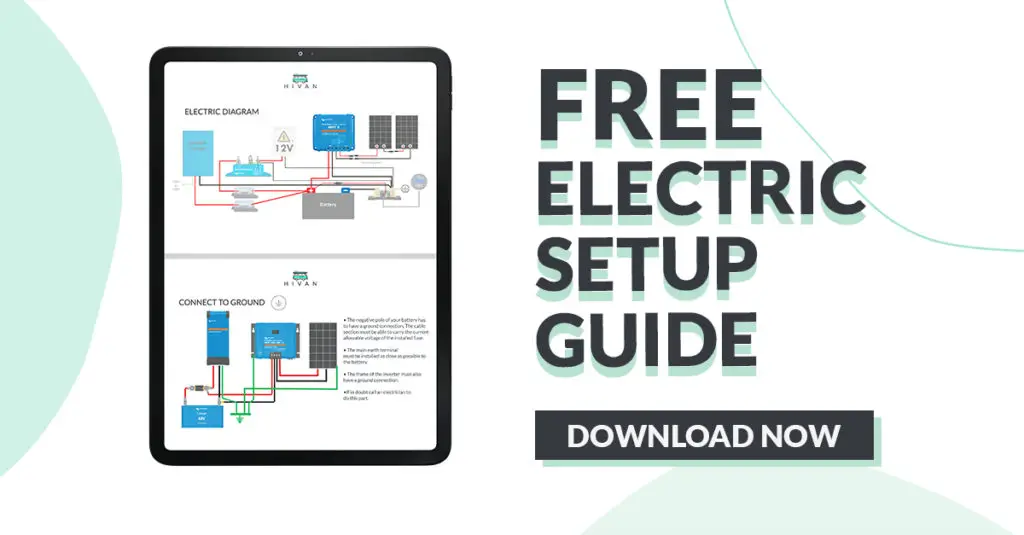 Those who prefer a basic layout with nothing but the essentials should try the Van Do It Kitchen Pod. This layout has a fridge, counter space, and sink. Everything doubles as an optional seating arrangement for working, cooking, or relaxing. If you choose this pod, you'll have several fridge sizes to choose from.
Another reason this pod is worth getting is it swivels 360 degrees and includes a lock to stop it from turning. You can face whichever direction you prefer and enjoy a relaxing look outside while cooking or chopping vegetables. The sink has a faucet with a removable tub for easy dumping and cleaning.
Bottom Line: Some of us just want the basics; Sinks, tables, refrigerators. If you don't want a fancy kitchen to take up too much space, the Van Do It Kitchen Pod should be at the top of your list. Everything is made with high-grade materials to ensure a long-lasting, comfortable fit for many years to come.
Pros
Made with a perfect combination of simplicity and functionality.
You can choose from several fridge sizes to suit your needs.
The table is constructed with heavy-duty metal and a swivel.
Remove and empty the sink in seconds.
Cons
This kitchen is as basic as it gets, so you can't expect a lot of cooking prep space.
---
Trail Kitchens has one of the best kitchen pods you'll come across while looking for something for your campervan. They have a passenger or driver-side kitchen kit that mounts to the wall, providing safety and convenience. Each kit includes a stove, more than enough counter space, and room for a pantry.
The company takes it a step further by providing an optional hot water system, faucets, sinks, water tanks, fridges, and more. You can find everything you need for your van kitchen while relying on safety, longevity, and functionality. When you're done using the counters, they fold to the side to free up more space in your campervan.
Bottom Line: The Trail Kitchens kit is quite impressive. Boasting a built-in stove, water heater, and other amenities unseen in most of its competitors, it's easy to see why so many campervan owners prefer it over any other pod on the market. Choose your location, size, and optional additions and hit the road.
Pros
This kitchen is one of the most detailed and customizable kits you'll find.
It includes a built-in stove and an optional water heater.
Collapsible counter space makes your campervan feel much roomier.
The kitchen is removable and can be used outside or inside.
Cons
Due to all of the customizations and high-end components, these kitchens cost more than many of the previously mentioned pods.
---
Contravans sells all sorts of campervan conversion kits. Their conversions have everything you need, ranging from roof vent fans to kitchenettes. If you're looking for a top-of-the-line kitchen, they have options with plenty of counter space, a large refrigerator, and more. You can also add an optional water tank and sink.
Their beautifully crafted wooden counters have three pull-out drawers for utensils, food, and other items. There's a sink on the far right or left, depending on the model you choose. The rest of the counter is ideal for chopping food, mounting cookware, and more. Some of them have a removable cutting board, too.
Bottom Line: The Contravans van conversion kits have excellent kitchens for anyone who enjoys quality, cosmetics, and multipurpose functionality. The thick wooden counters look great and last for a long time. Everything is built to last, preventing you from seeking repairs or a complete replacement.
Pros
These kitchen kits use solid wood that looks and feels incredible.
Enjoy hidden drawers and cutting boards to save space.
The sink is placed for optimal spaciousness to open the counter space.
Cons
Their prices are significantly higher than most of the competition because they provide top-shelf quality.
---
Wayfarer Vans uses simplicity to save space without taking away everything you need to enjoy your camping and cooking experiences. They offer beds with tons of room underneath, kitchens with big sinks, and fridges that tuck underneath the shelves. You can also add storage, insulation, and other amenities to your kitchen kit.
This company makes it easy to choose your kitchen pod. All you have to do is choose your vehicle's make and model, decide which color you prefer, then select your favorite appliances. They'll tally the total and provide a reliable quote without fine print.
Bottom Line: Wayfarer Vans has propelled itself to the big leagues by offering quality, minimalist designs and compact layouts. Their shopping system makes it easy for everyone to find their perfect campervan kitchen.
Pros
You can pick your favorite color and amenities.
They offer kitchen kits or full conversions.
You'll receive comfortable padding, durable counters, and more.
Cons
These kits are quite expensive, especially if you add all of the options.
---
Although they're last on the list, ZenVans is more than worth looking into. They have amazing van conversion kits to make your campervan look and feel like a real home. These kits include fridges, shelves, countertops, drawers, stoves, and more. They even offer an optional folding table on the side of the kitchen unit!
Bottom Line: ZenVans has long-lasting, lightweight kitchens that fit almost any campervan. You'll enjoy the quality just as much as the functionality and ease of use. Solid bamboo and aluminum make it look incredible and feel reliable.
Pros
It's one of the few kitchens that come with a stove, fridge, and bamboo counters.
Each kit is designed to fit your van, so you don't have to drill holes in it.
You can quickly and easily remove the kits to use them outside.
They're made of bamboo, aluminum, and stainless steel.
They offer LED light and many other modern amenities for your kitchen conversion.
Cons
ZenVans conversion kits are well over the cost of Trail Kitchens, Van Do It Kits, and a couple of others on the list.
---
Conclusion
There are plenty of campervan kitchen blueprints and DIY tutorials on the internet, but nothing beats getting a premade, fully functional kitchen right out of the box. You can input your van's make and model and enjoy one of many kitchen kits to cook, clean, refrigerate, and more.