Using a top-loading fridge is your best bet for keeping food cold in your camper. They provide several benefits that the standard fridge you have in your kitchen could be lacking. They also are perfect for boondocking as they work as coolers when they lose power. What are some of the best top-loading refrigerators for your camper van?
Wading into camper van layouts and what items will work best rivals designing your own home from the ground up. Some variables can boggle the mind and have you pulling your hair out. Don't let that stop you from finding the proper setup for your camper van! Read on and learn what's the best top-loading camp fridges.
Best Camper Van Top-Loading Refrigerator Ideas
Top-loading refrigerators are space-efficient and run off of 12V power like you have in your van. They come in all different sizes and even have various openings that contribute to keeping your food cold. They are also able to be stored or installed anywhere, which makes them perfect for van camping.
Those who are into tricking out their vans with matching interior and space-saving ideas lean on top-loaders usability and storability to make their unique visions come to life. They can be mounted and stored almost anywhere, with cabinet spaces and corners being a usual spot for their new homes.
Installing a top-loader in your van could require some carpentry skills. Be sure that you have materials that won't harm the machine or hinder its function in any way. Drawers made for top-loaders should glide easily and not have a need to be forced into opening when you need them. 
Alpicool Portable Fridge is a Great Addition to any Camping Set-up.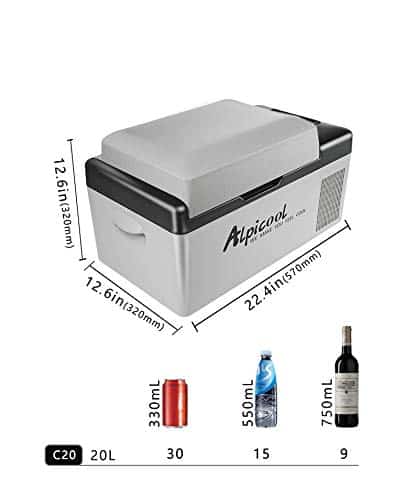 The 20 quart model from Alpicool would be the perfect model for the van camper who is just starting out. It is on the smaller side, but it is a great choice for smaller spaces and needs something powerful. The extra ice cube tray section is a nice touch and could come in handy in an emergency cocktail situation.
One of the best things about the Alpicool is that it will work on almost any power supply type. Being able to power the unit with your solar-powered array or plug it into the 110 just like a regular freezer. When you pair that with the portability and size, you have a potent fridge and freezer that works best for any situation.
High-density foam makes up the body of the fridge. It is wrapped with vented metal and plastic that helps it to shed any excess heat. The foam and body style are essential because even when you lose power, they can keep your food cool. Bonus, they work great as a cooler you can lug around to the beach or onto your boat.
The advantages of the Alpicool are:
Great for the Beginning Van Camper
Many ways to Power the Machine
High-Quality High-Density Foam
The 43 Quart EdgeStar is a Great Choice for Van Campers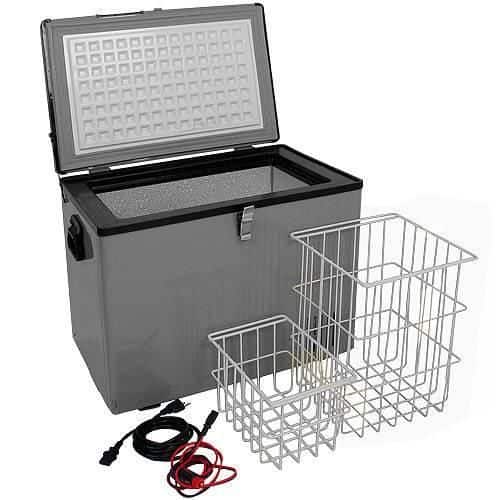 If you are looking for something mid-sized, the EdgeStar could be just what the doctor ordered. It has one of the most impressive flash freeze functions on the market and will cool items to -8 degrees Fahrenheit within an hour. The layout of the fridge is awesome because it is full of tiered racks, great for storage.
Fridge-style coolers work best because of the way the food is stored. The bottom-up design means that less cold air will escape when you open the doors. The racks inside keep the frozen food closer together, which keeps it colder for much longer. When placed on the shelves, air circulates around them, which means that less energy is used to keep them cold.
The EagleStar compressor works so much more efficiently than its thermoelectric counterparts. 
Efficiency is going to be very important when living the camper van lifestyle. Being able to plug in and put your food in a cool environment also means you can pull up at any moment and take off into the wilderness for some much-needed rest and relaxation.
Some great features of the EdgeStar are:
More efficient than thermoelectric models
Bottom-Up design cools for longer.
Flash Freeze Mode for Quick Turn Around
An Arb Zero is the Ferrari of Top-Loading Camper Van Refrigerators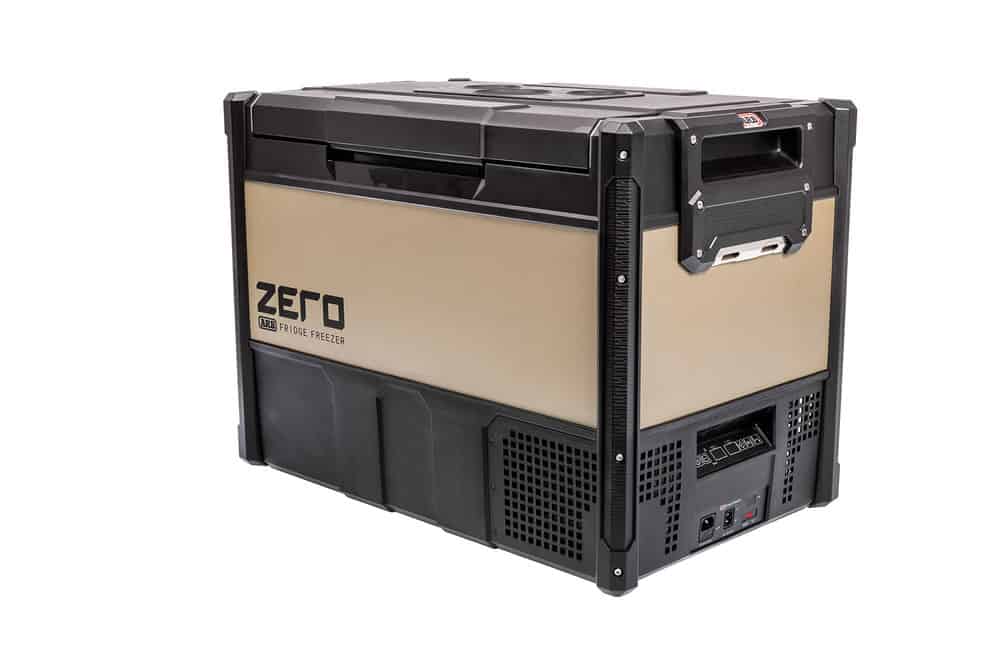 Arb is one of those companies that makes an excellent product and has an even better reputation. The Zero is an absolute beast of a fridge and can cool down to -15 degrees Fahrenheit. Cooling like that is handy when it comes to getting food ready to freeze before heading out into the woods.
The size of the Zero should be reserved only for those who have tons of extra room in their van. The 73 quart is big enough to pack a moose and stuff the freezer with squirrel as well—the separate sections of the fridge helps keep items nice and frosty during the campout. There's so much room that you can store 60 cans inside.
The Arb Zero is also the cutting edge of technology for van camping. There's Bluetooth that allows you to get updates on your phone if there are problems or power issues. It also works as a place to charge your phones and all other USB chargeable items. There's always a need for extra spots to charge phones at the campground, and this fridge will be a lifesaver.
Arb has some of the most exciting upgrades on the market like:
Bluetooth and Phone Apps available
Cools to -15 degrees Fahrenheit
Extra-large storage space on the inside
The Portable ICECO Fridge is a Fantastic Choice for Van Camping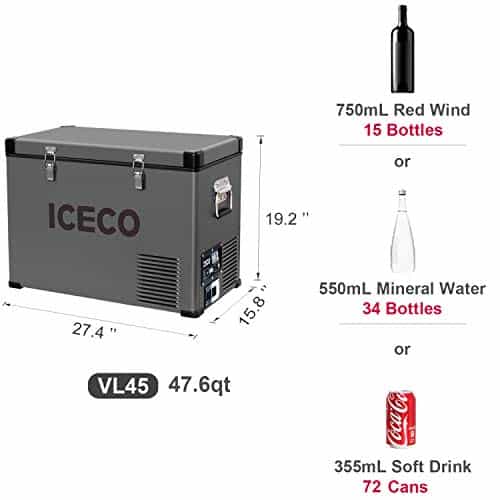 ICECO makes a great top-loading fridge that would work great in any van camping situation. Standing just 19 inches tall, the ICECO has a case of stainless steel while being resistant to fingerprints and shiny steel locks. There's even an excellent LED light built into the lid so that you aren't rummaging around for food in the dark.
The biggest standout about the ICECO is its powerful compressor. The SECOP compressor runs for more extended periods and cools to much lower temperatures than most of its competitors. It also comes with a five-year warranty which outstrips the others by up to four years. Having a compressor that you can count on is crucial when heading away from civilization.
Something that most people don't think about is what happens when your power system goes out. The good people at ICECO implanted a device that will stop drawing power once the battery has been drained. This means that your van won't lose power even if the fridge runs continuously.
ICECO has some great features like:
The most potent compressor on the market
Upgrades like LED lights for the bin
Protection against draining the van battery
The K18 from Alpicool is a Small and Great for Short Trips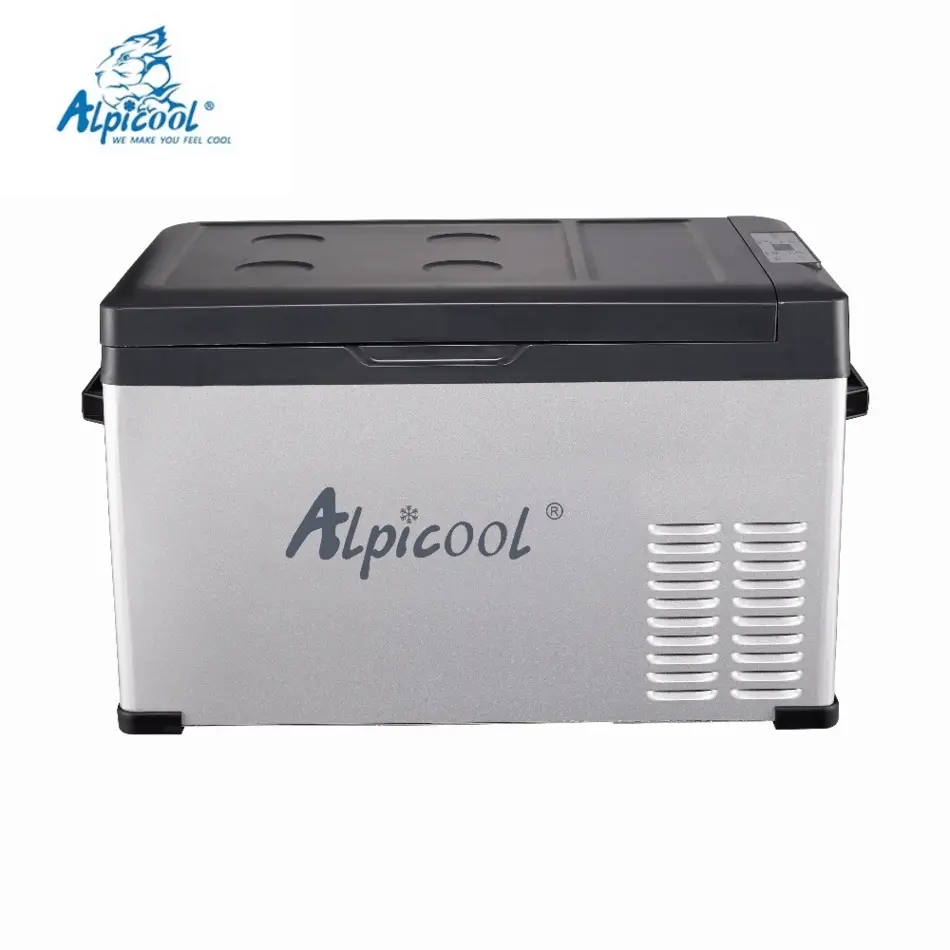 When it comes to portability, the K18 is going to be your trail riding go-to when it comes to storing all the supplies you need for your trip. At the same time, it won't hold as much as its competitors; the K18 will cool and store just as well as machines three times their size. The extra room saved by the K18 will be welcome for those who are just starting in the camper van world.
One of the best things about the Alpicool K18 is how it is constructed. With smaller top-loading refrigerators, it is much easier to keep your items at the appropriate temperature. The foam that encases the inside works just like the cooler you bought from the store. Add in the compressor and stainless vented metal shell, and you have the ingredients for a top-notch fridge.
Alpicool is an old hand at making small and powerful fridges. Their design layouts and interior shelving system keep customers coming back for more. Each box has superior cooling quality while still being affordable enough for those on the lower end of the budget scale. It packs a punch and works just as well as a cooler as it does a fridge.
The BougeRV is a 12V Fridge with Tons of Cooling Potential.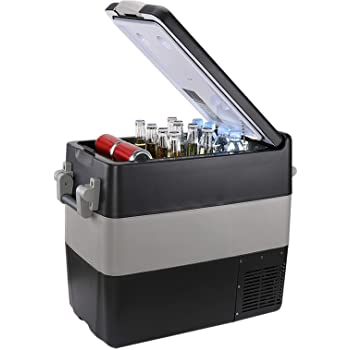 BougeRV is a gem of a fridge for van camping. It is a medium-sized, 53-quart machine with several upgrades made by the factory to make it cool much more efficiently and use every inch of available space. Space is the whole ball of wax when it comes to van camping, and having a fridge like the BougeRV gives you more space than you think a refrigerator can have.
The cooling system inside the BougeRV is something to marvel at. Several aluminum tubes run around the inside case of the machine. The compressor pumps air at -4 degrees Fahrenheit and is connected to a tube that increases its output. In EcoMode, the device operates with 15% efficiency and saves power to your battery system.
BougeRV is a fantastic company with an even better product. They have several different refrigerator sizes, and each comes with an excellent racking system that allows air to flow freely between the items in the fridge. In just 16 minutes, you can cool your food down to below freezing, all while not making a significant dent in your power system.
Using a BougeRV gives you access to features like:
Medium-sized for smaller camper vans
Stainless Aluminum tubes cool the inner box.
Lots of fridges to choose from
The Costway Portable Looks Just as Well as it Performs.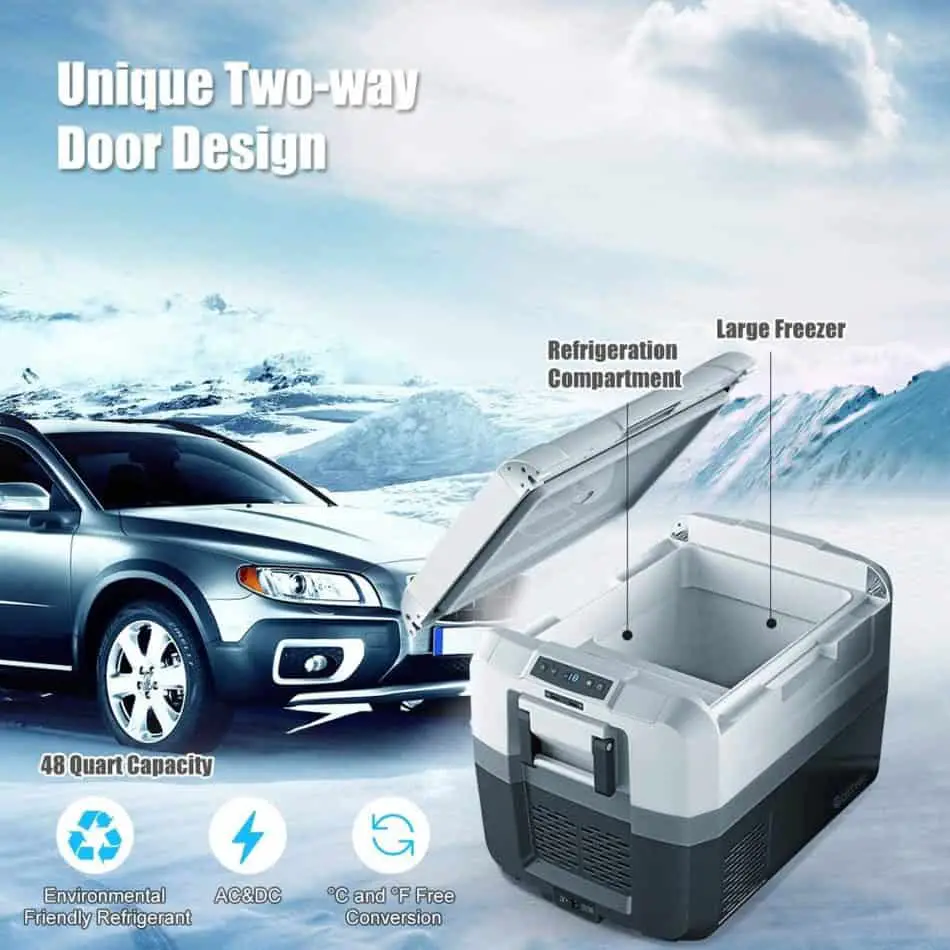 At first glance, this machine looks like a high-end animal kennel. It has soft colors that make it easy on the eyes and something that won't get a second glance inside your camper van. The color also helps for those people who coordinate all their appliances and furniture to match as it will fit almost any style and theme you may have.
Although it looks amazing, it works even better. At 17.5 inches tall, the machine has the standard deep and shallow well and accompanying rack system. The six-inch freezer well is great for making ice or getting things cold as fast as possible. It has two cooling modes that rate between -5 and -15 degrees Fahrenheit.
One of the best things about the machine is how quiet it is. The compressor on the inside makes about as much noise as a computer fan and doesn't overtax the battery system on your camper van. Nature sounds great without the extra sounds emitting from all the electronics you decided to bring with you. Quiet is an excellent trait for a camper van top-loading refrigerator.
The Costway is a great top-loading fridge that has features like:
Super quiet during operation
Six-inch freezer for ice and game storage
Beautiful coloring great for any decor
VBENLEM Makes an Amazing 12V Top Loading Refrigerator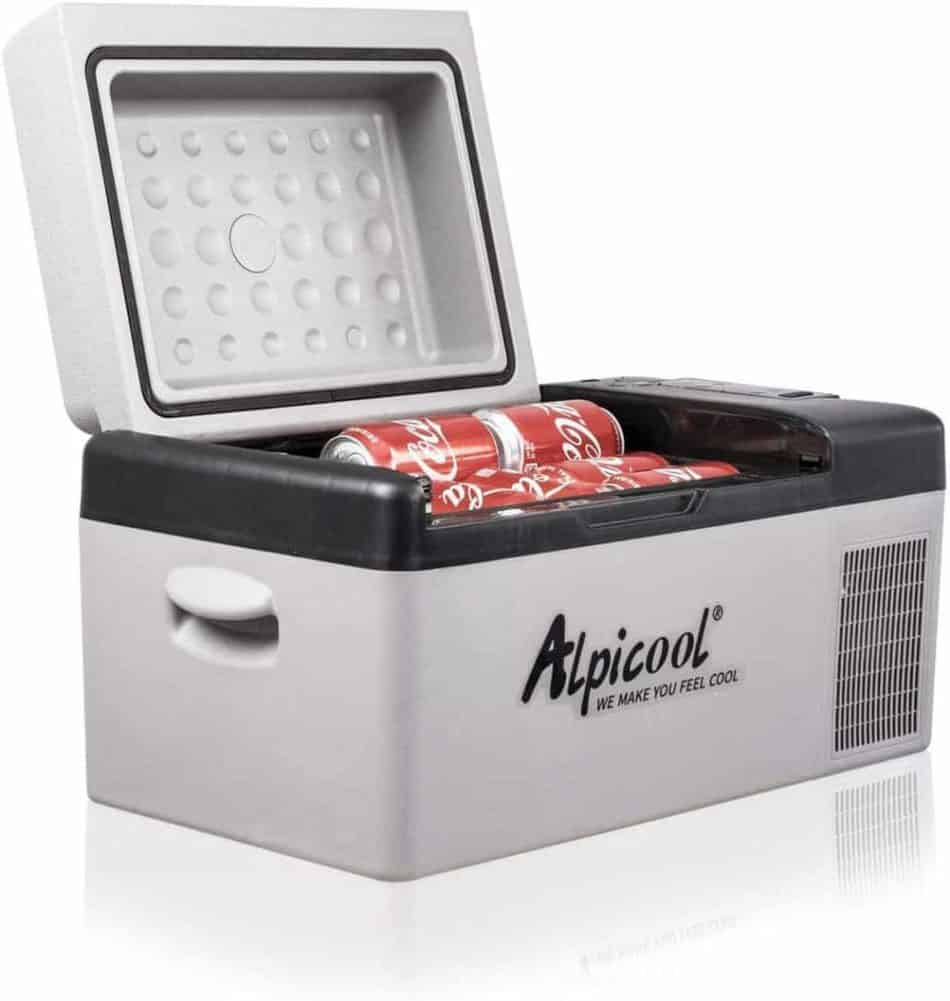 While they have an unconventional name, VBENLEM makes a top-loading refrigerator that can stand up with any big-name brands. It only uses 45V during operation, which means that there's more power available for lighting or cooking. Even the display screen consumes less energy and prevents the van's battery from being drained.
What makes this model stand out from the rest is the lid. The lid opens fully to the right without taking up any excess space. On the inside of the fridge, you have dual wells with the ability to cool foods down to -4 degrees Fahrenheit. That's a great way to freeze some fish or game you caught and save it for a camp out on down the line.
Operating off of 12V power means that the VBENLEM machine will not tax the battery system or run down the van's battery in an attempt to keep food cold. Like the others, the design is what makes the fridge cool so well, and packing it with cold or frozen items only makes the machine function better.
Some features provided on the VBENLEM are:
A little known brand that packs a wallop
An exceptional lid and storage area
It takes only 12V to power the machine
The Costway 55-Quart is a Dependable Name and a Space-Saving Wonder.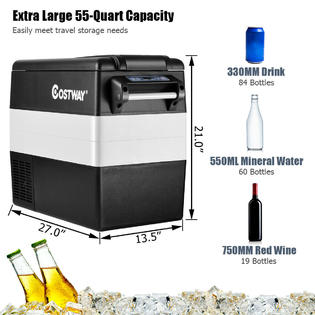 Costway has so many great models on the market that it is hard to choose only one. The 55 qt model is one of their best machines and has room for up to 84 standard-sized cans. The extra room is great for those who plan to hunt or fish while camping, as your catch, can be stored right alongside your horde of cans.
The flash freezing mode is going to use a bit more energy than Eco mode. Flash freezing is a great feature that allows you to work on food storage when traveling, or the door won't be in use. The sealant around the lid is the key to keeping all your items cool or fresh.
It isn't mentioned often, but the price is a massive factor for some when choosing a top-loading refrigerator for their camper van. Costway is one of the most price-competitive companies out there and always provides value to their clients. Larger-sized top-loaders can be deathly expensive if you go for all the bells and whistles.
Some great features of the Costway 55-quart are:
Affordable and durable
Flash Freezing mode
Excellent brand name with several products on the market
A 65 Quart Whynter is Great for Larger Camper Vans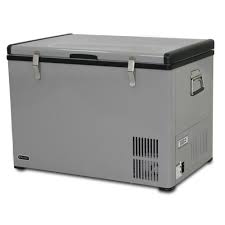 If you are lucky enough to have some extra space in your van, you need to get a Whynter. This no-frills model is easy to look at and will always keep your frosty items safe and secure. The strong metal clamps on the top are essential for those going to be doing a bit of Overlanding or off the beaten path camping.
The dual charge mode is a great way to take some energy off an overburdened solar power system. If you camp in an area with power, you can swap power cords and move off the 12V grid. Efficiency is a prized possession for van campers, and a fridge that can function on both grids is efficiency in action.
Being from a smaller company means that a Whynter is much more user-friendly. If there are problems with your unit, it is easy to contact someone within the company and get the help you need to fix your problem. Smaller companies also have local personnel on the call lines and a much more personal connection to the product.
How Does a Camper Van Fridge Work?
Camper van fridges can be any of a vast number of fridges. They can operate off of electricity or propane gas and will favor a cooler in nature. The boxes are built of high-density foam that is great at retaining cold air. The foam is wrapped around a metal box that has several different tubes that function to cool the metal areas.
Others could have a compressor that pumps air into the box and forgoes the metal tubing. Those with a compressor are often less efficient and won't reach the negative Fahrenheit requirements that some foods need to stay edible over a camping trip. Spoiled food could mean everything if you become stranded or lost during your trip. Be prepared for emergencies. 
The Secret to a Camper Van Fridge is the Foam
The foam used to spray around the outside of the fridge's metal bin is some fantastic stuff. It can hold onto cold for several hours while adding only a few extra pounds to the machine's weight. When the foam is paired with a heavy-duty compressor or tube cooling system, it creates the perfect food and freezing environment.
Different types of foam can retain cold for much longer than their competitors. You should study the foam used in making the fridge as some have a material that could be harming the environment.
The Power Source Determines How the Fridge Functions
Depending on what type of fridge you have, the way that your fridge gets cooled could vary. For some, the electric model operates from your system's power or from a standard power outlet like you have in your home. Others could have a propane/electric mix that switches to gas when the power goes out.
If you have an electric fridge, it works by sending current through a series of coils that activate freon inside the machine and create cold. The back and forth nature of the coils means that a large area, usually the back, of the fridge is covered with metal. This tube system works to cool the metal and create low temperatures on the inside.
A propane system works by using a flame that powers a compressor. Using the same tubing system as an electric machine, this compressor pumps cool air into the metal box. The fan must run continuously, and propane isn't a very dense gas, which means it takes more to power the machine depending on how much you use it.
How to Choose the Best Top-Loading Fridge for your Camper Van
Building out a camper van requires a combination of space-saving and electric system knowledge. You must have something that fits in the space available while not overtaxing your battery or solar panel system on the van. Power is a luxury while camping, and you should do your best to have a fully functional system. 
Space is Vital When Choosing a Camper Van Fridge
Storage space is at a premium when it comes to building out a camper van. You must have room to live and room to store the things you will need while on your adventure. The critical thing to remember is that you only need a fridge that accommodates your length of stay. Buy small for short trips and larger for epic excursions.
Top-loading fridges also give you an advantage in that they can be stored under cabinet space. This means that you can use them like a drawer stored out of the way when you don't need them. Saving space is critical for the small area that you plan to inhabit. Search for space-saving ideas, like under cabinet storage, to make the van have everything you need.
Power Usage is Another Important Factor in Camper Van Building
Almost as important as the van itself is the power supply that you use. You must have something that will hold twice the power you need for the fridge, plus all the other electronic gadgets you will take. If you are going camping in spaces that provide power, that might not be an issue, but what's the point in a camper van if you can't go off-grid?
Charging systems for a camper van are all the rage. They are easy to use and are becoming more affordable each day. Some people often opt for the extra battery set-up, while others choose an entirely off-grid system complete with solar panels and a separate battery. Camper vans deserve to be taken to the limit. Choose a system that surpasses all your electrical needs.
Lid Opening Will be a Huge Factor in Selecting a Fridge
How the lid opens will be something you need to think of. The lid could be where it uses too much space if the opening isn't planned out. There are a few different types of lids, and each has its advantages and disadvantages.
The types of lid on a top-loading fridge are:
Left Opening – A left opening lid has hinges on the left side of the refrigerator. A left opener will work best when it has extra space on the left for the door to open fully. The way top-loaders are made, cooler air stays at the bottom, and a left-opener should have as little stored on the door shelves as possible.
Rear Opening – The rear opening lid is the most common cooler-style top-loading fridge. It works best when pulled from under cabinet space and can come with two-door and separate cooling areas. The two-door models are great for keeping frozen foods and are usually some of the most energy-efficient models on the market.
Right Opening – A right opening fridge is the last lid option. Right side hinges allow it to be stored a few inches from the wall. Always try and budget extra space for larger models because the lids can be heavy. Keep these models away from corners because they soak up space and could restrict your ability to open them.
Having the proper lid opening for your fridge will save tons of space and keep your grub cold for several days. The design of the top-loader keeps your food cold for longer, and a secure lid makes it all work. Check the seals on the top if you have a leak or find that your food isn't staying as cold as you like.
High-Density Foam is a Great Deciding Factor When Choosing a Fridge
Don't get it twisted. Some of the most expensive and highly touted machines on the top-loading camper van fridge market are nothing more than powered coolers. They plug into 12V or 110 power and work just like a tiny fridge that keeps drinks cool in your office. They can maintain their cool because they have a layer of high-density foam around them.
This foam is blown or wrapped around the machine before the outer skin is placed on the larger box. The foam works so well because the porous material traps cold air in its ridges and keeps it closer to the box's contents for much more extended periods of time. The more expensive the foam, the colder the contents of the box will remain.
Conclusion
Picking out a fridge for your camper van is a job that requires you to know several things about your van and its power system. You must buy something that fits your needs but also fits into the space inside your van. Choose something that won't overburden your power supply, so you leave room for a few other creature comforts.
The biggest thing when selecting a fridge is how the machine is powered. The electrical and propane systems are the most common and are the easiest to operate. Know what kind of power source you will be using on the campsite, and you can avoid any unwanted nights without food or cold drinks.