Hi-van is supported by its audience. When you purchase using our links, we may earn an affiliate commission (no added cost to you). Learn more
Gone are the days of heavy camping fridges that consumed a ton of power and energy, as technology over the last few has allowed us to design more energy-efficient. These heat-resistant fridges can be charged in many different ways. Unfortunately, this leap in technology means that campervan fridges can be very expensive.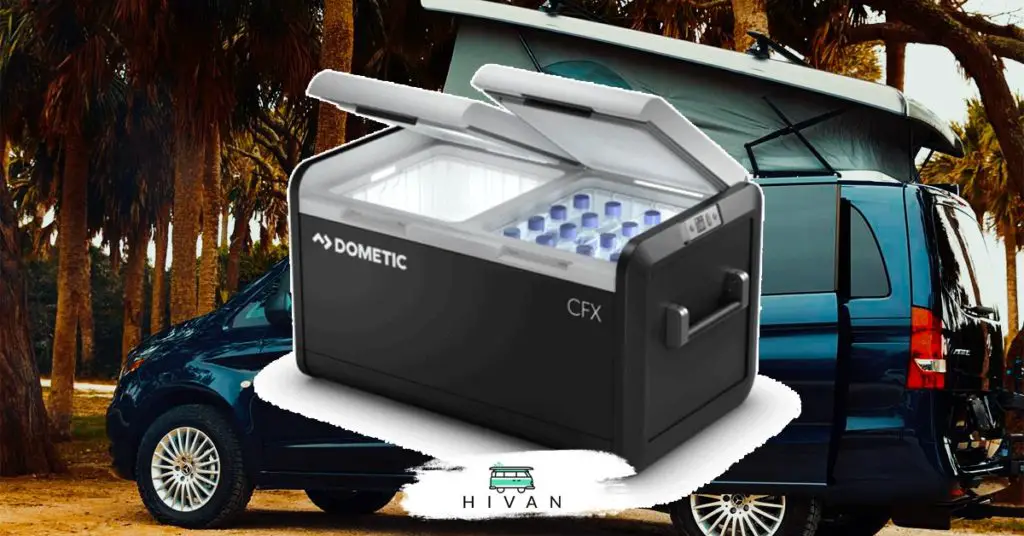 Here are 8 reasons why campervan fridges are so expensive:
Campervan refrigerators utilize much smaller compressors.
Campervan fridges have extra insulation components.
Some campervan fridges have built-in Wi-Fi control.
Campervan refrigerators have USB connectors.
Some campervan fridges chill and freeze.
These fridges have multiple charging capacities.
They have battery conservation options.
You may need an expensive solar panel.
I'll explain these reasons below, and you will begin to understand why campervan fridges are so expensive. Let's get started now, shall we?
---
1. Campervan Refrigerators Utilize Much Smaller Compressors
The main difference between typical refrigerators and campervan refrigerators is the size of the compressors. According to Big Outdoor Adventure, compressors of camping refrigerators must be much smaller in size because these fridges have to be much more compatible with portability. 
These compressors are often tiny and need to run reliably and consistently without using too much energy. These fridges are much more expensive due to the design that goes into the compressors.
---
2. Campervan Fridges Have Extra Insulation Components
Portable fridges need to have extra insulation capacity to chill your products effectively.
Big Outdoor Adventure commented on this, stating that these fridges are built "to keep the transfer of heat at a bare minimum." 
The materials used for extra insulation are heavy and a lot stronger than those used in traditional household refrigerators. This invariably hikes up the price, but you'll see the benefits in the long run.
When moving around in a campervan or RV, your perishable goods must be kept at a consistent temperature. The design of these fridges enables them to maintain a steady temperature even when being moved around, charged, and recharged. 
---
3. Some Campervan Fridges Have Built-In Wi-Fi Control
Technological advancements have allowed the option of controlling the temperature of campervan fridges directly from your smartphone.
Expedition Ride maintains that having Wi-Fi access is a privilege of having a campervan fridge that allows you to manage your fridge remotely. This is something you would never be able to do with a traditional refrigerator. 
Of course, it costs money to have these functions built into your fridge, which is why they tend to be more expensive.
4. Campervan Refrigerators Have USB Connectors
Sometimes, these fridges come with USB connectors with extra charging capability. According to Expedition Ride, these USB connectors can often provide the same benefits as Wi-Fi access, but you can also use them for charging. Imagine that you're out in the middle of nowhere and your phone is about ready to die. 
With USB connectors on your fridge, all you need to do is plug in your phone to your fridge and wait for it to charge.
---
5. Some Campervan Fridges Chill and Freeze
Most campervan fridges come with one container, not two separate compartments like most traditional fridges. For space-saving capability, you can find travel fridges that can both freeze and chill, all at the push of a button.
This added capacity means that these fridges are almost invariably more expensive than small traditional fridges with dual-purpose capability. 
Setpower AJ30 Portable Freezer Fridge for Car
Freezer and Fridge Design & Home and Car Use - Dual zone design: freezing zone can reach 0℉ by temperature setting and refrigeration zone can keep fruits fresh or drinks cold. It's conducive to better organization of food and reducing odor.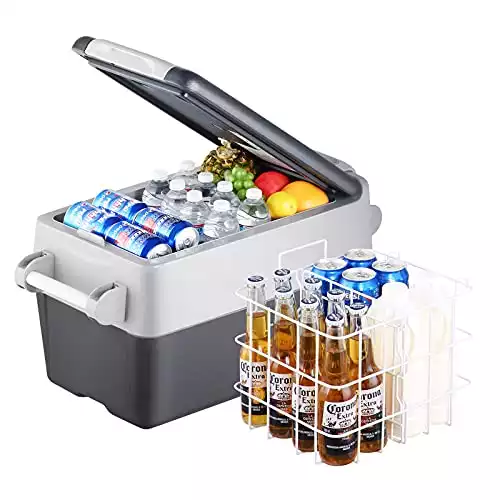 If you make a purchase, you support Hi-van.com by allowing us to earn an affiliate commission (no added cost for you).
This Setpower AJ30 Portable Freezer Fridge (available on Amazon.com) is a good example. The freezing zone gets down to about 0℉ (-17.7℃), while the refrigeration zone chills fruits and vegetables perfectly. 
---
6. These Fridges Have Multiple Charging Capacities
According to Indie Campers, these portable refrigerators can be charged in many different ways. Gas and electricity are popular ways to charge them and can be the most efficient way if your campervan is parked.
However, Kyle at Soft Back Travel suggests using solar panels or a 100ah battery to charge your fridge. 
Solar panels can be the most energy-efficient way to power your refrigerator. However, if you don't live in a sunny climate, it will almost invariably be more productive to charge using your car battery, or electricity if you're parked.
Additionally, most campervan fridges run on 12v as opposed to the traditional 240v. Having the ability to maintain function for longer at a much lower voltage is one of the benefits of having a travel fridge. Of course, this also means that your fridge shouldn't take too long to charge, but this can be an expensive privilege.
Campervan refrigerators are often very costly if they have these multi-charging functions, as it allows you more flexibility when living off-grid.
---
7. They Have Battery Conservation Options
It can be very energy-efficient and very low-cost to use your car battery to charge your campervan fridge. 
It goes without saying that having a fridge with a component for battery conservation can be a lifesaver for long trips. Constantly charging your fridge can be frustrating, but the more expensive your fridge, the longer it'll last. 
Over time, the expense will save you money. However, bear in mind that this might overuse your car battery and deteriorate the condition of your car battery over time. 
Follow Steve Nubie's advice on Urban Survival to safely use your car battery as a charging point. You may need to have alternate methods of charging if you don't want to use your car battery, however.
---
8. You May Need an Expensive Solar Panel 
Using a solar panel is probably the best way to charge your campervan refrigerator.
While there are other charging options, it's worth bearing in mind that solar panels are much better for the environment. However, this can often be a significant investment, as you need a solar panel that's efficient enough to run your fridge long-term.
Investing in a decent solar panel invariably makes your purchase of a campervan refrigerator much more expensive, but it'll save you money in the long run. You can find 100W solar panels for a very reasonable price on Amazon.com, such as this Polycrystalline 12v Solar Panel.
It can withstand heavy winds and snow loads, in case you're camping in extreme weather conditions. The aluminum frame resists corrosion, making it able to last for many years with extended use.
More info: I wrote a guide to explain everything you need to know about solar systems here. I also have this other guide that will help you set up your campervan fridge. And What size solar panel do I need to run a 12v fridge?
Find this content useful 🙂 ?
Subscribe to our Newsletter and get a free Solar Electric Diagram + shopping list.