When you are converting or upgrading features in your camper van, one thing you want to make sure that is not skimped on is your fridge freezer combo. Making sure you have ample space in a compact area can be tricky but is essential.  Knowing which of the three types of fridge freezer combos to buy is equally crucial.
Van life has become more appealing to people as of late.  Being able to pack up and leave anytime is pretty much a dream. The part that isn't always a dream is creating the van and making sure you have the right appliance.  There are plenty of things to take into consideration when it comes to a fridge. That's where our list of 5 fridge freezer combos comes in.
The Smad Propane Refridgerator Combo is a Great Option
When picking a fridge, often, we are looking at or for specific features.  Having the best fridge that works for our pace, budget, and life can be essential.  This upright fridge and freezer combo has quite a few features, such as:
Three different ways to power (as noted above)
Adjustable shelves
Pull out drawer on the bottom
An adjustable thermostat on the exterior of the unit
Reversible door hinge that allows you to change the direction of the swing of the door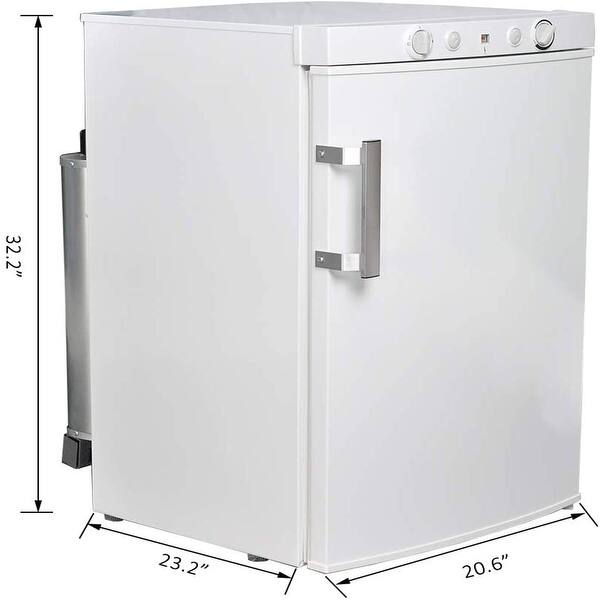 This specific combo comes in three different sizes, each size a bit different and has some similarities.  Here are the general specifications for the additional size models.  
| | | |
| --- | --- | --- |
| Smallest model | Midsize model | Largest model |
| 3.5 Cubic feet | 6.1 cubic feet | 9.3 cubic feet |
| 20.6"Wx23.2"Dx32.2"H | 25"Wx26.5"Dx58"H  | 23.6″W x 29.1″D x64.2″H |
| Check price on Amazon | Check price on Amazon | Check price on Amazon |
| Freezer and fridge share same compartment – only one exterior door | Has separate door for top freezer | Has separate door for top freezer |
The largest model is roughly 2 feet wide and just over five feet tall for a size reference.  While there is ample space in the large model, it may not be the right fit for you.  Depending on your van and your needs, any of these models would be efficient and get the job done
The cost of this unit is a bit on the higher side.  It is a fridge on the higher end of the budget. There are some cool features, and the brand is perfect for a compact living but maximizes space.  Although you will be paying a pretty penny, it is important to weigh this type of unit's pros and cons before purchasing. 
As always, there will be pros and cons to each unit.  Generally, the pros will outweigh the cons, but depending on your needs and wants; you can base your decision on that.  Here are a few of the significant advantages and disadvantages of the smallest unit: 
| | |
| --- | --- |
| Pros | Cons |
| It comes in a variety of sizes | A bit on the expensive side |
| Able to use different power sources | It is not the most energy-efficient option and can be a drain on your battery/generator.   |
| There is no ambient noise from the unit while it is running; essentially, it is silent. | It only comes in one color (not that big of a con, but it can mess with your overall color scheme if you have one) |
| Ample and adjustable shelving | If using the gas option, you will have to deal with additional gas lines and costs for the propane. |
| Built-in freezer on top of the unit | Unit needs some ventilation, so you need to account for extra space around the enclosed unit |
| Perfect height to fit under a counter or table | |
After comparing your needs with the lists, make sure that you choose an option that works for you, your budget, and your van.  Buying the wrong unit can be a huge pain. 
The Frigidaire Retro Compact Fridge is a Fun, Affordable Choice
This cooling unit is made to look like a retro version of a standard kitchen fridge.  This upright compressor fridge is very energy efficient, has an attractive design, and very easy on the wallet.  Here are a few of the key features of this unit:
Reversible door hinges so you can adjust the way the door opens
Retro appearance
Built-in bottle opener on the side
Energy efficient
Adjustable interior shelves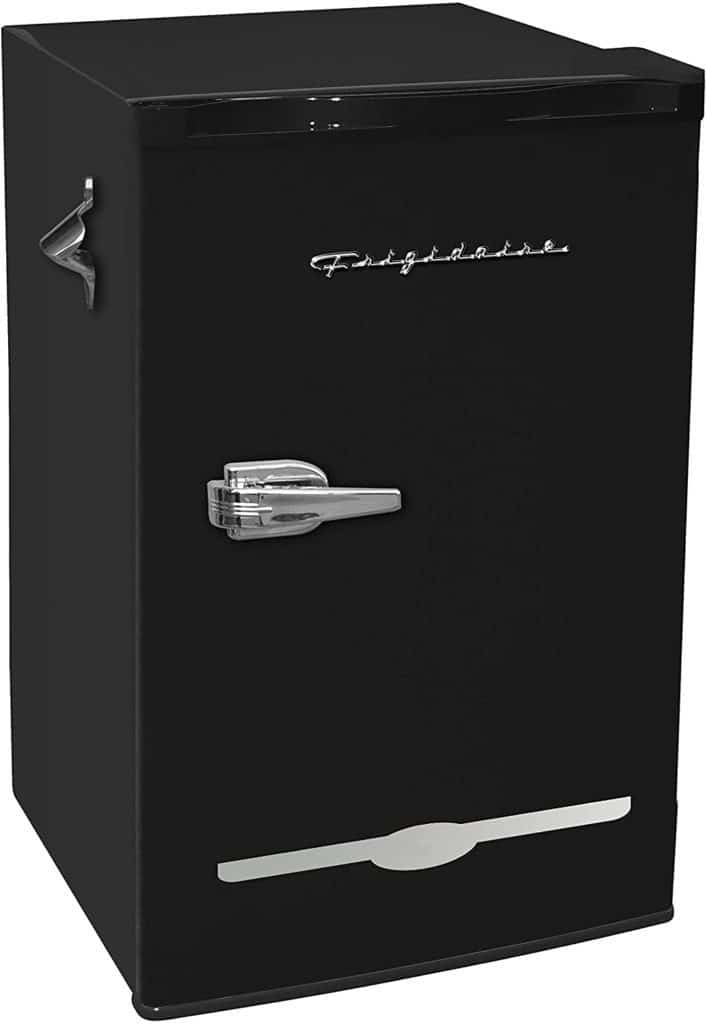 Overall, there are a lot of unique features that this combo has.  Compressor fridges are usually the most common or go-to fridge for a campervan because they are energy efficient and usually the best priced.  
Another feature that some people don't think about often is how a fridge's footprint will fit the van's interior design/layout.
Space is tight.  Upright fridges are a great option because they have a smaller footprint and take up less space than a chest type of unit.  Because they are taller and deeper, they are usually made to counter height so they can fit easily in your van.  Here are the product specifications for this unit:
Product specifications
Interior: 3.2 cubic feet
Dimensions: 21.5″W x 19″D x 33″H
Weight: 50 lbs
Check price on Amazon
Knowing this will come in handy when you are planning the layout or design for your van.  If you are converting your van yourself, knowing the dimensions of all the items you are using will help avoid any mishaps, like the fridge being too tall, a wide gap, etc.
One of the best features of this product is the price tag.  Coming in between $110 and $150, this power mini fridge will be a great addition to your camper van.
As with all products, sometimes they look great on the surface until we do a bit more review. It is helpful to read all of the product reviews, both good and bad, to make sure you are making the right choice. Here are some pros and cons of this cooling Unit:
| | |
| --- | --- |
| Pros | Cons |
| Very affordable | Freezer space is tiny and compact |
| It has a unique retro appearance and comes in a large number of colors | It can dent easy – not as durable as other models due to its retro design |
| The size makes it easy to incorporate in your van – it fits nicely under a counter, sink, or table | It only comes in one size, so if more space is needed, you would have to change models |
| When appropriately packed, the interior of the fridge is set up to accommodate a lot more than you think  | The temperature adjusting knob is located on the back of the unit, which can be challenging to get to depending on where you place your unit |
| Space on the door for a tall bottle – tall water bottle, wine bottle, etc.  | It may not hold up over time as well as other more expensive units.  |
| | |
While there are many pros and cons, overall, this is a great product choice for people on a budget or just starting out in the van life.  It is an easy to use and affordable option.  
The Dometic CD50 is an Excellent Choice
This unit is a drawer fridge freezer combo. It mounts under a counter or a sink, and it pulls out straight like a cabinet drawer. Generally, for interior storage, a wire basket is mounted on top to act as a shelf for additional storage.  The key features for this unit are as follows:
Ample storage space
Energy efficient
An interior temperature control knob
Separate internal freezer compartment with separate door
Compact for van life
The handle has a keyed lock, for safety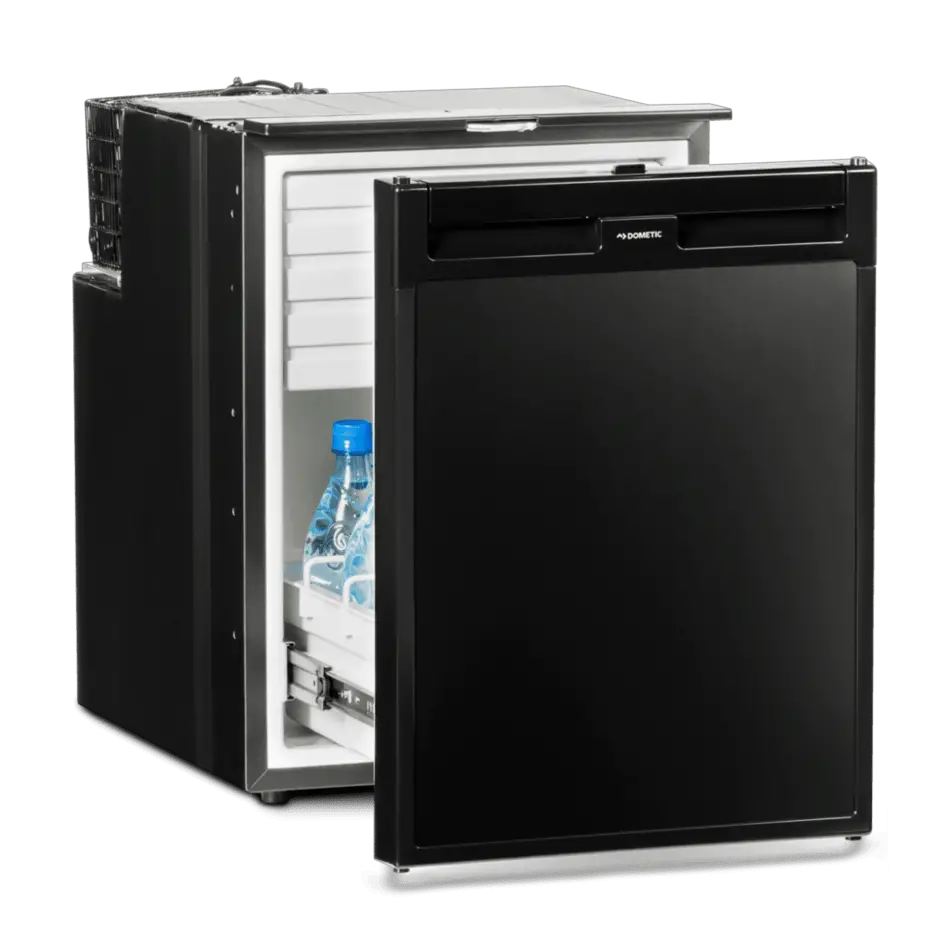 These features make this drawer fridge freezer combo a perfect choice when space is limited.  Because they are so compact and can be built upon, it makes them a suitable option.
Coming in around $650, this is a relatively cost-effective combo.  These units fit well in most vans due to the unique design.  Although they work quite well, there are always a few procs and cons, and these are as follows:
Product specifications
Interior: 1.65 cubic feet
Dimensions: 19.7"D x 21.3"W x 15"H inches
Weight: 46.30
Check price on Amazon
Although it may not look like it on the outside, the unit is packed with storage space, and it is a decent choice for your camper van.  If you don't have a lot of interior space, that is a great option that will be able to keep up with your refrigeration needs.  Because it is so compact, it is short enough that some consumers will put a couple of drawers on top of the combo and below the counter.  
This unit has such great qualities, but there will always be pros and cons to each team.  Here are the pro and cons of this pull out drawer fridge freezer combo:
| | |
| --- | --- |
| Pros | Cons |
| Easy pull drawer, with lock for security and safely | Compact, so may not fully live up to your needs on extended trips |
| Middle of the price range, coming in at $646 | Unit needs some ventilation, so you need to account for extra space around the enclosed unit |
| Has interior rack that sits on top of the pull-out for additional storage | |
| | |
Much like a chest freezer, when using this type of cooling unit, you will find that the contents of your fridge are not jostled like in an upright fridge freezer combo when traveling. When we drive, we take sharp turns or hit potholes, and stuff moves – with a pull-out freezer, you do not risk having your contests falling out or on you after a bumpy rode.   The items in your fridge are much more secure due  to the construction of this unit.  
This average priced cooling Unit is an excellent choice for the beginning and season camper van enthusiast.  Coming in Right around $650, it falls into the midpoint of the available combos.  This unit is reliable and capable and should not have an issue keeping up with your vanlife needs.
The ICECO Portable Fridge Freezer Has a 4.3 Star Rating
The Iceco unit is a chest-style 12-volt compressor refrigeration unit.  This unit is very portable and looks a lot like a typical ice chest – but on steroids.  With its dark, rugged, yet sleek design, this unit is very durable and stylish. Because it is compact and functions as a chest freezer, depending on your vehicle, it may fit between the front seats for easy access. Some features include:
This unit has interchangeable lids that can change the capacity of the unit 
The portable unit can be stored in many places and taken on the go when needed
Energy-efficient – has ample external vents to let out warm air more efficiently
It comes with a 5-year limited warranty (much higher than the average, which is 1-3 years).  Generally, with a more extended warranty, you know you are getting a product that will last, and the company is willing to back it for a more extended period. Definietly an added bonus.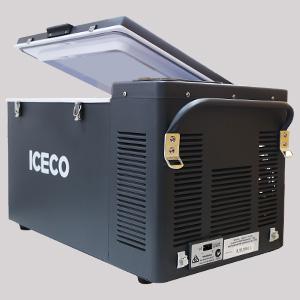 This product effectively cools the contents and is energy efficient, running on 12 volts. Because it is a chest-style unit, it cannot be built upon but can be stored in many places. The specifications are as follows:
Product specifications
Interior: 35 liters 
Dimensions: 27.17"W  x 14.96"D x 15.16"H
Weight: 50.06 lbs
Check Price on Amazon
This compact chest unit is a good option for most vans.  Most van owners prefer the ease and portability of a moveable chest fridge freezer combo.  Although there are many pros and cons, here is a list of the main advantages and disadvantages of this unit:
| | |
| --- | --- |
| Pros | Cons |
| Durable and attractive exterior | Not as much interior storage as other mentioned units |
| Its compact size and sleek rectangular exterior can be stored in many places in the van, including under luggage while transporting.  | Per reviews, if power is lost to the unit, it may not be able to maintain its internal temperature for an extended period.  |
| It comes with a  small basket and a choice of interchangeable lids that can expand the storage and capacity of the unit | Although it is a durable product, due to the exterior material and construction, it can dent very easily but will still work like a dream. |
| The unit operates very quietly, and a low hum is all that can be heard while running,  Very easy noise to tune out and will not keep you awake at night  | There is no interior lighting, so if no light on the outside, it is hard to the contents of the inside of the unit |
| Very moderately priced, very affordable for the quality of the unit.  | |
| It has an easy to use digital display to set temperatures and check the stats of the unit | |
| The unit is extremelty energy effiecient and uses a very minial amoutn of power.  If you use solar panels, they will absoulty cover the energy output of the unit.  | |
| | |
This unit's pros far outweigh its cons.  There are many more positive features to this unit, and if picked, it will be ab effective unit for your adventure.  Coming into the ring at $470, this unit is easy on the eyes and easy on the wallet.  
What is the Most Reliable Fridge Freezer?
This is probably the most important question for most people.  Cost aside, we want to buy a dependable product that will work for a long time.  Being out on the road or in a remote area, the last thing you want is for your cooling source for your food to go out.  
The most reliable fridge freezer cooling Unit is the Engel MR040F.  The chest-style freezer is highly efficient and has the following features:
Portable chest freezer
It will automatically toggle between power sources when needed prioritizing AC when it can
Includes wire basket to add extra storage
Variable temperature controls to adjust the internal temperature
It uses low amps, so it is quiet for a compressor fridge
Very durable and highly insulated – built to keep the contents cool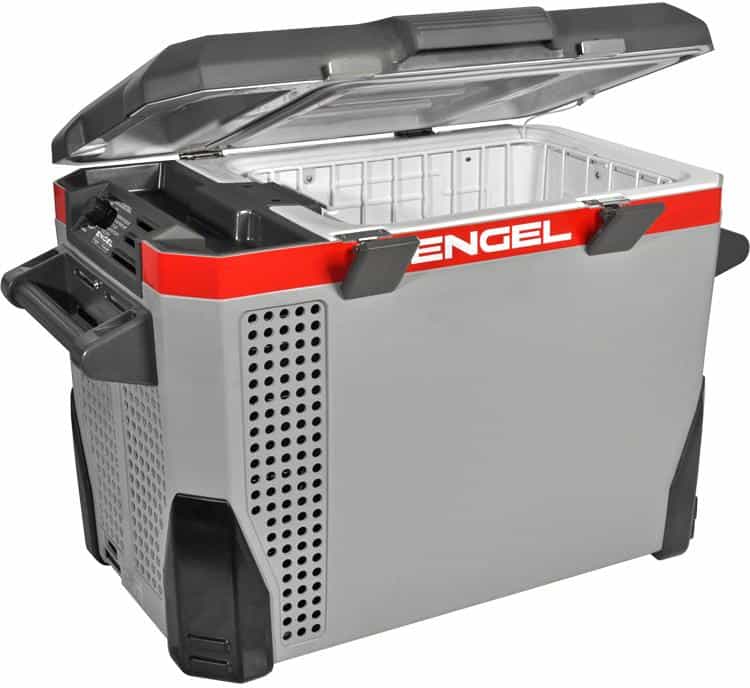 This portable and compact Unit is reliable and effective.  You can keep a wide variety of items in this unit.  It Product specs are as follows:
Product Specificatoions
Interior: 48 qtz
Dimensions: 25″W x 15.5″D x 18.5″H
Weight:  40 lbs
Check price on Amazon
Although it might not be the most cost-effective cooling Unit on the market, it is arguably the most reliable.  And when we need it most, we want to make sure that our appliances are working correctly.  Paying a bit more upfront may be better in the long run.
What is the Right Fridge Freezer Combo For You?
When deciding which unit you will be purchasing, it is important to know the different types of fridge freezer combos out there to see which is right for you.  We will do a quick breakdown before we get into the best combos for you to purchase.  Here are the three different types of cooling units:
Three-Way Fridge 
A three-way fridge is an upright cooling unit that can be powered in three different ways:
Propane, or any other LPG (liquified petroleum gas)
Battery
A/C outlet in a van or with a generator
A three-way fridge is an okay choice for van life, as long as it is powered with propane.  It uses a fair but reasonable amount of propane to power itself.  If you will be running it on electricity, it is not the best choice for a van because it uses a lot of power.  
If you have RV hook-ups in your van and can regularly connect to an outside power source, it is a great and efficient fridge.  If you would only use your vehicle or a generator, it is not a great choice due to the amount of power it will require because you will need to power it continuously.  
Thermoelectric Coolbox
This unit is closer to an ice chest in nature.  The science is similar, but instead of ice to cool the contents, electricity is used to pull the hot air out of the coolbox, which leaves the air cool enough to cool and maintain the contents' temperature.  On average, it can make the air in the box up to 36° F (20° C) cooler than the air temp on the outside of the box.  This unit is not ideal for long trips where you would need extended periods of refrigeration.  It is suitable for short trips, with a small number of people.  
This unit is easy on the wallet, but it is not as effective or reliable as the others.  It is very compact, so there is not as much storage as the other options.   You would need to prioritize essential items that need to be kept cool.  A coolbox does not hold up well in a warmer environment as its only way to cool is by pulling the hot air out.  The hotter it is outside, the hotter it will be inside your coolbox. 
It is not recommended for extended use as it is not proficient enough and does not adequatley cool your food.  If you will be using your van a lot or be going on longer trips, it is not recommended to use this cooling unit. 
Compressor Fridge
A compressor fridge uses the same technology that the refrigerator in your home does to keep things cold.  You cannot use a residential fridge in your van, though, as they require more power than you would be able to keep up with.  They do require a power outlet but at a lower voltage than your typical residential fridge. 
The smaller, compact versions made for camper vans and RVs are very energy efficient and are great for most people; it is the number one choice for camper vans    Because the compressor in the fridge keeps the interior cold, the compressor only kicks on when needed.  If the temp goes up in the cooling Unit or is about to go up, the compressor kicks on to cool the air.  It is the same science that works in our air conditioners.  
This unit is the most widely used, and it the best option for van life.  Due to its lower power consumption and many designs, this is the recommended option for van life.  
Whichever unit you decide works best for you and your van, we will have on our list – giving you options for all different types.  
Different Styles of Fridge Combos
On top of the different cooling types, there are different styles within those as well.  Their style is also an essential factor in determining which cooling Unit is best for you.  There are three general styles, and they are as follows:
Chest:  This is similar to a deep freezer or a normal ice chest.  It is deep ad opened from the top with a lid, rather than a door—ideal on space, as you cannot build on top of it.  On the contrary, it can be stored under a table or even double as a seat when not in use.  It also can be mobile if you plan on being away from the van for an extended period. A drawback is that it may be tricky to get things out of since there is no way to organize as there are no shelves, etc.   
Upright – an upright style is just like your average home fridge freezer combo.  It stands straight up, and door(s) open outward.  This is generally the best option for useable space inside the unit due to shelving.  It has a small overall footprint and can be easily built on top of (counters, sinks, tables, etc.).  A drawback is that it is not mobile and when on rough terrain, or just general van use, your items may shift or fall over.  
Drawer – it is pretty much exactly what it sounds like – a fridge freezer combo that pulls out like a drawer in a dresser.  This unit is the perfect unit to build on top of. The drawer option generally has better storage space than the chest.  You lose a lot of the cool air when you open the drawer because everything is exposed and becoming warmer every time you open the door.  
Right now, these are the only available styles for these combos.  Choosing your fridge freezer combo will wholly depend on your needs.  In normal circumstances and use, the compressor fridge would be your best option.  If your usual activity is a short day trip or 2-3 day trip, the coolbox is an excellent option due to its low power use and portability.  Lastly, if you do have RV hook-ups or use LPG, a 3-way fridge might be your best option.
Conclusion
There are so many options out there.  The best way to choose the right cooling unit for your journey into van life is to decide what type of unit will best fit your needs.  Consider what you want and need versus what is doable within your budget.  Read product reviews before purchasing your unit and make the best choice for you and your van.  The general consensus weighs toward a type of compressor fridge due to size and energy consumptions, but the choice is yours. Hopefully, our list has some viable options for you!