If you have ever been to an RV show, you have likely seen all the signs indicating deep discounts if you purchase your dream RV at the show.  While this may seem tempting to many, it causes skeptics to question the validity of these bargain claims.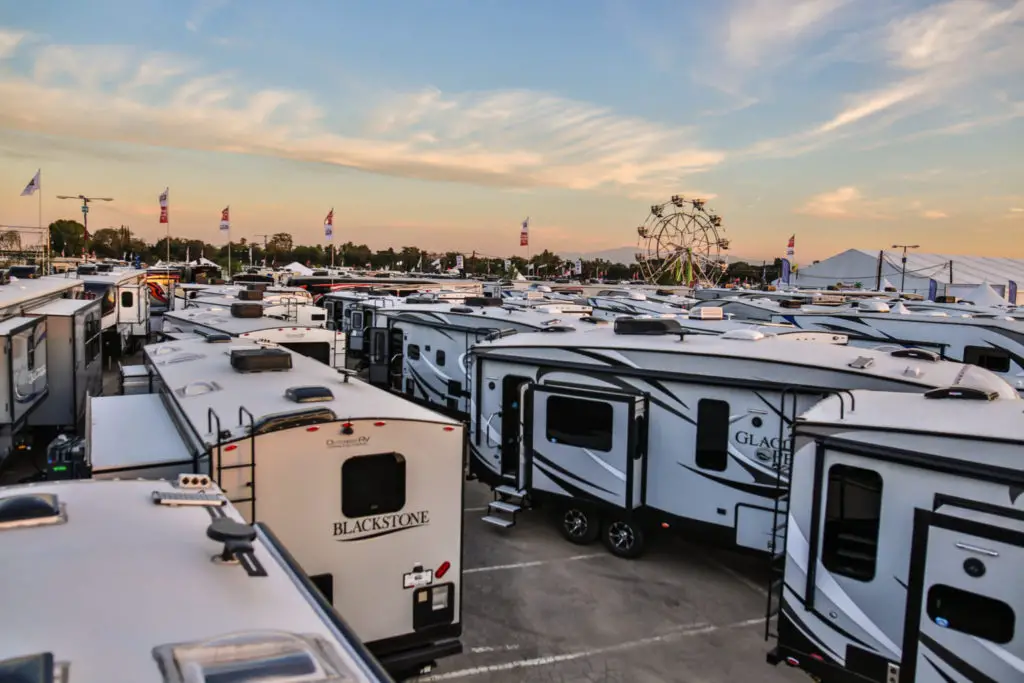 Purchasing an RV at a show may not be the most financially sound decision you could make.  There are times when this may be a good choice, however, there are often caveats that come along with purchasing at an RV show.
In this article you will learn about purchasing an RV at a show versus from a dealer, both the pros and cons.
Why You Might Want to Shop at an RV Show
Each year, there are hundreds of RV shows around the United States.  RV enthusiasts flock to the shows to check out the newest and greatest additions that have been made for RVs.  These shows also draw the curiosity crowd as well.  They go to the shows typically to see what all the hype is about when it comes to recreational vehicles. 
No matter what reason you choose to go to an RV show, one thing is for certain, you will see sales everywhere you look.  Not only will there be signs indicating a large sale, but you will also see many different sales associates approaching guests hoping to entice them to purchase an RV.
When you go to an RV show, you can expect to see RV's everywhere you look, but there are also some other experiences that make shopping at an RV show popular to some.
RV Shows have Amazing Shopability
Amazing shopability makes visiting an RV show extremely appealing to many people. If you have ever been in the market to purchase an RV, you likely know there are many different brands to choose from, 13 to be exact (Source: Se Financial).  The likelihood of finding all these brands at one location is nearly impossible, which means you will be traveling to "shop around." 
If you choose to go to an RV show, the brands all come right to you.  The only thing you need to do is move from row to row in search of the perfect RV for you and your family.  There are also manufacturers and salespeople on hand to answer all the questions you may have.
You Can Shop with Multiple Dealers
Multiple dealers are on hand when you go to an RV show.  So again, instead of spending days and hours traveling from dealership to dealership, they are right at the tips of your fingers.  You have likely experienced working with dealerships before and it is typically a less than enjoyable experience after the first few hour. 
You can Chat with Factory Representatives
Factory Representatives are usually a large part of RV shows.  This is important because they know the ins and outs of every RV their company manufactures and sells.  If you have any questions about features that can be added or taken away, this is the person you want to speak with. They are also going to be much more well-versed in mechanical-type questions.
RV Show Showcase Updated Features
Updated Features are always available to see at an RV show.  When manufacturers plan to attend these events, they are certain to bring the newest and most up to date RVs they have.  This is because many individuals that attend the shows are looking for that next best thing to either add to their current RV or trade in for an upgrade.
You Might Get Access to Special Offers
Special offers abound at RV shows.  Often, manufacturers will offer special offers on RVs at shows because they have been used as models, which means the foot traffic has been quite significant in the RV.  This is comparable to buying the floor model of an appliance.  If a lot of people have been examining it, the value is slightly decreased over time. 
If you are looking to buy an RV, the special offers they are willing to make, may just be enough to save you a significant amount of money. It is important to be cautious with "special offers" because sometimes they are not the best deal.  A bit of research can help you to make this determination. 
RV Shows Offer Opportunities to Learn
Seminars are also a large part of RV shows. Not only can you tour all the different models of RVs on the market, but you can also attend seminars that give you even more detailed information about the RVs you are looking at as well as where you can use it.
You may not think of sitting down at a conference type event when you go to an RV show, but it is quite common.  Seminars are often provided by experts in certain aspects of the RV world.  Some topics that may be covered in a seminar are:
Electricity
RV 101 – Choosing, using, and maintaining an RV.
Public parks that you can visit. 
Tips and Tricks of RVing
Safety 
Legal aspects of owning and operating an RV.
There are likely many more options that will be available, but these are some of the most common topics covered at events.  
(Source: Enumclaw RV Show)
Do Shows Offer Discounts?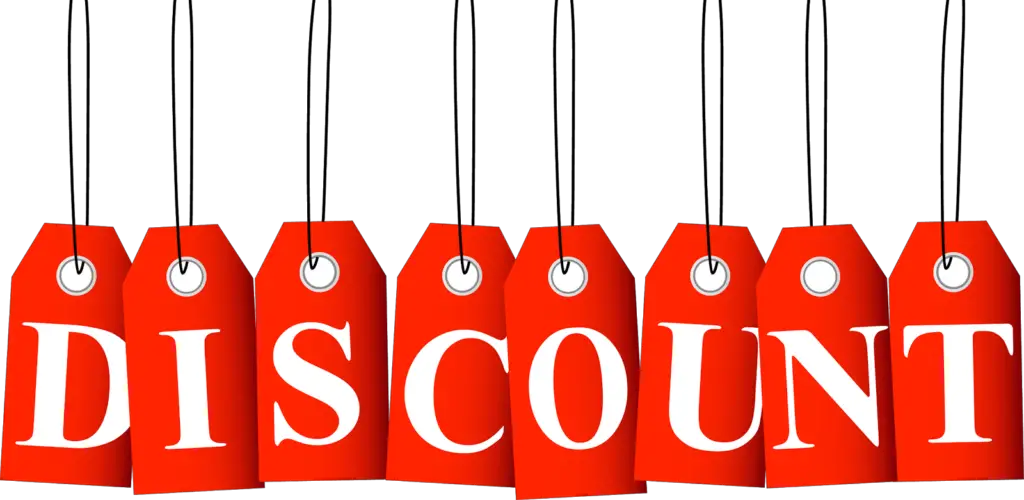 You may be wondering if RV shows really offer discounts on RVs.  While it is hard to generalize across shows, there are likely going to be times that the price is lower at an RV show, but you need to have your research to determine if this is true.  
Is it a Bargain?
Aside from the signs and smooth-talking associates, you may be wondering if purchasing an RV at a show is really such a bargain. There are a couple of schools of thought when it comes to this question.  Some will say yes, without a doubt, while many will say it is better to purchase from a dealer away from the RV show. 
At an RV show, you will find a range of RVs with prices ranging from low to extremely high. It is almost like shopping for homes or cars.  You have base models that are simple and stripped of all bells and whistles and then you have the mansions of RVs with every amenity you can imagine and likely some you have never thought of.  Because of this, you may or may not be getting a steal of a deal at a show. 
When searching for a bargain at an RV show, you may need to find out specifics, such as: if the RV is on consignment from the manufacturer or if it is a model that have been used for testing purposes.  In case you were wondering, most RV lots have a full hook up area where you can stay in the RV overnight to determine if it is the right fit for you. If they have an RV that has been used for that purpose, the price will likely be lower. 
(Source: RV Hive)
Common Bargains Offered
The most common bargain you may find at an RV show is around 25% off the purchase price of a brand new RV. If this purchase price includes the warranty, it would be considered a pretty good deal.  You may find larger discounts if a dealer has RVs at the show on consignment from a manufacturer.
Consigned RVs will have a steeper discount usually because the dealer needs to purchase the vehicle and take it back to their lot after the show.  When looking at the cost to do this, they are usually willing to offer greater discounts, which in turn reduce their overhead cost.  
Display model RVs which are used for people to walk through and maybe even test out, may be available for a lower price. While the RV isn't classified as "used," it may show minimal signs of wear, depending on the amount of times it was tested out. 
Finding a Deal at an RV Show
Visiting an RV show can be exhilarating yet overwhelming at the same time. If you are in the market for an RV and feel like you may get the best deal at a show, you need to come up with a plan before you even step foot into the show.  
You need to remember; you are walking into a sea of dealers that want to sell you their RV and they will stop at nothing to convince you that they have the best option for both your needs and price point.  It is easy to fall into the temptation of buying something you may not necessarily need because of the excitement and adrenaline you will feel. 
Have a Plan
Do not just step haphazardly into an RV show without a plan of action, especially if you are hoping to purchase an RV at the show and get a bargain at the same time.  Before going into the show, you need to determine exactly what you are looking for in an RV.  Making a list would be extremely helpful with this task.  Some items you may wish to include in your plan are:
Budget:  How much are you willing to spend. Think of your top amount and do not stray from this number.  Remember, you will be pulled and swayed to features that quickly add up and can easily go over the amount you wish to spend. 
Manufacturer:  Do your research ahead of time and know which manufacturer you are interested in purchasing from.  This will help you as you are engulfed in a sea of RVs and trying to find the best option.  If you have a couple of manufacturers that are most appealing to you, make sure you spend the bulk of your time there.  
Needs and Wants: Before going to an RV show you also need to make sure you have a detailed list of exactly what you are looking for in the RV as well as bells and whistles you may be interested in.  This will help you avoid falling into a sales pitch and buying something you really do not need. 
New or Used: When going to an RV show, you may also have access to several used RVs.  You need to determine if you are willing to buy an RV that has already been owned or if you are set on purchasing a brand-new RV.  This will help guide your conversations at the show and will help you to make use of your time. 
Know Your Options
You will quickly find there are many different options when it comes to purchasing an RV.  There are six different size options that you need to be aware of when you begin your search.  It would be helpful to complete your research prior to attending the show so you don't make a rash decision.
Travel Trailers
Travel trailers are one of the most frequently purchased RV types.  They are a pull behind model, so you will need to make sure you have a vehicle that can handle the correct towing capacity.  
Travel trailers come in a range of sizes and features to accommodate different sized families.  The average size of the trailers is between 13 and 40 feet and can cost between $11,000 and $40,000. 
(Source: Thor Industries)
Fifth Wheels
There is some confusion when it comes to the term fifth wheel when referring to an RV.  A fifth wheel is essentially a large travel trailer that attaches to a vehicle with a unique hitch.  The hitch is thought to provide greater stability because it is centered in the back of the vehicle that is towing the trailer. 
When purchasing a fifth wheel, you can plan to spend between $20,000 to $50,000.  The cost will increase as you add features and size to the fifth wheel. 
(Source: Camping World)
Lightweight Trailers
Just as the name suggests, these travel trailers are made with a much lighter combination of materials and are typically smaller than other travel trailers.  Individuals that choose this option, typically do so because the weight allows them to pull the trailer without a heavy-duty truck or huge fuel bill.
When looking to this economical version of an RV, you can plan to spend between $11,000 to $25,000 on a quality lightweight trailer. 
(Source: Explore USA)
Motorhomes
 If you have no interest in pulling an RV with another vehicle, you will want to look at a motorhome.  This is the type of RV that you drive.  Just like other vehicles and RVs, there are different models and classes that you need to be aware of.  There are 3 classes of Motorhomes.
Class A:  This class of motorhome is compact, yet large enough for up to four people to sleep comfortably.  Not only will you be able to move around the trailer, but you will have a small sense of being at home, with minimal storage and home features.  The average cost of a Class A motorhome is between $50,000 and $200,000. 
Class B:  This motorhome is one of the smallest travels trailers you can buy.  It is very compact, and most can sleep up to 2 people comfortably.  While there are not any extra features to the travel trailer, it is a good option for the occasional trip. It is also a cost-effective way to enjoy the RV life with minimal cost, with a price range of $60,000- $190,000. 
Class C: This is the largest option when it comes to RVs.  You will likely see these RVs towing an additional vehicle behind them.  The cost of these RVs is significantly higher because of all the addend amenities you will be able to find, but if you are serious about the RV life and intend to stay in your RV for a long period of time, this may be the best option for you. The average cost for this class of RV is between $50,000 and $250,000 or more, depending on the features. 
(Source: Expedition Motorhomes)
How Much Will I Spend
When determining how much you will spend on an RV, you really need to look at your personal budget and needs. The good thing about RV shopping is that you can spend as little or as much as you want to, which makes having a plan even more important when you venture to an RV show. 
Typical Cost
To help you gauge the amount you may need to spend on an RV, you can begin by looking at $10,000 for the low end and $300,000 for the high.  When looking at these numbers, you can imagine the higher price is going to look at motorhomes, not travel trailers.  The amount you choose to spend really is up to you and what features you choose to add. (Source: Camper Report)
What Would be a Good Discount?
If you happen to see an RV that you are really interested in and it is marked at a discounted rate, a good rule of thumb is to look at the pricing on regular RV lots for the same model before pulling the trigger and making a purchase. 
Compare Prices before you begin to bargain with the salesperson, make sure you have done a quick search to see what prices are outside the show.  You may find the prices are slightly marked up in the show.  If this is the case, you have two choices; either walk away or use this as leverage to negotiate a price that you are comfortable with.  
Often, dealers will be willing to price match if the model and condition are the same.  This may require a bit of logistical work on your part at the show, but it could save you thousands of dollars in the long run.  Remember, you cannot expect a local dealer to price match items that are not the same. 
Final Thoughts
Buying an RV is a huge commitment that should not be taken lightly.  When going into an RV show, it is easy to get carried away because of the atmosphere.  This can lead to unwise purchases and poor bargaining.  Because of this, you want to make sure that you attend a show with a plan and do not approach any dealer to negotiate until you have all your numbers, needs and facts in order. By doing this, you may be able to score a great deal at an RV show.