Hi-van is supported by its audience. When you purchase using our links, we may earn an affiliate commission (no added cost to you). Learn more
Many people are now reassessing their lives, trying to find a balance between work and personal life. But many worry if a roof tent damages their cars. Can a roof tent damage your car?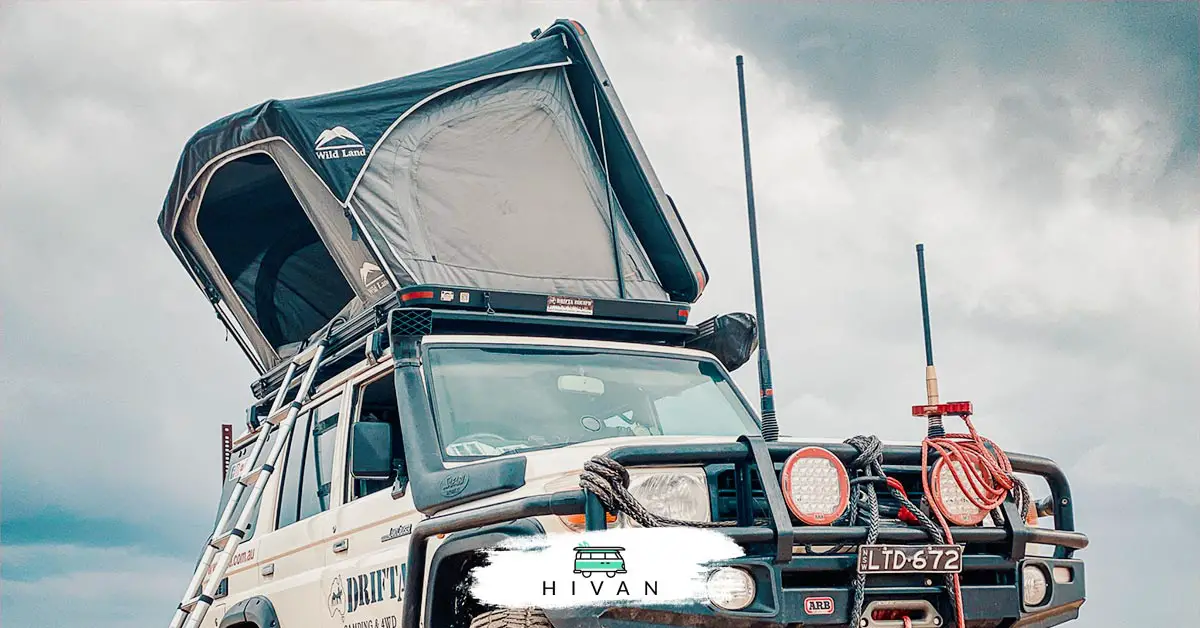 A roof tent will only damage the car if there's too much weight. By purchasing a specially designed roof rack to support the tent's weight, you can prevent damage.
Most commercial roof racks can't bear the required weight and may harm the car.
Read on to learn more about roof tents, the damage they can cause, and why you should probably stick to the regular ground tent.
---
What Are Roof Tents?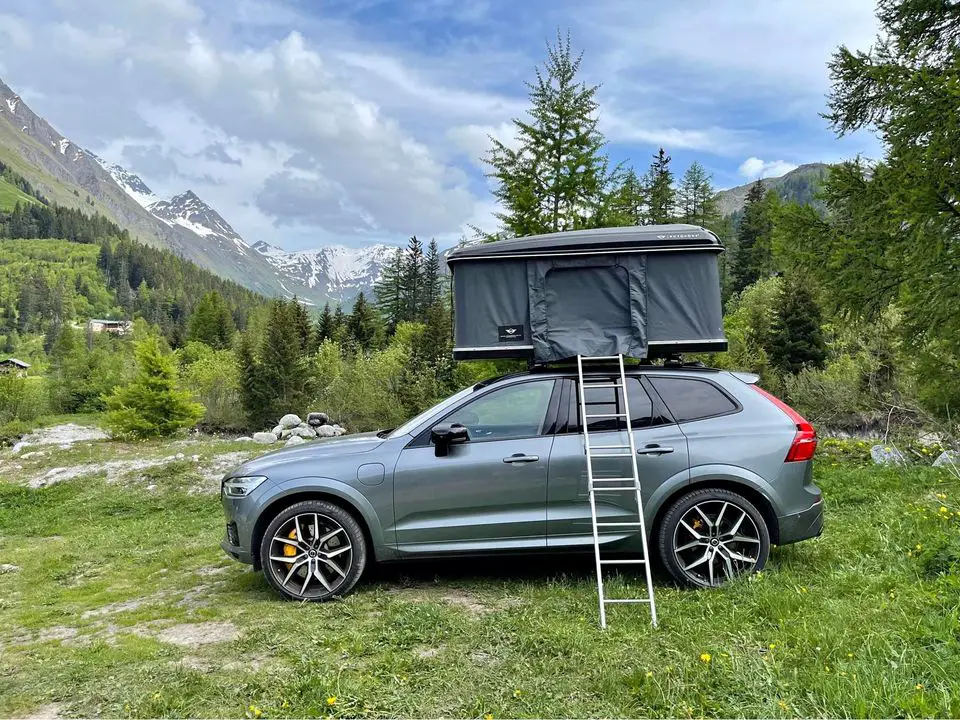 When many of us hear the phrase roof tent, we think of your stereotypical canvas tent placed directly on the roof of a car. Fortunately, this isn't quite the case.
Experience a roof tent, also known as a rooftop tent–a practical vehicular accessory that enhances your outdoor adventures.
You can attach it to your vehicle's roof or bed for a comfortable sleeping space above your vehicle. Roof tents first appeared in Western Europe during the 1930s.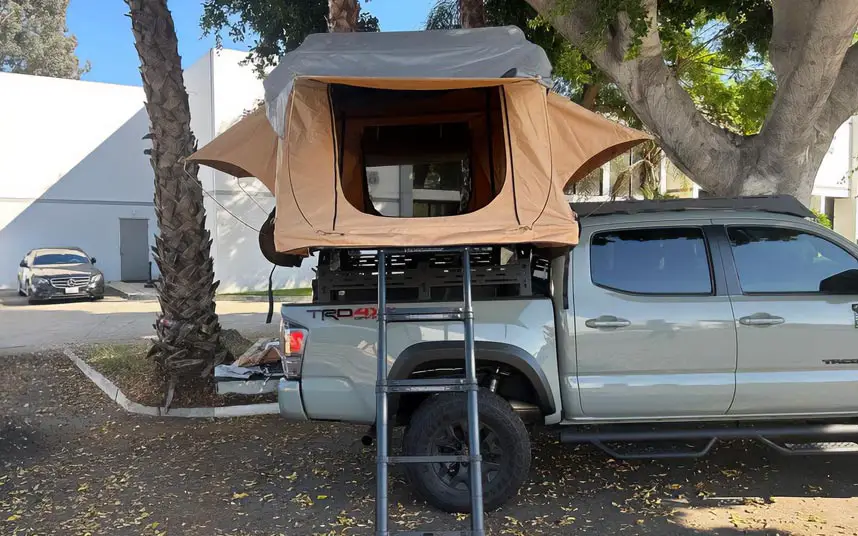 Starting in 1958, newer tent designs emerged. The tents are stored in waterproof fiberglass or carbon fiber boxes. They can be quickly set up and taken down using a crank or gas rams.
Source: Wikipedia.
Roof tents can be installed on almost any vehicle, even though they are commonly found on off-road-ready 4×4 vehicles like Land Rover and Jeep.
Typically, they attach to a vehicle's roof rack or aftermarket roof bars.
Reasons More People Are Considering Roof Tents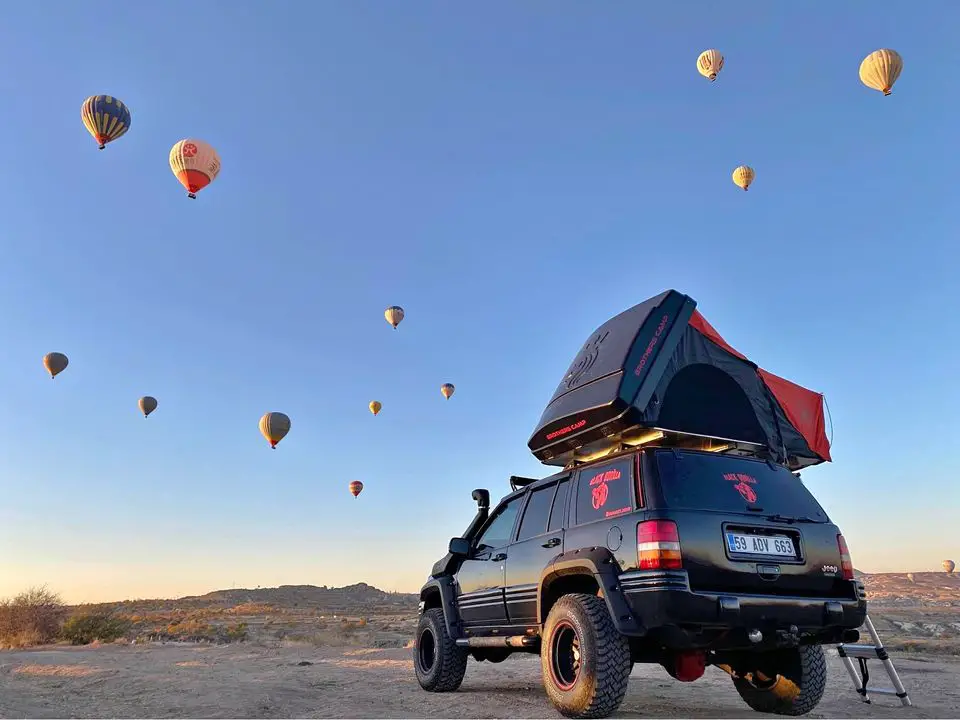 Roof tents came originally for those traveling through hot arid places. They allowed people to sleep away from the heat of the ground and the potentially dangerous critters that live there, like snakes and scorpions.
Over time, they've been adopted by the regular adventurer to travel long distances without having to pay for a place to stay. 
Many people have also turned to roof tents as an alternative to a regular ground tent. Roof tents provide camping ease and comfort. Thanks to roof tents, you don't need to pack a big and bulky tent that'll take up precious cargo space when going on a long trip.
As most roof tents can be "popped up", finding a specific spot is unnecessary. You simply need to find a relatively flat area where you can drive to with your car, turn off the engine and apply the handbrake before unfolding your roof tent.
---
Are rooftop tents bad for your car?
Roof tents are often a fun and exciting alternative when camping but can cause serious damage if misused.
Many people believe they can simply place the roof tent on any commercial roof racks, but this isn't the case.
Yes, if you use the wrong roof rack
Most commercial roof racks are only rated for 150 pounds (68.04 kg). Roof tents, alternatively, often weigh that much alone, excluding the weight of everything that'll be inside the tent.
Incorrect use or installation of the roof tent on not adequate roof racks may damage both the roof of your car and the roof rack.
Therefore, you want to make sure you purchase a roof tent that suits your type of car.
Install your roof tent correctly (not alone)
Roof tents aren't easy to load onto the car because they're heavy. You should ask for help to mount the roof tent, do not install it alone.
Tentbox created an easy to follow video tutorial to show how you should install your roof tent.

Personal tips: To avoid dents and scratches, use a blanket or something similar to protect your car while mounting your roof tent.
Roof tents are also relatively heavy, making it so you can cause serious damage to your car's suspension. Cars are designed that they can take on a specific extra weight.
For example, in rare cases, it can offset your car's center of gravity and cause damages to your suspension over a bumpy road.
Finally, while roof tents are safe, there are some safety risks associated with them. These come as fall risks, weather risks, and equipment failure.
Below, we explain each risk:
Fall risk: Campers often worry about falling from their rooftop tents. This fear stems from the perception of soft-sided tents toppling in bad weather. In reality, while falls are possible, most car-top tents have sturdy structures, and you're securely enclosed, not on an exposed roof.
Weather: Sleeping in a roof tent adds a slight risk in bad weather, but it's not much greater than camping on the ground. You can be more affected by rain, wind and/or snow as it is more difficult to enjoy natural shelter with your car.
Equipment failure risks: Equipment failure can be dangerous. You can get injured if the equipment fails and your tent collapses on you while you're chilling. In addition, you certainly wouldn't want your roof tent to malfunction and leave you without a place to sleep while on a road trip.
---
Final Thoughts
Although an admittedly cool alternative to ground camping, roof tents can do damage to your car when misused. Here are our main advice to avoid any damages caused by your roof tent.
To prevent damage, choose a rooftop camper designed for your car's model and weight capacity.
Proper installation is crucial, and it's recommended to get help from others to lift the camper onto the roof safely.
Use the appropriate crossbar system to avoid direct contact with the car.
Drive carefully to prevent the camper from shifting and causing unnecessary wear and tear on your car's roof.
Roof tents are not cheap, so their cost is something to consider, especially if you don't plan to use your roof tent often.
Find this content useful 🙂 ?
Subscribe to our Newsletter and get a free Solar Electric Diagram + shopping list.