Living or traveling in a van is incredibly popular these days. However, you might miss some of the simple amenities from your home. Paper towels are an essential part of van life, but you can get a kitchen roll holder to make it easier. There are plenty of options on the market that you can get to keep your kitchen clean and tidy.
The best van kitchen roll holder is the Suntech Paper Towel Holder. It has a self-adhesive backing that allows you to place it anywhere in the van without sliding around. Van kitchen roll holders should be able to withstand the constant motion of a vehicle while maintaining durability and stability.
Throughout this article, you'll also learn the following info about van kitchen roll holders:
The five best kitchen roll holders for your van
What you need to look for when you're shopping for a new one
How to install any roll holder in your van's kitchen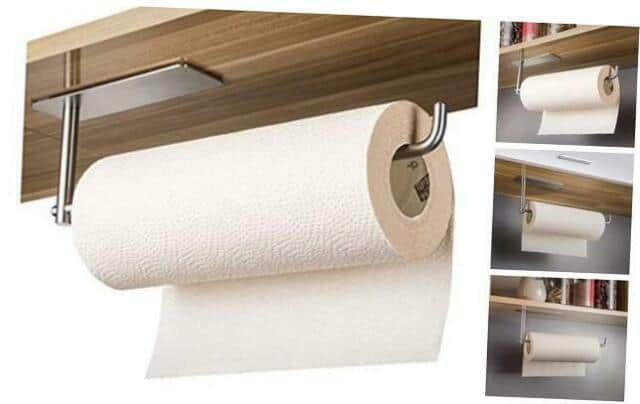 The Suntech Paper Towel Holder is one of the simplest kitchen roll holders on the market. There's nothing fancy about it, but that's exactly why so many people choose it for their vans and RVs. It comes with an adhesive backing that attaches to almost any surface, as long as it's clean and porous.
This holder is made out of durable anti-rust, anti-scratch stainless steel. It matches almost any interior decor scheme, but the material won't bend or break from heavy usage. Wear and tear don't exist if you use it as it should be. Even the thin holding pole won't wobble or bend like most other holders.
Choose between silver or black, then remove the backing to reveal the adhesive tape. Place it against the underside of a cabinet or on the side of a shelf, then hold it for about 30 to 45 seconds to secure the adhesive. Don't touch it for 24 hours, then you're good to use it daily.
Pros
The simple design makes it perfect for any van
Installs in seconds, allowing you to use it the next day
It won't scratch, rust, or bend
Designed from high-quality, appealing stainless steel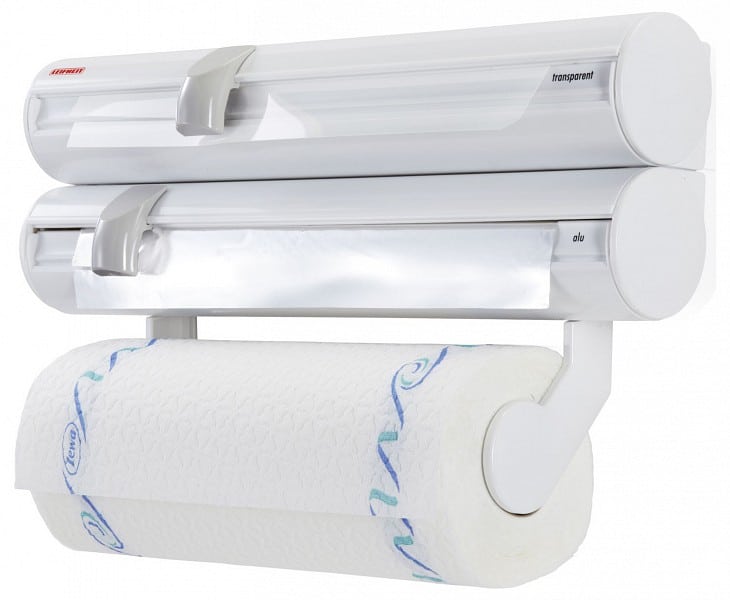 Next up is the versatile Leifheit Rolly Mobil Wall-Mounted Paper Towel Holder that comes with three slots. Aside from holding your paper towels, this impressive kitchen roll holder also holds the tin foil and plastic wrap next to it. You'll be able to access all three of them right next to each other. Don't worry; it's incredibly easy to refill them.
All you have to do is squeeze the latches, pull down the plastic cover, and slide the roll off of the pole. Slide on a new paper towel roll, close the plastic cover, and you'll be good to go. Use the same process to replace tin foil or plastic wrap as often as you need to.
This kitchen roll holder mounts anywhere in your kitchen to prevent it from sliding around or breaking off. You won't have to worry about using cheap adhesives, though all of the self-adhesive roll holders on this page use high-quality glue. Nevertheless, some people prefer different security methods, which is what you'll get with this holder.
Pros
It allows you to hold paper towels, tin foil, and plastic wrap in the same location
Try the quick and simple replacement process for all three products
You can mount it anywhere in the van for instant, durable access
The Kamenstein Perfect Tear Wall Mount Paper Towel Holder is a unique addition to your van because it flexes. This motion matches the size of any paper towel roll, allowing you to choose your favorite brand. You can choose between silver, black, or a rounded version of the silver variant.
The patented design breaks off a sheet when you rotate the roll. There's no need to have a bunch of crumpled paper towel sheets when you can get a fresh cut every time. Their design doesn't add much to the price, so you'll be able to enjoy the budget-friendly price that beats most other roll holders.
Using two screws, you can mount this kitchen roll holder anywhere in your van. They're provided with the kit, so you don't need any hardware other than a screwdriver. Install it in a few seconds for nearly instant access to your new van kitchen roll holder.
Pros
The unique design cuts off one sheet at a time
Comes in three colors and two shapes to choose from
You can mount it anywhere with two screws that come with the kit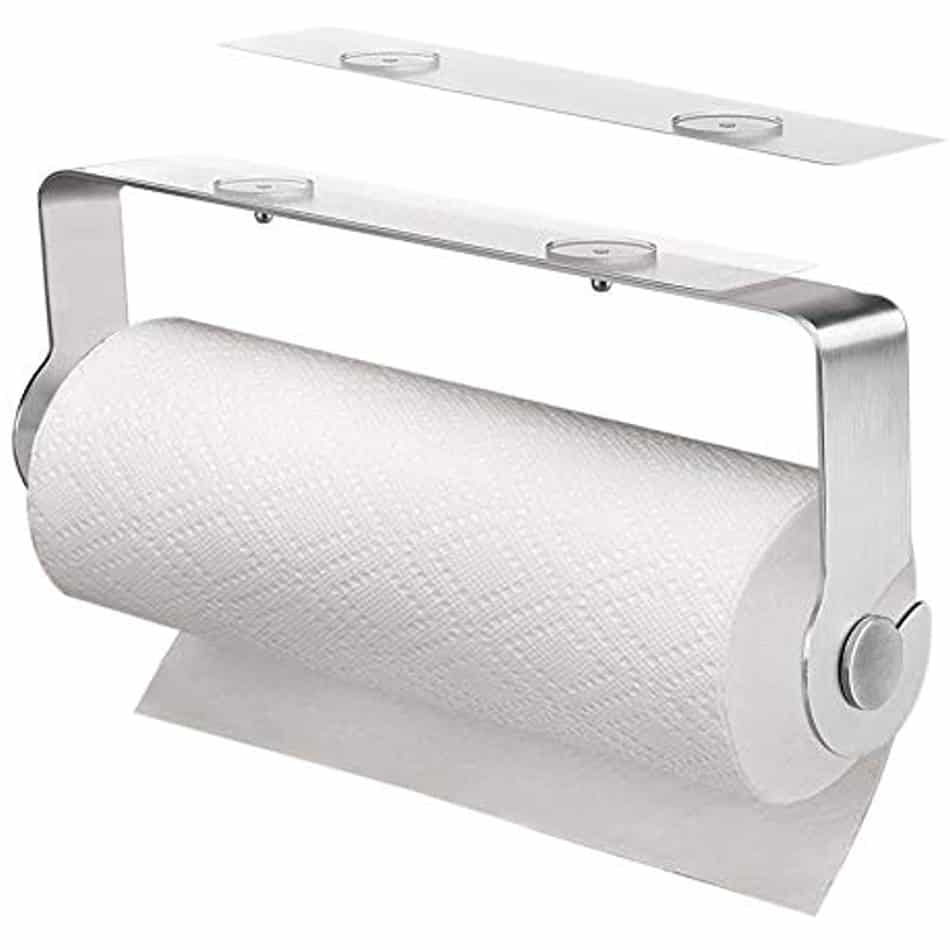 The Carry360 Adhesive Paper Towel Holder takes roll holders to the next level with their top-of-the-line adhesive process. You can start by removing the cover, pressing it against any surface, and holding it for a couple of minutes. It comes with a couple of buttons that slide through the top of the holder, securing it the adhesive.
There's no need to worry about drilling into your van or leaving behind a gross residue thanks to the high-quality adhesive. It's one of the cheapest kitchen roll holders on the market, making it a top choice for countless customers. You don't need any special tools to get this holder installed.
This ultralightweight kitchen roll holder weighs less than a pound. Despite it's thin, lightweight design, it's made with high-end, durable steel. You won't have to worry about it bending, rusting, or breaking from regular use. The length and width are perfect for virtually any paper towel roll that you'll find.
Pros
Designed for a no-residue, drill-free installation
You can use it with any paper towel roll, plastic wrap roll, or tin foil roll
It weighs 0.6 pounds, making it one of the lightest holders around
This holder is made with high-quality, long-lasting steel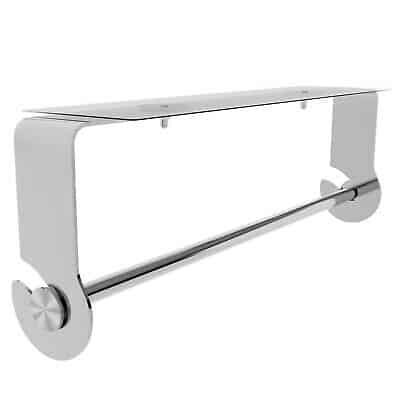 Last but not least is the SMARTAKE Paper Towel Holder. This van kitchen roll holder can be detached from the primary hub, allowing you to wash the unit without scrubbing too much. You can slide the pole off of the bars, replace the paper towel roll, and put it back on the bars in a few seconds.
Black, silver, green, and bronze are just several of the numerous colors that you can choose from with this paper towel roll holder. Regardless of the color you choose, you'll enjoy the high-end steel material combined with the self-adhesive design. Leave the drill and screws at home!
Much like all of the van kitchen roll holders on this list, this one will work with any paper towel roll. It's 11 inches long, so it doesn't take up too much space, either.
Pros
This product comes in a wide variety of colors
Enjoy the long-lasting, tough stainless steel design
Made to be removed and replace as often as you'd like
Conclusion
Getting a new kitchen roll holder for your van can make it much more convenient. No more chasing around the flying paper towel roll or leaving it stuffed in a drawer. You'll be able to have instant access to paper towels wherever you go.
Here's a quick recap of the post:
Choose between self-adhesive roll holders or ones that you mount with screws.
Make sure the holder is tough enough to handle constant movements.
Try to find a kitchen roll holder that matches the interior decor scheme of your van.
Ensure that it's compatible with any paper towel roll's width and length.