Most of us may have been raised to be skeptical of eating something that came out of the back of a van, but you may be surprised to hear what a modern kitchen van is capable of. Many adventurous travelers and opportunistic business-owners are turning to vans for their mobile kitchen needs.
With modern compact appliances and a creative layout, a kitchen van can help bring many of the amenities of a normal kitchen on the road with you, freeing you to travel. It may not look much like a traditional, but with some customization, it is likely that you will not even miss it.
Entrepreneurs and explorers alike can find something in a kitchen van for their lifestyles. If you still are not convinced that a van can hold everything someone would need to cook safely and creatively on the go, read on to learn more about what modern designs can do to make the back of a van into an efficient and effective mobile kitchen.
What is a Kitchen Van Compared to a Normal Kitchen?
You are likely quite familiar with the kitchen inside your home. It probably has all the amenities that you use every day, helping you to make and eat delicious food. However, if you think a little outside of the box, you will realize that these comforts do not have to be tied solely to your home.
If you want to travel in a camper van or run a food truck, you can enjoy many of the same amenities in your kitchen van that you might take for granted at home. Many of the items you can implement in your kitchen van conversion plan include:
Stove
Refrigerator
Cabinets and countertops
Sink with running water
You can also travel with many of your favorite cooking tools like cutting boards and spice racks. With a little ingenuity, you can come up with inventive and convenient ways to implement all this and more into your van kitchen.
How Do You Cook in a Van?
Cooking in a van may seem complicated for a beginner, but these mobile kitchens can open up a whole world of opportunities. Instead of sticking to cold sandwiches or cooking over a fire on your next campout, you could be eating fine and fancy with a van kitchen.
Kitchen vans give you the ability to enjoy a home cooked meal, regardless of your location! It only takes a few tweaks–and a little bit of planning–to make the most of the unique culinary set-up.
Make Some Room
When you think about cooking in a van, there are a few challenges that become immediately obvious. The first problem is the lack of physical space. Official food trucks generally have some room to maneuver, but vans are usually more compact and can present more of a challenge.
The good news is that commercial vans can be a bit roomier than you might think. The cargo hold of a full-size van can hold a six-foot (or shorter) person, standing comfortably. This allows a single cook to function just fine in this smaller space. Certain models can even be customized for better standing room and rooftop ventilation.
Starting with the right base helps the operator use their kitchen van to its best potential, but this is only the start. Much like your home kitchen, using your space wisely can make all the difference.
Maximize Your Counterspace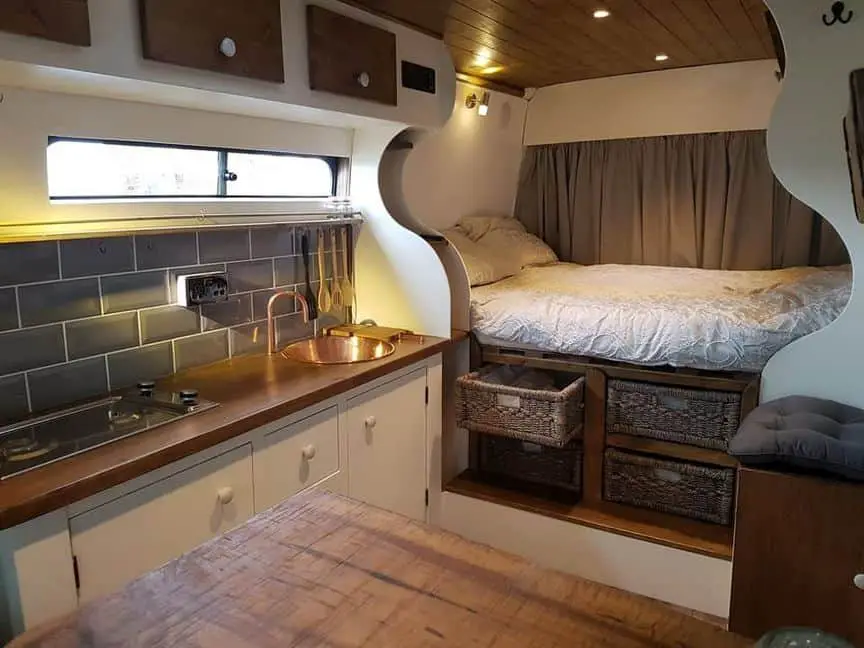 Counterspace is a key component of how a kitchen operates. In a small space, counter space can be in dangerously low supply. You might not realize how significantly your counters affect the rest of your kitchen experience. In fact, counters are responsible for the following functions:
They set the base for food-prep
They provide storage
They provide the overall sets the aesthetic for how the kitchen looks and feels
Kitchen vans are usually built around their counter space, so prioritizing this crucial component makes all the difference. This is no small feat, but there are also many ways to optimize your space.
One way to do this is to customize the rest of the layout to have other appliances convert or fold up in order to give more counter space. Small changes, such as sink covers, fold-up shelves, and convertible dinette tables-, can give you more counter space whenever it is needed.
Optimize Your Layout
Depending on whether the kitchen is for general cooking or specialized cuisine, the layout can be adjusted accordingly. Some general principles apply to minimize disruptions.
The key is to make sure every inch of space is used to its best potential. Eliminating the following cumbersome elements can streamline the space:
Ill-fitting swinging doors
Bulky handles
Difficult corners
Optimize Your Appliances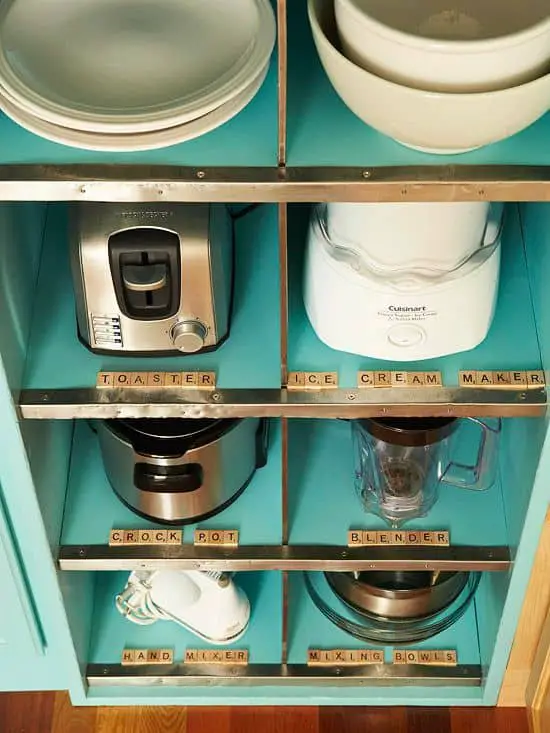 Anyone with a small kitchen knows that the type of appliances you put in your kitchen can transform your space. Compact appliances can help keep counter and storage space clear as possible while also minimizing the amount of energy needed to operate them.
Full-size faucets often take up more space than needed for this type of kitchen. Sink sprayers that pull out help give the user better flexibility and utility, especially when combined with a shallow sink basin.
Need something more specialized? Kitchen vans can also have portable sink and stove units that operate either in or out of the van itself. This gives more room for the users to move around, as it can also make clean up a much more pleasant affair.
Beat (Or Keep) Your Heat
Nearly every kitchen needs a heat source, so stoves are an important addition. For general purposes, camping supplies work great and are built to conserve both space and energy. These stoves can be electric or propane, one burner, or multiple. This will depend on what you need to cook and how often.
Induction stoves are a popular choice. These are often easiest to clean, small enough for tiny spaces, and safer than cooking with gas in a confined space. These are good for simple meals that do not require specific cooking temperatures.
If you are set on a propane stove, these are not completely off the table. Propane can be a cheaper energy option, and there are some portable options if you want to cook inside or outside. You can even install a small propane oven with some care! Ventilation is key, but kitchen vans can still be homey with a little preplanning.
On the opposite end, you will probably want to keep some things cool. Some rigs have specialized temperature control, but for the everyday kitchen, a compact or mini-fridge often fits best and serves its purpose well. You can even opt for a top-loading fridge or freezer if it better fits your design.
Set-Up and Takedown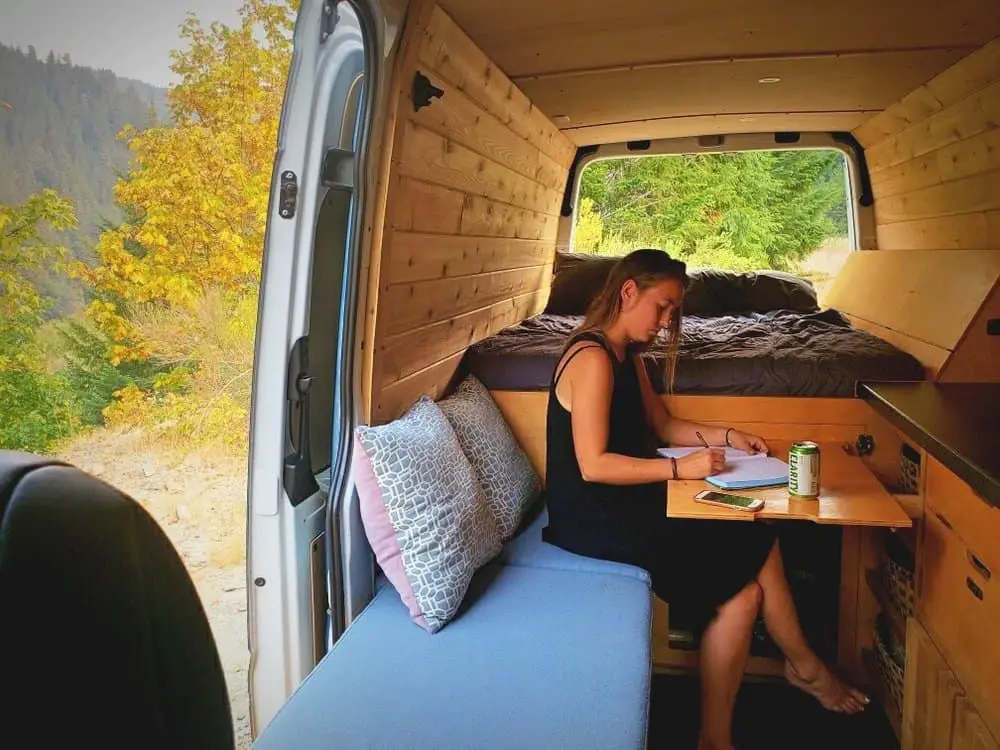 Washing up can be especially challenging in a kitchen van, but certainly not impossible. It only takes vigilance and a little bit of creativity.
Vans often do not have water systems built in, but gray water can be collected using designated buckets or jugs and used for washing.
Using a Kitchen Van for Cooking
Kitchen vans can be used to cook anything, from a simple espresso to a risotto. Still, the actual cuisine will depend on where the van actually travels, whether it is a local food service or a campervan scoping out the countryside.
Non-perishables, one-pot meals and vegetarian dishes are popular for their versatility, which makes them a staple in the campervan world. Remember that you will be in a small space if you want to cook dishes with strong odors. Ventilation will be key if those smells linger.
Some staples to consider:
| | |
| --- | --- |
| Oats | Pasta |
| Peanut butter | Instant coffee |
| Sausage | Potatoes |
| Tuna | Boxed macaroni and cheese |
| Peppers | Avocados |
| Apples | Granola bars |
| Tomato sauce | Tortillas |
Your pantry is best stocked with compact and sturdy foods that can take the bumps in the road without getting too damaged. Not impressed with those so far? While the above ingredients are fairly basic, those seemingly simple ingredients can turn into:
| | | |
| --- | --- | --- |
| Gumbo | Spaghetti | Pancakes |
| Hard-boiled eggs | Couscous | Fajita chicken |
| Chef's salad | Tuna mac and cheese | Overnight oats |
There are also countless resources to make the most out of van-life living. These ingredients and meal ideas only scratch the surface.
Why Cook in a Van?
Cooking in a van may not seem glamorous, but van-life has an incredibly robust community. Whether for personal or business purposes, a van can be a great fit for those who want a unique creative project that embodies a versatile yet minimalistic mindset.
What is Van Living?
Many gravitate towards campervan living as they grow more interested in exploring the various benefits. A campervan allows the user to navigate both on and off the grid, which is perfect for those who want to travel across the country while saving money on hotels and restaurants.
Campervan living allows one to take advantage of
Minimalism
Freedom
Sustainability
Taking the kitchen on the go can help save on food costs while also enhancing the intimate experience (who does not like breakfast with a view?).
Even for those who prefer to stay in the city, a kitchen van can still be a good alternative to their bulkier food truck counterparts. Having a smaller vehicle can minimize energy usage and fuel usage while still maintaining its functionality. This can be perfect for smaller businesses or traveling groups.
For people who are more environmentally-conscious, a kitchen van conserves space and maximizes charm.
A Food Truck Alternative
Food trucks are a great way to take your business on the road and offer a unique culinary experience across town. If a full-size truck is too daunting or bulky for your business needs, your smaller outfit may benefit from downsizing to a kitchen van.
Keep in mind that you will still need to follow your local directives and permitting requirements. Cleanliness is imperative, so make sure that your set-up allows for washing and sanitizing your tools on a regular basis. You may need to have a sink unit that can exit your vehicle for more room to maneuver.
For smaller businesses, using a used van for a mobile food business can be a great way to save on start-up costs. Plus, it can be great for marketing your business.
What Models Work Best As Kitchen Vans?
Kitchen vans are great tools, but they generally are not built in the back of an ordinary minivan. The vans used for these units can be built to order, which may be beneficial for businesses that need specialized temperature controls.
Generally, full-sized vans that are meant for commercial uses are the most common to use for kitchen vans. These include:
| | |
| --- | --- |
| Ford Transit Full-Size Van | Freightliner Sprinter Crew Van |
| Nissan NV2500 Cargo | Nissan NV200 |
| Dodge Sprinter 2500 | Dodge Ram Promaster 136 |
| Mercedes Sprinter (a #VanLife fave) | Mercedes Metris |
| Dodge Pro Master | Chevy Express |
| Volkswagen Westfalia | Volkswagen Transporter |
| Fiat Ducato | GMC Savanna |
This list, of course, is not exhaustive. Another common method is to convert an existing model. This allows the user to customize the layout to their exact specifications, whether for business or for pleasure.
If you are in the process of choosing your next vehicle for van life, we made an article about which type of vehicle you should choose.
To DIY or Not To DIY a Kitchen Van
People with a crafty nature may enjoy the DIY aspect that a kitchen van offers. Especially for those who want to use it more as a campervan, setting up your own rig can make it more personally satisfying. It can also help maximize space while customizing the layout to fit your needs best.
Making your own kitchen van is also great for active people who are environmentally-sensitive. Making your own kitchen van often entails recycling and repurposing older parts and supplies, whether that be old countertops or appliances. It requires a lot of time and a well-planned budget, but it can be well worth it.
How Much Does a Standard Kitchen Van Cost?
This will depend on your models and specifications, but campervans can run a little more expensive than your standard SUV. It is common to see price tags right around $30,000 for newer models.
If you are more crafty, you can start with a used van and modify it to meet your specific needs. This can lower your costs by over $10,000, with certain packages under $20,000.
These can be fun yet intensive projects. This means it is not just an investment of money but also an investment of time, and this can be a considerable chunk. Campervans can take several months for full installment, and the kitchen takes quite a bit of logistical planning.
Can a Kitchen Van Really Look Like a Nice Kitchen on the Inside?
The short answer is: absolutely! Whether you prefer a rustic build, a vintage renovation, or something new and shiny, a kitchen van can look straight out of a magazine or Pinterest board.
You can recreate your favorite normal kitchen looks inside of a kitchen van. Consider the aesthetic you are going for and try to downsize key items and colors to fit in your kitchen van.
Natural and Clean
If you prefer the "crunchy" natural aesthetic, there are builds that can channel that rustic and wood-laden vision. It can look like your backwoods cabin, just on wheels! These builds often have eco-friendly touches to tap into the sustainability aspect, such as solar power panels on the roof and off-the-grid cooking options.
Blast from the Past
Who does not love a little nostalgia? Plenty of van builds channel the "modern vintage chic" look. This involves using plenty of colorful repurposed pieces that look right out of the magazines from the 1970s.
This kind of build looks right at home for college students on a road trip or an older couple who want something cozy while still being creative.
Little Yet Luxurious
If you want something as comfortable as a large Class A RV without the wasted space, the minimalist glam look includes all the comforts of the luxury look while still cutting out most of the extremities.
Builds that channel this look incorporate newer appliances and utilities. These types of kitchens usually have all the comforts of a home kitchen but on a smaller scale.
Cafe in a Campervan
For those who want to use their van for more business ventures, one type of business that can work well out of a kitchen van is a coffee shop on wheels.
Kitchen vans can fit all the necessary equipment needed to make a phenomenal cup of espresso and all the specialty drinks you could want to bring the joys of caffeine around town to thirsty customers.
These include:
Smaller fridges
Steamers
Presses
Flavors and syrups
Blenders
What You Will Need to Make Your Own Kitchen Van
Making a kitchen van work for you takes a few crucial steps, but it is certainly doable. All you need are a few key ingredients for a recipe for success. If you keep the following steps in mind, the process can run smoothly, and you will get your meals rolling in no time.
Envision Your End Goal
As with any major project, you want a firm grasp on the end goal so that all the planning pays off. Do you want to use your kitchen van to do some experimental cooking? If so, you will probably need to invest in some quality equipment and arrange your layout around them.
Do you prefer cooking the basics? You may be able to modify some simpler pieces and put more money towards your base van model. Do you want to advertise your business on the outside or blend into the crowd as if it were a regular van? This all will affect your decisions in a domino effect.
Are you planning to travel in your van across the country, or will you stay mainly in the city? You may want to purchase a newer model to cut back on maintenance or maybe opt for a vintage model for a classic look.
The more you can picture what you want, the more excited you will be to get started, as the less likely you will get discouraged halfway through the process.
Set Your Budget
You will want to set a reasonable yet firm budget that is well-researched ahead of time. The base model vans in themselves can be spendy, even when used (if you are looking for a solid vehicle that will not need much maintenance to stay running smoothly).
It can be easy to accidentally get too excited and blow past your planned budget without a keen eye. Some of the spendier portions may be a good investment but make sure not to get too swept up.
Plan Your Resources
With a little networking, you may find some resources open up to you that you would not have expected otherwise. Check out the following places for potential deals:
Thrift shops
Garage sales
Flea markets
Used furniture swaps
You can find used and vintage countertops, sink stations, and other unexpected treasures that may bring some new life to your build.
For the more technical tasks, you may want to look into hiring some contractors for things like the installation of ventilation, insulations, electric, gas, water storage, etc. It is worth finding some experts for the complicated portions in order to have it done right the first time.
Sketch Your Layout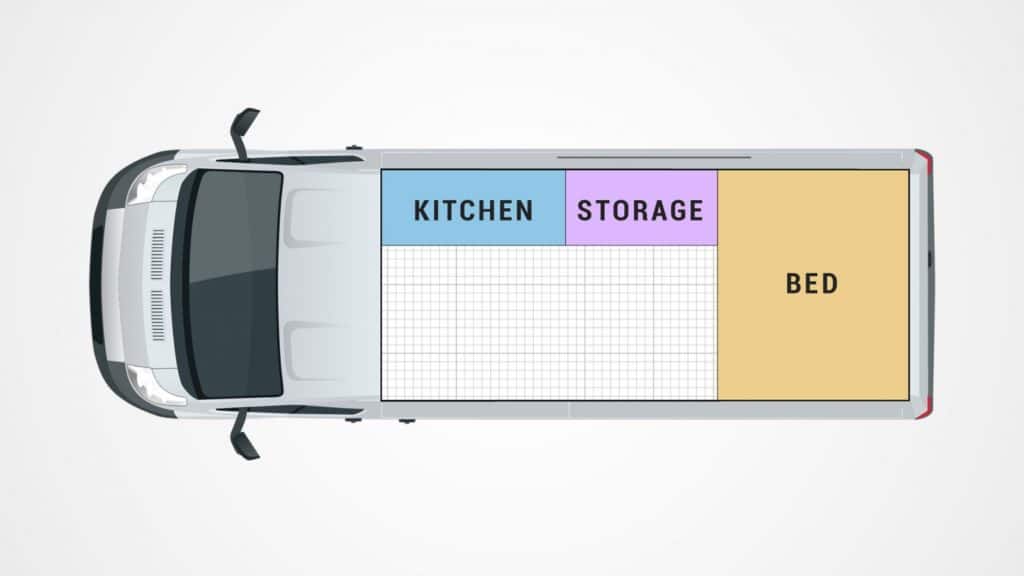 You will want to use every inch of space wisely, so sketching and modeling your layout can save you a lot of heartaches. Remember to use your space creatively.
If possible, plan to use both the inside and the outside of your van to your advantage. You can do this by incorporating awnings and removable stove units to cook and clean outside. You can also install solar panels on the roof for an additional energy backup.
In this regard, your kitchen van can actually have a leg up on your normal kitchen because you can incorporate the indoors and outdoors all at once.
Plan And File Your Paperwork
Especially if you are renovating an older van model, you may need to re-register your van. Your municipality may require you to do certain testing if you are running your mobile kitchen business out of your van, so keep those things in mind if you need to install a particular type of water system to sanitize your equipment.
Permitting may not be fun, but it is key! If you are simply using your kitchen van as a part of your camper and camping lifestyle, you will not have to worry about the food sales aspect. YOu will only have to take care of the van registration as well as ensure the plumbing and electrics are functioning properly.
Stay Patient And Persistent
Plan for at least a few months to get your van up and running to its full potential. While this is a doable project, it is more than a small feat! You will need to devote time and effort consistently in order to have your final product functional as smoothly and beautifully as you can dream.
It can help to schedule your time to work on the van into your calendar in order to make sure that you stay on top of it, all while avoiding burnout.
Plan for Setbacks
More than likely, your first attempt at putting parts of this project together will not go perfectly smoothly. Whether it is a lack of supplies, a mismeasured piece, or just a bad day, your road to success will likely not be a straight line.
That is okay! Make sure to budget some extra time and resources, both in your schedule and in your budget. Your future self will thank you.
Put Your Personality on Display
It can be hard to remember while working through all the technical steps of the process, but you want your kitchen van to be a place where you can be both comfortable and creative. It should have finishing touches that reflect the kind of person you are!
If you love bright colors, make sure to put dashes of your favorite hues throughout the interior. If you prefer something subdued and professional, you can make your whole set-up sleek and pleasing to look at. Even in your limited space, your decor is essential because it is an extension of you.
Whether you want to feed your culinary curiosity or just have a simple set-up away from home, the more that you personalize your mobile kitchen, the more time you will be able to spend inside and flourish.
Do Not Be Afraid to Adjust
If you find halfway through that the layout you thought would be perfect is presenting some unexpected obstacles, do not let yourself get discouraged! The van life community is full of ideas that you can consult later on to help tweak your set-up as you go. Plans rarely go perfectly the first time around!
The most important thing is that your kitchen van serves you first and your friends (or customers) second. You will likely be the one spending the most time in it, so make sure you are comfortable and functional!
You may even discover something partway through that just works better. It may take a little more time, but if your schedule and budget allow, then a few unexpected design tweaks may be worth it by the time you hit the road.
Wrap Up
A kitchen van does not have to differ drastically from a normal kitchen. You can have all the comforts you are used to at home on a smaller scale while you travel on the road in your campervan. No, you will not have a full-size kitchen table with eight place settings, but you will have the open road and the freedom to travel wherever you want.
In a kitchen van, you can cook real meals, hot or cold, and wash up afterward just like you would be able to in a regular kitchen. This option can end up being much cheaper than investing in a large caravan, and you can add your own unique flair to the style and layout.
If you are longing for the freedom of travel while still hoping to save money and time by cooking your own meals, or if you want to sell food as if by food-truck, consider a kitchen van for your needs.