When it comes to living or traveling on the road, it's hard to find the space for a blender. Luckily, there are a variety of blenders that come in all shapes and sizes.
The best blender for van life is the multifunctional Ninja Master Prep Professional. If you are seeking a simple blender, then Ninja Personal Blender would be a good alternative. And if you are looking for a budget-friendly blender, the Mueller Austria 500W Hand Blender is another impressive option.  
This article will provide an extensive overview of each of these blenders, as well as include an informational guide on how to purchase a blender for your lifestyle.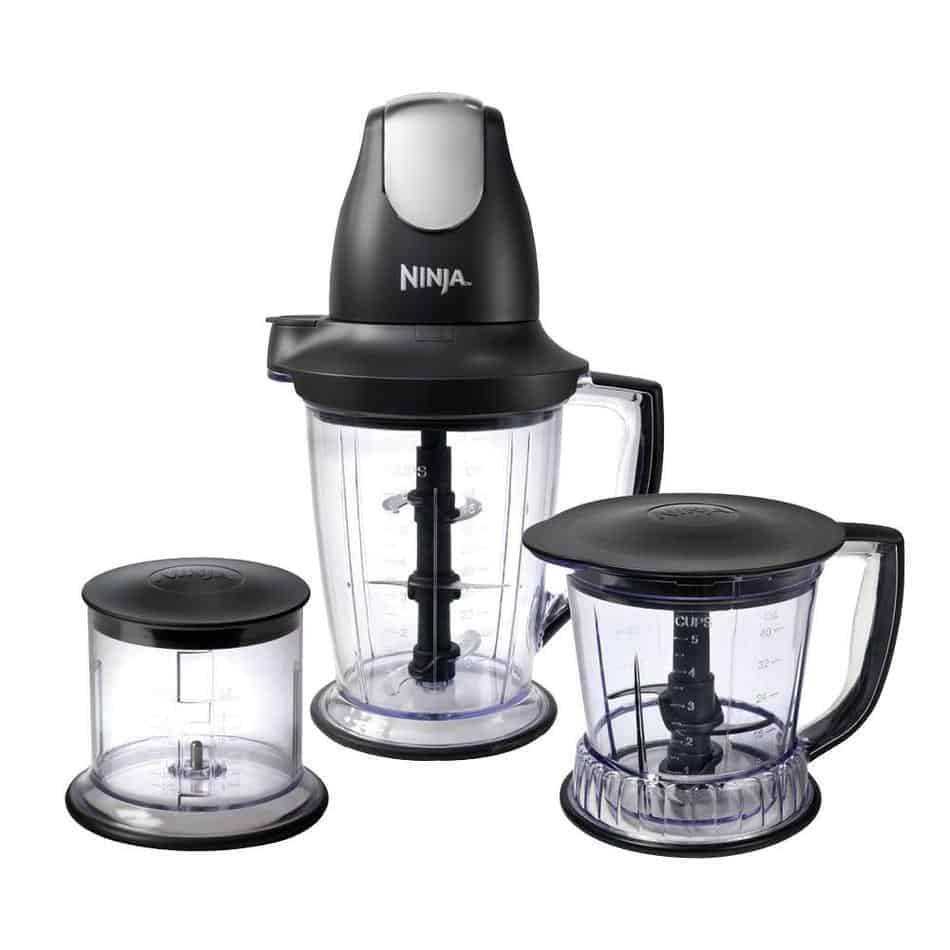 For traveling on the road, the Ninja Master Prep Professional is the best one out there. Not only does it have perfect performance quality with only 450 watts, but it also has many versatile options included, such as blending, chopping, and food processing. 
Don't let the low-power fool you; this blender is more than capable of getting everything done, from crushing ice in seconds to blending frozen fruit into a creamy smoothie. However, it should be noted that the only speed available is a pulse technology from one manual program. 
This also includes three suitable jars for personal use and entertainment purposes:
The pitcher (48 oz.) has a capacity of up to 6 cups. 
This is followed closely by the processor bowl (40 oz.) that has the capacity of up to 5 cups. 
Finally, the chopper bowl (16 oz.) has the capacity for up to 2 cups. 
Each jar comes with a storage lid. These can be used for a variety of options. 
There are two blade options—a 4-blade and a 6-blade set, that can be utilized. Another unique aspect is that the blades are actually stacked blades. They are attached at the top, rather than at the bottom. This makes it easier to use any of the jars.
If you are wondering how you can store any leftovers, there's no need to worry! 
For added convenience, this also features no-slip bases and splash guards for keeping the jars secure. Even better, all the removable parts are dishwasher safe—so you can say good-bye to any cleaning worries! 
Finally, Ninja offers a one-year warranty for worry-free assurance that your product will be replaced if anything happens.
Overall, there is no better option that is as effective or versatile as the Ninja Master Prep Professional for van life. 
So, maybe you are looking for an option that is less expensive, more compact, and simple to use—all with similar qualities. The Ninja Personal Blender is a great option in this case.
This little blender can do much of the same blending with the pulsing technology as the Ninja Master Prep Professional, such as ice, frozen fruit, dairy, etc. But, it doesn't have all the fancy gadgets that come with it. 
It's what it does have that makes it count. This blender includes two 16 oz cups, along with to-go lids. This is useful for your own personal lifestyle and on-the-go days.
Also included is a 30-recipe inspiration guide for you to use. That would be super helpful, especially if you are traveling and need some ideas. 
Another feature about this blender that makes it stand out from the Master Prep Professional is the fact that it has nutrient extraction qualities as it breaks down food (that means no strawberry flakes or chunks to worry about!).
After using this blender, it can be put in the dishwasher for some easy cleaning. The best part about putting it away is that it is nicely compact to fit in your kitchen (as it is always a struggle finding space for van life).  
So, if our top pick is more than what you are looking for, this Ninja Personal Blender is a nice alternative option. 
It might be a surprise that the Mueller Austria is listed as a budget-friendly pick, as it is not a Ninja Kitchen product. Ninja Kitchen products are indeed the most highly rated blenders in the industry. 
However, this Mueller Austria blender is easily a high-performing blender without the outrageous price, and below, you'll see why.
The Mueller Austria Ultra-stick is nicely slim and compact. It can fit almost anywhere in your kitchen. And, although it might be small, it is mighty. At only 500 watts, it offers 9-speeds for multi-purpose options. In fact, the Mueller Austria industry claims that the motor lasts three times longer than the average competitor motor. 
Another great quality about this appliance is that it has a nice ergonomic handle, which makes it super easy to hold for any period of time. The blade attached is 'S-shaped' which helps it blend faster and better. It only takes about 30 seconds to blend anything. Along with the blender, you get two attachments—a whisk and a milk frother. 
Still, it is easy to clean. Like, super easy. This handheld appliance only needs to be rinsed and placed in the dishwasher. Almost zero-effort included!
Finally, if for any reason the product is not working to your benefit or if something were to go wrong—Mueller Austria adds a one-year warranty for you to use. No need to worry about anything.
So this hand blender is a terrific bang for your buck and very impressive if the Ninja Master Prep is out of your price range.
Buyer's Guide: What to Consider When Looking for Blenders
Size: When shopping for a new blender, size is one of the most important aspects to look into. Traveling or living on the road means you have limited space. So, your best option is to look for a small, compact size that will easily fit into your kitchen. If you want a larger blender, then you might want to get something that is more multifunctional so as to continue to save space. It will also be less hassle.
Functions/Special features: The next most important quality to look for is the special features or functions that are associated with the blender. You might be interested in the available speed options, or perhaps you are looking into the capacity of how much the blender holds. 
Price: Getting a blender does not mean you have to go out of your budget range. There are many options available at a lower price. Although a lower price is typically associated with a smaller size and fewer functions, it still might exactly have what you are looking for. 
Wattage: When traveling, knowing the wattage of an appliance is important. It's best to find a lower wattage to save energy and safely use a blender in peace. However, a lower wattage may also mean less power for the blender motor to blend cooperatively to the extent you would like it to. That doesn't mean you can't find lower wattage blenders that can definitely get the job done, though, as shown above. 
Conclusion
While the Ninja Master Prep Professional is our top pick, there is no denying the fact that the Ninja Personal Blender is a nice alternative for a simpler, personal product. Further, the Mueller Austria is an impressive budget-friendly pick that gets the job done well. 
There are many factors that need to be determined when finding the best blender for your lifestyle. The information in this article is a good place to start to purchase the best blender successfully.