Embracing the van life lifestyle often comes with challenges like limited space and facilities, but that doesn't mean compromising on delicious and satisfying vegetarian meals.
In fact, with a little planning and creativity, you can easily whip up 14 simple and appetizing recipes that won't let your taste buds or your waistline down. These meals are perfect for adventurous souls who choose to live on the road while maintaining a vegetarian diet that keeps them energized, healthy, and in tune with their ethical values.
Moreover, these recipes not only highlight the wonderful flavors and textures of vegetarian ingredients but also cater to the need for compact storage and minimal use of utensils, all without sacrificing the taste and quality of the dishes.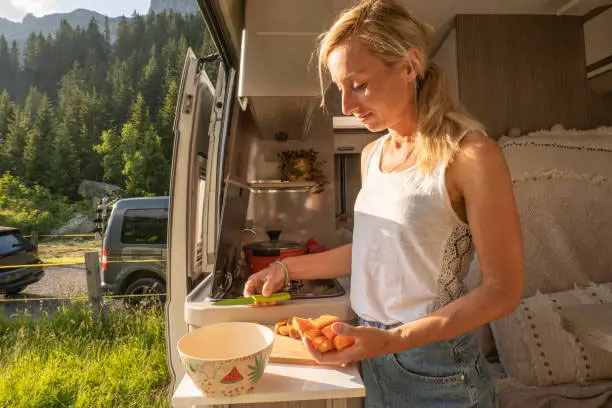 So, embark on this culinary adventure with the perfect balance of flavor, nutrition, and convenience that both experienced and novice cooks can savor during their van life journey.
Tacos and Wraps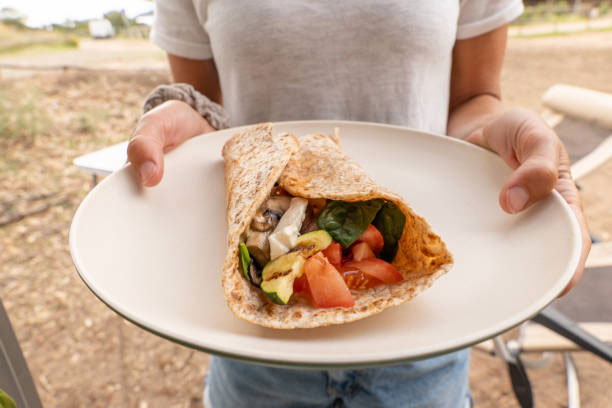 Black Bean and Avocado Tacos
These tasty and satisfying Black Bean and Avocado Tacos are the perfect healthy choice for your vegetarian van life meals. They are quick and easy to make, requiring just a few ingredients.
| Ingredient | Amount |
| --- | --- |
| Onion | 1 small, diced |
| Mushrooms | 1 cup, sliced |
| Black beans | 1.5 cups |
| Avocado | 1, sliced |
| Cilantro | to taste |
Start by sautéing diced onion and sliced mushrooms in a pan.
Add cooked black beans and season with spices like cumin and paprika for added flavor.
Once your bean mixture is heated, it's time to build your tacos. Use a base of corn or flour tortillas, and top them with your bean mixture.
Add slices of ripe avocado for creaminess and a sprinkle of fresh cilantro for brightness. You can also add lime juice for extra zing. These vegan tacos are sure to become a favorite.
Lentil and Bell Pepper Wraps
Another healthy and filling option for your vegetarian van life meals is Lentil and Bell Pepper Wraps. Lentils are a great source of protein and fiber, making them an excellent meat substitute.
| Ingredient | Amount |
| --- | --- |
| Lentils | 1.5 cups, cooked |
| Onion | 1 small, diced |
| Bell pepper | 1, sliced |
| Cumin | 1 tsp |
| Lime | 1, juiced |
To make the filling, cook lentils according to package instructions and set aside.
Heat oil in a pan and sauté diced onion and sliced bell pepper until softened.
Add cooked lentils and season with cumin, salt, and pepper. Cook for a few minutes, stirring occasionally.
Lastly, stir in freshly squeezed lime juice.
Assemble your wraps using flour tortillas, adding a layer of the lentil mixture and topping with optional extras like guacamole, salsa, or hot sauce, depending on your personal preferences.
Both of these tasty and healthy meals are perfect for fueling your van life adventures and are easy to make with minimal kitchen resources. Enjoy!
---
Soups and Salads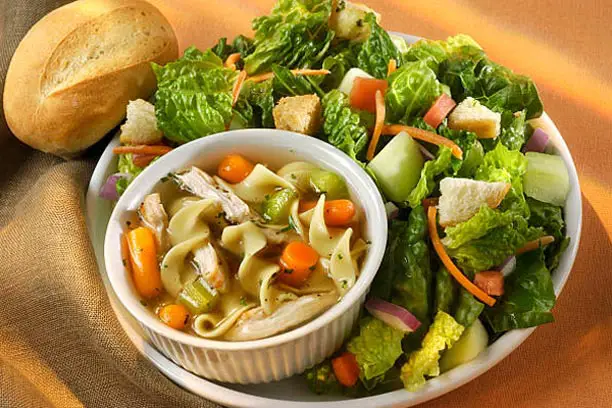 Vegetarian Chili
A warming and nutritious option for vegetarian van life meals is a hearty Vegetarian Chili. Packed with protein and fiber, this chili offers a satisfying, healthy meal that's easy to prepare.
Start by sautéing onions, garlic, and bell peppers with a mix of spices like cumin, paprika, and cayenne.
Add tomato paste, canned tomatoes, and a variety of beans, such as kidney, pinto, and black.
Let the chili simmer until the flavors meld together, and serve with a side of steamed white rice or corn tortillas.
Lentil Curry
For a rich and flavorful dish that's perfect for the adventurous, try a Lentil Curry. This protein-packed meal starts with a base of sautéed onions, garlic, and fresh ginger, followed by the addition of fragrant spices like turmeric, ground coriander, and a touch of cinnamon. Add in dried lentils, vegetable broth, and diced tomatoes, then let the curry simmer until the lentils are tender. Serve with rice or over a bed of steamed greens for a wholesome, plant-based dinner.
Chickpea Salad Sandwich
When you're craving something light and refreshing, a Chickpea Salad Sandwich is the perfect van life meal option!
Begin by mashing chickpeas with lemon juice, vegan mayo, Dijon mustard, and a pinch of paprika.
Then, mix in diced celery, red onion, and fresh herbs like dill or oregano. Spread the chickpea mixture onto whole grain bread and layer with lettuce, tomato, and avocado.
This sandwich makes for an easy and satisfying vegetarian lunch that's ideal for enjoying on-the-go.
In these recipes, as with other vegetarian dinner options like Veggie Pad Thai and Vegetarian Enchiladas, use ingredients like vermicelli noodles and hot sauce. This provides essential nutrients without compromising flavor and satisfaction. Remember to adjust spices and seasoning to your taste, ensuring your van life meals are always enjoyable and catered to your personal preferences.
---
Pasta and Rice Dishes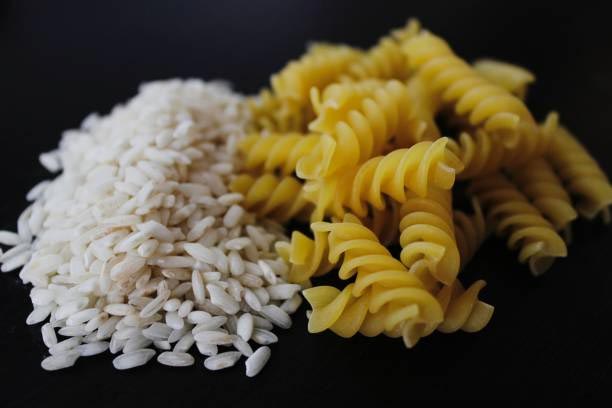 Skillet Lasagna
A vegetarian skillet lasagna is an ideal choice. This one-pan wonder is not only cheap but also satisfying, combining convenience with taste.
Start with a mix of onion, garlic, and olive oil, followed by layers of lasagna noodles, marinara sauce, ricotta cheese, and spinach.
Cook the dish over medium heat, covering the skillet to let the noodles soften and the flavors meld.
This lasagna can be easily made with minimal ingredients and is a great option to enjoy a comforting meal on the road.
Pesto Pasta
Pesto pasta is a classic dish that's quick and perfect for van life. All you need is your favorite pasta, such as spaghetti or penne, and a jar of store-bought or homemade pesto sauce.
Cooking pasta in a pot of boiling water, then tossing it with the pesto sauce and finishing with some grated Parmesan cheese will result in a delicious, satisfying meal.
To make it even more nutritious, feel free to add some fresh, sautéed or roasted vegetables like tomatoes, zucchini, or bell peppers. This dish is easy to prepare and doesn't break the bank, making it an ideal choice for a vegetarian van life meal.
Vegetarian Stroganoff
Stroganoff may be traditionally known as a meat-based dish, but a vegetarian version can be just as hearty and delicious.
Begin by sautéing onions, garlic, and mushrooms in a pan.
Then add vegetable broth, a touch of white wine, and some thickening agents like flour or cornstarch.
To create the creamy sauce, mix in sour cream or a plant-based alternative, and seasoning like paprika, thyme, and black pepper.
Serve the stroganoff over egg noodles or rice for a filling and comforting meal. This vegetarian stroganoff is a satisfying and budget-friendly option that won't disappoint those living the van life.
---
Breakfast and Miscellaneous Mains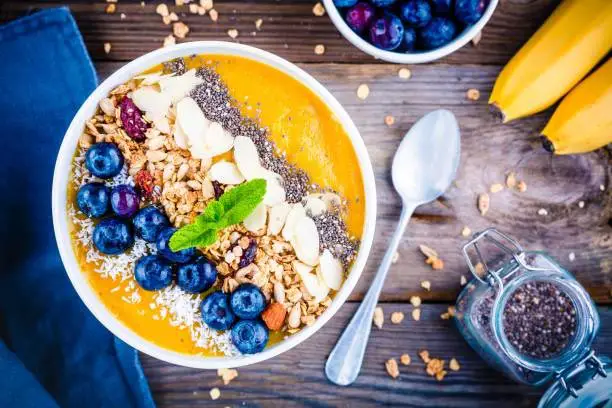 Curried Egg Salad English Muffin
Start your day in the van with a quick and satisfying vegetarian meal: Curried Egg Salad English Muffins.
Great for van life recipes, it's simple yet delicious, offering a flavorful twist on a classic breakfast sandwich.
To prepare this meal, boil some eggs, then peel and chop them when cooled.
In a separate bowl, mix together mayonnaise, curry powder, and a pinch of salt and pepper.
Combine the eggs with this mixture and stir well.
Toast some English muffins, and then simply spread a hearty portion of the curried egg salad over the muffins.
Feel free to add any other vegetables or toppings you prefer, such as lettuce, cucumber or tomato slices.
These curried egg salad are a great option van life meals, providing an excellent source of protein and energy for the day ahead.
Vegetable and Tofu Rice Paper Rolls
Another fantastic recipe are Vegetable and Tofu Rice Paper Rolls. They are light, fresh, and packed with nutrients essential for keeping you energized during your adventures.
To create these rice paper rolls, prepare your favorite vegetables, such as shredded carrots, lettuce, and cucumber, as well as some tofu, cut into thin strips.
Season the tofu as desired and pan-fry it until golden brown. Next, soak the rice paper sheets in water for a few seconds, until they become soft and pliable.
Lay out the softened rice paper sheet and place your vegetables and tofu in the center.
Fold the sides of the rice paper inwards and then roll it tightly to create the perfect roll.
Vegetable and tofu rice paper rolls are not only an excellent option for breakfast but can be enjoyed as a light lunch or snack throughout the day.
These make an ideal choice for vegetarian van life meals, keeping you satisfied and fueled for your daily adventures.
---
Essential Kitchen Tools for Van Life Meals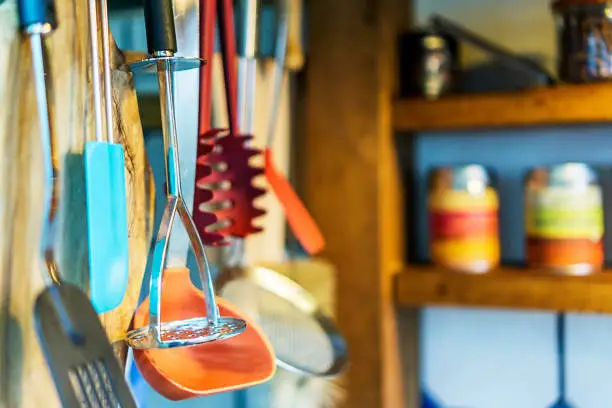 Cooking and Utensils
When it comes to vegetarian van life meals, having the right cooking tools and utensils is crucial. Some essential items you will need include:
Portable stove or camping stove: A compact and easily transportable stove will make it much easier to cook meals while living in a van.
Pots and pans: You won't need a large collection, but having a couple of versatile pots and pans is important for cooking various dishes.
Cutting board and knives: A good set of knives and a sturdy cutting board will simplify meal preparation.
Utensils: Items like a ladle, large mixing and serving spoons, spatula, whisk, grater, measuring spoons, and a masher will come in handy for various cooking tasks.
Storage
Efficient storage is essential in a van life kitchen to keep everything organized and accessible. Here are some storage ideas to consider:
Nesting bowls: Use a range of plastic nesting bowls in various sizes to save space while still having containers for all your needs.
Stackable containers: Opt for stackable containers with tightly sealing lids to keep food fresh and prevent spills.
Magnetic strips or hooks: For utensils and knives, use magnetic strips or hooks attached to the inside of cabinet doors or walls to save space and keep them easily reachable.
Power Source
A reliable power source is important for van life cooking, especially if you want to use electrical appliances. Consider the following options:
Solar panels and battery: Installing solar panels on the roof of your van can provide a sustainable power source for charging a battery bank, which can then be used to power your cooking appliances.
Portable power stations: These compact devices can easily be charged via your van's 12V outlet or solar panels and are great for smaller appliances like blenders or slow cookers.
Gas or propane: If you prefer cooking with gas, make sure you have a safe and secure way to store and transport propane tanks. Choose a camping stove that's compatible with refillable propane tanks to reduce waste.
With these essential kitchen tools and setups, you'll be better equipped to prepare delicious vegetarian van life meals while living on the road.
---
Frequently Asked Questions
Quick veg meals on the road?
Rice paper rolls and vegetarian quesadillas are great options for quick vegetarian meals on the road. Rice paper rolls can be filled with a variety of fresh vegetables and served with a dipping sauce. Vegetarian quesadillas can be made with a mix of beans, cheese, and vegetables, and cooked on a simple portable stove or campfire.
Best protein-rich veggie van dishes?
Some protein-rich vegetarian van life dishes include shakshuka, saag halloumi, and pad thai. Shakshuka is a dish made with eggs, tomatoes, and spices, making it a great source of protein. Saag halloumi is a meal consisting of spinach, halloumi cheese, and spices. Lastly, pad thai is a noodle dish with tofu, vegetables, and peanuts, providing a balanced meal with a good amount of protein.
Simple 1-pot vegetarian recipes?
Hearty soups, stews, and chili are excellent one-pot vegetarian recipes that can be easily made in a camper van.
A basic vegetable soup can be made using a mix of seasonal vegetables, vegetable broth, and seasoning. A vegetarian chili can be prepared with beans, vegetables, tomatoes, and spices.
Easy camper van pantry staples?
Stock up on versatile and non-perishable pantry staples such as canned beans, lentils, chickpeas, canned vegetables, and diced tomatoes.
Other essentials include pasta, rice, noodles, instant oats, olive oil, and a variety of spices. Additionally, pack long-lasting fresh produce like onions, garlic, potatoes, and carrots.
Budget-friendly van life meals?
Budget-friendly vegetarian van life meals can be made with low-cost ingredients and simple preparation techniques.
Rice dishes, pasta dishes, and stir-fries are good options. For example, create a simple bean and rice meal with canned beans, rice, and a few of your favorite spices.
Another option is a vegetable stir-fry with basic seasonings and a mix of canned and inexpensive fresh vegetables.
Preparing food without a kitchen?
If you don't have access to a full kitchen while living the van life, consider investing in a portable camp stove, a cooler or portable refrigerator, and basic utensils like a cutting board, knives, pot, and pan.
This basic setup will allow you to cook many simple vegetarian dishes, such as stir-fries, sandwiches, and simple pasta dishes, while on the road.
Also, try planning meals that don't require cooking, like wraps, salads, or picnic-style meals with various dips, veggies, and bread.