Hi-van is supported by its audience. When you purchase through links on my site, I may earn an affiliate commission. Learn more
The van life is a lifestyle that offers freedom, adventure, and lots of traveling. It's a lifestyle, though, that you adapt to with time. Whether this is your first time trying out the van life or already experienced, fitting your clothing in a compact space can be challenging.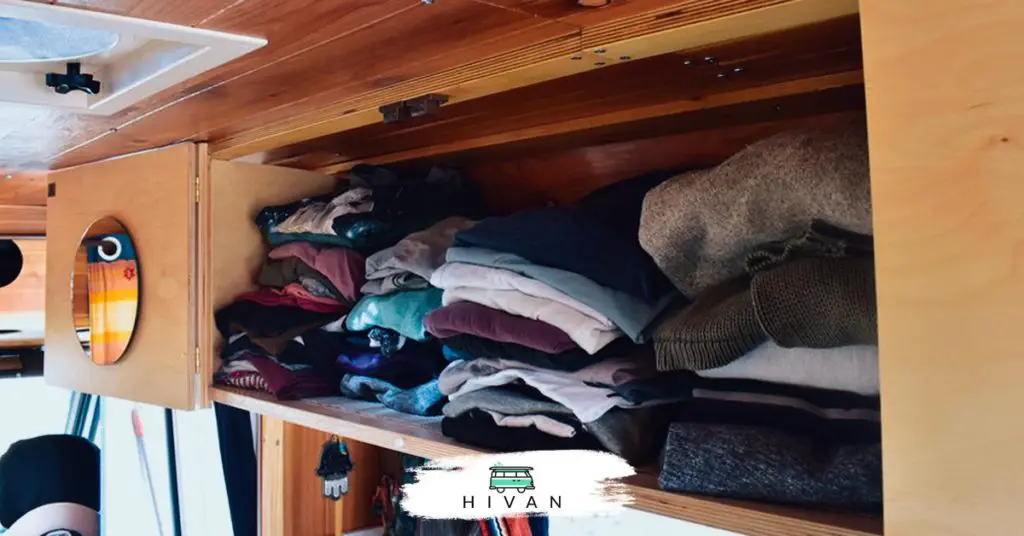 Here's a complete guide to van life clothing storage:
Determine the space you have in the van for clothing. 
Strategize the clothes you need to pack. 
Invest in organizational tools.
Utilize every space in your van.
Expand space with pop-up shelves or hidden compartments.
It's challenging to limit yourself to a small number of clothing items, but a bigger challenge is to make sure the items fit in your compact space. In this article, we discuss steps you can take to optimize your clothing storage space to make the transition to van life a whole lot easier. 
1. Determine the Space You Have in the Van for Clothing
The first and foremost step is to figure out exactly how much space you have for clothing. Since you need to divide space for other essentials, make sure the space you set aside for clothing is practical. 
YouTubers Vanlife Sagas have a detailed video on their channel on how they divide their storage into essential components like:
Clothing
Kitchenware
Cookware
Bedding
Valuables
Watch their YouTube video here:
Once you know exactly how much space is available for you for clothing, you can plan the next steps accordingly. You may want to remember to divide the space equally amongst the people in the van, or you may have extra drama to store in your van.
2. Strategize the Clothes You Need To Pack
Once you have the space in the van figured out, sit with your van life partner(s) and discuss the places you'll be traveling to, the weather you'll experience, the kind of activities you think you'll do, and any other part of the trip that requires specific clothing items to be packed. 
The bloggers at Bearfootheory.com have an interesting article on the van life clothing packing checklist that can help you keep your wardrobe to the essential minimum. 
You may need to decide on the proportion of warm clothing to light clothing according to the weather you'll face more. It's also essential to pack hiking equipment or beachwear according to the activities you plan on doing more. 
This step is entirely dependent on your preference and what you have in mind for this road trip. Once you have set aside the clothes you'll be taking with you, the next step is finding tools that could organize them better.
3. Invest in Organizational Tools
The key to the perfect van life clothing storage is to keep things as organized as you can. The more cluttered the items are, the more difficult it'll be to find things in the compact space. Also, since the van will be mostly on the move, it's essential to find tools that will keep your clothes from falling. 
If you have an empty van, Youtubers Sara and Alex James list the best van layouts to maximize space according to your needs. You can design the ideal layout for your van life, keeping some of these things in mind. 
The van model and type.
The number of people inhabiting the van.
The measurements of usable space for storage.
How you would like to designate spaces?
Watch this YouTube video to know more about van layout:
The organizing tools you choose can aid in optimizing the storage of clothing in an efficient way. Here are some products I recommend that are available on Amazon.com: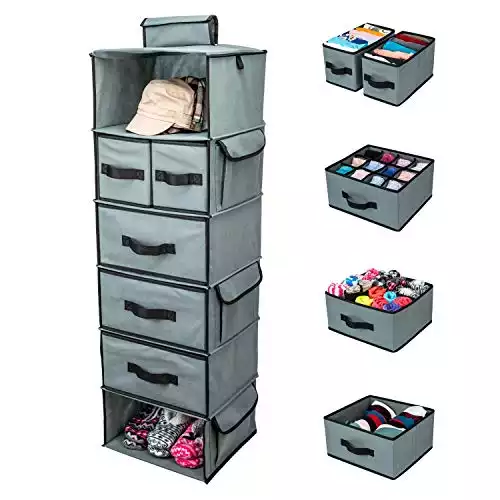 If you make a purchase, you support Hi-van.com by allowing me to earn an affiliate commission (no added cost for you).
These handy hanging organizers can be attached to any hook on the van roof. They have six spaces that can be utilized to categorize your clothing items and can hold up to 30 lbs (13.6 kg) of weight which is ideal for most clothing.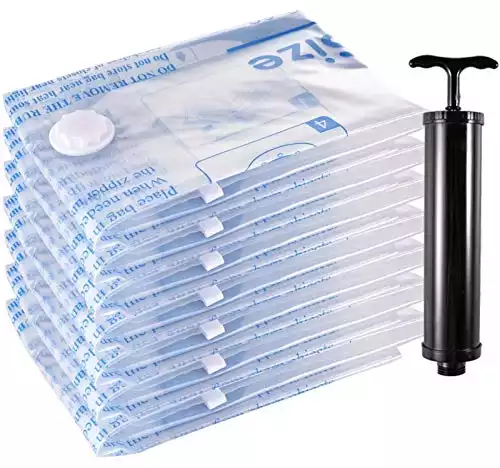 If you make a purchase, you support Hi-van.com by allowing me to earn an affiliate commission (no added cost for you).
Vacuum bags have recently begun trending in storage and organization. They can save up to 80% of space by compressing bulky items like comforters, blankets, duvets, or winter jackets into a small space. You can find different sizes available online that fit your needs.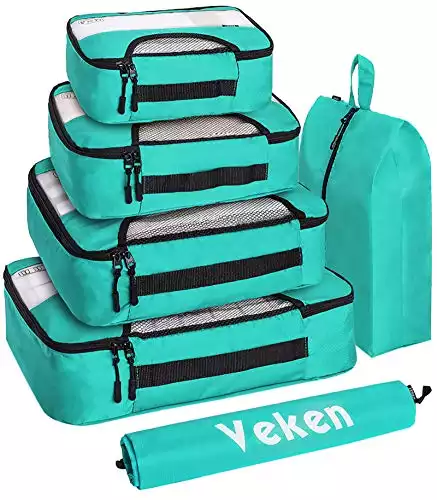 If you make a purchase, you support Hi-van.com by allowing me to earn an affiliate commission (no added cost for you).
You can divide your clothes into different cubes set according to daily wear, tops, bottoms, athletic/hiking wear, or clothes for outings. You can store items by size, for example, smaller items like socks or undergarments go in the smallest size of these cubes. This way, you'll know exactly where to look for a certain type of clothing item. 
The above organizational tools will help utilize the available space in the most efficient way, but when living in a van, the trick is to find space even when you think there's none.
4. Utilize Every Space in Your Van
Since the van has limited space, make sure you're not letting any space go to waste. You can make use of the following spaces to increase storage for clothes or any other items you'd like to store:
Doors: Instagram user @mywanderingisland shares a picture of how efficiently she utilizes her van door for extra storage space. You can hang your shoes, caps, or any other small items that fit these storage spaces. 
Roof: You can use a Yabcany Car Ceiling Cargo Net (available on Amazon.com) to add space for bedding or jackets or get a Vantech Ladder roof Rack (available on Amazon.com) attached to increase storage space. Your hiking gear and other sturdy clothing items can be placed here. 
Seats: Use mesh bags to increase space wherever you can. The Universal Mesh Cargo Net (available on Amazon.com) is a great choice!
There are some other ways to expand storage space that work for things other than clothing too.
5. Expand Space With Pop-Up Shelves or Hidden Compartments
There are many ways you can expand storage in a compact space. A few ways you can try are:
Make use of slide-out or pop-up shelves.
Install hidden compartments under the bed.
Use overhead compartments and add shelves.
Buy furniture that has a hidden compartment for storage.
Conclusion
Planning at great length for your clothing storage before heading out to an adventure of a lifetime may seem anticlimactic. However, transitioning from a generous lifestyle to a more minimalist one in a van requires some strategies and hacks. 
Don't forget to complete the five steps we mentioned above to make this transition easy!
Here are some of my favorite van life essentials:
Thank you for reading this article. I hope you found it helpful as you're experiencing your life on the road. Here are some tools and gadgets I use on a daily basis that made my van life a lot easier. I hope you'll also find them as useful as me. These are affiliate links, so if you do decide to purchase any of them, I'll earn a commission.
But in all honesty, these are the exact tools that I use and recommend to everyone, even my closest friends and family.
Kitchen: I'm cooking a lot and I've finally found my perfect cookware set: The Magma Cookware 10 Pcs that you can nests and store in less than 1/2 cubic foot of cabinet space is really handy. Since I'm also spending a lot of time working at my desk, I use my favorite coffee mug from Yeti. For more, check my list of kitchen accessories I can't live without.
Outdoor: Even though I'm spending a lot of time in my van working, I do enjoy getting out and explore my ever-changing neighborhood. This sometimes requires me to take my portable solar battery with me. And when I just want to chill outside and take a nap, I use the Winner Outfitters Hammock.
Clean/Tidy: Space is precious and therefore I used these heavy-duty storage bins from Homs to store my material. They're robust and you can stack them together. Regarding showering, I like to use this portable solar shower from Advanced Elements when it's hot outside.
To see all of my most up-to-date recommendations about van life, check out this resource that I made for you!