Hi-van is supported by its audience. When you purchase using our links, we may earn an affiliate commission (no added cost to you). Learn more
Being a digital nomad is becoming popular worldwide, with more people transitioning to a lifestyle based on remote work. However, there's a community that's been living off remote work for decades – the van life community. If you're living the van life, you will need office space in your campervan while making sure the space is compact and practical.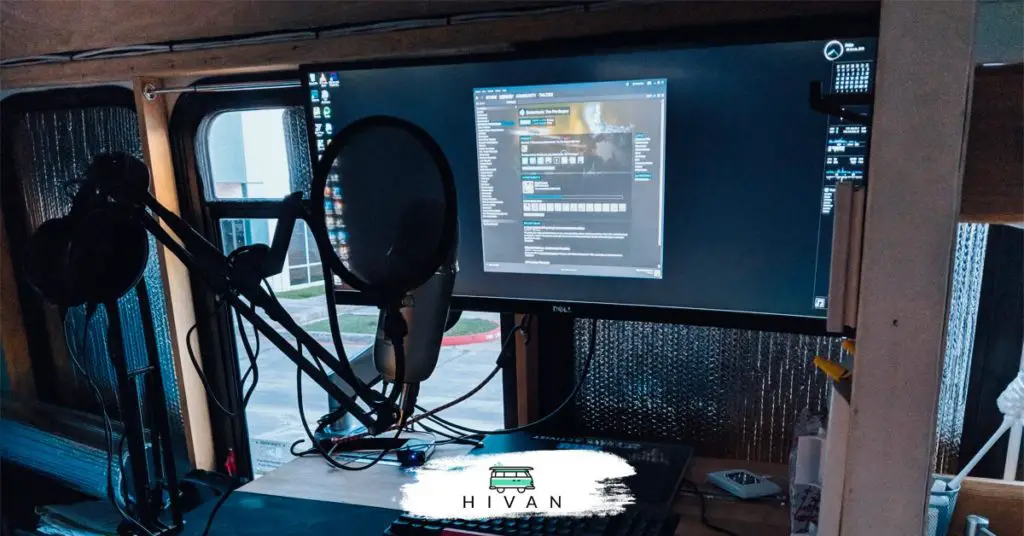 Here are 11 ideas to consider when setting up an office space in your mobile home:
Have multiple internet connections
Use portable batteries
Install a sliding table
Use collapsible desks 
Have a supportive seat cushion
Use chairs with built-in storage 
Add storage with overhead cabinets
Use a simplified backdrop
Keep noise-canceling headphones handy
Have a compact coffee machine
Use a bookholder
In this article, we'll take a look at these practical van-life office ideas so you can figure out what's the perfect fit for your van.
---
1. Have Multiple Internet Connections
Living as a digital nomad means you're always on the go, staying on the outskirts of a forest one night and the foothills of a mountain the next. At the same time, the key to a successful online career from a mobile home involves a stable internet connection.
You'll want to get a hotspot device with great reception and a quick internet plan. In fact, ensure you have at least a few internet devices with you and a phone that can hotspot your device in case of an emergency.
By ensuring your internet is sorted, you're less likely to have trouble when working on the go.
Related article I wrote about the subject:
How to Get WiFi in a Campervan: The Complete Guide
Can You Put Wifi in a Van?
---
2. Use Portable Batteries 
Portable batteries can come in handy in situations where your van runs out of fuel, and you still need to make a submission to your clients.
By keeping a portable battery or two handy at all times, you can avoid mishaps that are sure to happen a few times when you're living the camper life. Of course, make sure your batteries are fully charged – plug them in for charging overnight, so you're never caught unaware of an empty battery and a dead laptop.
Related article I wrote about the subject:
5 Best Solar Batteries for Van Life (For Every Budget)
A guide to the best batteries for on the go solar
---
3. Install a Sliding Table
Now that the essentials are out of the way let's discuss ways to optimize your workspace without overcrowding your home. To work well in a van, you need a space free from clutter, and the most effective way to ensure a spacious workplace is to invest in adaptable furniture.
One of the ways you can do so is by getting a work table that slides out from the desk. You can push the table in when you're not using it to prevent taking up additional space and slide it out when you start working. 
Of course, ensure that this sliding table is next to your bed, so you have a seat to work from.
---
4. Use Collapsible Desks 
A collapsible desk is an effective solution to freeing up space in your van while giving you a space to keep your computer or laptop. Collapsible desks are ideal as you can use them for reasons other than work.
More importantly, they can be stowed away when they aren't in use. Being able to clear out space is an essential feature of office life in a camper van and a foldable desk such as the Camco Folding Table (available on Amazon.com). Made of bamboo and lightweight aluminum, this product is a great option for when you need the flexibility of a desk that can be stored easily.
---
5. Have a Supportive Seat Cushion
If building seating with storage sounds like too much work, you can get a seat cushion to support your buttocks and spine instead. The ComfiLife Seat Cushion (available on Amazon.com) is the ideal solution for those who don't want any more furniture in their vans. It is ergonomically designed to support your tailbone, improve your posture, and reduce pressure to your tailbone and back.
The best part about portable seat cushions is that you can place them on your bed and work from there. You won't notice the difference, and you can limit the furniture in your van, freeing up more space.
---
6. Use Chairs With Built-In Storage 
Chairs can take up quite a bit of space in your van, but working without one is impractical and detrimental to your spinal health in the long run. To work well from a van, you'll need a chair that supports your back for those long hours spent typing or editing.
If you're looking for seating without compromising on space, your best bet is to build a chair or bench with in-built storage. This way, you get the benefits of seating, and you can reduce the number of cabinets in your van as you've got additional storage.
Here's an excellent DIY YouTube video by an English gentleman explaining how he constructed seating with built-in storage for his van:
---
7. Add Storage With Overhead Cabinets
Fixing small cabinets above your workspace saves space while giving you ample storage to keep your work material. 
Overhead cabinets are also pretty easy to fix and easily accessible for a smooth workflow. They'll also come in handy when you need additional storage around your campervan without getting in your way.
---
8. Use a Simplified Backdrop
This idea is for those who are required to take regular Zoom meetings throughout the week. Zoom meetings while living a nomadic lifestyle can be stressful, and the background on your screen can get a little hectic sometimes.
A practical solution is to keep a white bedsheet or curtain with you and hang it behind you during your meetings. This screen will make your sessions look more professional and put you in a different headspace to handle your work.
Find this content useful 🙂 ?
Subscribe to our Newsletter and get a free Solar Electric Diagram + shopping list.
9. Keep Noise-Cancelling Headphones Handy
Working while you're constantly on the move can be challenging at times. This is especially true when you have kids running around the van or you're going through a particularly loud section of traffic during your travels.
Investing in a pair of noise-canceling headphones is an effective way to drown out external distractions and help you hone in on your work. In fact, headphones can help you focus and get the job done quickly and efficiently.
A pair of nifty headphones such as the Bose QuietComfort 45 Noise Cancelling Headphones(available on Amazon.com) will significantly improve your van work life. These headphones claim to be the most effective in the world at noise canceling and can last up to 24 hours on a single charge.
---
10. Have a Compact Coffee Machine
The nomad work-life is incomplete without the buzz of coffee to liven up your day before you begin work. Just like the other ideas, a coffee holder can be made to take up as little space as possible so you can enjoy a neater work environment.
The Aeropress Coffee Maker (available on Amazon.com) weighs roughly 350 g (0.77 lbs) and can give you up to three cups of coffee in a single use. Having a small coffee machine at hand makes van work-life easier and worth the extra trouble.
---
11. Use a Bookholder
Getting a wall-mounted bookholder such as the PETAFLOP Rustic Wood Floating Shelves (available on Amazon.com) can help you cut down on unnecessary storage space to keep your journals and workbooks. These shelves are available in two different sizes and come pre-assembled so that you can mount them easily.