Hi-van is supported by its audience. When you purchase using our links, we may earn an affiliate commission (no added cost to you). Learn more
When talking about camper vans, an image of the Volkswagen (also known as VW) Type 2 often comes across people's minds. VW vans are practical, and they look cool — no wonder they continue to stay popular and relevant. But how many people can a VW camper van sleep?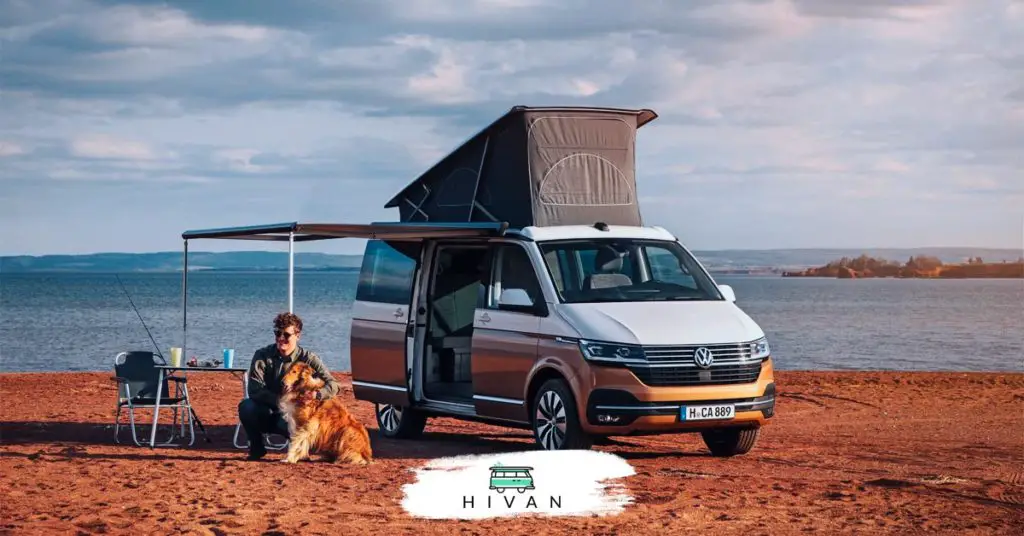 A VW camper van can sleep up to 5 people — 2 adults and 3 kids. However, this only works for those traveling in high-roof or pop-top-friendly camper vans, like the VW California. The adults sleep on the main bed (in the convertible living area) while the kids sleep on the loft bed.
In general, VW vans can be converted into campervans – the VW California, in particular, is designed to be a camper van. This article will discuss VW camper vans, how many they can sleep, and if you can convert a VW van into a camper van yourself. Let's go!
---
Can I Travel With My Family in a VW Camper Van?
People who've never traveled in a camper van before often worry about space. Questions like, "Will there be enough space?" or "How many people can sleep in the van" are common. If you want to take your VW camper van on a family camping trip, you may want to know if it's big enough for everyone.
You can travel with your family in a VW camper van. Depending on the size of the passengers, a VW camper van can generally sleep up to 2 adults and 3 children. If you're traveling with adults only, the van should be comfortable for 3 adults to sleep, as long as it has a pop-top.
I've seen 3 adult travelers sleeping in a Toyota Estima before, which means 3 adults can sleep in a medium-sized low-roof camper van. That also means you might be able to sleep 3 adults in a VW camper van like the VW Transporter, even without a pop-top. Petite travelers, in particular, may be able to pull this off.
---
Do I Need a Pop-Top for My VW Van?
Volkswagen has vans available in various shapes and sizes. Not all of them are designed for camping. However, that doesn't mean you can't use them for your road trip. VW vans generally can be converted into camper vans.
Some people prefer to get a VW van designed for camping so that they can hit the road quickly. If you're one of them, you'll likely have the VW Caddy California camper van that comes ready with a bed, kitchen, and tent. This van is designed to be the compact version of the Caddy-based motorhome.
According to Business Insider Australia, the van can sleep up to 4 people — I believe the van can sleep 2 adults and 2 kids, or 3 petite adults. However, while 3 petite adults can sleep in the van, it might not always be the most comfortable. If you find this a problem, consider increasing the height of your Caddy California.
You need a pop-top for your VW van if it doesn't have a high roof and you want more sleeping space. The VW Caddy California, for example, only comes with a normal roof. Adding a pop-top will come in handy, but it comes with additional costs.
Alternatively, you can consider getting the VW California Ocean camper van, which can accommodate 4 people. The van also features a big top bed and a roof with a clamshell opening.
Related Articles:
How To Pack a VW Campervan (Tips and Tricks)
Complete Guide to Staying Warm in a Pop-Up Camper
Are Pop Top Vans Cold? What You Need to Know
How Much Does It Cost to Put a Pop Top on a Van?

---
Which VW Camper Van Should I Consider?
When it comes to Volkswagen camper vans, there are many options to choose from. The California Ocean 6.1 and Caddy California are two popular options.
Consider getting the VW California Ocean 6.1 if you want a van designed for camping. According to the manufacturer, the van can sleep 2 adults and 2 children. If you prefer something smaller, check out the Caddy California. It features a bed, storage compartments, and a kitchen.
Alternatively, you can get any regular VW van you like and convert it into a camper van. I'll discuss this in the next section.
---
You Can Convert a Regular VW Van Into a Camper Van
If you're on a budget, you might try to get a second-hand, fully built camper van. But searching for the right one to suit your budget or preference may not be easy. So, you might consider getting a standard VW van and converting it into a camper van instead. Is that doable, though?
Yes, it is. You can convert your VW van (or any van for that matter) into a camper van on your own if you know how to do it. I've converted many vans before, so I can confidently tell you that it's doable! You can even convert the VW Classic Campers into a 3-people-friendly van by installing a pop-top. 
However, converting a standard van can be time-consuming.
Additionally, you may want to hire a professional company if you want to add a pop-top to your van. Installing a pop-top can be tricky, and if you don't install it properly, it will end up being flimsy and ill-looking. 
A High-Roof Van Allows You To Build a Loft Yourself
If you have a high-roof van (like the VW Transporter), you can install a mounting rail to the van's interior edges. Then, place sturdy removable boards on the edges whenever you want to set up your bed. You can build a ladder or stand on the bottom bed/seat and push yourself upwards to climb to the loft.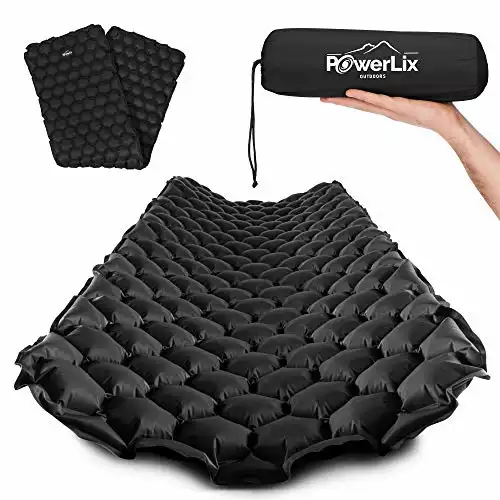 If you make a purchase, you support Hi-van.com by allowing us to earn an affiliate commission (no added cost for you).
You can use a foam mattress, even a camping mattress for your top bed. For example, the POWERLIX Sleeping Pad (available on Amazon.com) is an ultralight inflatable sleeping mat that you can easily roll away when not in use. It has received many positive reviews thanks to its comfort and versatility. 
---
Final Thoughts
A VW van can sleep up to 5 people, depending on the size of the passengers and van setup. VW vans like the VW Type 2, Transporter, California Ocean, and Caddy California are popularly used VW vans for camping.
Adding a pop-top to your van is great if you want more room for sleeping. If you choose to add one, hiring a professional company is recommended.
Find this content useful 🙂 ?
Subscribe to our Newsletter and get a free electric diagram + shopping list.