Hi-van is supported by its audience. When you purchase through links on my site, I may earn an affiliate commission. Learn more
Camping cots are notoriously uncomfortable; they have no give and are practically as cozy as sleeping on a boulder. And when you're on an extended road, camping, or backpacking trip, you want every hour of quality shuteye you can get. But many of us just can't sleep on cots without a bit of help.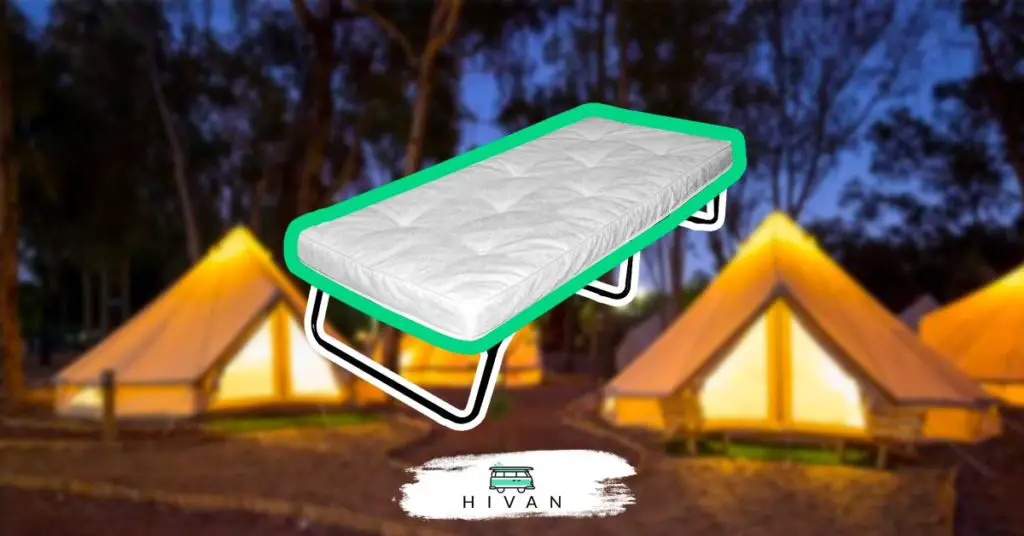 Luckily, you can add a variety of mattresses and pads to your camping cot to make it more comfortable. These days, some cots are even large enough for twin-sized air mattresses. No matter what size cot you have, however, there's an option for making it easier to sleep on.
In this article, we'll detail ways that you can make cots more comfortable. From mattresses to foam pads, you'll read about items that can be just as essential to your trip as the cot itself. By the end, you'll be able to decide which additions are best for you.
Mattresses for Camping Cots
Maybe you remember camping when you were younger and struggling to set up your cot. You might also not forget cheap, flimsy foam pads that didn't really make the night pass that much faster. We've all been there, tossing and turning on a stiff sheet of canvas, dreading the drowsiness to come.
With time, however, has come innovation! As camping and other outdoor activities have maintained their popularity, the catalog of items aimed at maximizing comfort has expanded. These days, there are mattresses available for both smaller and larger cots:
Extra-Large Cots Can Accommodate Large Mattresses
TETON Sports Outfitter XXL Camping Cot
Cot setup just became child's play; The pivot arm is a built-in lever that makes putting that last end bar in place quick and easy; No more wrestling with that fourth corner; Look for "Outfitter With Pivot Arm" in the selector box.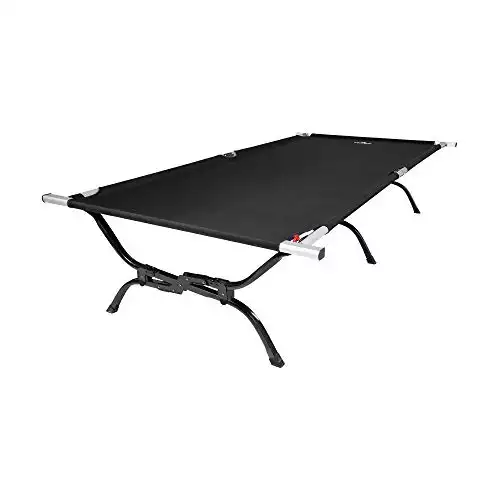 If you make a purchase, you support Hi-van.com by allowing me to earn an affiliate commission (no added cost for you).

Traditionally, cots have been made to accommodate one person with an average adult weight classification. Some cots, such as the Teton Sports Outfitter XXL Camping Cot from Amazon.com, are made to accommodate up to 600 pounds (272.15 kg) of weight, and there are others, like the Kamp-Rite Double Kwik-Cot Compact from Amazon.com, made specifically for multiple people.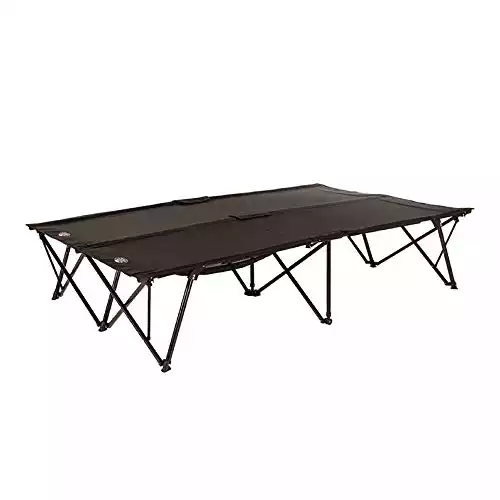 If you make a purchase, you support Hi-van.com by allowing me to earn an affiliate commission (no added cost for you).

And with increased capacity comes increased dimensions. These cots are made about three to four feet (0.91 to 1.21 m) wide rather than only a couple of feet wide. Twin-sized pads and mattresses are 38 inches (96.52 cm) wide, meaning they can comfortably fit on heavy-duty and double cots.
SAYGOGO Camping Air Mattress
Camping Air Mattress can be used for home (courtyard, balcony, bedroom, living room for guests and etc.); For outdoor (Camping Tent Beach; For car travel(SUV/RV/truck).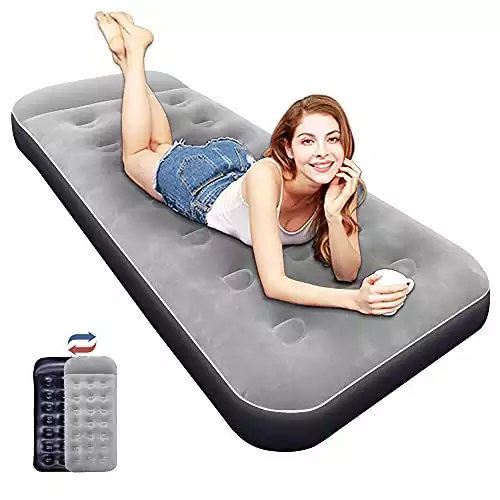 If you make a purchase, you support Hi-van.com by allowing me to earn an affiliate commission (no added cost for you).

In particular, air mattresses like the Saygogo Camping Air Mattress from Amazon.com can do wonders for cot comfort. This one even comes in four different colors! Simply ensure that the mattress suits your cot's width and length dimensions, and don't forget to bring your air pump with you on your trip so you can fill it. 
There are also some self-inflatable air mattresses. If you get an air mattress for a larger cot, make sure it's at least four inches (10.16 cm) thick.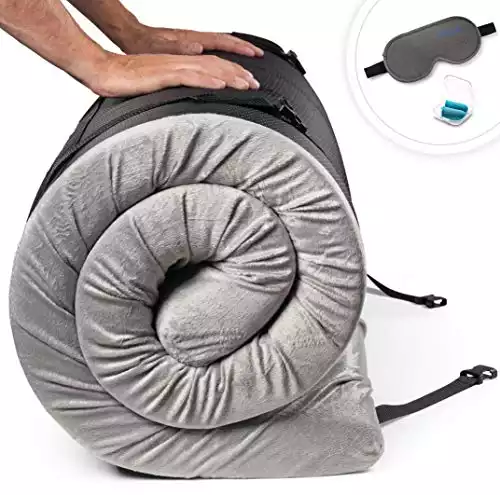 If you make a purchase, you support Hi-van.com by allowing me to earn an affiliate commission (no added cost for you).

There's also the Zermätte Roll Up Memory Foam Camping Mattress from Amazon.com, which is available for a variety of cot sizes and doesn't require an air pump.
However, these larger cots require larger tents. Unless you're also going to get a tent with a large capacity, these extra-large cots may not be a financially or logistically viable option. What else can you do?
Average-Sized Cots: Add Some Pads
If you're solo-camping, have a smaller tent, or are on a budget, buying a large cot and mattress might be out of reach. In that case, you can purchase pads made from foam or other comfy materials to place on top of your cot. Some mattresses come in dimensions that fit a standard 24-inch (60.96-cm) wide cot perfectly.
Sometimes you can strap these pads down to keep them in place. Other times, though, pads don't come with straps. Instead, you rest them freely on top of your cot. For some of us, this is fine, but for wiggle worms it can be frustrating to wake up in the middle of the night with your pad hanging halfway off of the bed.
If you have a pad without straps but want it to remain in place, you can use compression straps to keep it still through the night.
Double Up Your Duvet for a Do-It-Yourself Pad
Maybe you have an extra blanket lying around, or perhaps you just don't want to fork out over a hundred dollars on pads or mattresses for one family camping trip. That money could be much better spent (or saved!) on other exciting endeavors.
In that case, take a look through your closets and other storage space. Do you have any extra blankets, in particular airy, fluffy duvets? If so, you can fold these blankets and use them as padding. While they may not be as 'refined' as air mattresses and fancy foam pads, duvets and other blankets will undoubtedly be exceptionally comfy. 
You can even wrap yourself up in multiple layers of blankets, much like a burrito. Not only would that pad your cot, but it would also keep you warm if temperatures at your camping location drop.
---
How To Choose: Mattress, Pad, or Blanket
When you're thinking about whether to get a mattress, pad, or blanket, consider the following factors:
Budget
Cot size
Personal preferences
Budgetarily, a duvet and foam pad are often around the same cost. A duvet or blanket would be cheaper if you already have it on hand, though.
If you have a larger cot, consider getting an air mattress. For smaller cots, foam or other pads will be more feasible, though some air pads are available for this size.
Do you prefer the bouncy feel of an air mattress or the fluffy feel of a duvet? Perhaps the supportive way that memory foam cradles your body? Additionally, do you move around a lot in your sleep and need bedding that stays in place? If so, a duvet or unstrapped pad would probably be unsuitable. Personal preference matters just as much as other logistics.
---
Conclusion
These days, camping in a tent and sleeping on a cot can be almost as comfortable as sleeping at home. Whether it's a mattress you pump full of air, a foam pad you roll out like the red carpet, or a blanket you fold up beneath you, there are various ways to keep yourself comfortable while sleeping on these essential camping equipments. Just make sure to factor in your budget, the size of your cot, and your preferences, and you'll be well on your way to a fantastic getaway.
Find this content useful 🙂 ?
Subscribe to our Newsletter and get a free electric diagram + shopping list.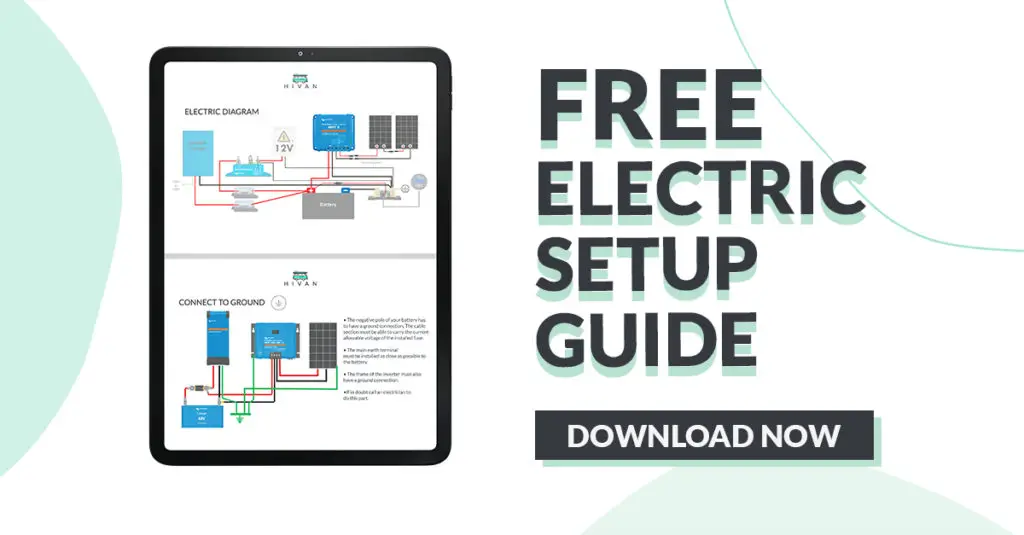 Here are some of my favorite van life essentials:
Thank you for reading this article. I hope you found it helpful as you're experiencing your life on the road. Here are some tools and gadgets I use on a daily basis that made my van life a lot easier. I hope you'll also find them as useful as me. These are affiliate links, so if you do decide to purchase any of them, I'll earn a commission.
But in all honesty, these are the exact tools that I use and recommend to everyone, even my closest friends and family.
Kitchen: I'm cooking a lot and I've finally found my perfect cookware set: The Magma Cookware 10 Pcs that you can nests and store in less than 1/2 cubic foot of cabinet space is really handy. Since I'm also spending a lot of time working at my desk, I use my favorite coffee mug from Yeti. For more, check my list of kitchen accessories I can't live without.
Outdoor: Even though I'm spending a lot of time in my van working, I do enjoy getting out and explore my ever-changing neighborhood. This sometimes requires me to take my portable solar battery with me. And when I just want to chill outside and take a nap, I use the Winner Outfitters Hammock.
Clean/Tidy: Space is precious and therefore I used these heavy-duty storage bins from Homs to store my material. They're robust and you can stack them together. Regarding showering, I like to use this portable solar shower from Advanced Elements when it's hot outside.
To see all of my most up-to-date recommendations about van life, check out this resource that I made for you!