Hi-van is supported by its audience. When you purchase through links on my site, I may earn an affiliate commission. Learn more
There's something incredibly satisfying about the smell of food roasting over an open campfire or backyard grill. However, cooking over an open flame takes quite a bit of work and attention to ensure the fire doesn't go out and the food doesn't burn. Today, companies have manufactured fire logs that burn longer than traditional wood — but are Fire Logs safe for cooking?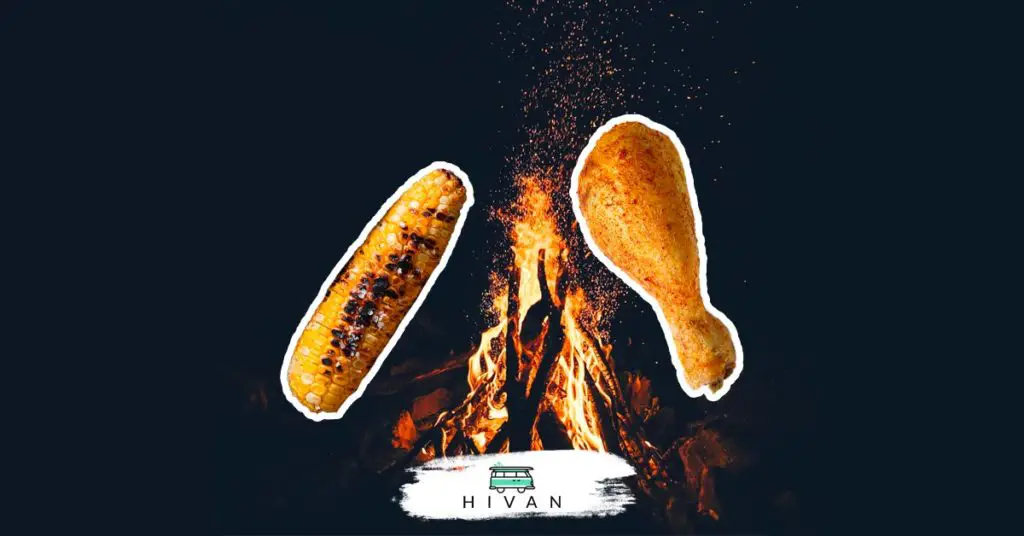 You can safely cook food over a Fire Log if it's made of natural ingredients. Some brands, however, contain paraffin wax, which may not burn off and could settle into the food. In addition, Fire Logs may not be suitable for meals that take a long time to cook, such as a roast.

As with anything related to fire, it is always important to be prepared, knowledgeable, and safe. Read on to learn more about cooking food over a Fire Log.
Is It Safe To Cook With Artificial Fire Logs?
Artificial Fire Logs often contain ingredients from manufacturing waste products, including paraffin wax (a petroleum by-product) and sawdust. While these ingredients can create the ambiance of a real wood fire with less work, they're not really safe to cook over.
It's not safe to cook with an artificial Fire Log due to the ingredients. Petroleum wax, for example, may produce emissions that leach into your food. Not only can this affect the taste of the food, but it could potentially make you sick.
Fortunately, with the world's growing technology, some Fire Logs are explicitly designed for cooking. Typically, Fire Logs only burn for a few hours and may not be the best method for cooking food that takes a long time, but it is convenient for roasting marshmallows or hot dogs.
How Do Fire Logs Compare to Firewood?
If you choose to use firewood to heat your home, consider that wood has its drawbacks like any fuel, including possible harmful emissions created by a typical fire.
Pollutants caused by burning firewood can include: 
Particulate matter (PM) 
Soot or black carbon 
Potentially carcinogenic compounds 
In addition, wood-burning or firewood can generate nitrogen oxide and carbon monoxide. 
Compared to a traditional fire, artificial logs give off less harmful emissions because less material is burned. Fire logs require one log for a 1+ hour burning session, whereas burning wood requires multiple logs. However, natural wood doesn't cause toxic chemicals in food, though smoke may be harmful if inhaled.
The main attraction of fire logs is that they're: 
Easy 
Light 
Can burn steadily for a few hours, with minimal clean-up 
However, Fire Logs don't produce the same nostalgic fire smell as traditional firewood.
Related Article:
8 Reasons Why Your Firewood Isn't Burning
Are There Different Types of Fire Logs on the Market?
There are many different types of Fire Logs on the market, including those made with sawdust and wax, wax and natural oils, recycled wood fibers, ground nutshells and seeds, recycled coffee grounds, and even cardboard. These products are more environmentally friendly and generally safe to cook over.
Which Fire Logs Are Suitable for Cooking?
Duraflame Outdoor Fire Logs, Pine Mountain Roasting Logs, and Enviro-Log Fire Logs are three Fire Logs suitable for cooking food. These logs utilize natural, safe ingredients that are non-toxic, eco-friendly, and burn longer than traditional wood logs.
We'll discuss each option in more detail below:
Duraflame 4577 Ultra-Premium Firelogs
Produces bigger, brighter flames than regular fire logs
Duraflame burn for 3 hours-plus
Made with a high-performance blend of waxes and renewable, recycled biomass fiber.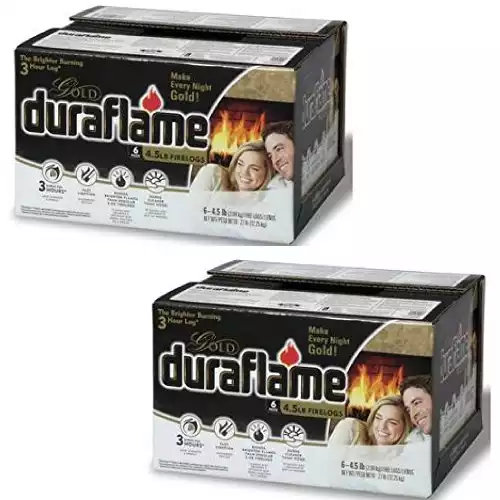 If you make a purchase, you support Hi-van.com by allowing me to earn an affiliate commission (no added cost for you).
Duraflame makes several types of fire log products. However, Duraflame Outdoor Fire Logs are explicitly made for roasting those nostalgic campfire treats, like marshmallows for s'mores or hot dogs to eat right off of the stick. Best of all, these fire logs are made from 100% renewable resources.
According to the product site, about three of these fire logs can produce a fire for up to three hours, equivalent to an entire bundle of firewood (about 16-20lb or 7.3-9 kg), and it produces more heat than regular wood.
Want these to be the centerpiece for any backyard gathering? You can find the Duraflame Outdoor Fire Logs on Amazon.com.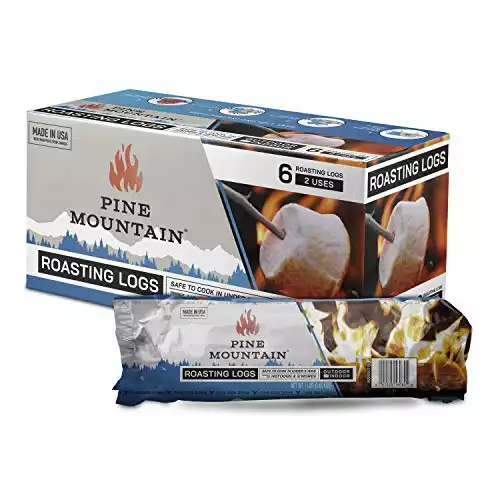 If you make a purchase, you support Hi-van.com by allowing me to earn an affiliate commission (no added cost for you).
Perfect for indoor fireplaces or outdoor fire pits, the roasting Log from Pine Mountain is Made with food-grade ingredients to deliver a great cooking experience in minutes. An excellent replacement for traditional fire logs, you can purchase your set of Pine Mountain Roasting Logs on Amazon.com.
Ideal for any outdoor fire, including backyard fire pits, campsite fires, and fireplaces, Enviro-Log Fire Logs are entirely made from recycled materials. It is also great for emergency preparedness, as they have an infinite shelf life and are safe to cook over. Check out this convenient fire log on Amazon.com. 
When purchasing any fire logs for cooking purposes, always read the label to ensure the fire log you selected is safe for cooking. 
More Methods of Cooking With Fire
Although there are cooking safe fire logs in the market, there are many other alternative methods to enjoy your food on the open flame. Try elevating your campground cookery with any of these cooking products and surfaces: 
Campfire Backpacking Stove
Stoves no longer must weigh a ton and be solely found in your kitchen. Try crafting a delicious meal with one portable camp stove. Backpacking stoves tend to be small and lightweight but best for one-pot meals, depending on the size and model of stove you have. Check out the Beteray Camp Stove Cookware Set on Amazon.com.
Fire Grill Grate
A grill grate is an easy, safe, and valuable tool for cooking over an open flame. It provides a stable cooking surface as you can place your meat, seafood, or vegetables directly on the grate. You can also use the grate as a stand to hold your cookware pots and pans for boiling some water, a cup of hot chocolate, or even slow cooking recipes like stews or chilis.
Beteray Camping Cookware Set Portable Camp Stove
The mini stove with piezo ignition, Stove storage box, two anode oxidation with heat insulation wrap non-stick pot(medium size and small size), three BPA Free bowl, ladle, portable Carabiner, wooden spoons,304 stainless steel folding knife, and fork spoon set, tableware portable bag, sponge made of loofah, portable nylon set bag.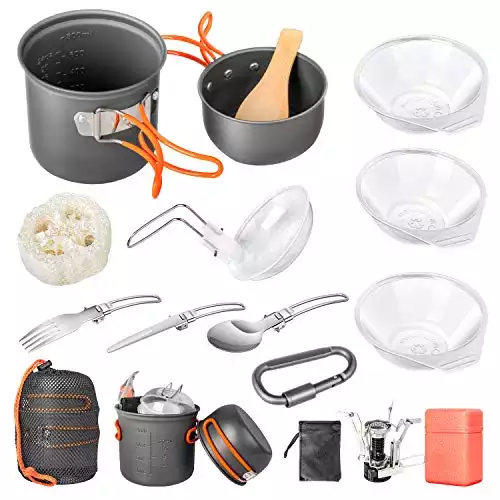 If you make a purchase, you support Hi-van.com by allowing me to earn an affiliate commission (no added cost for you).
Try out Camping.com's Adjust-A-Grill Camping Grill during your next outdoor adventure. You can also find it on Amazon.com.
Dutch Oven Stands
These types of stands can get your cookware to stay off the ground but can stay close enough to the heat source for cooking. Check out the GLOCHYRA Camp Dutch Oven set on Amazon.com. The set comes with three pieces: Dutch oven lid-lifter, folding Dutch oven stand, and a storage bag for easy carrying. It's perfect for those who love cooking in the great outdoors.
Cast Iron Cooking Tripod
Stansport Cast Iron Camping Tripod
Sturdy three leg design for stability
Nickel-plated chain and "S" hook
Heavy-duty steel construction
Holds Dutch ovens, coffee pots, teapots, etc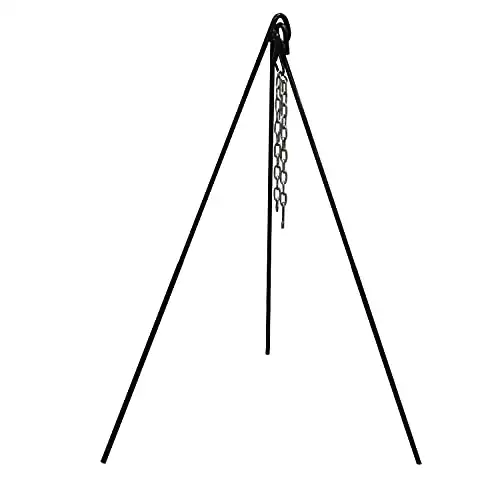 If you make a purchase, you support Hi-van.com by allowing me to earn an affiliate commission (no added cost for you).
Similar to the dutch oven stand, a cast iron Cooking tripod keeps your cooking source off the ground, but the main difference is that the tripod allows you to hang the oven over the fire. Check our Stansport Cast Iron Camping Tripod on Amazon.com.
Charcoal Grill
Cuisinart Portable Charcoal Grill, 14" (Red)
 The 150-square-inch chrome-plated cooking rack gives a spacious cooking surface that is able to accommodate lots of food at one time while still distributing heat evenly and efficiently.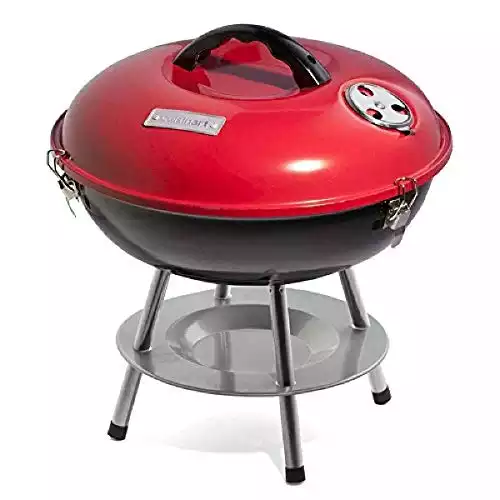 If you make a purchase, you support Hi-van.com by allowing me to earn an affiliate commission (no added cost for you).
A portable charcoal grill is an easy and affordable option. If you are on a campground, some sites may have grills on site. If you will need to carry one with you, check out the Cuisinart Portable Charcoal Grill, also on Amazon.
Conclusion
Cooking over a fire is a fantastic way to experience nature and enjoy quality time with friends and family. Remember to do your research, whether you choose a food-safe fire log or an alternative outdoor cooking method. As with anything related to fire, it is always essential to always keep water and sand on standby for extinguishing the fire when you are finished.
---
Find this content useful 🙂 ?
Subscribe to our Newsletter and get a free electric diagram + shopping list.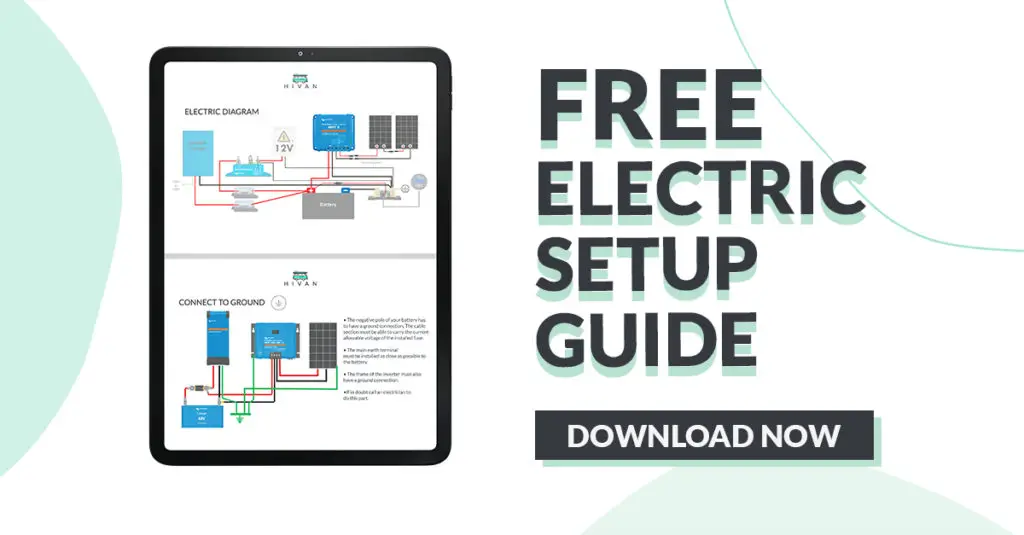 ---
Here are some of my favorite van life essentials:
Thank you for reading this article. I hope you found it helpful as you're experiencing your life on the road. Here are some tools and gadgets I use on a daily basis that made my van life a lot easier. I hope you'll also find them as useful as me. These are affiliate links, so if you do decide to purchase any of them, I'll earn a commission.
But in all honesty, these are the exact tools that I use and recommend to everyone, even my closest friends and family.
Kitchen: I'm cooking a lot and I've finally found my perfect cookware set: The Magma Cookware 10 Pcs that you can nests and store in less than 1/2 cubic foot of cabinet space is really handy. Since I'm also spending a lot of time working at my desk, I use my favorite coffee mug from Yeti. For more, check my list of kitchen accessories I can't live without.
Outdoor: Even though I'm spending a lot of time in my van working, I do enjoy getting out and explore my ever-changing neighborhood. This sometimes requires me to take my portable solar battery with me. And when I just want to chill outside and take a nap, I use the Winner Outfitters Hammock.
Clean/Tidy: Space is precious and therefore I used these heavy-duty storage bins from Homs to store my material. They're robust and you can stack them together. Regarding showering, I like to use this portable solar shower from Advanced Elements when it's hot outside.
To see all of my most up-to-date recommendations about van life, check out this resource that I made for you!