Hi-van is supported by its audience. When you purchase using our links, we may earn an affiliate commission (no added cost to you). Learn more
Storing firewood in cords is an excellent way to preserve the wood throughout the season. Whether you camp a lot, visit cabins, or simply want to keep your home warm during the winter, you can use a cord to stay comfortable.
However, many people are unaware of how long a cord of wood will last and how many fires they can have with it.
As a reminder, a cord of wood is representing 128 cubic feet or 3624.56 Liters.
You can get between 60 to 80 fires from a cord of wood.
One cord of wood typically consists of 240 logs. Using three pieces of wood per fire will yield 80 fires, whereas using four pieces of wood will yield 60 fires. Keep in mind that not all cords have the exact amount of wood.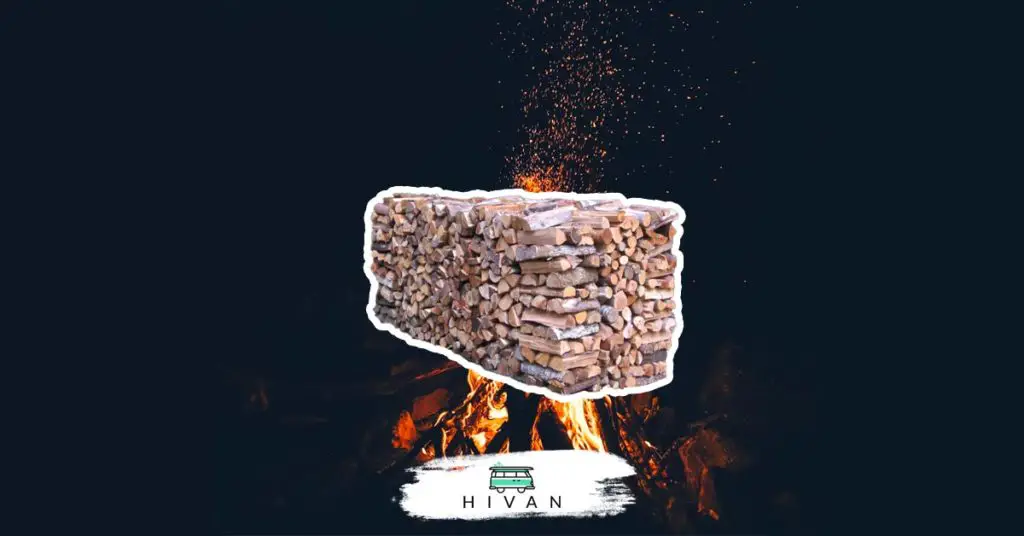 In this article, we'll explain how long a cord of firewood should last you, how much you need for campfires, and whether or not a cord is too much or not enough wood for your needs. We'll also show you a few ways to store a cord of wood for long-term use.
---
How Long Will a Cord of Firewood Last?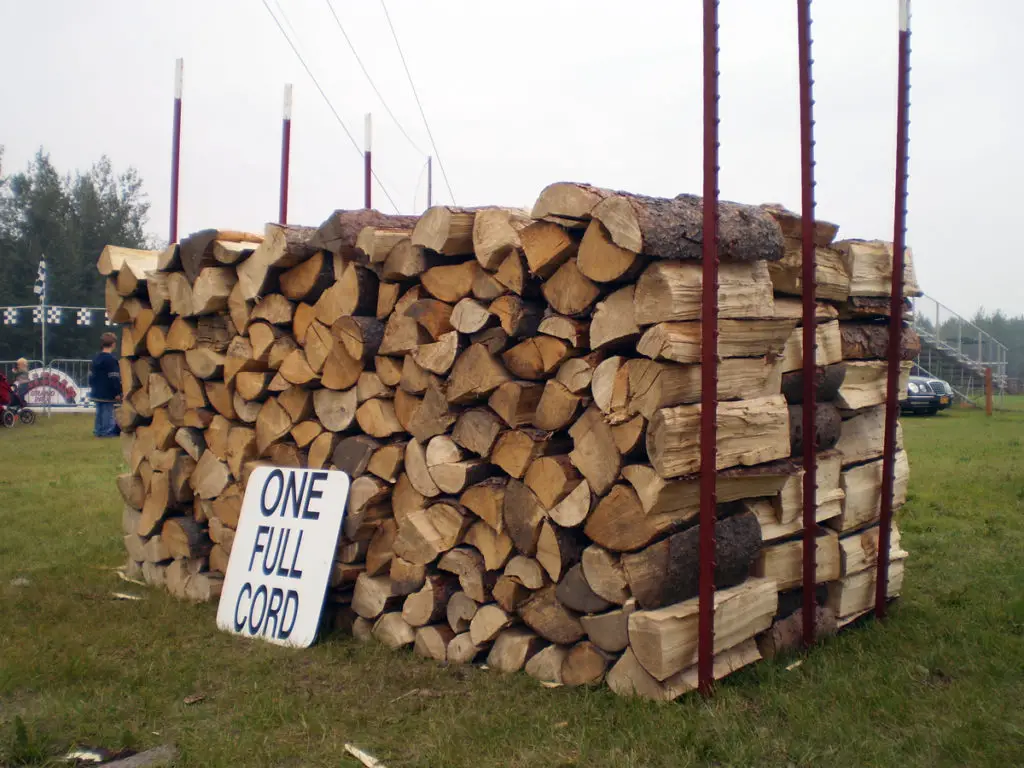 A cord of firewood will last about two to four months, depending on how often you light fires, how much wood you use, and the quality of the cord. Low-quality firewood burns much quicker. On the other hand, you can get heat-treated firewood that lasts several hours without making too much ash.
According to Home Depot, the average person who burns between two to three fires per week will have enough firewood for the whole winter season from one cord. That being said, that number varies drastically since some people use more wood than others. There's also the issue of having to burn more fires weekly.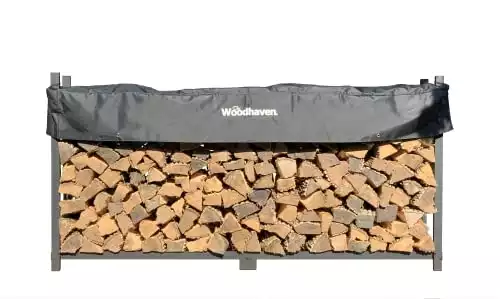 If you make a purchase, you support Hi-van.com by allowing us to earn an affiliate commission (no added cost for you).
The Woodhaven Firewood Cord Rack is an excellent choice if you want to store a cord for the season. It comes with a cover to keep the rain and sunshine off of the wood, making it last much longer. It has a powder finish and only weighs 46 pounds. You can also choose the half-cord variant if you don't need to store a full cord.
Before you get a cord of firewood without knowing how long it'll last, consider calculating your needs.
How many fires will you light? How long do you need the fires to burn? What quality firewood are you using? How many pieces of firewood do you burn per fire?
Asking yourself these questions will help you determine whether you need a full cord, ½ cord, or ¼ cord. Since one cord has 240 pieces of wood, you can divide it by the number of logs used per fire, then divide that number by how many fires you want to light.
---
How Much Firewood Do I Need for a Campfire?
You need between three to five logs of firewood for a campfire. If you have a cord of wood, you can get several fires out of it for camping. Most campfires last a couple of hours, so you might need to add more wood if you want to keep it burning all night. Always choose locally-sourced, heat-treated firewood.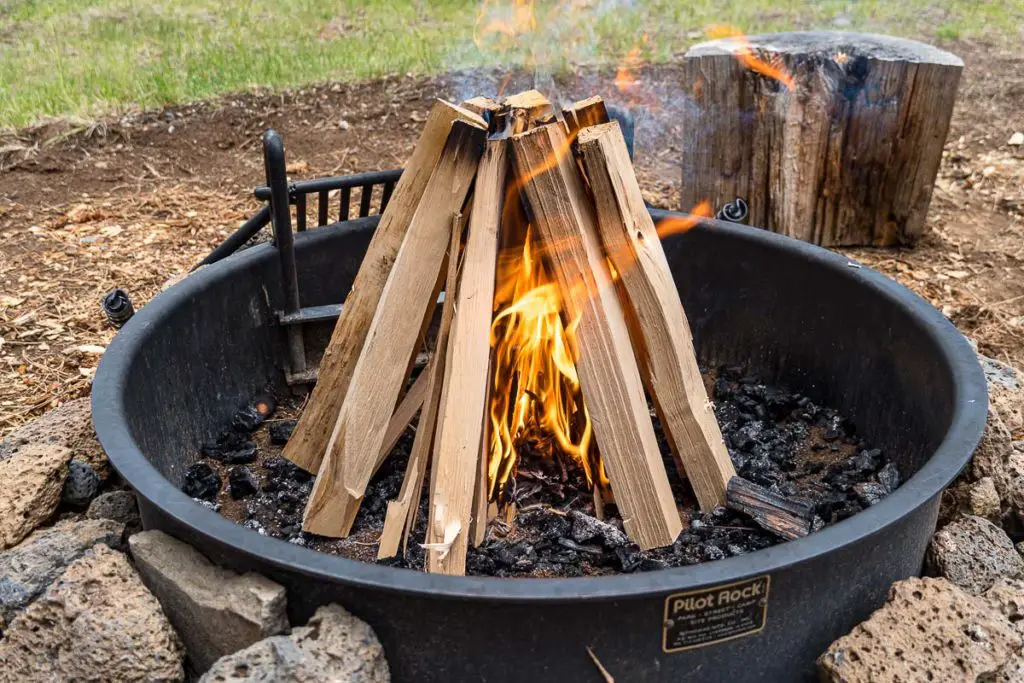 So, how much firewood will you need when camping?
Outforia recommends bringing between two to five bundles of wood per night when camping. Each bundle has anywhere from three to five logs, which is enough for one fire. However, some people prefer burning several piles each day, whereas others only burn a campfire at night.
Heat-treated firewood lasts significantly longer, but it's usually more expensive. You can often get a fire to last twice as long if you use the right kind of wood. Local firewood doesn't have diseases and pests that can cause problems for the campground's trees, so it lets you get the most out of your campfires without causing damage.
Cold weather camping calls for a lot more firewood than warm-weather camping. While camping during the summer, you can get away without burning more than one fire per day. On the other hand, winter camping trips usually require campfires throughout the day. It's up to you to determine how many fires you'll need while camping.
It's always better to bring too much firewood than not enough. Store a ¼ cord of wood at your home, and you'll always have more than enough wood for your camping trips. Even people in warm climates can benefit from having a small cord of wood on their property.
---
Is It Worth It to Get a Cord of Wood?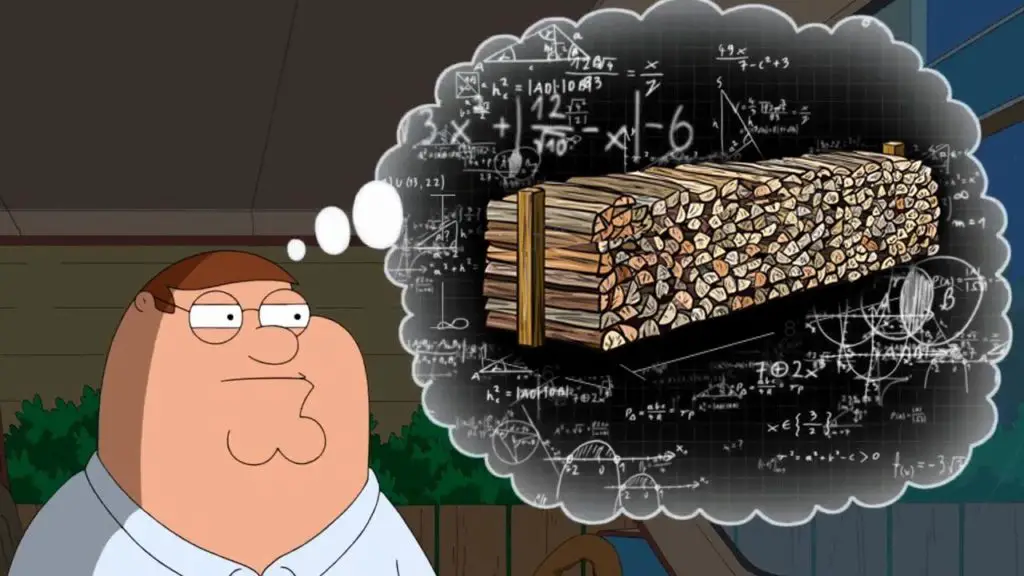 It's worth it to get a cord of wood if you can use it within six months. While firewood often lasts much longer, ambient moisture and heat can warp the wood and make it less effective. Fortunately, many companies sell ¼ and ½ cords of wood, letting you have the perfect amount without wasting any of it.
As mentioned above, everyone should have a bare minimum of ¼ cord of wood at their home. It's perfect for camping trips and many other occasions. Proper maintenance is crucial if you want the wood to make it through the season.
Using a cover is a top priority for those who want to prevent wood rot. Bank Rate explains that most cords of firewood cost less than $200, making it a no-brainer for those living in cold-weather areas. A ¼ cord of wood costs much less, so there's no reason not to keep it on board for emergencies, vacations, indoor fireplaces, and bonfires.
A cord of wood sits on a 4' x 8' rack. A ½ cord uses a 4' x 4' rack. Either solution doesn't take up too much space. The question isn't whether or not it's worth it, but rather what size cord you should get!
---
Conclusion
Storing firewood in cords is one of the most efficient ways to preserve it for a long time. Not only will you always have access to wood for burning, but you won't have to worry about cutting it down every time you want to light a fire. They're great for bringing a few logs on a camping trip or warming your whole house during the winter.