So you've decided that you want to live life on the road. You want to have control over where you spend every night and day and make the most of your freedom. Now you have to choose between van life and bus life, but which one is better?
Van life is the better choice if you are a single person or a cozy couple. Vans let you visit places that would be difficult for a bus to get to. Vans are also more incognito, so you can park in locations that buses would not be able to. Buses, however, are the better choice for a large family.
Whether van life or bus life is right for you will depend on your daily needs. What you do for work and what you want your life on the road to look like will determine whether you should get a bus or a van. Read on to find out which style of roaming home is better.
A Brief History of Van Life
The first van ever invented was created by the revolutionary car company, Volkswagen. It was initially designed to haul people and cargo and was VW's answer to the hole in the market not fully served by trucks and cars.
The VW Westfalia van was introduced to America in 1956. It was advertised as a vehicle to be used for work, home, and play. The structure of the vans offered endless options when it came to the needs of the people. The spacious interiors had room for sleeping spaces, storage, and companions.
Through the 50s and 60s, the bus came to represent the counterculture in America. Hippies and alternatives were in love with the simplicity and elegance of living in a van. Many cherished the freedom that the van gave them and the symbol of protest that van life became.
Van Life Today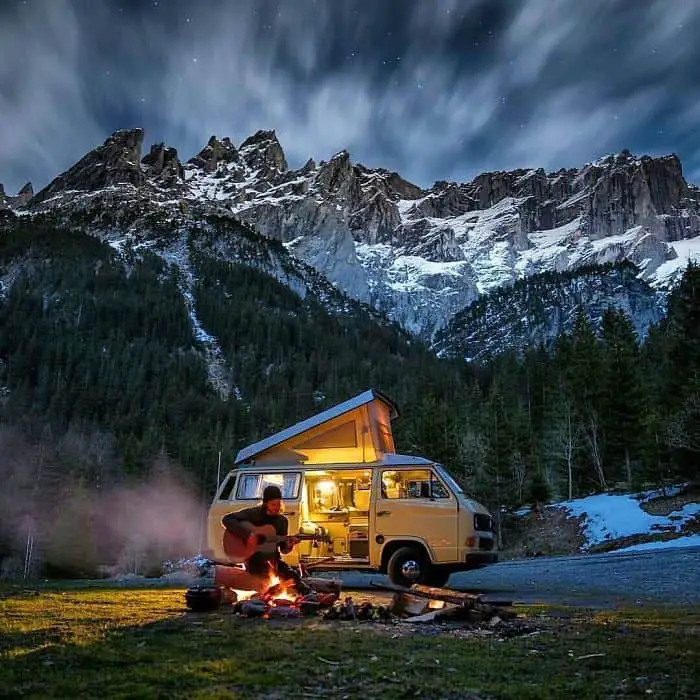 Van life today still represents a sort of freedom-seeking individual. The yearning to explore the world and live a flexible, more pared-down existence is a call that many hear. Today though, the people that choose van life are not always off-the-grid hippies. 
Many van lifers are active online, often building careers out of photographing their nomadic existence in perfectly crafted images. Instagram, Pinterest, Youtube, and blogs have allowed van lifers to monetize their wandering habits.
Not all van or bus lifers are social media stars, however. Many of these nomads work full-time jobs, either in-office or online. The increased popularity of telecommuting has allowed people from every industry to take up life on the road.
Remote work numbers have been rising steadily, with there being a 159% rise in remote work over the last 12 years. This number is only increasing, with 2020 seeing a dramatic increase in people working from home, and freelance platform Upwork finding that one-fifth of the American workforce could be working from home after the pandemic.
Working remotely is the perfect job for a van lifer, as long as they have a solid wifi connection and a source of power.
---
What Is Van/Bus Life?
Van life is a wandering style of living that allows you to travel while still having a space to call your own. Van life is often considered a minimalist or simple living movement, which entails lowering the number of physical possessions you own and increasing your self-sufficiency.
Bus/van life includes living in a van that has been outfitted with certain living amenities. The most minimal vehicles have a bed and storage. Some people even live in fully loaded hatchbacks. Watch the video below to see a tour of a Toyota Prius that is lived in full time by one man:
Vans offer more space than a car, and buses offer even more space than vans. Converting these vehicles into permanent homes means you can fit in a bed, kitchen or kitchenette, toilet, fridge, a desk, or whatever your personal needs are.
---
The Advantages of Van Life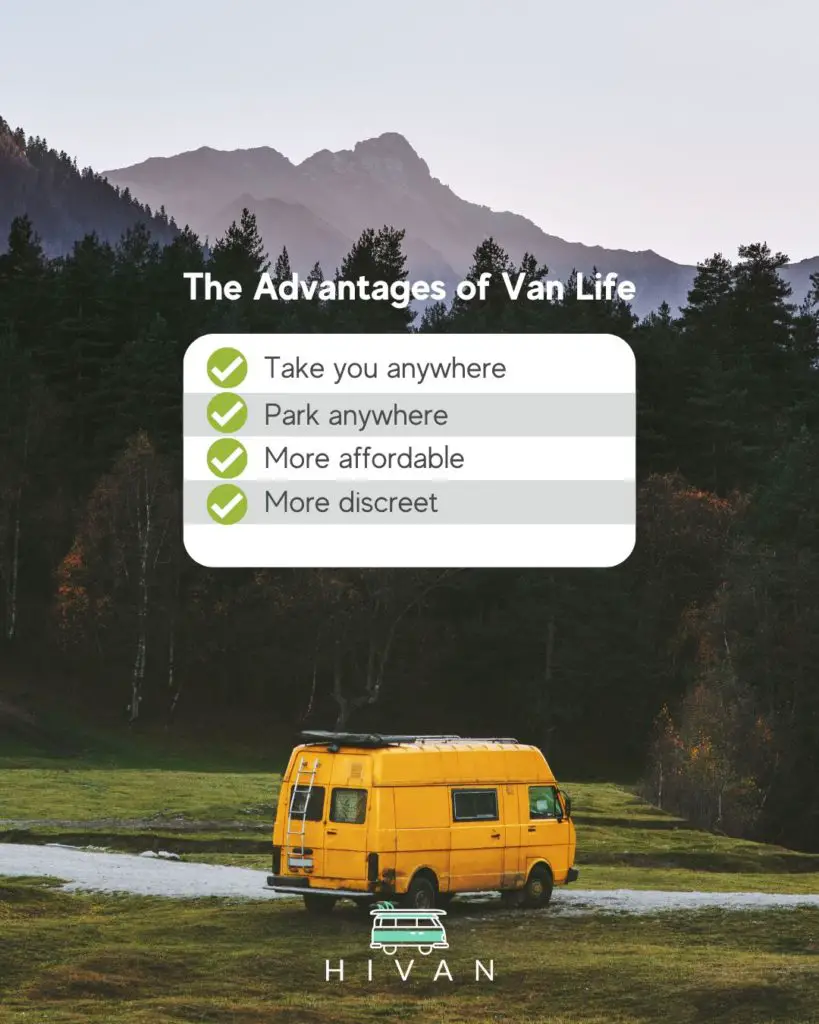 When you're choosing between van life and bus life, it's important to take into consideration what your needs are. Van life offers some great advantages that bus life doesn't have.
With van life, you can access areas that buses cannot. The van that is usually converted into a home by professionals is the Mercedes Sprinter van. This vehicle costs upwards of $40,000 US, but it has the ability to take you almost anywhere. The 4X4 ability of these vans makes them an excellent choice for nomads who love to explore mountains or want to power through snow without question.
Van life also offers a more discreet way of living on the road. You can easily find spots to park your van overnight that will go unnoticed. It's much harder to park a 35-foot school bus somewhere without being noticed.

Van life is better for you if you:
Have less money to start with
Spend most of your time outdoors
Are traveling alone
Don't necessarily need a workspace
Aren't attached to having a toilet
Want to go offroading
Want to be able to park anywhere
Aren't claustrophobic
Related Articles:
How do I financially prepare for Vanlife?
Van life how to make money on the road - 40+ ideas
---
The Advantages of Bus Life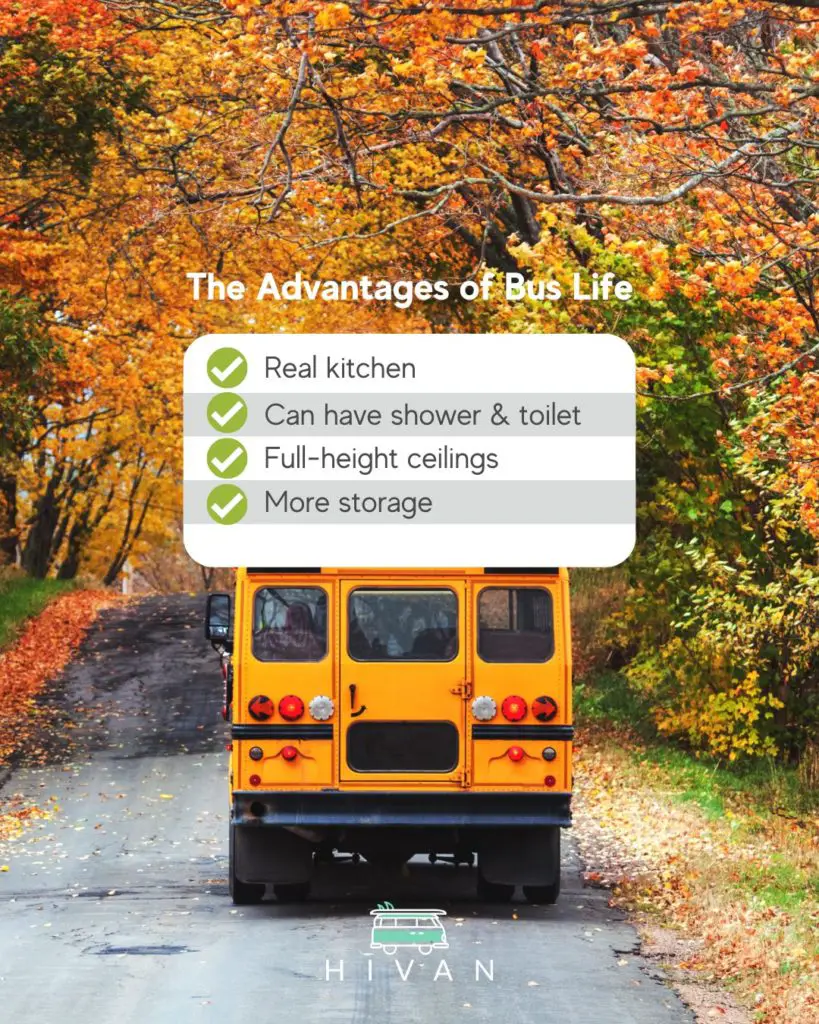 Bus life is the next level of living life on the road. Buses allow for endless combinations of features and designs. You can have a full bedroom on your bus or a real kitchen. Some of the best bus conversions are even more luxurious than the average apartment, and with more square footage.
With buses, you have much more room to move around and live. The choice of a bus means that your nomadic life will look more like a traditional living than a van life. You can have fully separate areas for cooking, working, and sleeping, which means that if you cook something potent like fish, you don't have to sleep with the smell.
Bus life also gives you space to stay if the weather is less than desirable. While you can also take shelter in a van, you might find yourself going stir crazy pretty quickly. Buses have full-height ceilings, meaning you can stand up and walk around instead of crouching over in a van. 
Buses also have much more storage. If you have a lot of gadgets or gear, then a bus will allow much more room to keep organized. Bikes, surfboards, camping gear, laptops, and cameras are all things commonly found in a nomad's kit. But put all of those things in a van, and there's hardly any room for the life part. On a bus, you can store all of this and more.

Bus life is better for you if you:
Need more room
Have a lot of outdoor gear
Are traveling with more than one other person
Need a workspace
Love to cook
Want a bathroom
Don't need to drive a lot
Have a separate small vehicle
Are prepared to pay RV fees and higher insurance
Related Articles:
Do Most Campgrounds Allow School Buses?
---
Summary
It's hard to choose between van life and bus life, as both of them are tempting in their own ways. Bus life allows you to have more personal space and more storage for your adventure accessories. Van life lets you get anywhere and is more discreet. It's cheaper to convert and travel with a van, but a bus is more comfortable in the long run.
Ultimately, the answer to which is better will come down to a few questions:
What is your budget?
How much space do you need?
Where do you want to go?
Once you answer these questions, you can decide which mobile home is right for you.