After spending a lot of time on the road in your RV, things start to wear down, including toilet seats. Upgrading your RV toilet seat makes a huge difference in the overall feel of the RV (and your bottom). You want to be very careful when choosing toilet seats because they are not created equally.
RV toilet seats are not all the same. There are different sizes, shapes, materials, and features (i.e., raised, cushioned, slow-closing, etc.). Some seats require other mounting hardware and different placements of nuts and bolts, so they won't fit every toilet model.
Today, the RV industry offers hundreds of replacement toilet seat options, many with their own unique features. Read on to learn more about RV toilet seats, our four favorites, and how to pick one that's right for you. And if you are in the process of building your van, check our van build resources page here to have plenty of useful information.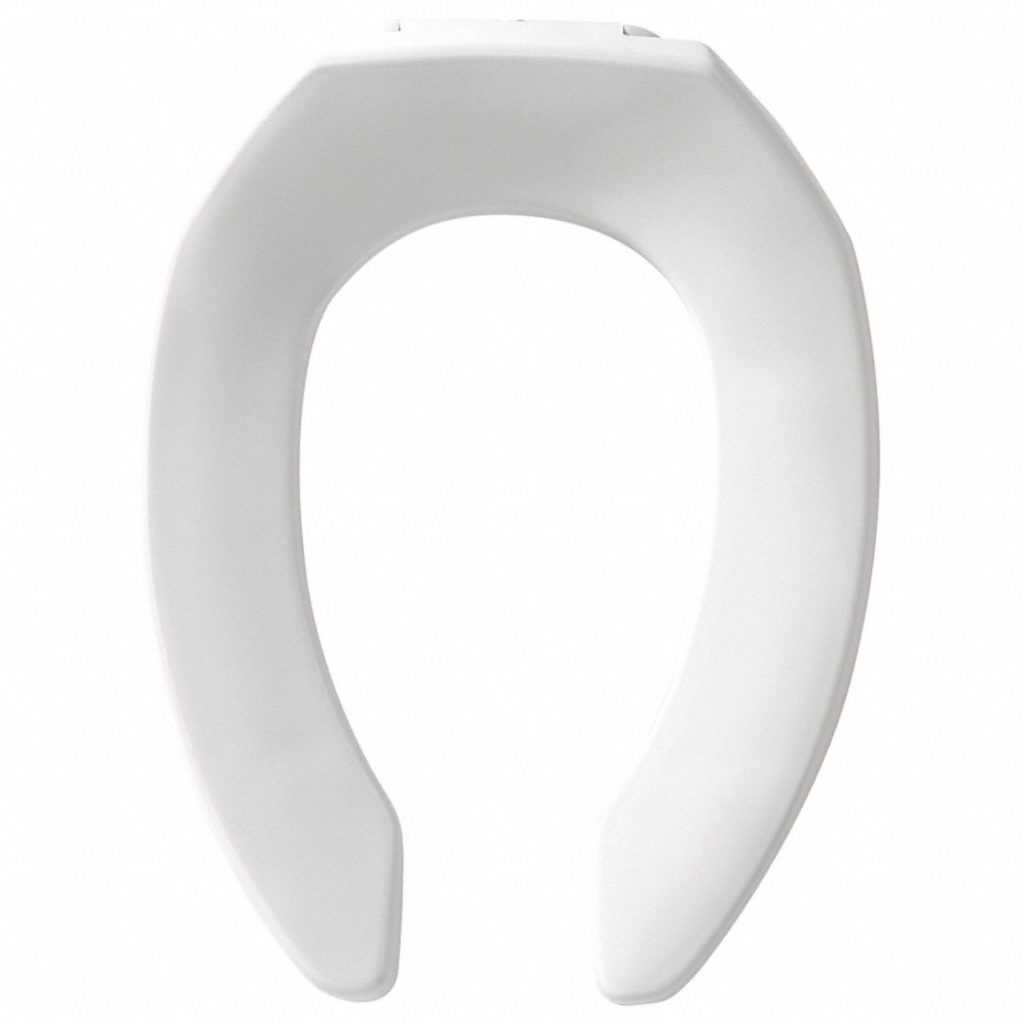 ---
What To Consider When Choosing an RV Toilet Seat
A toilet seat is a personal decision that requires some care and thought before choosing one. You should get one that fits your bottom comfortably, is easily cleaned, and fits the look of your RV.
Let's take a closer look at the three primary factors that you need to consider when choosing an RV toilet seat: 
Sizes of RV Toilet Seats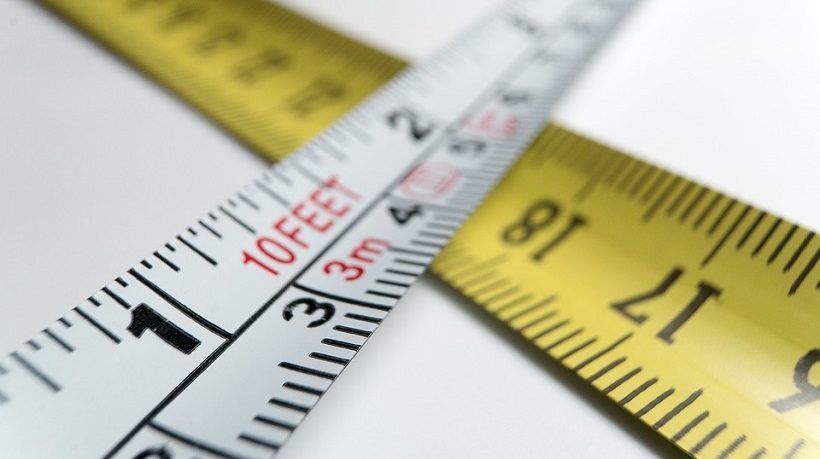 RV toilet seats are not all the same size, and different models offer different shapes and dimensions. There are elongated and round toilet seats, seats explicitly made for RV toilets, and seats made for residential homes.
Take time to measure your current toilet seat before choosing a replacement. 
Do this by removing the toilet seat, flipping it upside down, and measuring the broadest area (the center) from outer edge to outer edge.
If you're still unsure about which toilet seat will fit your RV toilet, unscrew the seat and take it with you to the hardware store to cross-reference the fit. What if you don't want to carry a toilet seat around the hardware store? 
Trace the toilet seat and hardware onto a piece of cardboard and bring it along.
RV Toilet Seat Materials
The material of your toilet seat affects the comfort and quality. Most RVs come with a flimsy, thin plastic toilet seat that many owners switch out as soon as they own the vehicle. Below, we'll discuss three of the most common materials for RV toilet seats.
Porcelain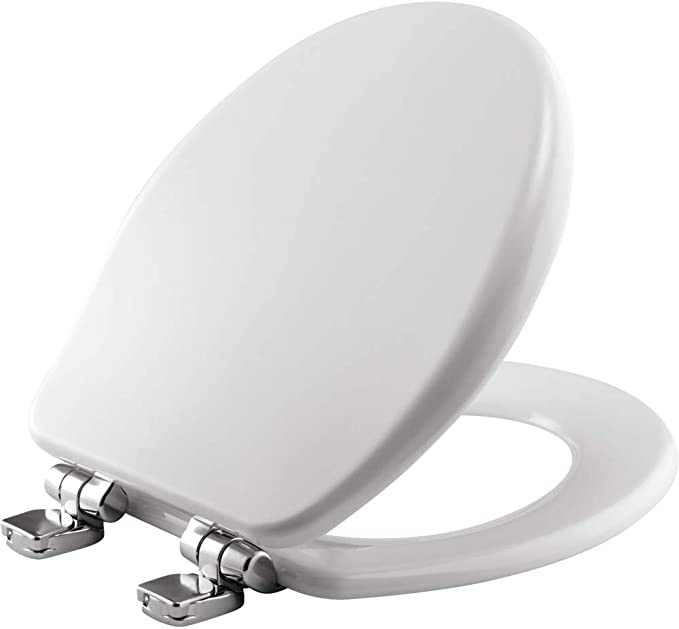 While porcelain is one of the more popular materials for residential toilets, it's not a common material for RV use. Porcelain is fragile, and when you're constantly driving and hitting bumps, this material takes a beating. In addition, porcelain is very heavy and tends to be more expensive than other RV toilet seat materials.
Plastic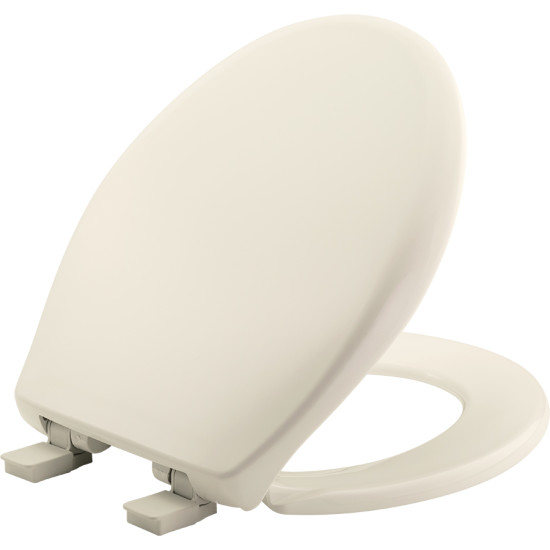 Most RVs come pre-fitted with plastic toilet seats. Plastic is the most commonly used material for RV toilet seats because it is lightweight, inexpensive, and easily replaced. Plastic does, however, tend to wear down pretty quickly.
Wood
Because of its durability, enameled wood is a popular option for RV toilet seats. Wood, however, tends to be heavier and more expensive than plastic. You also want to think about when the enamel wears off–what if you get a splinter in your bottom? That might require a bit of explaining when you're in the ER.
RV Toilet Seat Features
RV toilet seats are not limited to the standard, flat, flimsy plastic you're accustomed to seeing in RVs. There are dozens of toilet seats on the market, each with its own features, with some of the most common features having slow-closing lids and cushioned, raised, or heated seats.
Related Articles:
17 of the Best Camper Van Portable Toilet Setups You Need To See
This Is Where To Empty Campervan Toilets (& Other Essentials)
These Campervan Toilet Ideas Will Blow Your Mind
---
The Best Toilet Seat for RVs
Round Toilet Seat Slow Close Seat and Cover
The standard toilet seat have two kinds of attachment: Plastic nuts and screws; metal screws and rubber nuts. Thus you can install it from the bottom or top of the bowl. Choice the one you like and need. In addition, we also offer two rubber pads to protect the hinge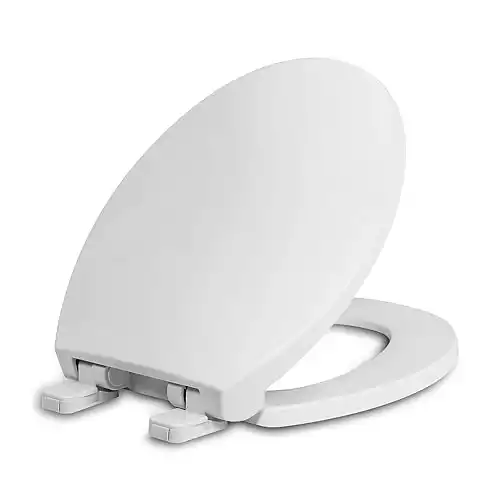 If you make a purchase, you support Hi-van.com by allowing us to earn an affiliate commission (no added cost for you).
With the WSSROGY Round Slow-Close Toilet Seat (from Amazon.com), you'll no longer have to endure the loud slamming of a toilet seat when you're just feet away. The tensioned hinges on the slow-close toilet seats allow the seat to lower slowly with the help of gravity.
Product Specifications
| | |
| --- | --- |
| Material | Plastic |
| Weight | 3.75 pounds (1.7 kg) |
| Shape | Round |
| Dimensions | 16.4 x 14 x 2.2 in (41.6 x 35.5 x 5.5 cm) |
| Color | White |
Bottom Line: Slow-close toilet seats are an ideal choice for RVs, and this toilet seat is affordable and durable. Installation is easy, as you only need the supplied mounting hardware and a screwdriver.
Pros
Great for small spaces. Loud noises in an RV can disturb everyone because of the close living quarters. A slow-close toilet seat eliminates loud toilet slamming.
Easy installation. Easily install this toilet seat in minutes with the supplied hardware and a screwdriver. It fits most standard RV toilets.
1-year limited warranty. WSSROGY will replace the toilet seat within one year if it is damaged.
Cons
May need extra bumpers. According to some users, the seat slips around a bit. You can reduce some of the stress on the hinges by installing your own bumpers, which we discuss in the final section of this article.
Not as comfortable as wood toilet seats. Users accustomed to wooden seats claim that the plastic seat is not as comfortable.
---
Mayfair 13EC 006 Toilet Seat
QUICKLY AND EASILY REMOVES: For cleaning or replacement
LONG-LASTING COMFORT: Soft, cushioned Seat with wood core provides long-lasting durability.
FITS ALL-ROUND TOILETS: Including Kohler, American Standard, TOTO, and many more.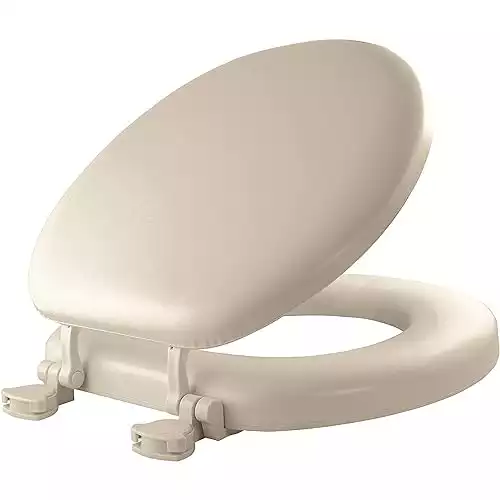 If you make a purchase, you support Hi-van.com by allowing us to earn an affiliate commission (no added cost for you).
RV toilets don't provide the most luxurious experience, but a soft, cushioned toilet seat makes it a bit more comfortable. There are different "levels" of cushioning, from firm to soft. 
The best part about cushioned seats besides comfort is that they provide insulation, stopping the seat from getting cold in the winter.
Product Specifications
| | |
| --- | --- |
| Material | Wood Core |
| Weight | 2.34 pounds (1.06 kg) |
| Shape | Round |
| Dimensions | 17.16 x 14.98 x 3.44 in (43.5 x 38 x 8.7 cm) |
| Color | White (other colors are available) |
Bottom Line: This toilet seat is soft on the behind but contains a strong wood core. It is best for families on a budget and those looking for a softer, more comfortable toilet seat.
Pros
Great for saving money. The Mayfair 13EC 006 Toilet Seat is inexpensive compared to many plastic toilet seats.
Wood core. The wood core beneath the cushion provides a strong foundation and a 300 pound (136 kg) weight capacity.
Fits most round toilets. The 13EC 006 model fits most round toilets, including TOTO, Kohler, and American Standard.
Cons
The supplied hardware is weak. You may need to purchase your own hardware to install this toilet seat, as many users report the hardware breaking within a few months.
May need replacing more often. The foam on the seat is covered with a thin plastic casing. Many users report the plastic ripping after about a year, which means you might end up replacing this seat more often.
---
AquaSense Raised Toilet Seat
This raised toilet seat elevates the toilet 2 inches higher than a regular toilet seat
Aquasense raised toilet seats provide a safer way to get on and off the toilet
Includes a lid for a look and feel just like a regular toilet seat.Contoured ergonomic seat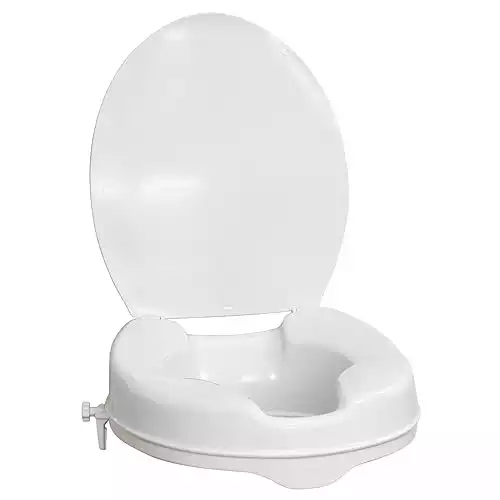 If you make a purchase, you support Hi-van.com by allowing us to earn an affiliate commission (no added cost for you).
RV toilets tend to feel different because they're more narrow and sit lower to the ground. By raising the toilet a few inches, you can give the toilet a more residential feel. A raised seat is also good for those with mobility issues or those who have a difficult time getting down very low.
Product Specifications
| | |
| --- | --- |
| Material | Plastic |
| Weight | 2.49 pounds (1.12 kg) |
| Shape | Round |
| Dimensions | 15.75 x 14.17 x 2.01 in (40 x 36 x 5.1 cm) |
| Color | White |
Bottom Line: This product is great for those with joint issues or who have trouble lowering themselves to the standard RV toilet size.
Pros
Safer. The AquaSense Raised Toilet Seat is safer for those with mobility issues. The raised seat elevates the toilet two inches higher than a standard toilet seat, making it easier to get on and off.
Durable. This toilet seat is made of durable, molded plastic and has a 300 pound (136 kg) weight limit.
Fits most toilets. It's easy to install and fits securely on most round-toilets; no tools are required.
Cons
Does not fit elongated toilets. Many users report the toilet seat does not fit securely on elongated toilets.
Defective tightening system. Some users say that the screws are easily stripped when installing. To avoid installation delays, have additional mounting hardware ready as a backup.
---
Brondell LumaWarm Heated Nightlight Toilet Seat
Gentle closing seat and lid, ergonomic seat, intuitive controls, available in both Elongated and Round sizes, and available in White or Biscuit color. This listing is for an Elongated, White - toilet seat that measures 20" x 14.3" x 2.8"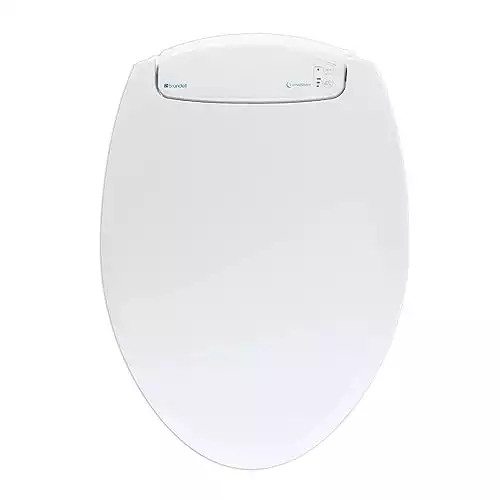 If you make a purchase, you support Hi-van.com by allowing us to earn an affiliate commission (no added cost for you).
If you install a Brondell LumaWarm Heated Toilet Seat (from Amazon.com), you may never want to leave your bathroom! This toilet seat plugs into a nearby outlet and sends power through a heating element that heats the seat and provides warmth to your bottom.
Product Specifications
| | |
| --- | --- |
| Material | Plastic |
| Weight | 6 pounds (2.72 kg) |
| Shape | Elongated (Round is Available) |
| Dimensions | 20 x 14 x 3 inches (50.8 x 35.5 x 7.6 cm) |
| Color | White |
Bottom Line: If you're looking for luxury, this is the toilet seat for you. The seat provides warmth to your bottom and is light, and comfortable.
Pros
Nightlight. No more stumbling through your RV during a late-night bathroom trip. The seat uses soft blue light to light up your toilet. 
Slow-close seat. In addition to its many other features, this toilet seat is slow-closing.
Available in round and elongated. There are two different versions of this toilet seat, so whether your toilet is round or elongated, it's likely to fit.
Cons
Expensive. Because this toilet has electrical components and a heating element, it is more costly than standard toilet seats. In addition, you'll need a nearby outlet to plug it in.
May need to purchase hardware. Some users report that the hardware didn't come with the product, so you may need to buy the top-mount kit from the manufacturer.
---
Can You Use a Regular Toilet Seat on an RV Toilet?
Most RV owners agree that the toilet seats at home are much more comfortable than the standard RV toilet seats. RV toilet manufacturers try to duplicate the look and feel of residential toilet seats with their designs, but can you install a residential-sized seat on an RV toilet?
You can use a regular toilet seat on an RV toilet if the model is compatible. Most standard toilet seats are around 15 inches (38.1 cm). Check your manual for specifications, and if a residential toilet seat matches your toilet's dimensions, your toilet is suitable for a residential toilet seat.
Residential-size toilet seats tend to be less expensive than RV toilet seats, despite typically using more materials and hardware.
Some RV toilet seats have raised "housing" areas on the back to conceal the water breaker (depending on your toilet model). Residential toilet seats do not usually contain these housings and the breaker may stick out a few inches if you use a residential toilet seat. 
This is a purely cosmetic issue, but if it bothers you, you'll benefit from choosing an RV toilet seat that offers the breaker housing.
For more information on RV toilet seats and plastic breaker housings, check out this YouTube video around the 2:00 mark:
---
Reducing Stress on RV Toilet Seat Hinges
To reduce stress on the hinges of your new toilet seat and to help it last longer, you might also consider adding extra "bumpers" to the underside of the seat. 
Bumpers reduce the amount of weight put on the hinges, thus increasing their life span. Most expensive seats come with these pre-installed, but you can add more with a sliced rubber hose and some heavy-duty glue.
It's better to glue the bumpers instead of drilling them, as this further weakens the material. Make sure the bumpers are aligned with the edges of the toilet bowl so they can work their magic.
---
Conclusion
If you spend a lot of time in your RV, you want it to be as comfortable as possible. When enhancing comfort in our space, sometimes we forget about the bathroom! 
To make your RV bathroom more comfortable, start by investing in a new RV toilet seat.
From sizes and features to colors and shapes, RV toilet seats are not all the same. Use the information in this article to pick one that's right for you.