Camper vans and off-grid living have taken off with popularity in the past few years. Many newcomers are beginning this journey and looking to renovate a van that fits their style and needs. Building a van into a livable space that includes a bathroom can be difficult, and minimalism is often the key to success. 
Renovating a live-in camper van begins with building a bathroom that offers privacy and comfort. Below is a list of 17 van toilet set-ups that you need to see. Hopefully, you can gain some inspiration in this selection that will guide you in your journey of creating a camper van you love.
@the.activ
One of the best things you can do to add comfort to your camper van is to create a shower and toilet area that is not only functional but is appealing as well. As much as you hate to use a dirty truck stop bathroom, most people prefer cleanliness and privacy to do their personal business.
These travelers figured out how to seamlessly include a bathroom into their camper van. It may be small, but it fits perfectly with the rest of the van decor and does not take away from the at-home feel. This setup is ideal for a small family that does not want to sacrifice style for comfort. Luckily, this one has both!
Nicely decorated
Private
Homey
Even though a sprinter van is intimate in nature, this bathroom provides its owners the chance to have some real privacy when using the bathroom. It has just the right amount of space for you to relax and go comfortably. 
@ourvanquest
This renovated bus includes a bathroom-shower combination. The creators decided to use one wall of tile as opposed to multiple walls to prevent damage to the bathroom while still making the space easy to clean. Although this setup might seem small and on the intimate side, this camper van bathroom is quite large when compared to other van bathrooms.
Shower included
Roomy
Private
It allows for plenty of space and privacy within the camper van. It includes a composting toilet that is easy to remove and clean once full. Whether you are camping in the city or out in the countryside, nothing is quite as comfy on your tush as a clean porcelain throne.
It is always annoying to finally find a suitable outdoor bathroom or public PortaPotty, only to have the inside look like something out of a horror movie. With this van toilet, the owners are able to skip the crime scene bathroom and comfortably get down to business.
The fact that this design includes a shower and toilet in such a small area of the van, space is completely maximized and used to its full potential and the passengers are always able to have a little privacy for their alone time.
@linda_la_van
This 2021 Ram Promaster 3500 has a bathroom and private toilet included at the back of the van. For a camper van, this bathroom offers plenty of space for the owners to take care of business. Since it is located in the back, the composting toilet is easy to remove and clean. 
Easy-to-clean composting toilet
Convenient location at back of van
Private
Overall, this design is unique compared to other camper vans. The bathroom is conveniently located in the back of the van. It is easily accessed from the back door and offers lots of privacy for van passengers. 
@levanfrancais
This van lifer is driving around a Volkswagen T5 and enjoying every minute of it! The toilet in this van is hidden in storage and out of plain sight. Although this takes away some convenience and privacy when using the bathroom, it allows the owners to utilize more space of the van for other amenities.
Camper vans can run pretty tight on space, especially when you consider how much stuff you will likely be packing into it. If you do not suffer from stage fright in the bathroom, sacrificing some privacy for space with a similar setup might be the way to go!
Not having your portable toilet on a track system might create some inconvenience when pulling it in and out. It may also be more difficult to keep the toilet from sliding when in use, but it does offer a larger sense of portability than other toilet set-ups. Maybe just make sure the van is not in motion when you use this toilet!
@tothemountainsnback
In this converted sprinter van, you will find a beautifully renovated bathroom that includes a toilet and shower. Fitting a private bathroom in a renovated sprinter van is a tough task, but these campers were able to do it beautifully. 
Hidden toilet
Shower included
Homey design
This bathroom toilet is concealed and solid to ensure that it will not move around when it is in use or while on the road. The look and design is so seamless, it is unlikely that anyone would know what was behind the partition when the screen is closed.
The highlight of this toilet set-up is the design. It gives it an at-home feel and resembles a bathroom you would see in any typical American household. This style includes all the comforts of home without digging any foundation. This set-up is perfect for your "home on the go", no pun intended.
@lanleyc
A portable toilet is a must when you live on the road, as you can rarely promise where you will be when you need "to go." This van includes an easily accessible portable toilet that can be pulled out as needed. The larger model toilet allows for more usage before needing to empty it. 
Oftentimes when living out of a camper van, getting creative with your space is required. This setup is very space-efficient and yet still maintains a quality and convenient function. Always having a toilet handy will keep a van lifer out of a lot of tricky situations!
Portable
Large capacity
Easily accessible
Unfortunately, this set-up is probably the least convenient on the list. Even though it is easily accessible, there does not seem to be a lot of room within the van to use it comfortably. If you need the comforts of home more than a way to free up space, this style of van bathroom is definitely not going to suit you.
@blue_the_bus
There is no way you could miss this blue bus if you are driving by on the freeway. Renovated buses allow for more space than a typical camper van and can include a private bathroom. In the case of this bus, you will find a private toilet with a door. The toilet is simple to install and can be easily removed from the bus for cleaning.
Private with door
Easy removal
Room to stand
The wooden door on this setup is a super nice feature. Having a bathroom curtain or other non-traditional door blow open in the middle of you doing your business has got to be a special level of hell. Having this fully functional door on the bathroom looks classy and doubles as giving an added layer of privacy to the occupant.
Buses offer more room to work with than traditional vans, so it may not come as a surprise that there is plenty of room for a stand up bathroom inside. This set-up is equipped with a Nature's Head composting toilet, which is considered to be top-of-the-line. It is a nice and easy model to clean and empty. 
@roaddogvans
From the photo, you will not be able to find this hidden toilet. It is completely tucked in, hiding and ready to come out when it needs to be used. No one wants their camper van toilet to be the center of attention. Having the toilet tucked away out of sight allows for the van to have top-notch eye appeal and provides more space for van visitors. 
Hidden from view
Space saving
You can scour this picture over and over and still be unable to fathom where they hid the toilet. Still, it is there, fully functional and available for when it is needed. This makes your van interior more convenient and saves you space.
@not_all_who_wander__
The design of this toilet gives it the most traditional look compared to others on this list. The wood design around the toilet is wonderfully done and gives the feel of a more traditional bathroom.
The tank on this model toilet is big enough to not be emptied for a few weeks or even a month. The owners of this van get the home feel without the hassle of having to empty the toilet and clean too often. This model of camper van toilet is probably the most convenient for this reason.
@the_wandering_sun
The toilet in this Toyota Sunrader van was installed with class and convenience in mind. An added window with frosted glass ensures privacy while still allowing the need for steam (or stinky smells) to be aired out of the vehicle. This bathroom has plenty of space for the owners and a door for privacy.
Private with door
Lots of space
Clean visual appeal
Although the visual aspects of this setup are not super exciting, it is an awesome addition to the van, and the owners could not regret using up some of the 60 square feet to add it in. All white fixtures make it easy to know when it is time to scrub the bathroom which can only help motivate the users to maintain the sleek look!
@livingwithoutwalls
These van lifers are definitely "living without walls" in their newly renovated van. This is of course, with the exception of when it comes to using their private bathroom. It seems that adding a private bathroom was one of the first considerations they had when beginning to build their van, and you may be on board with that idea!
If you are going to be camping out of a van, odds are that you really enjoy most of the comforts of home, or at least you somewhat dislike the option to sleep on the ground and poop in the woods. Adding a camper van toilet to your set-up will only further the 
Private
Homey
Shower included in bathroom
Here is an update on the finished product of this renovation. It seems that this couple did a wonderful job on their renovation, and their van looks like a home. This goes to prove that a home does start with the bathroom!
@lighttravelers
The couple occupying this van utilized a track system to conceal and store their portable toilet. When it is not in use, they simply close the lid and slide it right back into place. It is a convenient design that allows them to use the space in their van in a practical way. 
An added bonus is the convenient toilet paper storage to the side. This is nice as you will never be too far from a roll, that is, unless someone forgets to refill it!
Track system keeps toilet in place
Hidden from view
Space saving
Due to information found in lots of forums and articles, it would seem that many van lifers prefer having a toilet set-up similar to the one here. This way, space is maximized to its full potential and the functionality is never compromised.
Although a stand up bathroom is nice and very reminiscent of your traditional home, those that have them sometimes feel they do not use them as often as they thought. Those that forgo a toilet altogether almost always wish they had one in their camper vans. 
@van.there
These owners chose another example of a toilet that is hiding in plain sight. The vanlifers wanted a toilet to make their van feel like home but also decided to utilize the space of the van for multiple uses. 
In this situation, when a toilet is needed, the cupboard is lifted up and the throne is easily accessed. When the toilet has served its purpose, the cupboard is closed and the space is a perfect place for someone to sit!
Hidden from view
Convenient storage
The toilet can be found concealed under a bench in their van and accessed only when needed. Although, when looking at their photo, you may find yourself wondering, where do they put their feet when doing their business? 'Tis a comical mental image, indeed.
@vandmvanlife
Due to the limited space of this van, the owners of this van had to think practically when determining where to put their portable toilet. Like others on this list, they decided to use a track system that allows the toilet to be concealed and pulled out when it is needed. 
Portable
Track system
Space saving
Careful planning and a good design can help you to make the most out of your home on wheels. The owners of this van really got the most out of the space available by using this track system toilet. They were able to add everything else they needed to the van, and were still able to find an accessible spot for their toilet. 
@jomovan
The cassette toilet in this camper van is another example of how to skillfully and discreetly conceal a toilet inside the van. This seems to be how most campers like to store their toilets if they do not want to install a standing room bathroom.
Hidden from view
Easy to clean
Saves on space
This setup may not be the most private area in which one might do their business, but what this toilet lacks in seclusion, it makes up in space-efficiency. This would be the perfect setup for the lone camper as it does not take away from the carefully designed look of the van, but may not be the best for multiple users.
A cassette toilet is a permanent one that uses a black water system. Although this takes away from complete portability, it offers easy cleaning and emptying through a sewage pipe running through the van. 
@vansandcabins
The owner of this bathroom was able to install a toilet and shower combination without making it look unnatural. Having a shower inside a camper van is a luxury. The toilet and shower being inside the camper van makes this like a real bathroom at home. 
Shower included
Unique design
The bathroom door doubles as the shower door, which gives it a more incredible look than other bathrooms on this list. 
@Pontoonstuff
Pontoonstuff is an instagram page dedicated to life on a pontoon. But, they have included information about a portable toilet that would be a great fit for many van lifers. While a pontoon is not exactly a camper van, the basic principles are the same: space saving and roughing it while holding on to some of the features of home.
Useful features
Portable
Odor control
This particular toilet has many features, including a piston pump flush, water level indicator and an odor control mechanism. 
Types of Portable Toilets
When it comes to camper vans, having a portable toilet is a must. There is a wide variety of camper van toilet setups for you to choose from and picking the right one. When choosing a camper van toilet, you will want to consider the following a few different factors and choose the one that best fits your lifestyle.
Nature's Head Self Contained Composting Toilet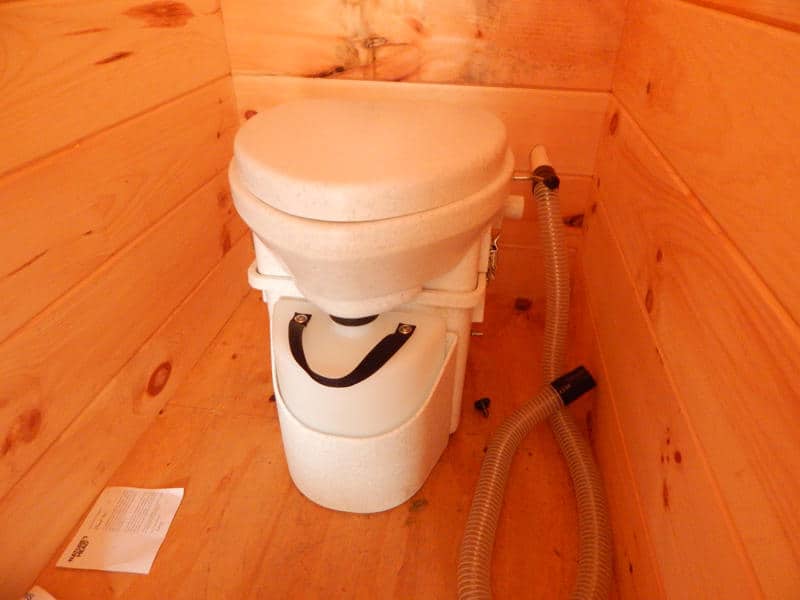 The Nature's Head composting toilet offers its user an undeniable amount of portability. It only requires installation of a hose for ventilation. It is available on Amazon for about $960.
The fan and ventilation feature does well getting rid of all potential smells of your compost.
Along with the ventilation, you will need to add in other mixtures, such as coconut core, that will absorb the smells. 
This portable toilet is a great option for single or two-person use. You can go a month or two without emptying the compost bucket. This is extremely convenient if you spend a lot of time on the road. You can spend less time emptying your toilet and more time enjoying the journey. 
On the other hand, if more than two people are using this toilet regularly, you will have to empty the bucket out more often. 
Since composting toilets separate solid and liquid waste, you will be emptying the urine bucket and compost tank separately. The urine bucket on this toilet is simple to remove and can be dumped in a traditional toilet or any existing sewer connection.
Overall, this is a perfect toilet for campers of one or two. Due to its simplicity, portability, and efficiency, users will be able to enjoy camplife without having to spend too much time cleaning and emptying the Nature's Head Composting Toilet. 
Porta Potti White Thetford Corp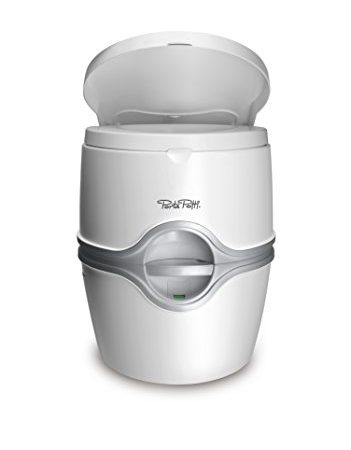 Finding the portable toilet that fits your needs can be tough. It needs to be portable, easy to clean, reliable, and not prone to needing repair. This Thetford portable toilet offers all of that at an affordable price of about $300 on Amazon.
The Therford toilet is easy to clean because of its small size and easy disassembly 
It has a battery-powered pump that will rinse the toilet with water after each use.
This can be helpful with the cleaning of your toilet compared to other models that do not have this feature.
When considering buying a portable toilet, you will need to consider if the toilet you are purchasing has a floor mount. Toilets without a floor mount can be a pain to keep from sliding around when in use. The Thetford model has the ability to be mounted to the bottom of the van to rid of that issue and keep it in place. 
Toilets are more difficult to use when they slip and slide around the camper van. With this model, you will not have to worry about that annoying issue.
Luggable Loo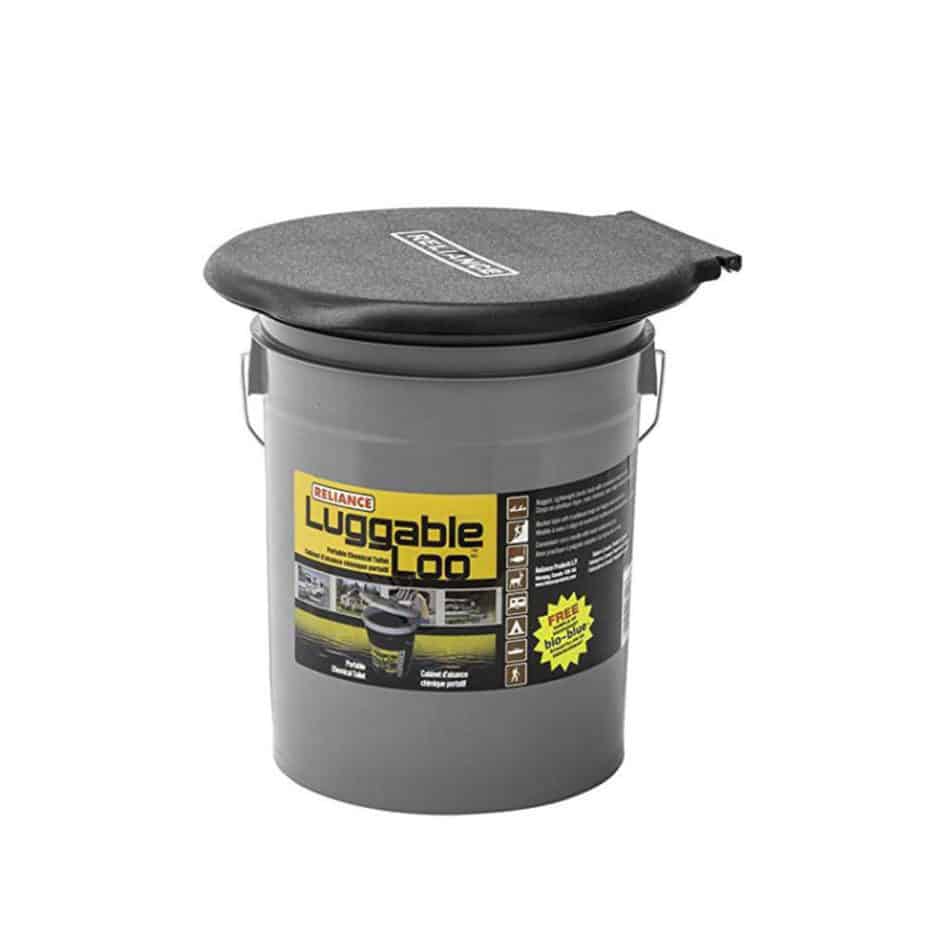 The Luggable Loo toilet is definitely the most portable toilet on the market. It has the design of a five-gallon bucket with a handle for carrying. For campers who are on the move quite a bit, this toilet is one to consider.
The Luggable Loo pairs with bags that lines the inside of the bucket. Although this toilet offers a ton of portability, you will need to empty the bucket after each use. 
You have the option to buy just the lid, which will fit with any traditional bucket.
Your other option is to buy the Luggable Loo brand bucket paired with the toilet seat lid. 
This model of toilet is the cheapest option on the list. It is available on Amazon for only about $48.
DOMETIC Portable Toilet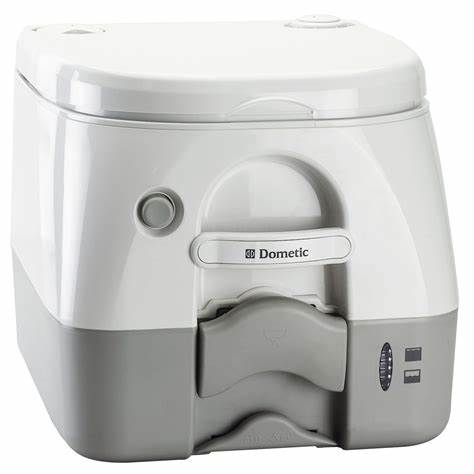 Many campers are looking for a versatile toilet that can be used in a variety of situations. The Dometic brand toilet is a great option for RV, van, and tent campers. With the pump flushing option, this toilet is simple to use and efficient for larger families. 
Depending on your family size and amount of people using the toilet, this toilet may be the perfect size with its 2.6-gallon tank. Along with the waste tank, all models are paired with a push button flush and pump out system.
Cleaning this toilet only takes a few steps and has indicators to let the user know when the tank is ready to be emptied.
Simply remove the top portion of the toilet and dump the waste tank into an authorized location.
Rinse the tank with water, insert your preferred deodorizer,
Then, you are ready to go! This toilet is available on Amazon for about $145.
Cleanwaste Portable Toilet (D119PET)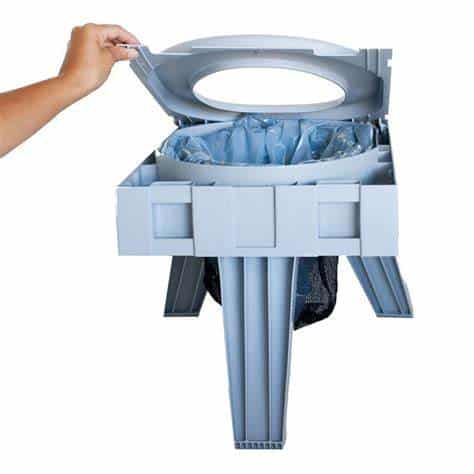 Much like the Luggable Loo model, this Cleanwaste Portable toilet offers its users undeniable portability. It is a lightweight option that simply folds up to make it easy to transport. It can be used virtually anywhere because it utilizes a net paired with a bag for one-time use. 
There is no composting agent that is needed for this model.
You only need some chemicals to sprinkle into your bag to avoid smells when transporting your waste in the bag to a dumping location.
Once at the dumping location, simply toss the bag into a waste bin.
Complete these easy steps and you are finished. This is another affordable option. It is available on Amazon for about $74.
Wrappon Green Portable Toilet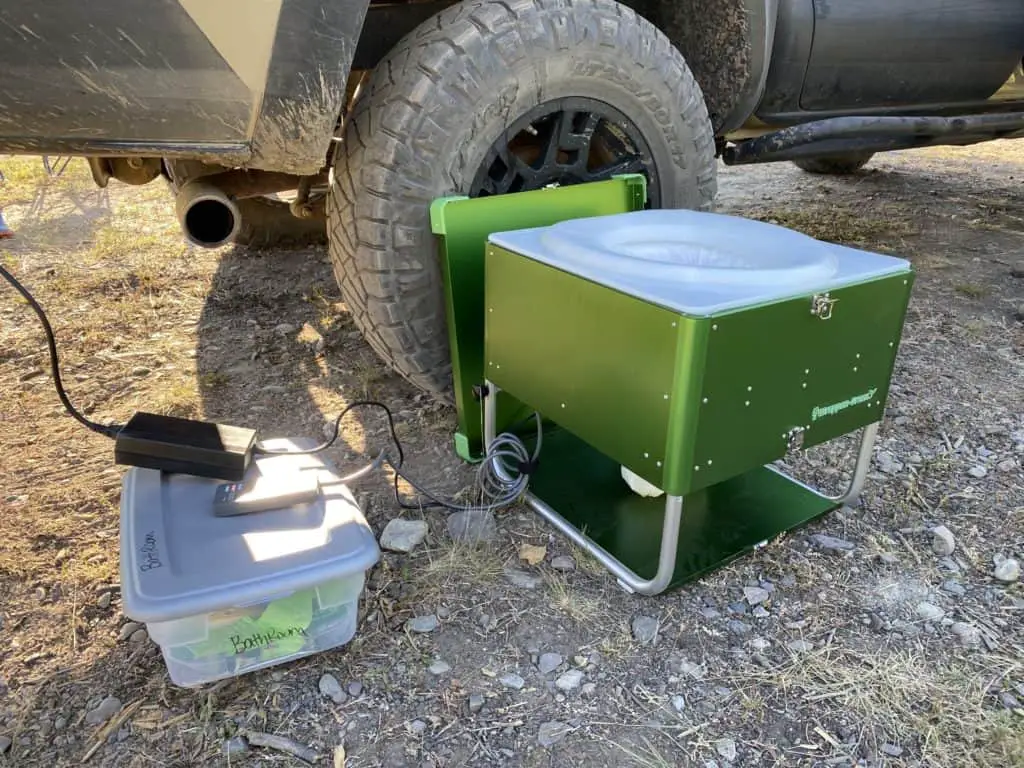 For campers who want convenience but still looking for a toilet option that is eco-friendly, the Wrappon Green Portable Toilet is one to consider. This model used technology that allows for one-time usage and waste without needing to get your hands dirty. 
After each use, simply push a button.
Your waste bag gets sealed up without having to do any of the work yourself.
Once finished doing your business, you can fold up the toilet into a briefcase-like shape
Use the handle to transport it back to its storage location, and waste removal is complete.
Alpcour Portable Toilet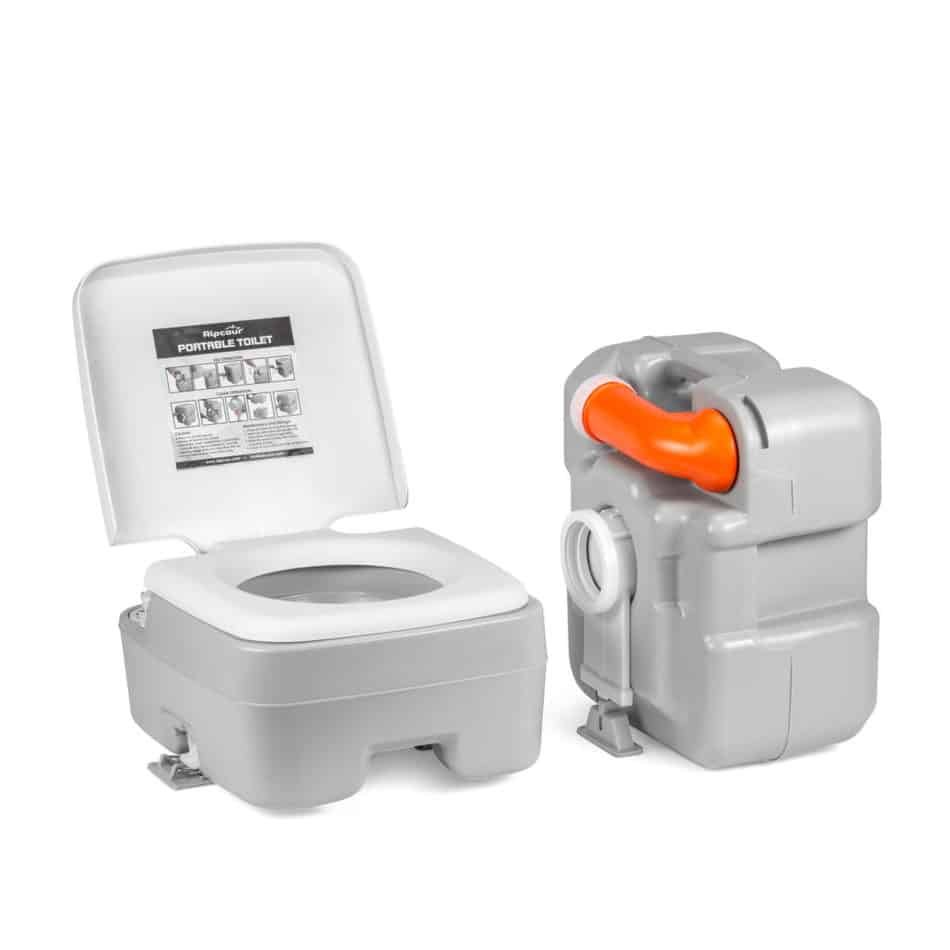 This Alpcour portable toilet has one of the larger tanks on the market. It is available on Amazon for about $150.
It can hold up to 5.3 gallons of human waste.
It can also be used indoors and outdoors and is fairly light at just 11 lbs.
This toilet can be easily transported when it needs to be dumped.
Although the toilet's tank requires the user to empty it by hand, it is a great option for campers who are consistently on the move.