Hi-van is supported by its audience. When you purchase using our links, we may earn an affiliate commission (no added cost to you). Learn more
People have converted school buses into campers for decades. A converted school bus represents a reuse-recycle-repurpose philosophy. People frequently use their converted school buses to visit campgrounds, but they are sometimes not allowed.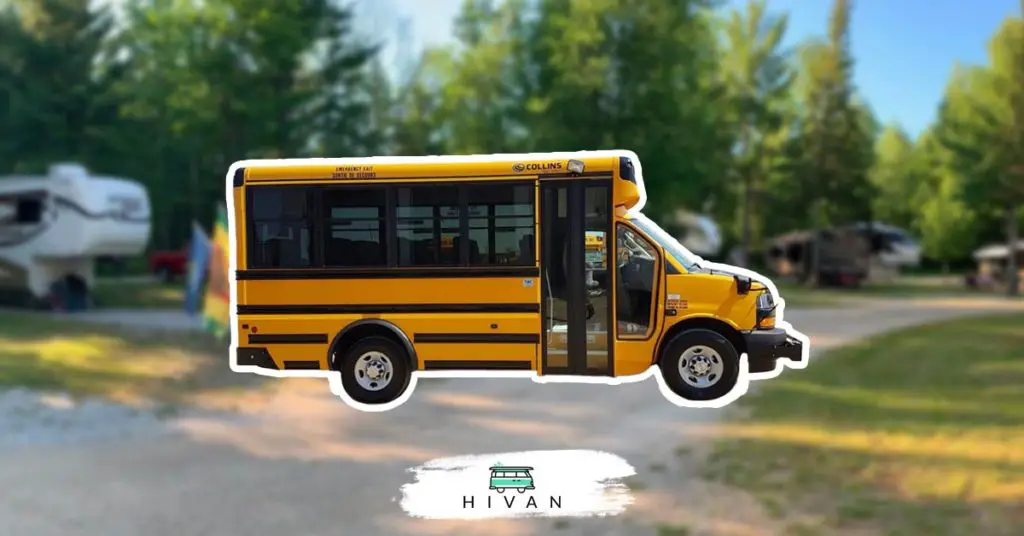 Most campgrounds allow school buses to camp, but only if they meet all regulations. Most parks have limitations, such as the bus must fit within the bounds of the campsite. Campgrounds may limit vehicles to less than 35' (10.6 m). Many buses are longer than 35' (10.6 m). 
In the rest of this article, I will discuss regulations at national parks, state parks, and private parks, which go from general and permissive to specific and restrictive. The most common rule preventing school buses from camping is that school buses cannot be longer than the length of vehicle allowed for the campsite. Knowing the regulations will ensure smooth camping in a converted school bus.
---
National Parks' Campground Regulations Allow School Buses
Every national park has self-defined regulations. However, given the public nature of the campgrounds, the laws tend to be reasonable and accepting of many campers. The only firm rule is that the campsite must be large enough to accommodate the size of the school bus. 
Some national parks, particularly in mountainous regions, may not be able to fit a school bus. 
Mount Rainier, for example, allows any type of vehicle, including school buses. Still, the bus must fit within the boundaries of the campsite. Large model school buses may find that difficult. Before visiting, check that your school bus will fit in the edges of the campsite you reserve. 
Some campgrounds have campsites large enough for school buses. 
Mammoth Campground in Yellowstone National Park has many campsites that allow for vehicles that fit in a campsite that is 44" (13 m) in length. Most buses are between 40' and 42' (12.2 m and 12.8 m) long, so buses converted to motorhomes are likely allowed. 
The policy was less clear about the requirement to register the converted school bus as a motor home. 
---
State Parks' Regulations Usually Allow School Buses
Like national parks, state parks usually allow for school buses, but with restrictions. If the state park has campsites, the school bus must fit within the boundaries of the campsite, and the school bus must be registered as a motor home. 
For example, Georgia limits campsites to: 
Motor homes 
Automobiles 
Pickup trucks 
Boat trailers 
Therefore, the owner should file a T-24 Bus to Motor Home Conversion Affidavit and register the school bus as a motor home. 
Other states are less restrictive. 
For example, Utah merely limits the number of "camping units" allowed on the campsite. A school bus would be considered one unit. Utah's reservation website is helpful because it requires you to input the length of the bus at the time of the reservation. 
This ensures the school bus will be allowed to camp there. 
---
Private Parks Usually Allow School Buses
Private RV parks and campgrounds usually have more regulations. These campgrounds have more variety in residents, from short-term to long-term. The rules must accommodate the varying preferences of its customers. 
In the past, elite camping resorts had the reputation of denying motor homes older than ten years. 
These resorts also denied school buses on the premise they are more likely to catch fire, leak, or otherwise pose a safety risk. Today, these resort-style campgrounds avoid lousy publicity from such rules. 
Private parks follow the example of public and state parks by requiring vehicles to fit within the campsite to prevent school buses from camping at high-end resorts. Reservation of the campsite requires the length of the vehicle. 
Most campsites limit the length to less than 35' (10.6 m). Full-size school buses are typically between 35' and 42' (10.6 m and 12.8 m) long, which means school buses are usually too long. 
Unlike national and state parks, however, the limit on the length of the vehicle is usually not established by the campsite size. Campsites in private parks are generally larger and more accommodating. 
Many campsites could physically accommodate a school bus. Still, the campsite is allowed to have such restrictions. 
One of the country's largest campgrounds, Ocean Lakes in South Carolina, does not allow motor homes on annual lease sites. A converted school bus is likely a motor home. The school bus may be allowed on transient campsites. 
---
The Legality of Denying School Buses Access to Campsites
By statute, the federal government may deny access by any "vessel" (i.e. vehicle) to any place in the country. Most states also have laws allowing them to deny access to state land. So, national parks may deny a school bus from camping there. 
Federal and state governments justify such policies as necessary for the safety and welfare of citizens to justify denying access to certain areas at certain times. 
For example, Maine prohibits the use of state parks that may endanger persons or property. A vehicle that hangs out into the road due to being too long for the campsite endangers drivers on the road. 
Private campgrounds, like all private companies, may deny service to anyone at any time, as long as it is not discriminatory as defined by law. They usually have an official policy they may cite for denying service, but it is not required. 
Denying service to a vehicle that does not fit on the campsite would not be impermissible by law. 
---
Final Thoughts
Few campgrounds ban school buses that have been converted. Instead, most have policies that may effectively not allow school buses. These policies include requiring the school bus to be properly registered as a motor home. 
Other policies limit the length of vehicles allowed on the campsite. 
Outright banning school buses is bad publicity because it seems elitist. Therefore, campgrounds prefer using policies that do not ban school buses. When converting a school bus to a motor home, consider picking a smaller bus. Buses less than 35' (10.6 m) in length have a better chance of fitting into campsite requirements.
Find this content useful 🙂 ?
Subscribe to our Newsletter and get a free Solar Electric Diagram + shopping list.