Hi-van is supported by its audience. When you purchase using our links, we may earn an affiliate commission (no added cost to you). Learn more
Skoolies are school buses where the interiors have been renovated, and the space has been converted into a home on wheels. And while living in a skoolie seems ideal, there are significant costs involved with owning such a vehicle.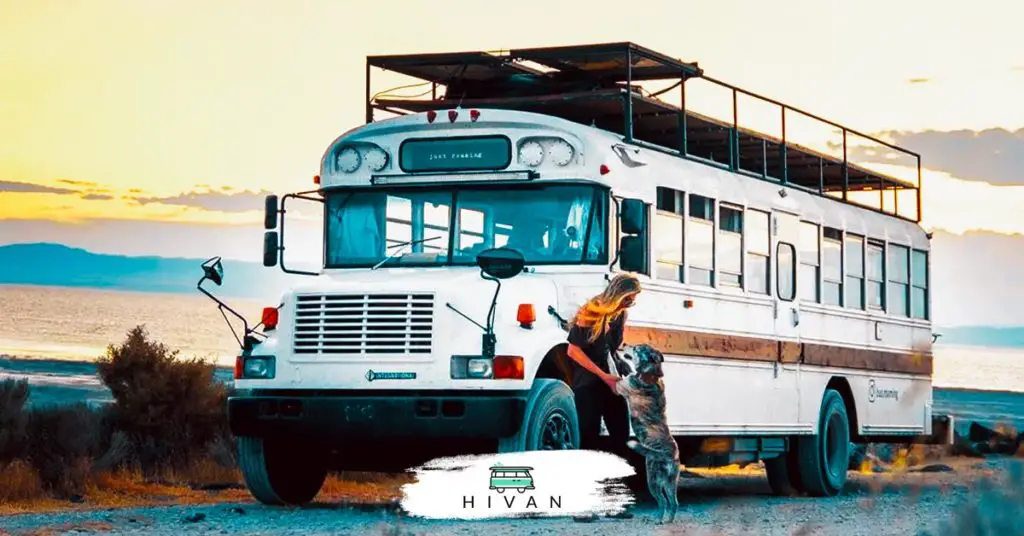 Here are 6 reasons why skoolies are so expensive:
School bus expenses
Conversion costs
Different license 
Price of upkeep
Fuel expenses 
Parking costs  
In this article, we'll explore the various reasons why a skoolie is so expensive and answer a few FAQs on skoolies.
---
1. School Bus Expenses
If you spend enough time searching, you should be able to purchase a fully-furnished skoolie stocked with the necessities of a comfortable home. But this is impractical for two main reasons:
It's unlikely that you'll find someone who has spent their time and money renovating a school bus only to sell it.
If you happen to find a renovated school bus, it's unlikely that this mobile home will possess the aesthetics or the amenities you're looking for.
The ideal way to the perfect skoolie is to get a school bus, remove the seats, get rid of some interiors, and revamp the inside with furniture and other amenities. Sounds doable, right? And it is, except that new school buses cost anywhere between $90,000 and $290,000. And that's just the cost of the bus before you've begun renovating. 
Older school buses tend to be cheaper, and you could consider investing in one to reduce your initial costs. Buses that have driven more miles also tend to be less expensive than newer buses.
However, keep in mind that older models are likely to break down more quickly due to technical issues, and the price of repairs and upgrades will increase your initial costs.
---
2. Conversion Costs
Whether you buy a new model or settle for an older school bus, you'll still have to tear down the interiors and design your new home from scratch. And there are more than a few costs you'll have to factor in when building the interiors.
Flooring 
You'll need to remove the regular metallic flooring on the bus and install the kind of floor you want in your new home. 
It's best to use high-quality flooring, and I recommend the CALI Vinyl Select Plank from Ammazon.com. This flooring is available in a variety of colors and can be easily installed over any kind of floor without glue, nails, or any type of sealant.
Interior Walls
The cost of renovating the interior walls will depend on the kind of material you use. The most cost-effective material would be recycled lumber as it can be polished to a neat, shiny finish as well.
Remember that certain materials, like tiles, tend to be heavier and will increase the overall weight of your skoolie. So you want something sturdy yet light for your interiors.
Finally, you want to ensure that the material you're using is flexible and can withstand movement as your home will be moving around a lot.
Ceiling
You could leave your skoolie ceiling as it is, but remember that the material is metal and will conduct heat. And painting over the metal won't do much to affect its conductivity. Of course, revamping the entire ceiling will increase costs, but it's unavoidable.
While wood and tiles make great ceilings, the most economical choice would be PVC, like the Art3D PVC Ceiling Ties from Amazon.com. These tiles can be easily attached to the top of your skoolie and are very lightweight, so they won't weigh down your ceiling much.
Exteriors
While some skoolie owners are comfortable leaving their exteriors as it is, the school bus walls are prone to rust quite quickly. It's best to use rust-proof paint to prevent this from happening.
I find that the Rust-Oleum 344763 2-in-1 Rust Reform & Seal from Amazon.com is the ideal solution. This paint creates a non-glossy, black coating over the exterior of your skoolie, and you can then paint over it with a color of your choice. 
---
3. Different License
Buying and converting a school bus into a mobile home involves thousands of dollars and weeks of investment. But the spending doesn't stop there; using and maintaining a school bus also involves high costs.
For starters, you can't drive a school bus with a regular license. To ensure you and everyone on the road are safe, you'll need to learn to drive a school bus and procure a license for the same.
Here you'll need to bear the costs of driving lessons and a new license.
---
4. Price of Upkeep
Skoolies are expensive to purchase and even more costly to maintain over the years. If you've purchased an older vehicle, it's likely to break down more often and will need specialist repairs to get it going again.
Even if you've purchased a new vehicle, it's likely to give you trouble from time to time, and it can be challenging to find a mechanic with the required expertise. And these are just the costs related to the technical issues your skoolie will experience.
The interior components, such as the thermostat, will also require upkeep, and the cost of fixing or replacing these devices can amp up your expenses.
You'll also need to regularly empty your septic tank and get it cleaned out to prevent odors and ensure your mobile home is running well. You'll usually need professional help with this, which can again set you back a significant amount of money.
---
5. Fuel Expenses
School buses tend to guzzle a lot more fuel than regular cars or automobiles. On average, you'll get gas mileage of about 10 miles per gallon (4.25 km per liter) for a school bus, while a car will give you an average of 25 miles per gallon (10.63 km per liter).
If you're traveling around a lot in your mobile home, chances are you'll be spending thousands every year on fuel. Additionally, fuel costs go up if your bus is older or provides poor mileage per gallon.
---
6. Parking Costs
It can be difficult to find parking for your skoolie as there are often restrictions on where you're allowed to park your mobile home. 
It may be a challenge to find parking in most areas of this city, and you will have to figure out a few places where campers are allowed. Towns and counties that are RV and camper friendly may have spaces set up where skoolies can be parked without too much trouble.
However, in most places, you'll have to find a separate parking facility to store your skoolie as you explore the city, and these parking costs can add up to be a pretty high amount each year.