Hi-van is supported by its audience. When you purchase using our links, we may earn an affiliate commission (no added cost to you). Learn more
So, you've had enough of car honks, social media, polluted air, and everything else that's jarring about city life. You need a break, and camping in the woods sounds like just what you need. But is it even legal?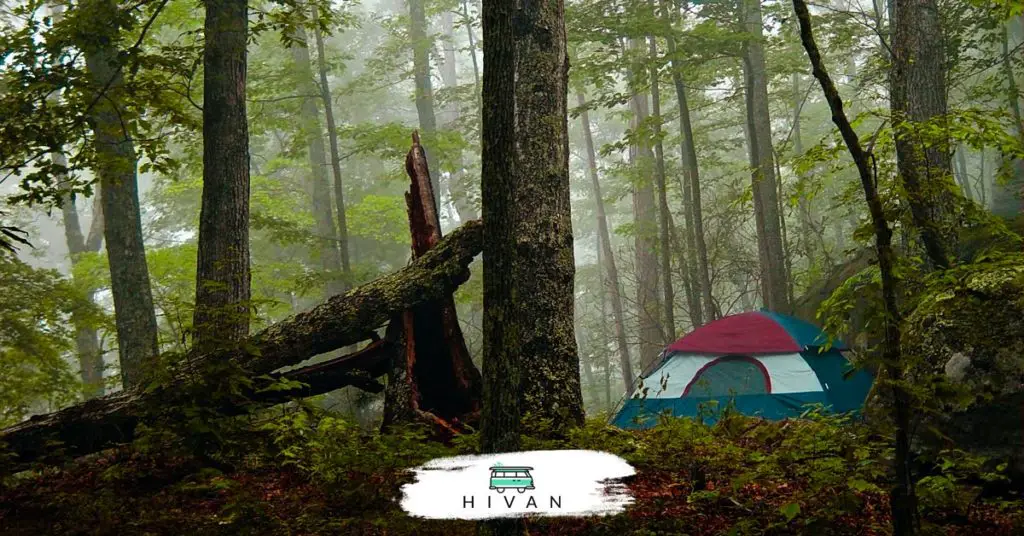 Camping in the woods is generally legal on public forest grounds as long as you follow the rules and regulations and practice safety measures. In some cases, you might need a permit from ranger stations. You can legally camp in the National Forest land in the US unless there's a "no camping" sign. 
Though it's generally permissible to camp on National Forest land, there are a lot of essential details to take care of. For instance, the maximum permitted length of your stay, the regulations, safety laws, and parking. Read on to find out more.
---
Can You Camp Anywhere in a National Forest?
Almost all states have national forests for public recreational activities and provide people with opportunities for solitude, reflection, and connecting with nature. You'll find fresh air, peace, and quiet in almost all parts of the national forest, but can you set up your tent just about anywhere? 
Before camping anywhere in a national forest, contact the relevant forest authorities. Rules can differ, but camping in the national forest can be generally divided into two parts: camping on designated campgrounds and dispersed camping, which is camping outside of campgrounds.
Designated Campgrounds
Designated campgrounds offer more convenience. 
For instance, you get relevant camping facilities like fire pits, tables, chairs, trash removal services, or access to toilets. However, there's generally a fee to pitch your tent on these campgrounds in the national forest.
Designated campgrounds can vary in the level of comfort, services, and camping facilities they offer. Some are pretty basic, providing only the necessary amenities, while others are more advanced, which might include electricity, cabins, or yurts. 
But as you'd imagine, the fee gets higher and higher as you go for more and more decked-out designated sites. 
Dispersed Camping
Dispersed camping, on the other hand, is more free-spirited. It involves picking any spot you like within the national forest, as long as there aren't any camping restrictions on that particular site. It's often depicted in the US by signboards saying "No Camping." 
But even if you don't see one, it's best to check with the authorities before you set up camp. 
Dispersed camping is much more challenging than using designated campgrounds, as you will be on your own. You might find some toilets nearby if you're lucky, but don't count on them. On the plus side, you get to enjoy more solitude and privacy and don't need to pay a fee for dispersed camping. 
Since you're basically on your own, you'll have to be more responsible, careful, and skillful to carry out dispersed camping well. Besides yourself, you also need to take care of the site you're camping on. 
And that brings us to the next section of this article. 
---
USDA Rules for Dispersed Camping
There are regulations in place to ensure that campers do their part in preserving the natural resources on campsites. These rules help make the activity safe and keep the national forest grounds well-maintained for other campers. 
The rules for dispersed camping include:
You can only consecutively camp at one dispersed camping site for a maximum of 16 days. After that, you are required to pack up and move at least 5 miles (8.04 km) away to another available spot on the national forest land. 
According to the USDA's Leave No Trace guidelines, you must make sure you leave your camping site exactly as you found it, if not better. It includes camping on durable surfaces, appropriate waste disposal, leaving what you find (plants, rocks, and even historical artifacts), respecting the wildlife, minimizing campfire impacts, and respecting other visitors. It's recommended to have a pack-in pack-out camp.
Groups of 75 or more people must obtain a special use permit to use the forest legally. It's free and can be obtained at the District Office near you.
Bring your own resources as dispersed camping doesn't offer any facilities or amenities for sustenance. 
The US national forest has bears, so make sure you're aware of the associated risks.  
Contact the local Forest Service office to make sure you're compliant with all restrictions that apply to the site you're camping on.
Moreover, remember that dispersed camping isn't allowed near developed recreational areas like picnic spots, trails, or designated campgrounds. The USDA advises pitching your tent at least 150 m (492.12') away from a roadway and 100' (30.48 m) away from a water source to avoid damaging any resources.
You should only drive on pavement and existing roadways to access and exit your dispersed camping sites. Driving on meadows is not allowed to ensure the prevention and preservation of the forest's natural resources. 
---
Relieving Yourself While Camping in the Woods
Not everyone is blessed enough to have the luxury of restrooms while camping in the woods. You'll only have that if you choose to camp on designated campgrounds that have restroom facilities available. 
However, dispersed camping doesn't have any bathrooms to work with. And, natural streams of water can be contaminated by visitors' garbage and human waste if it's not taken care of. 
According to USDA's guidelines, here's what you need to do to go to the bathroom during dispersed camping:
Dig a hole at least 100' (30.48 m) away from water sources and at least 6" (0.15 m) deep.
After relieving yourself, dispose of your toilet paper in a waste container. 
Fill the hole back up.
Never leave toilet paper on the ground, as it can litter the woods or contaminate a nearby water source. 
---
Conclusion
Camping in the woods is a fun way to cleanse off the city's effects on your mental health and reconnect with nature. However, just like you rely on nature for your wellbeing, nature also depends on you to preserve its resources. 
While camping in the woods is not illegal, you still need to follow specific regulations to make sure the national forest remains green and healthy for everyone. 
Find this content useful 🙂 ?
Subscribe to our Newsletter and get a free electric diagram + shopping list.