Hi-van is supported by its audience. When you purchase using our links, we may earn an affiliate commission (no added cost to you). Learn more
Van life is growing in popularity. The freedom of traveling with all of your belongings is enough to make some people ditch the house and white picket fence and hit the road. But is this nomadic lifestyle doable for a family of four?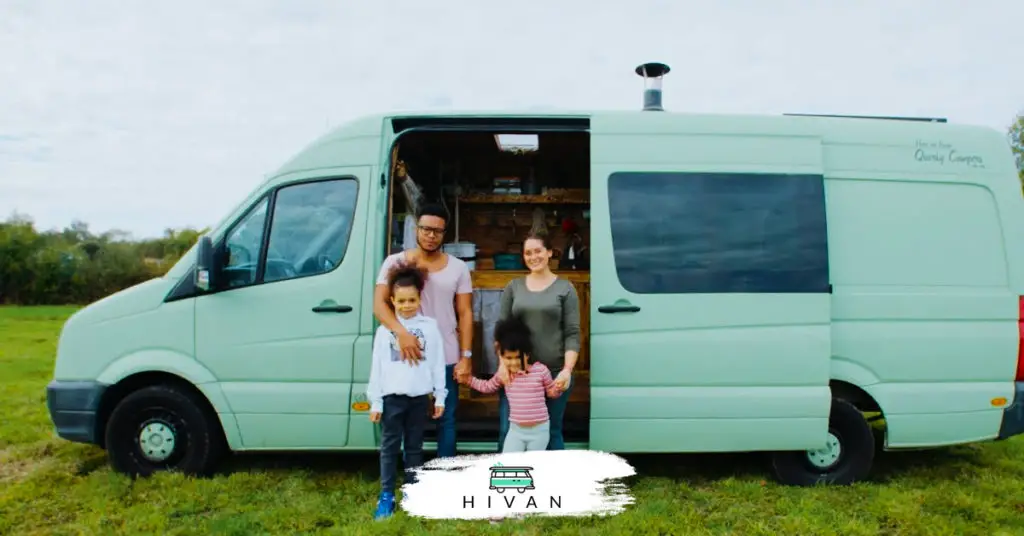 A family of four can live in a van, though you may find yourself tight on space at times. The reality of living in a van will be different for each family and will depend on the age of the children, size of the van, and overall passion for living on the road, but it is possible!
In this article, we'll dive into the ways you can make van life work for your family of four. Whether it is fewer belongings, more pit stops, or a bigger van, there are ways to make it work! However, it is important to keep in mind that the transition to van life will not be easy, and there are a lot of aspects to prepare for, especially when traveling as a family.
What To Know and Consider When Moving Your Family on the Road
If you are planning to ditch the house and transition to van life with your family, there are several things you need to consider in advance. 
Logistically, you need to consider the size of the van, the amount of storage needed, the sleeping arrangements, the cooking arrangements, and sanitary needs like showering and bathrooms. If you have a baby, you need to consider diapers and room to grow as well.
Emotionally, you need to make sure your family is ready for the adjustment. Van life is not for everyone, and it is important to make sure all your family members are on board and on the same page with how their lives will change by living in the van. 
Size of Van
The likelihood of a family of four living in a van definitely depends on the size of the van. You need to make sure you have room to sleep, prepare food, store belongings, and more. 
In general, the bigger the van, the more likely it will be to live with a family of four in it. 
You need to ensure everyone has a spot to sleep and travel safely while on the road. This means having space for car seats as well if your children are young. 
Storage room is also a must. You will need to consider space for clothing, diapers, food, toys, and more while on the road. 
Renovated Mercedes Sprinter vans are the most popular choice for this family setup. However, for a large family, it may be easier to opt for an RV rather than a van. This is because seating and sleeping spaces are already included, and you won't need to spend too much time refitting them. 
Ages of the Children
Have you ever tried to take a long road trip with multiple teenagers in the car? It doesn't always go as planned. On the opposite side of the spectrum, have you ever tried traveling with several small, restless children? 
A lot goes into deciding if van life is for you, and the age of your children is a crucial consideration in this decision. 
If your children are pre-teens or teenagers, van life may not give them the privacy and independence they need to continue growing up. They may also lack the socialization opportunities that are important at that age, including sports, hobbies, and school. But once again, that's up to you and it's totally possible to embark on a journey even if your kids are at that age.
Younger children can be restless and noisy, which may soon grow old in the smaller confines of a van. At the same time, they are more adaptable to different ways of living. They are also smaller and take up less space, and it's also easier to keep them entertained. 
To keep smaller children entertained during long road trips without taking up too much of your precious space, you can get these Maliton Back Seat Car Organizers from Amazon.com. You can load them with toys, books, or a tablet to keep your young ones entertained. They also save space, so you don't have to worry about losing out on toys and entertainment because you need the storage for essentials. 
Another consideration is sleep habits. One of the most difficult aspects of living on the road with multiple people is having enough space to sleep, which only gets complicated with children involved. Younger children may want you to sleep with them for added comfort, while older ones may want more privacy at night.
And that's without considering how you're going to create sleep space in your van, especially a space that can accommodate growing children.
I recommend this Thick Folding Full Mattress Topper from Amazon.com. It's a great alternative to additional beds as you can easily fold and store it during the day. At night, you can lay it on the camper floor for your children to sleep. With a 4-inch (10.16-cm) mattress pad, it is comfortable for both adults and children. Additionally, it should last you a couple of years before your little ones outgrow it (or wear it out)!
Pets
If your family has pets, you need to take those furry family members into consideration as well. If you plan to keep them with you on the journey, you need to plan space for them as well. If you are going to have a trusted friend or family member look after them, make sure that is arranged ahead of time. 
If your furry friend hits the road with you, make sure you're prepared with accessories like beds, crates, toys, food, and more. You also need to be ready to protect your van from shedding and inadvertent accidents. 
The Active Pets Dog Back Seat Cover Protector from Amazon.com is great for larger animals to make sure nothing gets damaged during your travels. Place it on the floor or over the bed while driving – while this won't stop your dog from shedding or having an accident, it will make clean up significantly easier (and more pleasant)!
Find this content useful 🙂 ?
Subscribe to our Newsletter and get a free electric diagram + shopping list.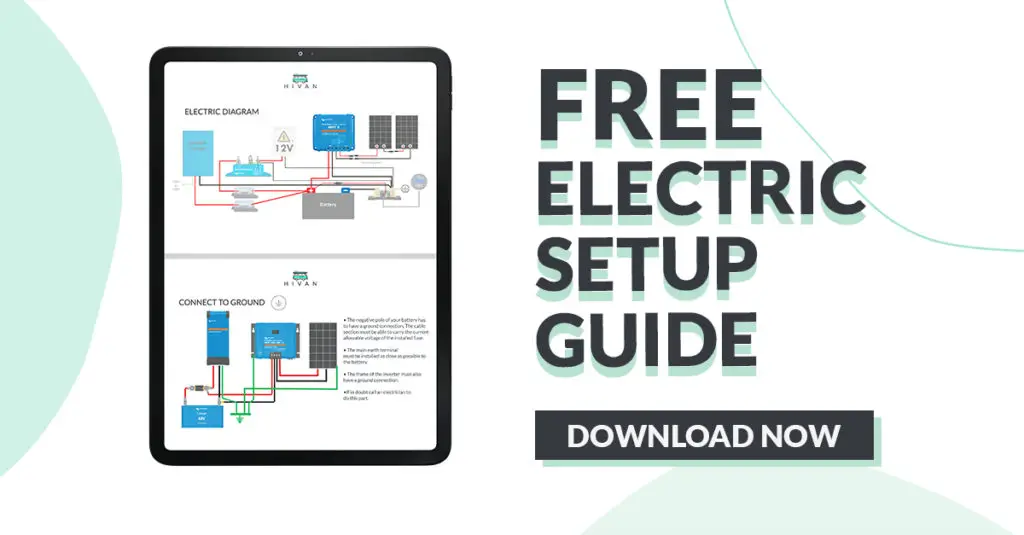 Ways To Introduce Your Family to Van Life
If you've already decided to take the plunge into van life, there are various ways to make the transition easier for everyone involved. One way to do this is by introducing van life slowly by taking a trial trip. Plan for a week or two in a place not too far away. 
If your family succeeds in a shorter van trip, it gives insight into how prepared they are to make the move full-time. It also will show you what you need to work on to prepare for during your next trip.
Another way to introduce your family to van life is by having them contribute to preparing the van. Allow your kids to help with colors, decorations, planning meals, and more. Feelings involved in the process may help them adjust better to live on the road.
As long as you're careful and conscious of any concerns that your kids may have, van life is definitely possible for a family of four. You don't just have to take my word for it – you can also check out this YouTube video that covers a family of four, including two young children, living in a not so big van:
---
Final Thoughts
Living on the road can be a big transition for everyone involved. While living in a van as a family of four is not compatible with everyone's lifestyle, it is definitely possible as long as you're prepared accordingly and have an open mind to the experience!