Van life is fun, especially when shared with family, but before you buckle up and start your journey, you want to make sure that your seats are safe and comfortable, especially with a baby around. For safety reasons, your baby should sit in the backseat. The standard seat isn't ideal for a baby, so you'll want a dedicated seat for your baby.
A baby seat can go in a van as long as you make room for it. You may need to modify your van's interior layout to fit the baby seat. What's great is that baby seats can easily be folded when not in use, so you can maximize your living space whenever you're off the road.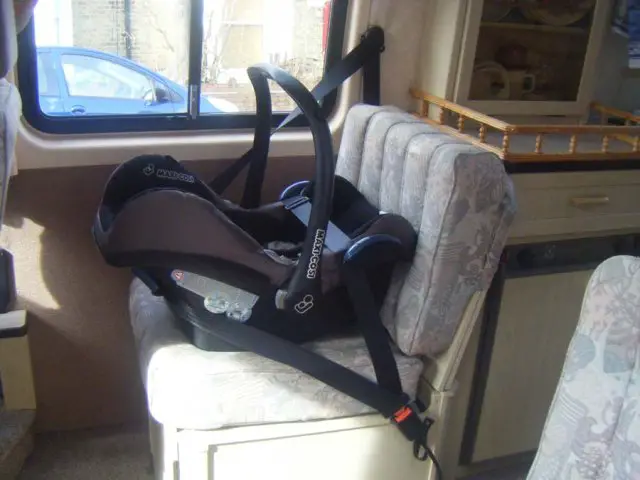 Generally, the law requires everyone to wear their seat belts when on the road, including babies. In this article, I'll explain how to travel safely in a van with your baby. I'll also share some tips on storing your baby seat in the van. That's one more article for our van life guides collection.
Traveling With a Baby in a Van
If you can travel safely with a baby on a plane, you indeed can travel with a baby in a van. On the plane, parents are required to keep their babies safe throughout the flight. If you've traveled with your baby on a plane before, you should already know that parents must bring with them a baby lap belt or a child seat for their babies.
The same goes for van travel. You are required to keep your baby safe by ensuring that the seat belt is on. Since the standard seat is too big for a baby, your baby has to have a dedicated seat.
How to seat your baby:
Put your baby in an infant rear-facing car seat. Place the baby seat on your van seat and secure it using the van seat belt. This is the best type of seat for your baby because it has a harness and will cradle if there's an accident to lower the impact the crash has on a baby or child's neck and spinal cord.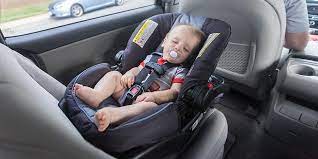 You must never put your baby in a vehicle without rear seats. Your baby will continue to sit on a rear seat until he/she reaches the height and weight allowed by the vehicle safety seat manufacturer. 
It's also best to have an adult sitting in the back seat with the baby for safety reasons; otherwise, you can always keep an eagle eye on your baby at all times.
Putting Your Baby in the Back Seat
The best spot for your baby seat is in the back seat, away from airbags. Some vehicles have airbags on the sides of the back seats, so you want to check if your van has this feature to determine whether or not they are dangerous for your baby. The rear seat airbags are typically smaller than the front ones.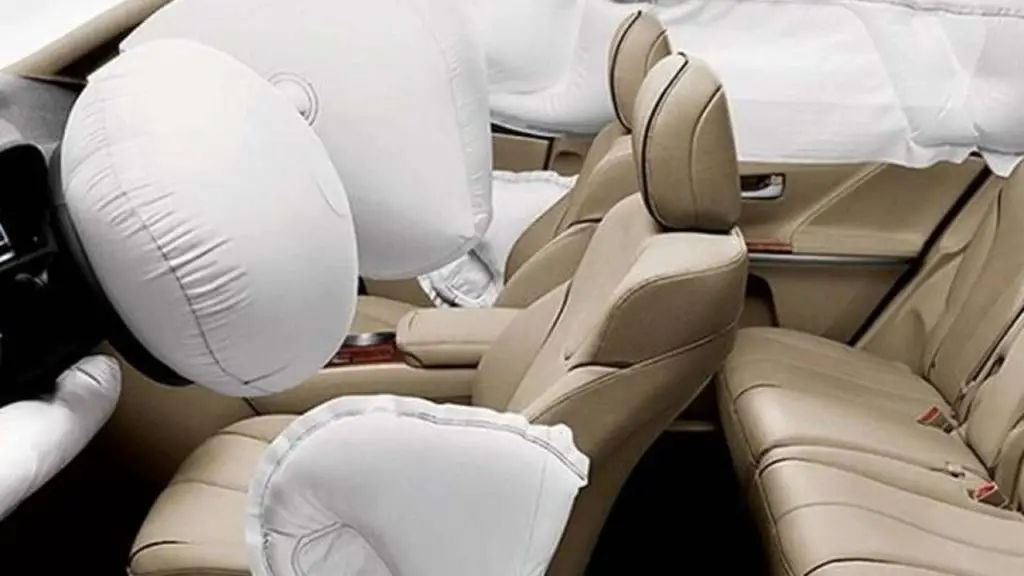 What you can do is switch off the airbags. This function, however, typically doesn't work with older vehicles. Also, if you do this, you will not have any airbags to protect you, which can be dangerous if you get into an accident. 
Switching off car airbags is also considered illegal in many states around the US, such as California, so you want to check with local laws on this to avoid fines. 
Fortunately, rear airbags are usually optional, so chances are your van doesn't have one. Even if there are rear airbags in your van, you can put your baby seat at a safe distance from the airbags, like in the middle of the back seat. 
Of course, you need to look at the layout of your van. If you're building your travel van, you can design it to be space-friendly for you and your baby. Campervans are generally designed to help campers maximize all the space they have.
For example, the van seat that seats your baby seat can be folded when not in use. If you want to remove the back seats to make more space in the van, make sure you leave one or two seats for your baby. You want to avoid seating your baby too close to the side windows when driving.
How To Put a Baby Seat in a Van
You must install your baby seat correctly to prevent it from falling, especially if you cannot be present in the back seat with your baby. So, before you hit the road, make sure you get familiarized with the car seat parts and learn how to install your van seat base to your baby seat. 
Here's a guide on how to install your baby seat in the van.
Step 1: Install the Car Seat Base.
To secure your baby seat in the van, you must first install the seat base, preferably in the middle of the seat. Then, of course, you're going to set up your baby seat base wherever is suitable, depending on the layout of your van. Earlier, I mentioned that it would be best to have a baby seat away from the car sides.
A study found that children aged between 0 and 3 are 43% safer in the center of the back seat than on the rear side.
That said, you should consider putting your baby seat in the middle of the van. In addition, the base of your van seat should sit at an angle between 30° and 45° when appropriately seated.
Step 2: Use the Seat Belt To Secure the Baby Seat.
Secure the seat base to the van using the van seat belt and then lock the seat belt. You can lock the seat belt by pulling it out. It would be best to inspect your seat belt to make sure that it is not faulty for safety reasons.
Step 3: Tighten the Seat Belt.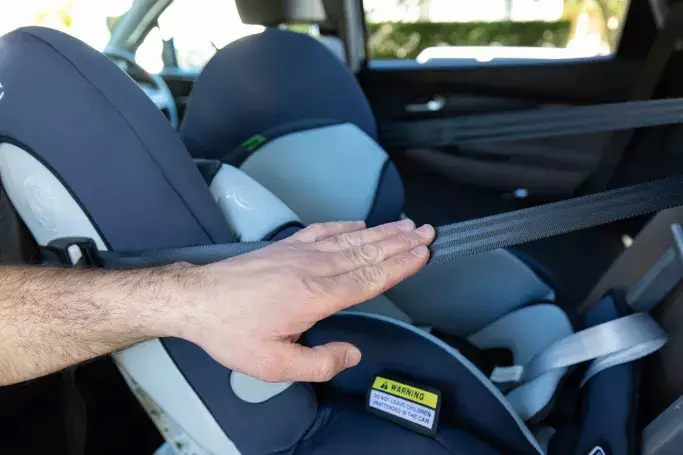 To ensure that the baby seat will stay in position, tighten the van seat belt. You can do this by putting one side of your hands on the car seat base while the other holds the seat belt strap. Then, you want to pull the seat belt gently as you lower the seat base.
Step 4: Make Sure the Seat Base Is Secure.
You want to make sure that the set base is secure. When secured, the base will not move easily. Check the angle of the seat base to ensure that it is stable enough for the baby seat and tight enough when buckled.
Step 5: Install Your Baby Seat.
Now that you have a van base seat secured, you can safely install your baby seat. All you have to do is connect the baby seat to the base and place the car seat on top of the base. Important: The baby seat must be placed facing the rear seat.
Find this content useful 🙂 ?
Subscribe to our Newsletter and get a free Solar Electric Diagram + shopping list.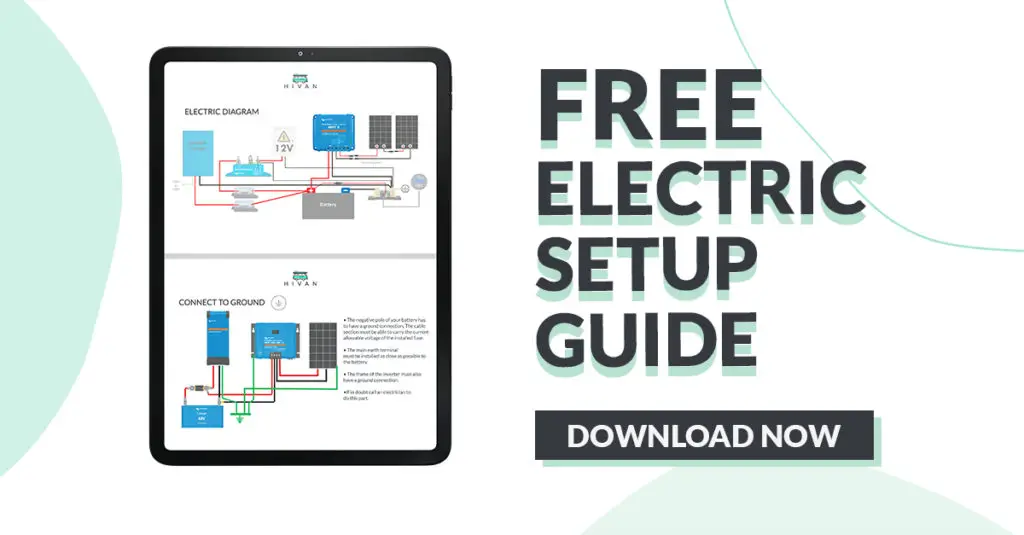 Using a 2-in-1 Baby Seat
After the long drive, you will want to stop in a new location and explore it with your baby. If you don't want to carry your baby all the time, you'll want to have a stroller with you. Strollers can take a lot of space in the van; plus, you already have your baby seat taking a lot of space in the van.
Space is a luxury when it comes to van life. A baby seat and a stroller can take up a lot of space in the van but not if you store them strategically. Your baby seat and stroller can go on your van front seat at night.
I recommend using the Doona Infant car seat from Amazon.com, which works as both a baby seat and a stroller. This 2-in-1 baby seat is not cheap, but it will add more value to you and your baby due to the quality and convenience it offers. Plus, it'll help you save space in your van.
Final Thoughts
When traveling in a van with a baby, it's essential to give your baby a proper seat, not hold her/him on your lap, or put the baby seat at the front seat. Since the standard seat is unsuitable for a baby, you want to install a baby seat in the back seat, with it facing the rear seat. When not in use, store the baby seat at the front seat to save more space in the van.