Hi-van is supported by its audience. When you purchase using our links, we may earn an affiliate commission (no added cost to you). Learn more
Finding a mattress for your campervan can be challenging because there are so many options. It's best to measure your campervan's bedding area, so you know what size you'll need. Most campervans have enough space for a full mattress, so most of the options we'll explore will be a full or queen.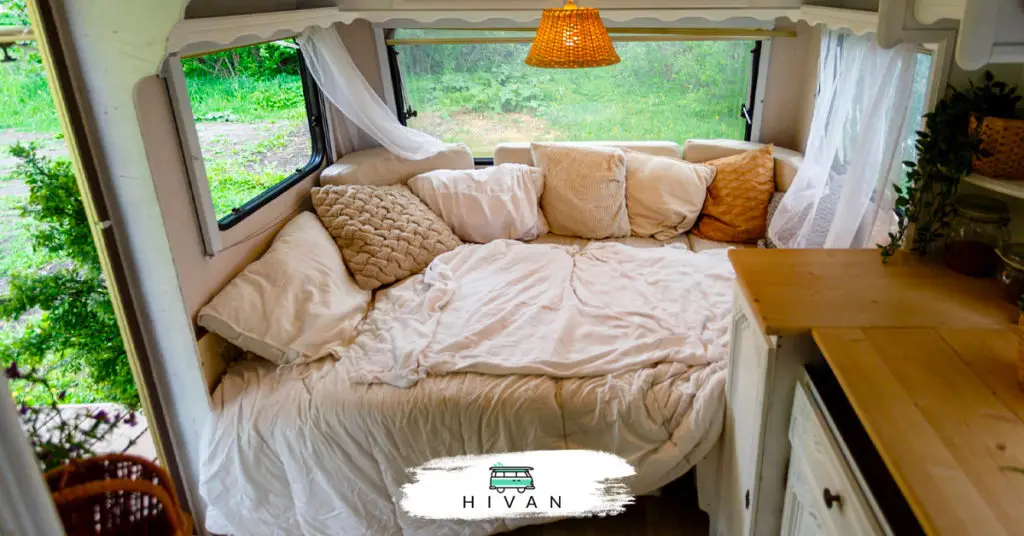 The best campervan mattress is the Zinus Green Tea Memory Foam Mattress. This full-sized mattress is infused with green tea extract, providing longevity and improved sleep and relaxation. It distributes body heat throughout the surface, preventing you from getting too hot or cold.
However, there might be a handful of other mattresses that could be better for your campervan, such as:
The Milliard Tri-Fold Mattress is best for those with a converted table-bed to save space
The Sleep Innovations Marley Mattress will keep you cool in warm weather
The Olee Sleep Aquarius Mattress promotes warmth without discomfort
The Linenspa Innerspring Mattress will save you plenty of money without sacrificing comfort
In this post, we'll show you what you should look for, followed by our favorite campervan mattresses. Enjoy!
---
What to Look For When Buying a Campervan Mattress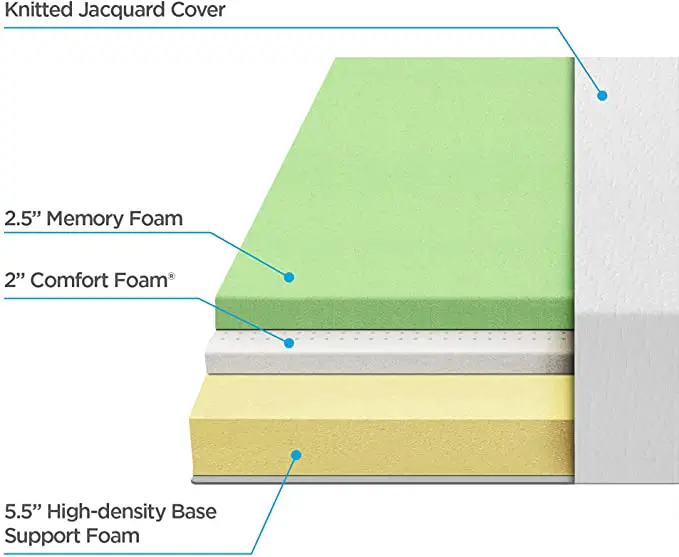 When you're looking for a new campervan mattress, it's a bit different than finding one for your house. After all, you don't have nearly as much space, and you'll likely encounter a wide range of temperatures.
Here's a list of three essential factors to consider:
Portability: Are you installing a permanent bed, or will you fold it and mount a table for eating, cooking, and more? There are plenty of golding mattresses, but they're usually not as comfortable as permanent mattresses.
Cost: How much will the mattress cost, and when will you have to get a new one? Some people require mattress toppers, which could be an extra expense. Thankfully, most of the listed mattresses are soft enough not to need one.
Comfort and size: How much space do you have for your mattress, and how thick should it be? Again, most campervans are suitable for full-sized mattresses, but you can choose anything between four to twelve inches thick for maximum comfort.
Without further ado, let's break down these features below.
Portability
Portability is one of the biggest deciding factors for many campers. A tri-fold or bi-fold mattress is likely your best bet if you don't have much space in your campervan. They can be folded and stored whenever you want to remove them and bring out a table, bench, or additional storage space.
However, with portability comes less comfort. Many of us prioritize comfort, especially if we're living a full-time life on the road. It's up to you to decide if you'd prefer a foldable, portable mattress or a permanent, stationary one. Folding mattresses usually cost much less than a permanent mattress, which leads us to the next factor.
Cost
How much do you want to spend on your mattress, bed frame, and so on? Getting a 14-inch thick queen-sized mattress is tempting, but you don't want to spend a large portion of your budget if you have other priorities.
You could save money with a hybrid mattress, such as the Linenspa Mattress mentioned later in the article. Hybrid mattresses typically have innerspring construction topped with a thin layer of memory foam. They provide excellent support, but they mold to your body shape and will indent if you always sleep in the same position.
Needless to say, the more you spend, the better your mattress will be and the longer it'll last.
Comfort and Size
Comfort and size are crucial. How thick can your mattress be without making you bump your head on the ceiling? According to Amerisleep, side sleepers should get a mattress that's at least 10 inches thick, preferably 12 to 14 inches.
That being said, you can get a 6-inch mattress and top it with a mattress topper. Some people are okay sleeping on their side on a thin mattress. It all depends on what you're comfortable with.
Below, you'll find a table comparing the thickness of each mattress to get an idea of which could be the best for your campervan.
| | | |
| --- | --- | --- |
| Mattress | Thickness | Material |
| Zinus Green Tea Mattress | 10 inches | Green tea memory foam |
| Milliard Tri-Fold Mattress | 4.5 inches | Firm foam |
| Sleep Innov. Gel Mattress | 8 inches | Cooling gel memory foam |
| Olee Sleep Mattress | 10 inches | Soft memory foam |
| Linenspa Mattress | 6 inches | Innerspring |
Winners: Olee Sleep Mattress & Zinus Green Tea Mattress
The Wayward Home explains some people are better off getting a custom-made bed frame to match their campervan. This method will let you choose your favorite mattress before worrying about whether or not the frame will be the right size.
Related Articles:
10 Great Ideas to Decorate Your Campervan
How to Make a Van Bed Frame (Step-By-Step)
Can You Use Regular Sheets in an RV?
Our Top Picks
---
The Zinus Green Tea Memory Foam Mattress is a classic bed-in-a-box that's nearly effortless to set up. After building or installing your bed frame, the last thing you want to do is haul a heavy mattress all over the place. This mattress is infused with green tea extract, castor oil, and a couple of other ingredients to promote relaxation and sleep naturally.
This mattress comes in multiple sizes, including twin, full, king, queen, and variations of each model. You can also select 6, 8, 10, or 12-inch mattresses to find out which is best for your campervan. The triple-layered mattress creates cooling comfort that forms to your body for the ultimate night sleep wherever you camp.
Bottom Line: The Zinus Green Tea Mattress is at the top of the list for comfort, convenience, health purposes, and customizations. You'll receive the best of both worlds with cooling technology and density to support your body throughout the night.
Pros
It's made with three layers designed to support, cool, and relax.
You can choose from a variety of sizes and widths.
The green tea infusion keeps your body calm until the morning.
It's as comfortable as it gets and has thousands of reviews to back these claims.
Cons
It's one of the most expensive mattresses on the list if you want the queen 12-inch size.
This mattress is heavier than most on the list, so it's hard to remove once it's installed.
---
Those who prefer portability and multi-purpose spaces should check out the Milliard Tri-Fold Foam Mattress. It unfolds into a twin XL, full, or queen-sized mattress, depending on which layout you prefer. These mattresses are 4.5 inches thick and can be folded and stored almost anywhere.
If you're building a DIY campervan conversion, this Milliard Mattress should be near the top of your list. It's no secret that campervans lack the interior space of RVs, so why not store your mattress under a converted table or bench? You can unfold it and sleep at night, then turn the bedroom into a dining room during the day.
Bottom Line: Milliard makes all sorts of tri-fold mattresses, all of which are worth considering for your campervan. Nothing beats the convenience of additional storage or moving room when you're confined to a small space (especially during rainy days!).
Pros
This mattress is the best campervan bed for those who want to have multi-purpose spaces.
You can choose from three sizes to fit your campervan.
The firm foam protects your body from the hard surface of your bed frame.
Cons
It's not the best solution for side sleepers since it's only 4.5 inches thick.
You won't get the same comfort as a permanent mattress, especially in the folding cracks.
---
Do you love taking your campervan to warm climates or cruising through your favorite summer camping spots? Having a cooling mattress is of utmost importance to keep you well-rested throughout the night. The Sleep Innovations Marley Cooling Gel naturally absorbs and disperses your body heat, preventing you from waking up in a pool of sweat.
This mattress comes in five sizes ranging from twin to California king and three widths, including 8, 10, and 12 inches thick. To increase its ability to redistribute your body heat, the cooling gel is split into three layers that create channels that funnel and remove excess heat. The result is a cool, mid-level firmness that doesn't build up overnight.
Bottom Line: Whether you're camping through the summer or love the southern states, Sleep Innovation's cooling gel technology is second to none in terms of relaxing, stay-cool nights. From the multiple layers of foam to the previously mentioned gel channels, you won't find many mattresses that compare to this one in its price range.
Pros
It's one of the best cooling mattresses, even compared to those far more expensive than it.
This mattress has edged corners, so it should fit into your campervan without sliding around.
The supportive center is ideal for solo campers but can accommodate an additional person.
Cons
This mattress is a bit more expensive than others on the list, though the comfort and heat distribution makes it better than others at the same price.
It's a bit firm and takes a few minutes to mold to your body shape.
---
While most people look for cooling technology in their mattresses, some of us prefer to sleep warmer. If you love camping in cold climates, it's essential to have a mattress that doesn't release too much heat. The Olee Sleep Aquarius mattress absorbs your body heat and distributes it throughout the mattress without letting it escape.
Your mattress will stay warm, but you won't have to deal with hot spots. It comes as a twin, full, queen, and king size. All of the mattress sizes are 10 inches thick. Whether you're a side sleeper or back sleeper, you'll enjoy a restful night's sleep.
Bottom Line: If you like camping in cold places, you should have a mattress made to keep you warm. The Olee Sleep Aquarius is the best option you'll find for your campervan. It fits most sizes, so you don't have to stress about not having enough room.
Pros
It's the perfect mattress for those who enjoy sleeping in their campervan during cold nights.
Three layers of heating, soft bedding prevent moisture from inviting mold and mildew.
Cons
You shouldn't use this mattress if you like camping in hot environments because it doesn't release your body heat quickly.
It only comes in one width (10 inches), which make or may not be a con for you.
---
Last but not least, the Linenspa Innerspring Mattress saves you plenty of money without making you uncomfortable. This mattress has springs topped with a bit of foam to prevent them from poking you in the back, unlike most old-school spring mattresses.
While this model is 6 inches wide, you can choose others that include 8 and 10 inches. Whichever size you choose, you'll enjoy unparalleled support throughout the night,
Bottom Line: Innerspring mattresses often get a bad rap for being uncomfortable, but they've come a long way in recent years. The Linenspa Mattress doesn't cost a fortune so that you can save money for other campervan renovations.
Pros
These mattresses are some of the cheapest you'll find for permanent solutions that won't cause back pain.
The spring coils are designed to last for many years, preventing them from pushing through the upper foam layer.
Cons
The springs don't do much in the way of cooling or breathing.
They're not as comfortable as cooling gel or green tea mattresses.
Conclusion
There's no denying the comfort and natural relaxation provided by the Zinus Green Tea Mattress, but you might've found one of the other four mattresses more suitable for your campervan. Finding a good mattress for your van requires proper size, placement, and comfort. We hope you've found your new favorite bedding today!