Hi-van is supported by its audience. When you purchase using our links, we may earn an affiliate commission (no added cost to you). Learn more
Most ready-made campervans feel a little cold and utilitarian, and that's why coming up with your own campervan decoration ideas is important. This guide contains some great ideas that will help you decorate your campervan so that it offers the most welcoming and enjoyable environment. 
---
Best Campervan Decoration Ideas
The internet is filled with all types of van interior decoration ideas. Thus, it becomes daunting to separate the best ones from the ordinary. Only if someone could compile a list of the best campervan decoration ideas, well, you are in luck!
1. Choose A Color Scheme
Having your own color scheme that runs throughout your campervan allows you to have the most beautiful, consistent, and comfortable environment. Make sure that you keep your theme cohesive and simple because too many patterns and colors will make the space feel too overwhelming.
2. Get Fancy with Flooring
Flooring is one of the most important parts of van conversions, just like a house. Bamboo flooring and vinyl planks are some of the most popular flooring ideas. Not only are they easy to clean, but they also resemble real hardwood floors.
In order to keep your space warm and cozy, you can also place a colorful rug that is aligned with your overall color scheme. It especially comes in handy if you like to travel in places with cold temperatures.

3. Add Lighting
Setting up lighting is an excellent way to keep the van functional and full of fun, especially at night.

You can use fairy lights with different colors that compliment your color scheme. At the same time, make sure that you keep the lighting simple. You can hang up strip lights or LED fairy light strands in different areas to keep your van feel cozy and illuminated.
4. Efficient Space Management
Using your van space efficiently is critical. For example, if you need space to work, then you can install a small table that can be easily folded away when not in use. Not only will it make your van more functional, but it'll also feel more spacious with less clutter.
Related Article: The Complete Guide to Van Life Clothing Storage
5. Customize Your Kitchen Space
Your van's kitchen space is the heart of your mobile home, just like your house. You can install splash-backs mosaic tiles with different colors and patterns on your kitchen floor. It'll allow you to add something different yet more attractive to your interior.
You can also build several little shelves in your van's kitchen for spices and jars. Not only will it allow you to store your supplies safely, but it'll also save some room up for more storage, and your campervan will also look quirky and unique.
6. Include Nature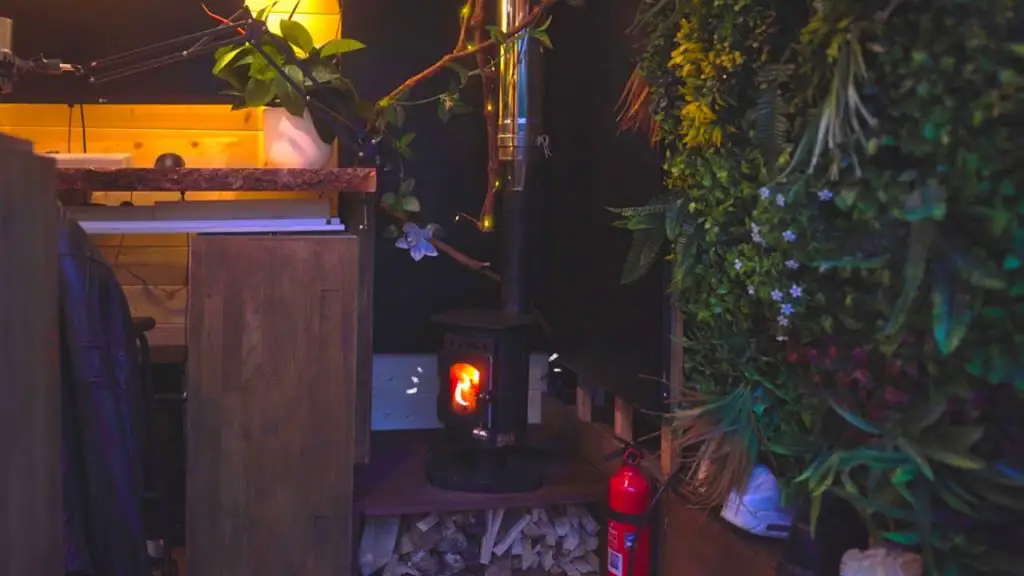 You can place both fake and real plants into your van space to provide it with a more natural, outdoor, and airy look. It'll feel aesthetically more pleasing. Little plants and flowers will add more character and beauty to your interior space so that the environment feels more welcoming and comfortable.
Don't forget to install a roof vent to receive more natural light during the day. It'll provide your campervan with an illusion of more space. Installing blinds or curtains for windows is also an excellent idea to keep the morning light while you're sleeping.
It'll also provide you with the feeling of living indoors with more privacy rather than spending your time in an ordinary camper that's parked up in the middle of nowhere.
7. Dress Up Your Walls
Placing shiplap or plywood panels on your van's wall is yet another great decoration idea. 
Not only will it make your campervan feel more like a home and less like a mere mode of transportation, but it will also make the interior more attractive. We recommend you paint these panels using neutral and timeless tones such as tan, beige, and white. It'll make your mobile home feel more spacious and larger by opening up the space.
8. Make A Dining Area
If you like to travel with your family and friends, consider creating a multipurpose dining area.

It'll be a functional and decorative addition to your home on wheels. As mentioned earlier, consider using a foldable or removable table because it will allow you to transform your dining area into a sleeping or resting place whenever needed.
9. Integrate A Pullout Deck
The indoor space of your van can be used in different ways, but you don't necessarily need to use it to enjoy lunch or dinner with your friends or family. That's because you can install a pullout deck at the side or the back of your vehicle.

It'll allow everyone to sit together for a meal instead of going inside and trying to find space to sit and eat.
On top of that, a pullout deck will also help you when you're lounging outdoors. It can also work as a desk if you need to work on the road or as an added counter space to prepare meals.
10. Exterior Decoration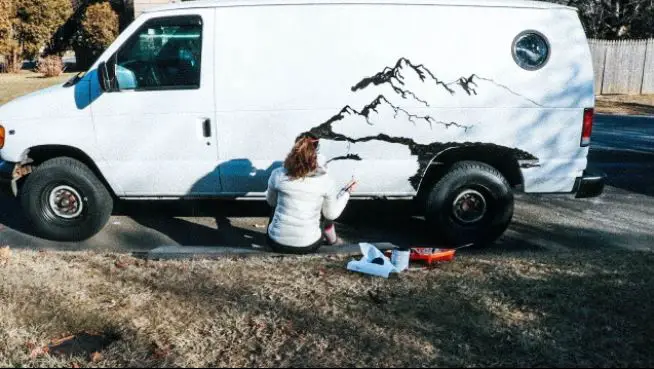 The list of campervan decoration ideas will be incomplete if we don't include exterior decoration. After all, it'll be the first thing that people will notice about your mobile home. You can respray the entire exterior of your van that complements your selected color scheme.
If you're on a budget or just don't want to respray your vehicle, consider using decal stickers, which aren't only affordable but also easy to use. They come in different styles, colors, and you can also remove them whenever you want.
Final Words
It's critically important to choose campervan decoration ideas that not only add beauty to your space but also make it more functional. Otherwise, you'll end up in an environment that's too overwhelming and full of clutter.
We hope this guide will help you decorate your mobile home in a more effective and efficient way to make it a hip oasis. You can use any of these decoration ideas whether you've just bought a ready-made campervan or are planning to convert your simple van into a home on wheels.
Happy Mobile Living!