RVs are great for getting a break from the stress of everyday life. Unfortunately, the mattresses can be difficult to sleep in if you're not used to them. Will regular sheets will work with an RV's mattress?
You can use regular sheets in an RV. However, if the sheets have a zipper or buttons on them or are smaller or larger than your RV bed, they may not fit properly. Additionally, it's best to use fitted sheets rather than flat ones to provide more support to the mattress and prevent sagging.
The rest of this article explains the standard features of RV sheets and how to fit regular sheets on an RV bed. Read on to learn about these and gain some tips on choosing the best bedding for your RV. By the way, if you're in the process of building your van, I recommend you to check my resources van build page.
Do RV Beds Need Special Sheets?
Generally, RV beds require special sheets. This is because these beds are usually narrower and shorter than the ones used at home. RV sheets are typically designed with these specifications in mind. However, you can fit regular sheets on RV beds as long as their dimensions are compatible.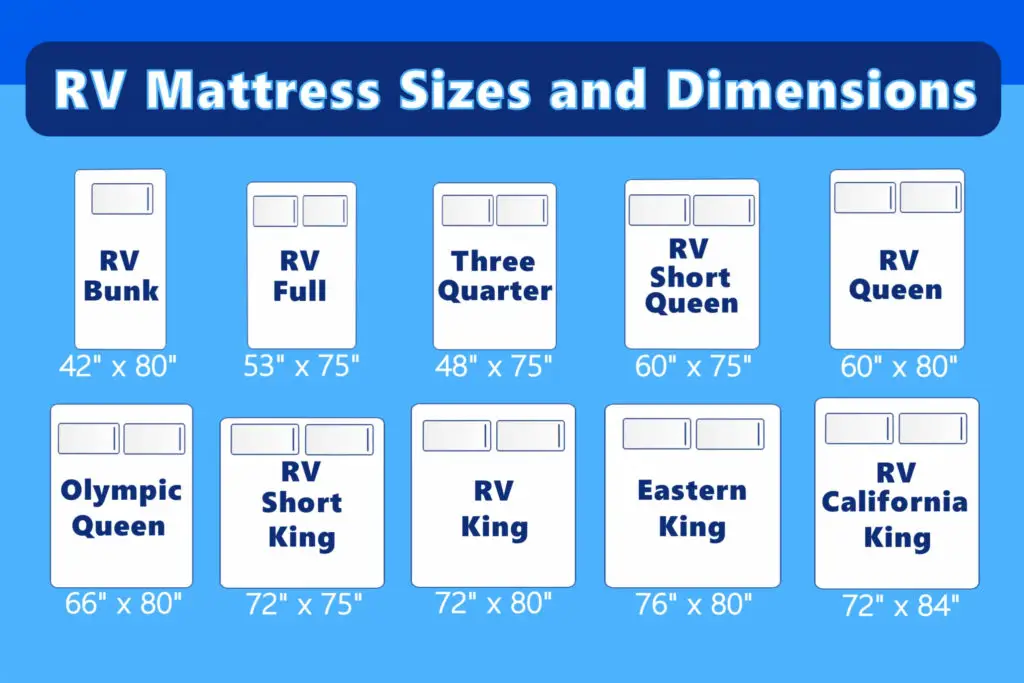 In terms of dimensions, RV mattresses typically come in different sizes. Here are the most common RV bed sizes, according to RVShare:
| | |
| --- | --- |
| RV Bed Type | Typical Size |
| RV Twin  | 28" x 75" or 28" x 80" (71 cm x 190 cm x or 71 cm x 203 cm) |
| Truck Size | 35" x 70" to 42"x80" (89 cm x 178 cm to 107 cm x 203 cm) |
| Bunk Size | 28" x 75", 30" x 75", 30" x 80", or 34" x 75"(71 cm x 190 cm), (76 cm x 190 cm), (76 cm x 203 cm), (86 cm x 190 cm) |
| Three Quarter Size | 48" x 75" (114 cm x 190 cm) |
| RV Full | 53" x 75" (135 cm x 190 cm) |
| Short Queen | 60" x 75" (152 cm x 190 cm) |
| Standard Queen | 60" x 80" (152 cm x 203 cm) |
| RV King | 72" x 75" to 72" x 80" (183 cm x 190 cm to 183 cm x 203 cm) |
In terms of safety, RV sheets are usually fire-retardant and made with a special fabric that prevents the material from stiffening in cold weather.
Most RV sheets usually have a waterproof coating for sanitation purposes, so you'll want to consider those if you choose to buy your own set of bed sheets for your next adventure. That said, if you're not using your RV as a full-time sleeping space, don't worry about sheets. 
If you are sleeping in it at night, cotton sheets will be the most comfortable option.
If you're only using the RV for quick weekends here and there, I'd guess that regular sheets would do just fine. But if this is going to be your primary living space while you're on the road, then opt for some good cotton pads to go with it.
Caveat: In some instances, you may get RV beds that are longer and narrower, or wider and shorter, so it's worth keeping that in mind when shopping.
Find this content useful 🙂 ?
Subscribe to our Newsletter and get a free electric diagram + shopping list.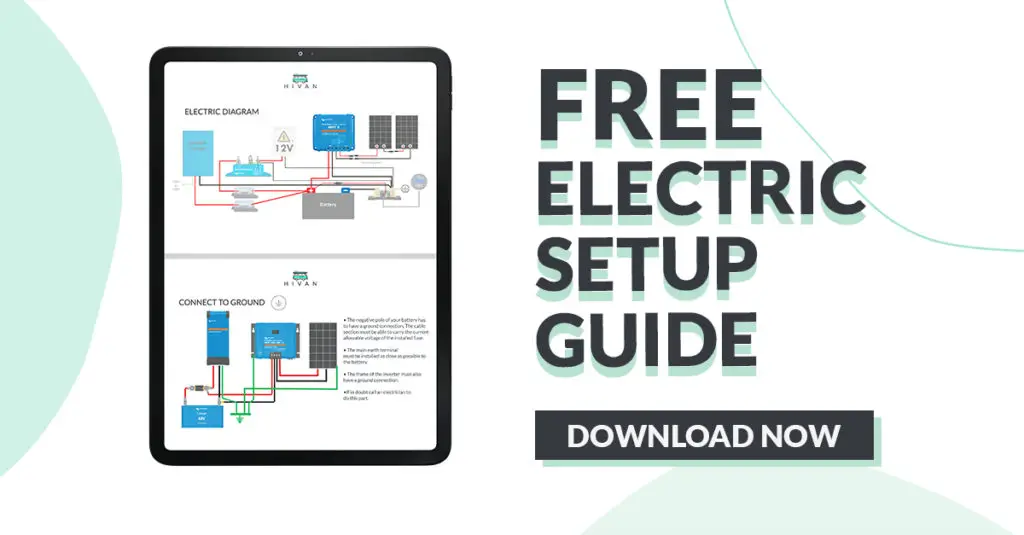 How To Fit Regular Sheets on an RV Mattress
You can use regular sheets in an RV. When purchasing sheets, you'll want to make sure that the sheets are fitted rather than flat. Doing so will give your RV mattress more support and prevent sagging over time.
Here are the steps on how to put regular sheets on an RV mattress:
Remove the old sheets from the bed.
Place one sheet right side up with a long end at the foot of the bed.
Fold in half lengthwise along this same edge until it's about as wide as needed for your particular size mattress, generally around 12" (30.48 cm).
Still folded widthwise, fold again into thirds or quarters, depending on what fits best for your specific size bed. Notably, if fitting an extra-large twin, then quarter folds may be better. Similarly, something like a king would need thirds.
Put the fitted sheet on the mattress and pull it up to the top of your RV mattress.
Spread out across, tucking in as needed so that all edges are even with each other.
Place a flat sheet over the top of this fitted sheet. If you're using two sheets, then choose one for the bottom or upper layer, depending on what is most comfortable for you. You also need to decide which way around they should be placed (generally lower layer). 
Tuck your sheets. This will vary according to whether or not there are any zippers present.
How To Tuck Regular Sheets on an RV Mattress
Tucking in your sheets will vary according to whether or not there are any zippers present. Let's take a look at these methods.
Tucking Sheets Without Zippers
Here are the steps to tuck sheets without zippers on an RV mattress:
Put a single corner of your second piece of fabric under an edge near where you want your first fold to end.
Fold the opposite end of the fabric under the mattress and tuck in, holding on to it at both ends.
Repeat with all four corners.
Tucking Sheets With Zippers
Here are the steps to tuck sheets with zippers on an RV mattress:
Place your second piece of fabric right side up over one edge near where you want your first fold to end. 
Fold over this corner and pull down snugly along so that just a small amount sticks out from underneath. 
Repeat for all other edges.
Here's a 2-minute YouTube video that shows how to make a fitted sheet fit in an RV mattress:
How To Choose the Best Bedding for Your RV
RVs are a little different from traditional homes, which means that you may need to make some adjustments to your bedding when you're using an RV as your home. One of the most apparent differences is that there's no second floor, and therefore no upstairs bedroom.
In other words, you have limited space for storage in general. 
Because of that, it makes sense to choose items carefully before packing them along with all of your other belongings. In that regard, here are four key considerations when choosing the bedding for your camper van:
Size
You might be tempted to go with the largest bedding you can find, so it'll cover every inch of your mattress. But often, this will leave too much space on either side of your sleeping area, which takes up valuable floor space that could better serve other requirements like storage or seating.
Instead, if you're looking for a more snug fit, go for a slightly smaller size that will feel more comfortable to you.
Material
Since you're working with limited space, choosing an easily washable and durable material is crucial. Cotton sheets are always a good choice for their breathability as well as relatively inexpensive price tags. 
You may also want to consider flannel or fleece blankets and pillows if you prefer the coziness of those fabrics.
Style
Lastly, think about how you want your bed to look. If you intend for it to be a more relaxing space, then pick sheets that are soft and comfortable with some design elements like contrasting colors or patterns.
But if you want the room's focal point to be something other than the bed (like a TV), go for simpler styles without any elaborate embellishments.
Comfort
If you're looking for something soft and fluffy, then consider a pillow top mattress pad. You can also get sheets made of tightly woven fabric with less elasticity to offer more support while still being breathable.
And if you prefer your bedding tight-fitting around the edges, so it doesn't catch on anything when moving about in bed, you may want to opt for fitted sheets.
TIP: If you're looking for additional warmth, consider a heated mattress pad, such as this Electrowarmth Heated Mattress Pad (available on Amazon.com). It comes with 10 warming settings for personalized comfort, a durable polyester fabric, and an automatic shutdown feature if you use it in an unsafe way. 
It provides the same benefit as an electric blanket without taking up valuable floor space and can be easily plugged into any regular outlet in your RV's power system.
Bottom Line
Making the right purchase for your RV bedding can be a daunting task. It's crucial to consider the type of sheets you need and how they fit to ensure comfort, longevity, safety, and convenience.
Also, ensure that whatever sheet set you buy will work with your RV bed size by researching measurements before making any purchases. 
You may also want to look into purchasing an extra fitted bottom sheet or mattress pad so that if something happens like spills or leaks from the food tray underneath the mattress, it won't go through all layers of fabric.