Hi-van is supported by its audience. When you purchase using our links, we may earn an affiliate commission (no added cost to you). Learn more
Pop-up campers offer year-round exploration and a portable home on wheels. However, many campers are worried about parking their pop-up in the cold, especially when it's snowy or rainy outside. After all, they're not as durable as motorhomes since they're made of canvas with mesh windows and a metal lower half. However, you can definitely stay warm in almost any weather.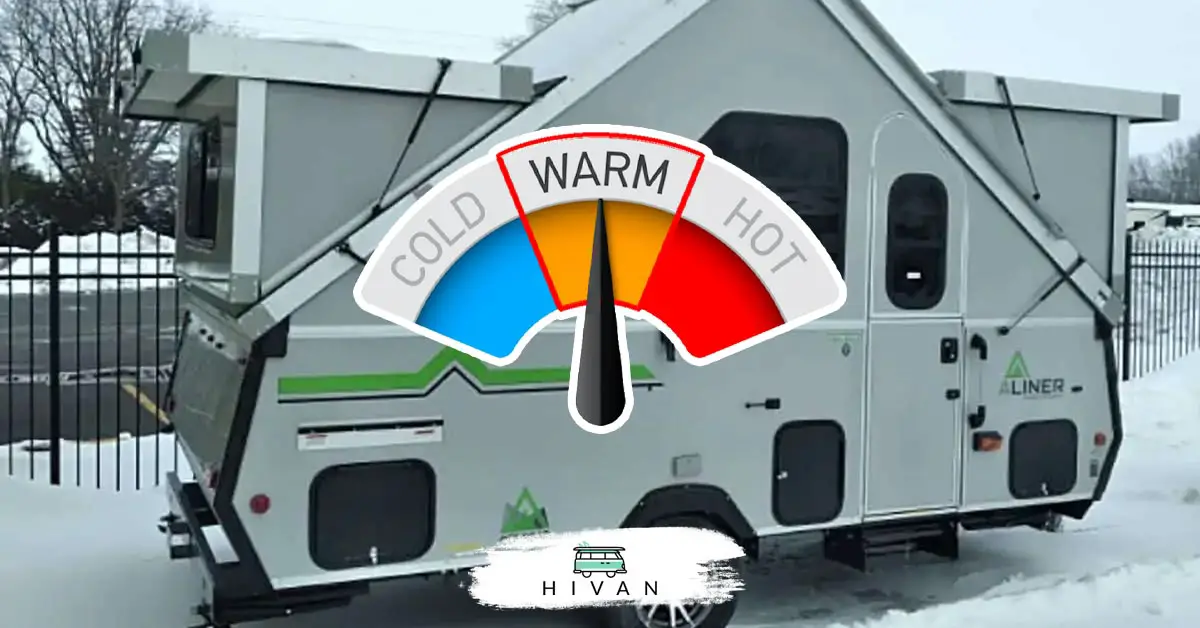 To stay warm in a pop-up camper, insulate it with foam boards, rugs, drapes, and Reflectix. Use a space heater if it gets too cold, but make sure you open a few windows to prevent it from overheating. Dress in layers, and don't forget to wear thick, cushioned slippers to keep your feet warm.
In this article, we'll discuss how you can keep your pop-up camper as warm as possible, including insulation tips, whether or not you can use a space heater indoors, and how you can park to keep your pop-up camper warm in cold weather.
---
Insulate Your Pop-Up Camper
According to Camper Grid, insulation is one of the most important aspects of keeping your pop-up camper warm throughout the seasons. Whether you're dealing with a cold spring morning or a frigid winter night, you should choose one of three types of insulation:
Spray foam insulation is easy to use and fills in the gaps between wooden paneling. It comes in a bottle and can be applied throughout the pop-up camper. Remove the interior panels, then spray the insulation wherever there are gaps.
Foam batts are an excellent choice for those who don't want to spend too much time on the insulation process. It looks like the cotton candy insulation found in attics. Wear a safety mask and goggles while applying fiberglass-based insulation.
Foam boards are some of the most popular forms of insulation for pop-up campers, campervans, trailers, and more. Try Owens Corning Pink Insulation Boards. These ½-inch thick foam boards can be measured and cut to perfectly fit your pop-up camper, making it one of the best types of insulation on the market.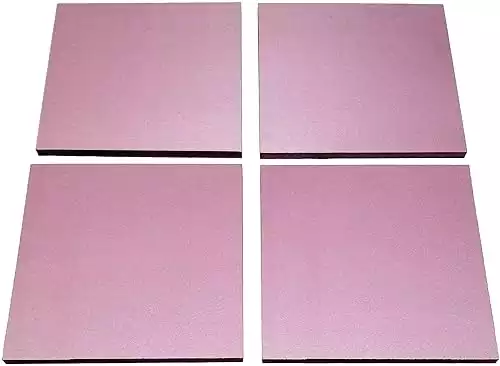 If you make a purchase, you support Hi-van.com by allowing us to earn an affiliate commission (no added cost for you).
---
Add Rugs or Carpets Inside the Camper
Rugs and carpets prevent the heat from escaping through the bottom of your camper. While hot air rises, the cold air gets trapped at the bottom of your camper. This process leaves you with cold feet and an ice-cold floor. Fortunately, it's easily treated by adding a soft layer (i.e., carpets or rugs) to trap the heat.
Area rugs are a popular choice because they can be removed for deep cleaning sessions. You can choose your favorite pattern and style, then switch it whenever you want to. However, there's no denying the comfort and appearance of a built-in carpet. Rugs are much cheaper, so there are plenty of pros and cons to weigh before you make your final decision.
---
Put Reflectix On All of the Windows
Reflectix Double Pack Insulation
It is used extensively in both specialty and standard construction projects. Two outer layers of aluminum foil reflect 97-Percent of radiant heat. Each layer of foil is bonded to a tough layer of polyethylene for strength. Two inner layers of insulating bubbles resist conductive heat flow, while a center layer of polyethylene gives Reflectix high reliability and strength.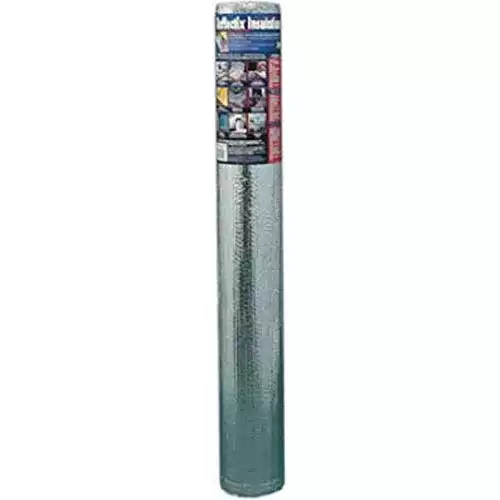 If you make a purchase, you support Hi-van.com by allowing us to earn an affiliate commission (no added cost for you).
Reflectix are a thin, lightweight material designed to reflect the sun's light and heat away from a surface. Much like the aforementioned foam boards, they can be purchased in large sheets and cut to the perfect size. These sheets can be removed when the sun comes out if you want to let the light in, but they double as insulation.
Windows are some of the worst-insulated surfaces in any vehicle or trailer. They have terrible temperature control, which means they can't prevent warm or cold air from entering the vehicle. Furthermore, they often amplify the outside temperature, making the camper uncomfortable.
The good news is that Reflectix create a thin air gap, which is exactly what you need to complete the insulation process. Once you've added rugs, Reflectix, and foam board insulation, there's nothing left to do to ensure your camper is temperature-resistant.
---
Consider a Space Heater While Ventilating
Gas-powered space heaters are a bad idea for pop-up campers and motorhomes because they can leak carbon monoxide. Breathing too much of it can lead to carbon monoxide poisoning, so it's important to choose an electric alternative.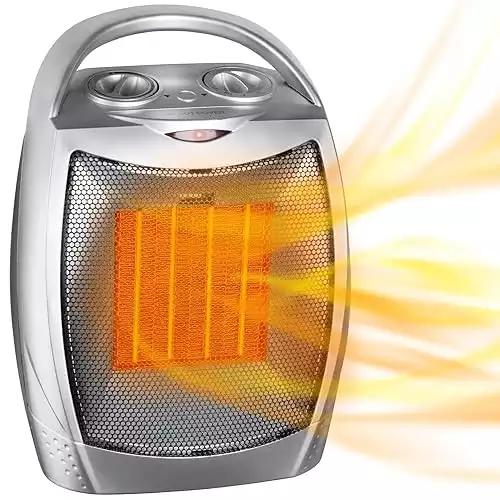 If you make a purchase, you support Hi-van.com by allowing us to earn an affiliate commission (no added cost for you).
The GiveBest Electric Space Heater is the perfect solution because it's budget-friendly, low-wattage, and adjustable. Running it for a few minutes won't cause too much strain on your batteries, but it can warm the space quickly. Choose between silver and black, then enjoy your warm pop-up camper!
---
Dress in Layers to Stay Warm
Embracing Eclectic lists dressing in layers as one of their top solutions for staying warm in a pop-up camper. If you don't want to get too cold, it's essential to bring plenty of sweaters and warm socks.
While the insulation makes a world of difference, it's not enough to prevent you from getting a little chilly at night.
If you want to save space, choose long sleeve shirts and double your socks to stay warm.
---
Put Drapes Over the Windows
Drapes, blinds, and curtains will aid the Reflectix to prevent temperature irregularities. In other words, they can keep your camper warm during the winter. RV Blogger explains how irreplaceable covering the windows and adding insulation is for a pop-up camper. These must-have amenities will help you enjoy cold-weather camping.
One of the main reasons most people prefer drapes over blinds is that they can be folded when you lower the top portion of the pop-up camper. It's as easy as can be!
---
Park in Direct Sunlight
Unless it's windy, you should park in an open area that gets a lot of morning sunshine. It'll evaporate the dew and soften the snow around your camper (if it's snowy). Furthermore, sunlight instantly heats your camper without costing a dime or using some of your battery's life.
Consider parking the camper toward the sun, so the light hits the bed in the morning. It'll help you wake up and keep you comfortable right away.
---
Conclusion
Now that you know how to stay warm in a pop-up camper, you don't have to worry about staying south during the winter. Pop-up campers allow you to travel almost anywhere, regardless of the temperature. The only problematic variable is heavy wind or rain; Other than that, you're good to go!
Related Articles:
How Long Can You Leave a Pop-Up Camper Up?
Is It Possible to Boondock With a Pop-Up Camper?