If you've been on the road for some time now, and you're looking to make more room for a travel buddy, it's time to get a pop top if your van hasn't got any! A pop top, or sleeping roof, is a camper van accessory that includes an extra sleeping space. You can hire a company to install it for you or do it yourself – but the question is, how much would it cost?
A pop top on a van can cost around $7,000-$15,000 if installed professionally by a private company. The exact price is determined by the van type, size, and features you want in the setup, like insulation and so on. Installing it yourself is doable, allowing you to lower your cost. 
Keep reading as I explore pop tops for vans and their costs further. I'll also give you tips on DIY installation and tell you whether it's worth getting a professional installation. Let's go!
---
Are Pop Tops Expensive?
Pop tops are expensive when professionally installed by a professional company. Expect to pay around $7,000 to $15,000 for one. Pop tops aren't made equal, and some may offer more headroom or bigger bed space. The price you pay may vary depending on the features or quality you choose.
Caravan Outfitter, for example, offers installation at $14,500 for a color-matched top, the complete bed system, roof trim, and a ladder. If the price is too much for you, don't worry – there are other options out there. Don't hesitate to compare prices and ask around.
Alternatively, you can install a pop top at a lower cost by installing it yourself. However, the project will involve some time, creativity, and lots of hard work, which I'll discuss shortly.
Additionally, while pop top kits are available on sites like eBay, they can still cost you a hefty price tag. The most expensive parts of a pop top are the materials and roof. You may also have to spend on tools and other small materials, and these prices can quickly add up to hundreds of dollars.
---
Tips on Installing a Pop Top Yourself
Installing a pop top yourself is doable, but it's something not to be taken lightly. Many manufacturers don't offer pop top kits because they can't guarantee the effectiveness of their pop tops should there be poor installation. Because of this, hiring a professional to do it for you is always recommended.
However, if you want to challenge yourself, you'll first need to have an idea of how to do it. You can watch the YouTube video below for inspiration:
One of the first things you'll have to do is make the frame for your pop top. You can use aluminum for this. This task alone may take you a couple of days. Additionally, you may also need to cut your van roof.
Gather all the necessary tools for the construction, like a drill, measuring tape, a marker, nails, screws, and so on. If you know someone whose tools you can borrow, that'll help you save on buying new tools.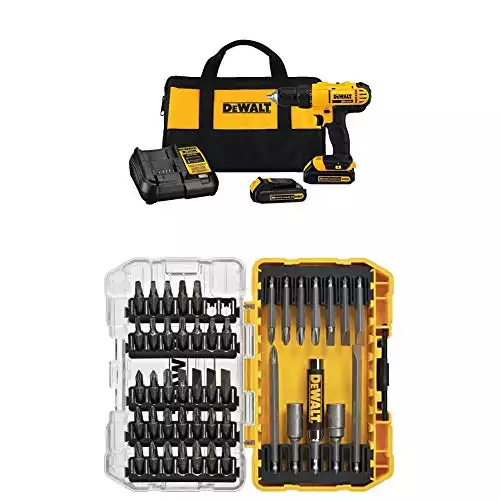 If you make a purchase, you support Hi-van.com by allowing us to earn an affiliate commission (no added cost for you).
However, if you don't mind spending on a new drill, you should consider the DEWALT DCD771C2 20V MAX (available on Amazon.com). This cordless drill is battery-powered and comes with a 45-Piece screwdriving set that'll help with the job.
You can get cheap/free metals for building your pop top frame by visiting your local yard. Ask them if they have metals they don't want or bargain hard to buy those materials for cheap.
---
Reasons To Avoid DIY Pop Top Installation
As discussed earlier, installing a pop top on your own is doable. However, it'll take a lot of work and, most importantly, experience. Because pop top installations aren't cheap, many campervan owners take the DIY route to save on cost. Here are some reasons you should avoid installing a pop top yourself:
You Might Not Install Your Pop Top Correctly
Unless you have experience building campervans or installing pop tops, it's best to consider hiring a professional company to set up your pop top. That's because improper installation can be dangerous, especially if you've never done it before. If you don't have experience, you may not know the right standards you should follow.
Even if you buy a DIY kit from a seller who claims they're good, you might get a flimsy pop top instead. In return, you might have problems with your warranty, and even with insurance, if you install the pop top incorrectly.
Low-Quality DIY Pop Tops Are Unattractive
Most travelers are proud of their campers, especially those who live in them long-term. If you're considering having a pop top installed on your van, you want to make sure that you do it right. It shouldn't be unstable, low-quality, and/or unattractive.
Some travelers opt for cheap pop tops, which is fine if you're talking about a tight budget. The problem is cheap pop tops don't always fit well with all vans, and an ill-fitting pop top can be an eyesore. 
You can tell that a pop top is poorly fitted if the pop top's fabrics sag. A well-fitted pop top should sit nicely, not too loose or too tight.
If you hire a company specializing in pop top installation to do it for you, you can rest assured that they'll get the measurements right.
Poorly Fitted Pop Tops May Lead to Noise and Leakage
Another reason to avoid installing a pop top for your van on your own is that a poorly fitted pop top features many drawbacks. For example, water can easily leak into your van when it rains, and you don't want that.
If a pop top isn't correctly installed, you'll also hear wind noise as you drive, which can be annoying. Additionally, if you don't seal the roof part you've cut correctly using the right sealant, rust can develop in that area, which is very bad for your van. 
Your Van May Not Have a Good Resale Value
Despite the hefty price of pop tops, they're worth the investment, especially if you're planning on selling your van next time. However, all of this changes if you're talking about a DIY, ill-fitted pop top.
Buyers will want all there's to know about the van, including the pop top conversion. They'll likely ask to see the necessary papers to ensure they don't overpay for your van. If they realize that the pop top isn't professionally installed, they may refuse to buy from you.
---
Final Thoughts
Unless you're someone handy with experience in pop top installation, it's best to hire a professional to do the job for you. You won't risk getting a poorly installed pop top, voiding your warranty or insurance, or having your van's resale value affected down the road.
Find this content useful 🙂 ?
Subscribe to our Newsletter and get a free Solar Electric Diagram + shopping list.