Hi-van is supported by its audience. When you purchase using our links, we may earn an affiliate commission (no added cost to you). Learn more
When packing for a trip, especially with a family, it can be very difficult to get everything you need in your campervan. Unless you are a master at Tetris, you might have issues trying to get everything in your van. How can you pack a VW campervan and still have space for your family to ride and live during your vacation?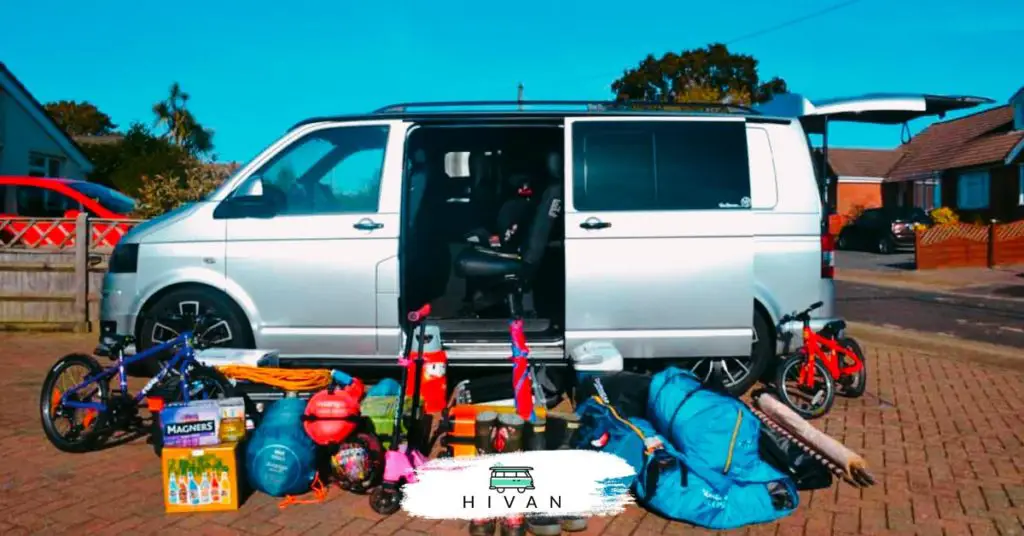 Here's how to pack a VW campervan:
Pack only the essentials.
Use every inch of space in your campervan.
Put things under seats and in cupboards.
Choose what to leave behind.
To learn more tips and tricks to packing your VW campervan, stay tuned. You will learn what you absolutely need and what to leave behind, as well as how to use every inch of space in your van.
---
1. Pack Only the Essentials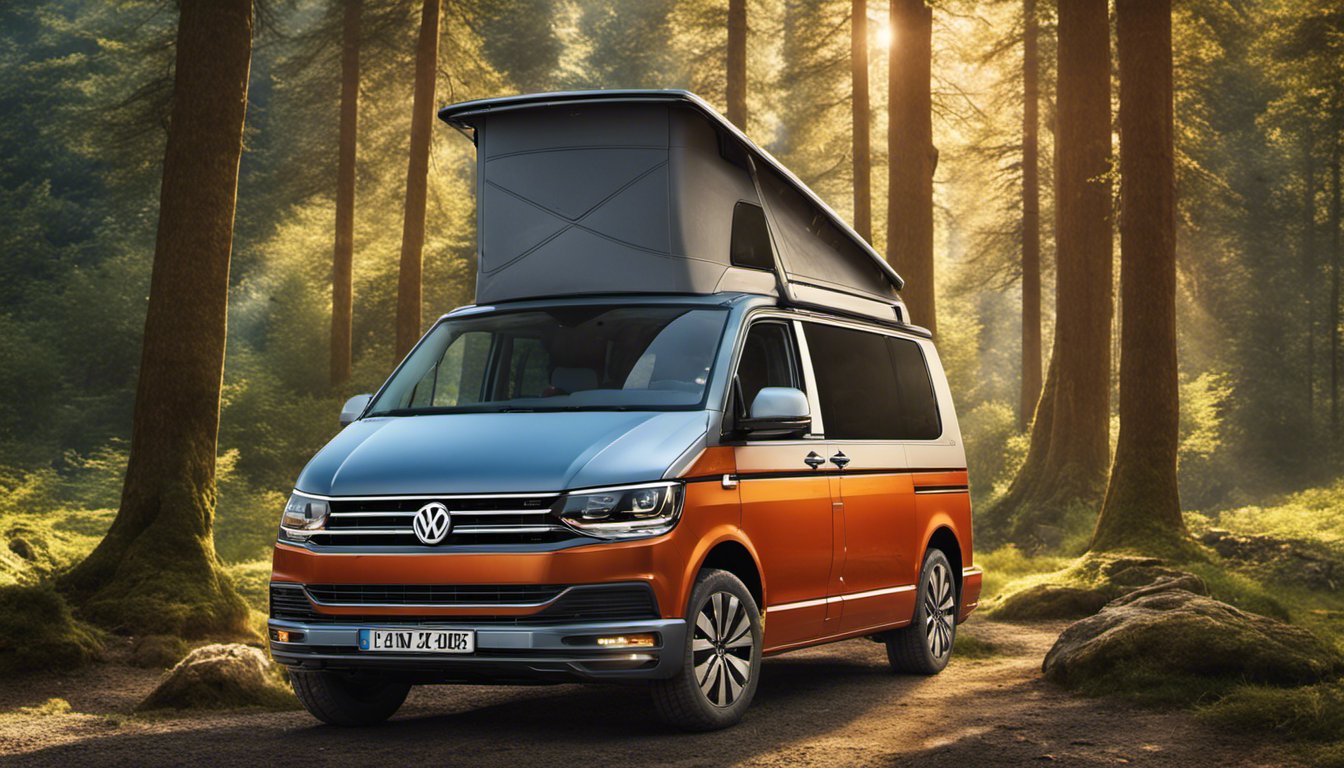 When you're at home, you tend to use certain items over and over again during your daily routines. But it seems that when you pack for vacations or trips, you tend to pack three of every item in your house.
To pack your VW campervan, you need to edit your packing list and remember to only bring the essentials, or your packing endeavor will fail. While you'll need certain things while camping that you wouldn't normally carry if you stayed in hotels, you also don't need to overpack. 
There are various ways to pack a campervan, so experimentation is key to finding what works best for you. Here are important points you want to consider:
Prioritize items you use frequently for easier access while on the road.
Invest in packing cubes for efficient organization, and use different colors or labels for family members.
Pack clothes of similar colors to simplify laundry.
Bring a dirty laundry bag to easily sort and wash clothes upon return.
Pack layers of clothing for easy washing and repacking.
Microfiber towels are lightweight, absorbent, and quick-drying, making them ideal for various uses.
Utilize hooks in the campervan to hang towels and save space.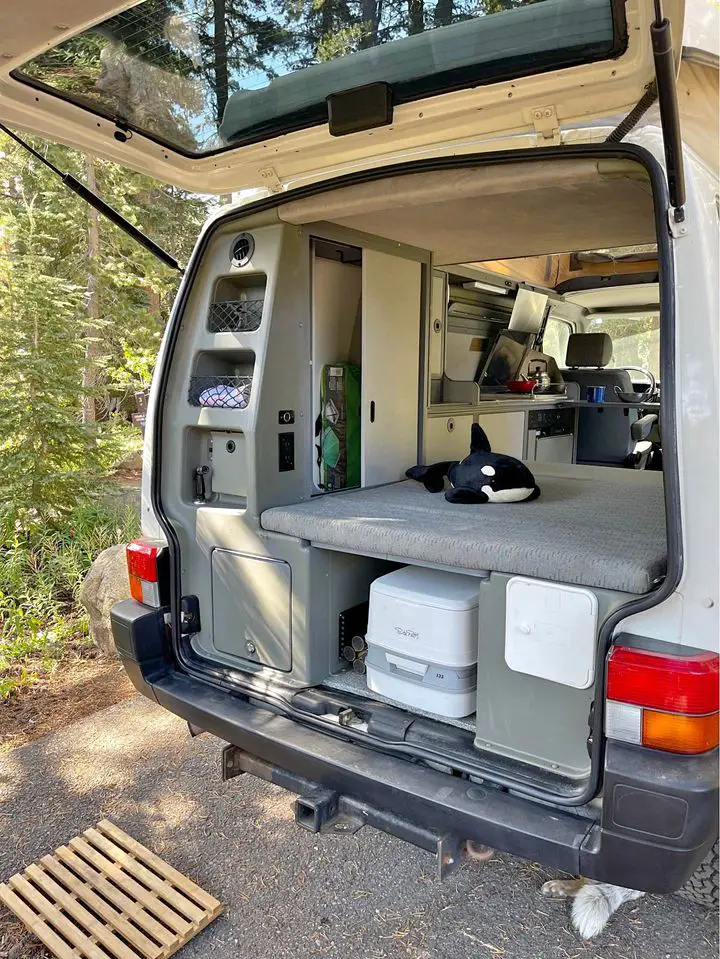 Essential Kitchen Supplies
If you're camping, you will need cooking supplies and enough food for each person in your van for the length of your trip. Most of your cooking supplies can be packed ahead of time and kept in your van all year long.
These cooking supplies include:
Enough eating utensils for your family for 2 meals.
One large frying pan, one medium frying pan, and one small one.
One saucepan
One large cooking pot
Enough plates, bowls, glasses, and mugs for your family for 2 meals.
2-4 sharp knives
Cutting board
One-two mixing bowls
Spatulas, large spoons, and a whisk or two.
Manual can opener
You will then need to pack enough food for your trip, as well as dish soap, washcloths, and hand towels right before you leave.
More info: check this article I made about : The Van Kitchen Essentials Guide For Van Life
Hygiene Items
While some VW campervans have built-in bathrooms, others don't. Regardless of this fact, you will eventually need hygiene supplies to keep yourself and your clothes smelling fresh no matter your VW campervan setup. 
Whether you shower at a truck stop or you have your own van shower, you'll need the following items:
Shampoo and conditioner
Body wash
Washcloths
Deodorant
Dental hygiene products
Bath towels
Laundry detergent
Hair supplies such as a brush, leave-in conditioner, or other items.
Hand lotion
You'll also need toilet paper, no matter where you camp, paper towels, a collapsible shovel in case you need to go in the woods, and whatever else you need for staying clean.
More info: I made a complete guide about showering on the road
Van Supplies
When packing your van for your trip, you'll want to remember supplies to keep your van in tip-top shape. These supplies include:
Motor oil
Full gas can
Spare tires
Jack
Tire iron
Tools that fit your vehicle
Other essential van items
Medical and First Aid Kit
Not everything goes according to plan, especially when you're out in the woods or on a trip. If someone cuts themselves or has an allergic reaction to a bug bite, you will need something to treat them. A standard first aid kit with allergy meds and other supplies should be sufficient.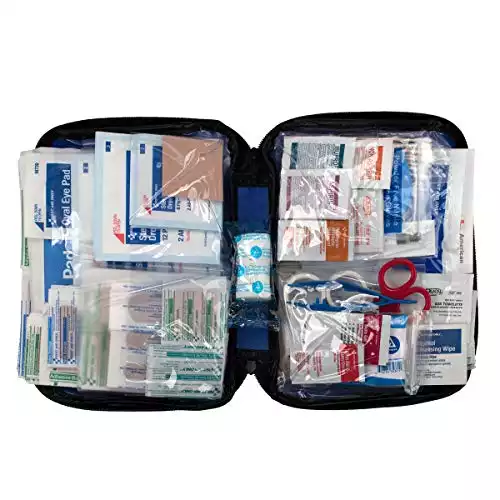 If you make a purchase, you support Hi-van.com by allowing us to earn an affiliate commission (no added cost for you).
If, however, you need extra things like prescriptions, you'll need to pack those as well.
Clothing and Outerwear
Depending on the time of year you're traveling, you may need to pack some winter clothes. However, most people travel during the summer. Regardless of the season, you'll want to pack enough clothes for one change per day, per person, plus an extra change of clothes in case something happens. 
You'll also need to pack rain gear and hiking boots, along with sandals and tennis shoes, for whatever activities you might end up doing on your trip.
I recommend to use packing cubes like the Veken 6 Set Packing Cubes available on Amazon.com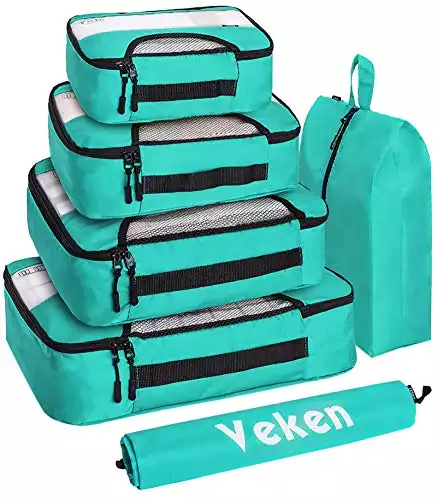 If you make a purchase, you support Hi-van.com by allowing us to earn an affiliate commission (no added cost for you).
Complete packing list for VW Campervan
You can download the .csv file for this table here:
Download the .csv file
---
2. Use Every Inch Of Space In Your Campervan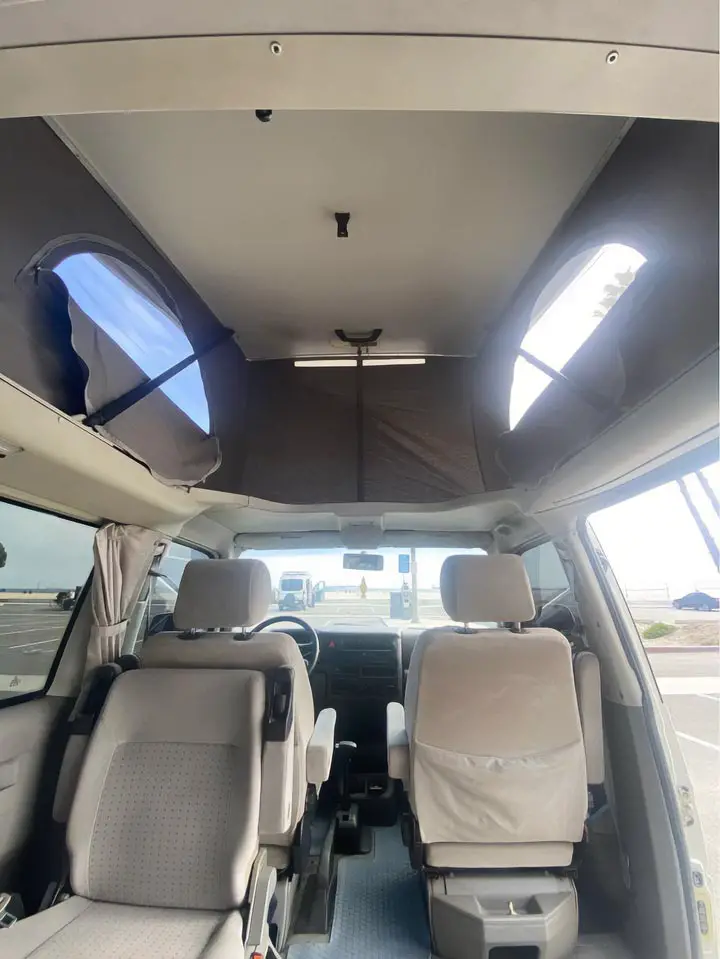 Now that you know what essentials to pack, how are you supposed to put these items in your van? If your VW campervan has seats that lift to reveal hidden compartments, these are perfect for storing your necessities. 
Or, if it has cupboards or other storage compartments, you'll want to use every inch or cm of space that you have in your van. You'll also want to use soft luggage that can be pushed down to make space for other items. 
Plastic bins that can stack can also be a lifesaver when you're packing your van.
Pack Bulky Items In Space Compression Bags
Bulky items, such as towels, blankets, coats, and sweaters, can take up a lot of room in a camper that's already cramped. But, you can use space compression bags to reduce the amount of space that these things take up.
I recommend the Space Saver Premium Vacuum Storage Bags from Amazon.com for your next camping trip. While you can use a vacuum to seal the bags initially, the kit also comes with a hand pump that you can use while traveling. The kit comes with 6 large bags, and it stores up to 80% more than other bags.
These are perfect when you're traveling.
---
3. Put Things Under Seats and In Cupboards
If your campervan has cupboards for a kitchen or drawers, or other storage areas, you can put smaller things in these areas. Of course, if you're still working on converting your VW campervan, you may want to think about putting hinge seats with storage compartments underneath to store things.
More info: some useful articles available on hi-van.com
- Best Van Kitchen Cabinets And Ideas
- Best Latches For Campervans Cabinets And Drawers
---
4. Choose What To Leave Behind
While you might want to take everything in your house with you, because you might need some obscure item, you should probably leave many things behind. But how do you choose what to leave behind?
Consider the things you plan on doing while on your trip. 
If you plan on hiking or riding bikes, then you'll need the gear for these activities. Or, if you know you're going to grill outside, then you'll need a portable grill and grilling supplies. 
However, you will still need most, if not all, of the items on the essentials list mentioned above. 
---
Conclusion
Packing a VW campervan might not be easy, but you can simplify it with a little planning and editing. Keep in mind what you need for your vacation, pack accordingly, and use space-saving items to keep your space uncluttered and organized. 
Have a great trip!
Find this content useful 🙂 ?
Subscribe to our Newsletter and get a free Solar Electric Diagram + shopping list.