Hi-van is supported by its audience. When you purchase using our links, we may earn an affiliate commission (no added cost to you). Learn more
If your campervan has cabinets and drawers, installing latches will prevent your supplies from falling out when you're driving. They're also great for protecting your belongings or keeping them out of reach of kids and pets. Whatever your reasoning, everyone can benefit from using latches in their van or RV.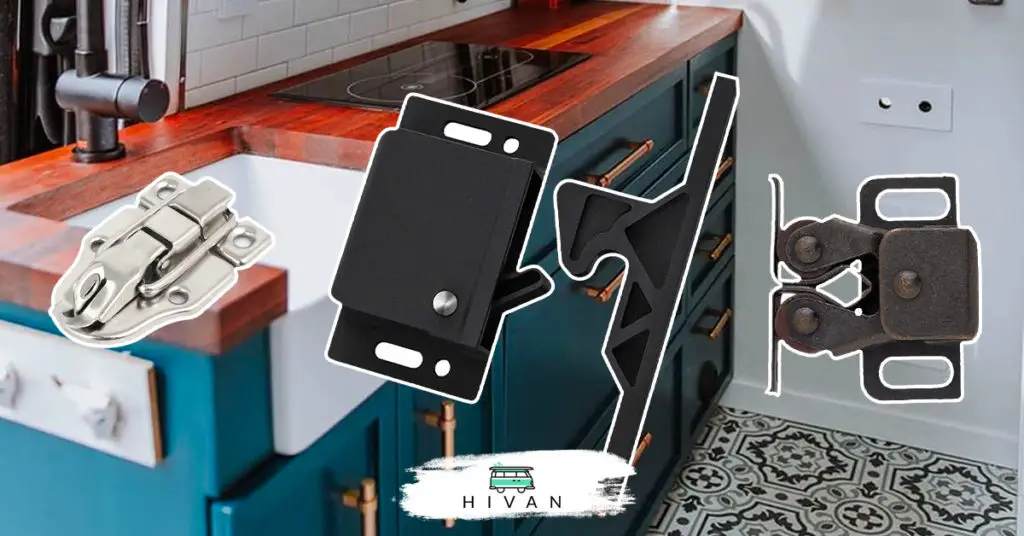 The best latch for campervan cabinets and drawers is the CRANACH Cabinet Door Latch. This handle latch is installed inside a sliding drawer or hinged cabinet to prevent it from opening by itself. A little bit of force opens it, but your driving won't. There's no need for keys, either.
You might also like the following latches:
In this post, we'll talk about everything you should know about buying the best latches for your campervan's cabinets and drawers. Enjoy!
What to Look for When Buying Campervan Latches
When you're looking for a new set of latches for your campervan, it's crucial to ensure they won't wobble, break, or take up too much room on the cabinet or drawer you're securing. If you're on the fence between various materials or you're unsure which latches are best for your campervan, you're in the right place.
Look for these three factors:
Do you want a manual or automatic latch? Manual latches require you to close them every time you want to shut the drawer. They're more sturdy but requires you one more manual step to close them.
How tough is the latch? Metal is often the most durable latch material, but hardened or textured plastic can be quite reliable, too.
Where is the hinge located, and how is the latch mounted? Some latches are on the outside, while others are on the inside. It's up to you to decide which is the best and most convenient solution.
Let's jump into a detailed breakdown of these features below.
Automatic vs. Manual Cabinet Latches
Manual and automatic latches are both quite effective, but they work very differently. For example, a manual latch requires you to open and close the latch with a switch, button, or slider. They're great for security but can be inconvenient for time's sake. Automatic latches open and close as you open and close the cabinet, requiring no extra effort.
According to Two Roaming Souls, the primary downside of manual latches is that you can forget to lock them, sending your supplies flying around the vehicle it moves. But once closed, they have almost zero chance to open by themselves.
Consider the Latch's Durability
A metal latch might make noises, but it's much tougher than soft plastic. Make sure the metal latch can't rust or corrode. If you choose a plastic latch, ensure it's textured to distribute the pressure. This design prevents the latch from snagging or breaking if you accidentally open it too quickly or roughly.
Mounting and Functionality
The Wanderful dives into all of the different types of latches, including rolling, clipping, and magnetic latches. We'll cover at least one of each of the primary latch styles in our list to make sure you can check them all out before making your decision. You should also think about if you want to mount the latch inside or outside of your cabinet or drawer.
Without further ado, let's review the best latches!
Find this content useful 🙂 ?
Subscribe to our Newsletter and get a free Solar Electric Diagram + shopping list.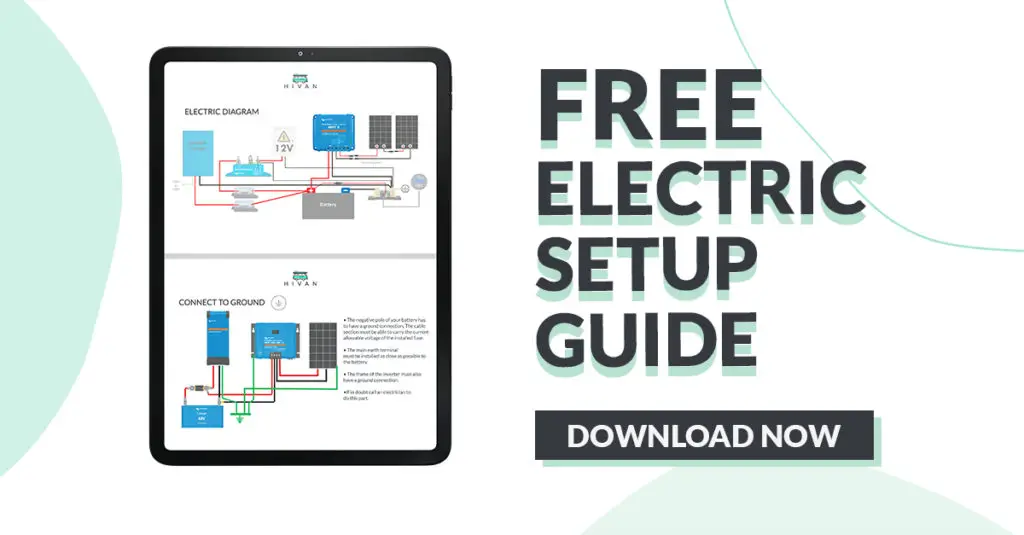 Our Top Picks
---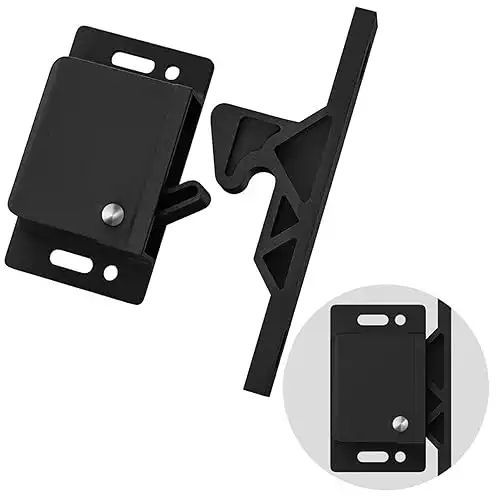 If you make a purchase, you support Hi-van.com by allowing us to earn an affiliate commission (no added cost for you).
Whether you have pets, kids, or simply don't want the drawers to fly open when you drive, the CRANCH Cabinet Door Latch is an ideal solution. It's specifically designed for motorhomes and campervans and requires about eight pounds of force to open. These automatic latches come with screws, too.
To install this latch, mount it inside the top portion of a drawer. The inlet goes in the top portion of the immovable drawer fixture, while the outlet (connecting latch) goes on the inside of the drawer. Push them together, and they'll click and stay closed. The grip is strong enough to prevent them from sliding open when you drive, but you can easily open them by hand.
If you want to add them to your cabinet, place the inlet on the bottom of the cabinet and the closing latch on the door. When you line them up and screw them into their positions, they'll latch every time they're closed. Again, it only takes a little bit of effort to open them.
Bottom Line: The CRANACH Cabinet Door Latches are perfect for campervans because they're made for them! You won't find very many latches designed for these cabinets and drawers, nor will you find such high-quality latches for such a great price. Choose either a 4-pack or an 8-pack for your van.
Pros
These latches sit flush with the cabinet or drawer
You'll receive multiple latches in each order
The company provides a worry-free warranty
Cons
They're made of plastic, which may or may not be an issue for you
---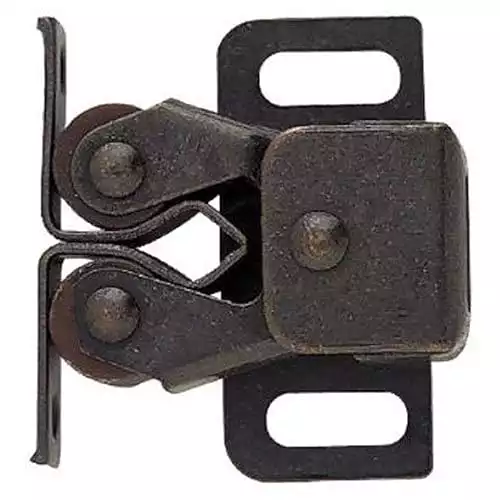 If you make a purchase, you support Hi-van.com by allowing us to earn an affiliate commission (no added cost for you).
Rolling latches provide excellent convenience and ease of use. The Liberty Hardware Roller Latch is great for those who prefer metal construction, simple designs, and so on. It's also good for people who have wrist pain since it doesn't require much effort. The latch rolls into place when you close it and requires minimal force to roll back out.
You can choose between a 2-pack, 6-pack, or 10-pack to secure each drawer or cabinet in your campervan. Screw the roller portion inside of the fixture and add the other end (known as the spear) onto the moving portion (the drawer or door). Push them together and watch as they click. The noticeable sound lets you know when they're secured.
They might not be as flush as the previous latches, but these ones aren't too bulky. Your best bet is to place them high and out of sight. The heavy-duty bronze and aluminum make them durable and long-lasting, which is everything you need out of a latch. They also don't rust or corrode.
Bottom Line: The Liberty Hardware Roller Latch is perfect for most campers. The spear slides into the rollers, preventing the drawer or door from sliding in and out (which is an issue you'll encounter with some rolling models). Grab whichever color and quantity you need, and rest assured your drawers will be good to go.
Pros
The rust-proof metal stays in good condition for a long time.
It's easy to install, open, and close.
It comes with all of the mounting hardware
Cons
The metal can be a bit louder than plastic alternatives.
They're not the most flush design, so they stand out a bit.
---
When it comes to durability, the Uxcell Cabinet Latch is one of the best we've come across. These are some of the most common latches around, but they're tried and true. Those who want a reliable model will find comfort with this latch system. You'll receive two latches with each order, which works well for those with minimal cabinetry.
The Uxcell Cabinet Latch is best for drawers, but it can also be used on cabinets. All of the pieces are mounted on the outside of the fixtures. Place one side on the cabinet door and the latch portion on the cabinet. Close the door and move the latch over to lock it. It's important to remember that these are manual locks, so you have to shut them each time you're done.
Bottom Line: These latches are simple and strong. If you don't care about the looks and want a manual latch system, nothing on the list will beat this setup. You can rely on it for a long time and enjoy the budget-friendly price tag. What more could you ask for?
Pros
These latches provide protection against children and pets
You can prevent doors and drawers from accidentally sliding open
Quick and simple installation makes it a classic option for workers and campervans alike
Cons
The latches can be loud and squeaky, so they might have to be lubricated
They're not the prettiest latches you'll find
You have to remember to close the latch each time you use it
---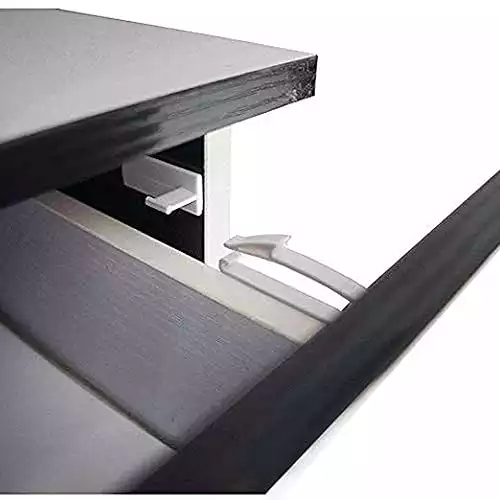 If you make a purchase, you support Hi-van.com by allowing us to earn an affiliate commission (no added cost for you).
Are you worried about drilling into your cabinets or drawers? With the Coolrunner Safety Latch, you don't have to. These latches have a sticky adhesive that mounts to the inside of your fixtures, keeping them clean and unmarked. You also don't have to use power tools, which is always a positive thing.
Remove the peel-and-stick cover and place the latch wherever you want inside of the fixture. Place the other end on the door or drawer, then close them together. With a pinch model like this one, the door will open about an inch or two. This gap lets you view everything inside without having to open it.
Bottom Line: The Coolrunner Safety Latch is pinched to open, which means it's a manual and automatic latch. The opening portion is manual (the pinch), whereas the closing action is automatic because it bites down on the interior mounted hook.
Pros
These latches are debatably the best on the list for keeping your drawers in good shape
No need for any tools
You'll receive a handful of latches with every purchase
Cons
It won't stay on your cabinetry as long as a screw-mounted latch
The gap can be a bit annoying if you have kids or pets
---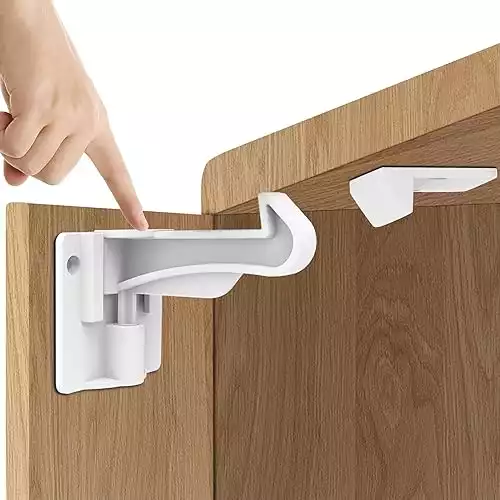 If you make a purchase, you support Hi-van.com by allowing us to earn an affiliate commission (no added cost for you).
The Tuhaho Cabinet Lock works quite similarly to the previously mentioned pinch lock. Instead of pinching the mechanism, you push down to open the latch. These locks work well for low-sitting doors and drawers because the hook is facing up, making it difficult for children to access.
These latches require mounting hardware (included), but they also use adhesive and springs for three times the hold and durability.
Bottom Line: Traveling in a campervan with children is tough as it is, so adding childproof latches is crucial if you want to protect your belongings. These latches do an excellent job of keeping your supplies from falling out when you're driving, too. Push down on the latch, and you can access everything inside.
Pros
These latches can withstand up to 65 pounds of force
You can open the door to look inside without opening the latch
There are multiple ways to install and secure these latches
They use springs for additional security
Cons
They're made of plastic, which can break after a few years of heavy use
Misalignment will prevent them from hooking
---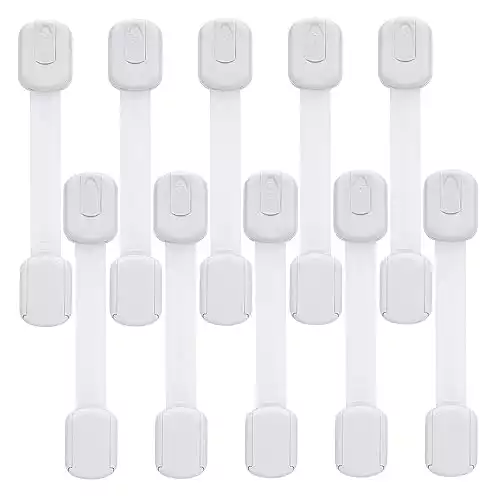 If you make a purchase, you support Hi-van.com by allowing us to earn an affiliate commission (no added cost for you).
If you don't want to deal with screws and other mounting hardware and you want a quick sliding solution, try the Goodv Cabinet Latches. You can have them installed in less than 10 seconds per latch. Connect the latch to its base, remove the adhesive on both sides, and connect one side to the door and the other to the fixture.
These latches are adjustable, so you don't have to worry too much about measuring or choosing the proper size. They flex with the door, too, ensuring a snug fit that doesn't budge when you're driving around. You can remove them by pushing the lever back on both pieces. Switch out the latches whenever you'd like to!
Bottom Line: Nothing's as simple as the Goodv Cabinet Latches. Install all of them and be done in a matter of minutes. Slide the tab back on one side to open it or push it close to shut it.
Pros
Quick installation lets you get to the next step of your campervan conversion
No wiggling or sliding doors and drawers when you're driving
You don't have to use mounting hardware or tools
Cons
They're made of plastic
These aren't the most visually appealing latches
---
Conclusion
There are plenty of latches to choose from, but the most important thing is to ensure they're durable, long-lasting, and reliable. As long as they don't take up too much space, your new latches will provide much more convenience than you might've expected!