Hi-van is supported by its audience. When you purchase using our links, we may earn an affiliate commission (no added cost to you). Learn more
Dual-pane windows are more costly than the single-pane windows often seen in travel trailers. While these windows have their advantages, their use in an RV is highly dependent on where you spend most of your time.
Dual-pane windows are worth it for an RV if you travel during extreme weather. Double-pane windows help retain heat in cold weather and keep out the sun when it's warmer. They also provide a quiet journey regardless of the environment you're traveling in.
This article will discuss who needs dual-pane windows, what they are, and if the cost of an upgrade is justified. So let's get started!
---
Do You Need Dual-Pane Windows in an RV?
Dual-pane windows are ideal if you:
Struggle with condensation during travel.
Camp in extremely high or low temperatures.
Want to save money on heating and cooling.
A single-pane window allows for more movement of cold or heat into and out of your RV.
These windows perform well in mild temperatures, but a single-pane provides insufficient insulation in severe cold, requiring your heater to work twice as hard. Likewise, in hot weather, your air conditioner will have to work more often to maintain a comfortable temperature.
This eventually results in increased costs associated with sustaining acceptable temperatures. But dual-pane windows contribute to your savings.
You Should Use Double Pane Windows in Colder Weather
Condensation might be a more significant issue with single-pane windows due to their lack of insulation.
If you often notice condensation on your windows, particularly when the temperature drops, double-pane windows are for you. They'll prevent condensation and minimize the possibility of water damage to your windows.
Dual-Pane Windows Work Best for Temperature Control
Dual-pane windows aid in the retention of heat in frigid conditions, and in the summer, they keep hot air out. They can also alleviate your discomfort and worry if you are sensitive to temperature fluctuations.
Also, If you choose to live year-round in your RV, it's a good idea to invest in dual-pane RV windows.
Speaking of controlling your temperature inside your van, you can use this handy thermostat from Dometic:
Dometic Duo Therm Comfort
This easy-to-read and easy-to-use digital thermostat lets you sit back and relax in total comfort. You're in control!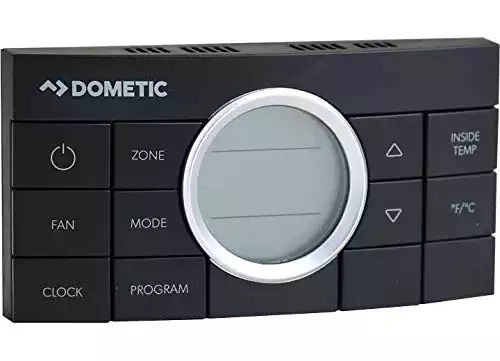 If you make a purchase, you support Hi-van.com by allowing us to earn an affiliate commission (no added cost for you).
Are Dual-Pane Windows Worth It?
If you meet any of the above criteria, double-pane windows are worth it, as they contribute to a cleaner, quieter, and more pleasant travel experience. However, they come at a hefty price, and if they are poorly installed, they may result in further harm to your RV.
You should evaluate the cost and decide if you are confident and prepared to pay for expenses such as gas leaks and higher gas use.
What Are Dual-Pane Windows?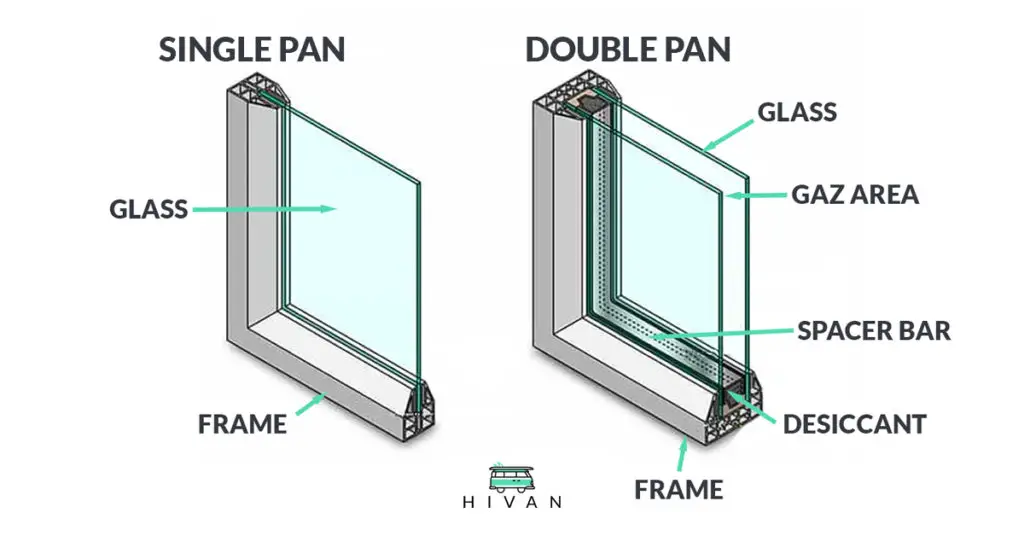 Before deciding on dual-pane windows, you should understand what they are. Double-pane RV windows are made using two glass panels with space between them, which contains either krypton or argon. 
These gases help increase insulation.
The windows can also be coated so that they will reflect the sun's harmful UV rays, which can retain heat during winter and keep it cool in the summer.
Pros of Dual-Pane Windows in an RV
Apart from providing insulation, dual-pane windows provide security, as burglars and other threats might have a tougher time smashing through a double-pane glass. Security is critical for RVers, and dual-pane windows provide another layer of safety.
Additionally, these windows offer some benefits over single-pane windows.
Related Article:
Interested about security in your van? Check 4 Best Van Security Cameras for Van Life
Dual-Pane Windows Are Quiet
While resting, you will sometimes end up in a noisy environment. 
Even during travel, ambient noises can penetrate through to the inside of your van. If you have an issue maintaining peace in your travel vehicle, dual-pane windows can provide some relief because they dampen incoming noise.
Find this content useful 🙂 ?
Subscribe to our Newsletter and get a free Solar Electric Diagram + shopping list.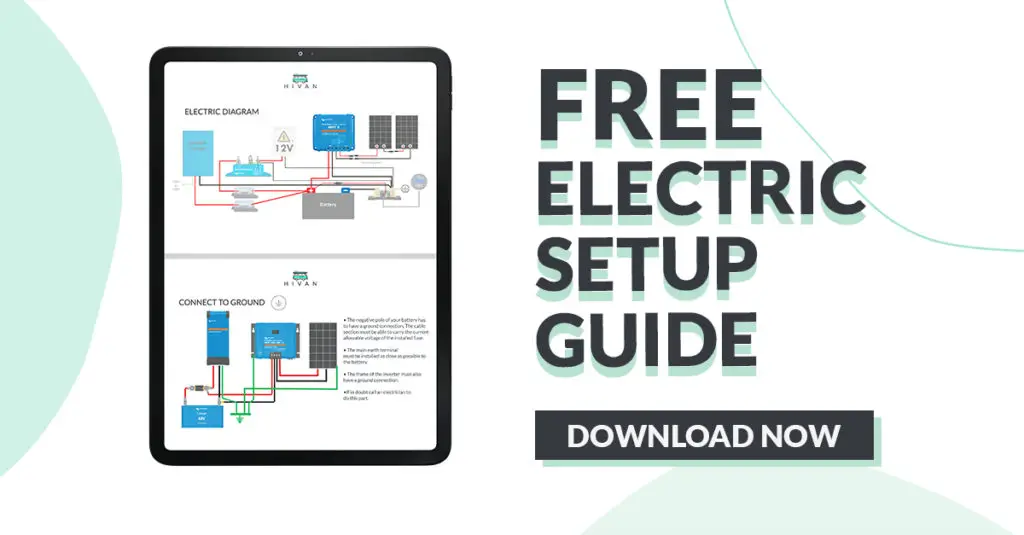 Cons of Dual-Pane Windows in an RV
As with any RV alteration, you'll need to consider the benefits and drawbacks before making a final choice. While these windows might be advantageous, there are extra disadvantages beyond their expense.
Dual-Pane Windows Get Foggy
Over time, vehicle vibrations may cause damage to the glass, allowing the gas within to escape. When this occurs, the glass becomes foggy.
Fogged windows make travel more unpleasant and dangerous since it becomes harder to see through them. Some RVers say that there is a simple answer to this. 
If you experience this issue with your new windows, you have three different options to remove the fog and keep it from coming back:
Replace the windows, which can be expensive.
Take apart the outer window and remove the fog. When complete, replace the outer window.
Drill two tiny holes in the window. Although the holes allow for fog escape, they must be closed afterward with a heavy-duty sealant.
Double Pane Windows Make Your RV Heavier
Another drawback of dual-pane windows is that the additional material contributes to the weight of the RV. For those concerned with weight reduction and mileage, this is a feature that you cannot ignore.
Notably, the added weight may be negligible. You can get the precise number from the window's manufacturer and determine the effect on your trips.
Regrettably, the only way around this is to decrease weight in other areas of your RV.
Do RVs Come With Double Pane Windows?
Some travel vehicles come equipped with dual-pane windows as standard. In other instances, single-pane windows can be easily changed with double-pane glass.
Most manufacturers offer comprehensive specs for their RVs, so you'll never have to guess which window you're receiving.  Additionally, if your chosen RV has single-pane glass, you can request that the manufacturer replace it before the vehicle is delivered to you.
RV Window Manufacturers
Occasionally, you may want to replace your RV's windows alone or purchase replacements from a different manufacturer. The following is a list of the best RV window manufacturers to consider:
---
Final Thoughts
Replacement of RV window glass takes about the same amount of time regardless of the kind of glass used. Therefore opting for dual-pane windows will not significantly decrease your travel time, and it's almost mandatory if you're traveling through areas of severe heat or cold. 
If you're still on the fence about dual-pane windows and would want more information, HaylettRV has an honest video outlining their features: