Hi-van is supported by its audience. When you purchase using our links, we may earn an affiliate commission (no added cost to you). Learn more
Van life has pulled thousands of people into its adventurous new wave of living. If you're interested in traveling, saving money, and making the most out of small spaces, you might be ready for it. However, many beginners are concerned about potential dangers and safety hazards along the road.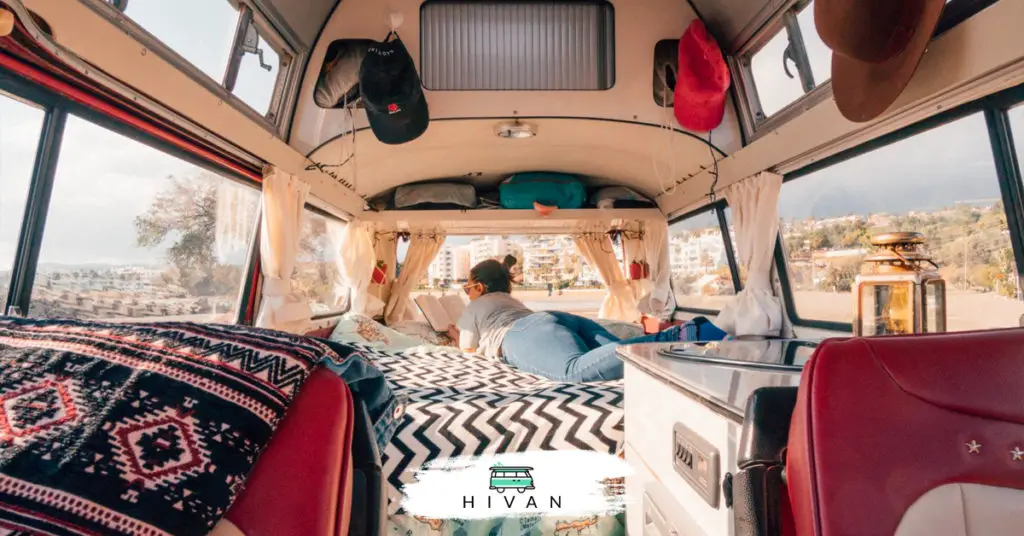 Living in a van isn't dangerous if you park in well-lit places, protect yourself with tinted windows and steering wheel locks, and durable remote-controlled door locks. You could also use GPS tracking and a backup paper map always to know where you're going. Keep an emergency food stash, too.
Throughout this post, we'll talk about why van life doesn't have to be dangerous, common hazards you can avoid, and all sorts of safety gear you'll need for peace of mind. We'll also show you a few suggestions for solo van lifers and how to make a backup plan.
How Dangerous Is Van Life?
Van life is much less dangerous than many people make it out to be. In fact, you're much more likely to find safety issues when encountering other drivers on the road than dealing with people or animals harming your van. These hazards are less present when you know where you're going and create a safe route along the way.
Always the Adventure shows roadside assistance insurance plans can be the next best thing to having a personal tow driver. Make sure you know what to do if you get into an accident or altercation with other drivers. Furthermore, spare tires, jacks, and tire pumps can help to bring you to the closest mechanic.
Many van living problems are a result of poor planning. Don't let yourself get caught up in sketchy parking lots, bad campgrounds, or without food and water. Van life really isn't that hazardous, which is why thousands of people have done it for many years. Recent popularity boosts are making it more common and safe, too.
If you're extra worried about the potential dangers of living in a van or traveling on the road, you could research van life-friendly states. For example, California, Oregon, Washington, and Florida have plenty of people living and traveling in their vehicles. You'll find friendly faces and accepting campgrounds in these locations.
Don't let your fear of the unknown prevent you from trying this new lifestyle. If anything, you could rent a Class B RV to know what it feels like to sleep in a van for a few nights.
Without further ado, let's break down everything you should keep in mind to stay safe while living the van life!
---
How to Stay Safe While Living in a Van
Staying safe in your van is easy if you have a solid, reliable plan. There are many things that could botch your van life dreams, but we've compiled a list of must-know tips to stay as safe as possible.
Whether you're living in a van down by the river, in a city, or on the road, these five suggestions will keep you safe:
Keep an emergency food supply with MREs, dry food, and water. Simply Van Life recommends bringing extra non-perishable food, such as canned goods, honey, and crackers. MRE's are a great source of food for those who find themselves lost or far from civilization. They provide a heating element, thousands of calories, and delicious snacks.
Leave an extra blanket or low-temperature sleeping bag under the bed. You never know when it'll get too cold to handle some nights. Desert locations and winter snow spots are bound to dip by at least double-digit increments when the sun sets, so it's best to be prepared for the worst.
Plan where you'll end the day before breakfast. This simple tip will ensure you're always finding safe, fun, and reliable places to park at night. You could also design your plan before hitting the road. The most important thing is to have a set destination and direction as the day goes on.
Research local campgrounds and other popular van life sleeping or adventuring locations. Use helpful websites like Campendium to research reviews and other information (number of spots, local attractions, safety, etc.). A couple of minutes of customer reviews can be the difference between safe and dangerous nights.
Don't forget about vehicle maintenance. People often think of defense mechanisms, escaping dangerous places, and so on; But maintaining fluids, tire levels, and vehicle inspections will stop you from possibly breaking down in the middle of nowhere. You could also keep a spare tire in the back.
Safety while living in a van is all about preparation. Nothing will keep you from harm as good as knowing what's ahead. Locations, strangers, and vehicle issues can cause unexpected changes, but that's why these five tips are necessary. If you're unsure which locations are best, read on.
Find this content useful 🙂 ?
Subscribe to our Newsletter and get a free electric diagram + shopping list.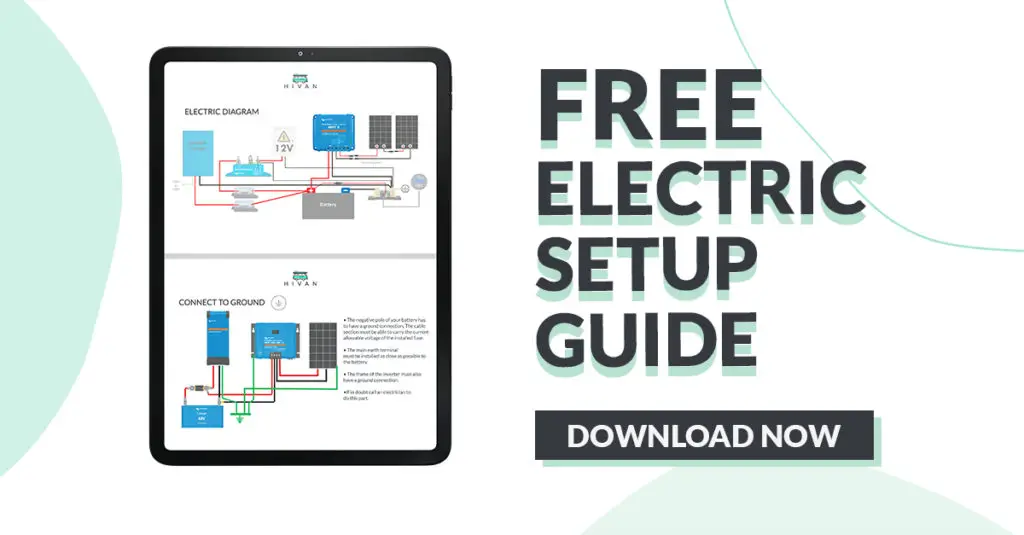 Where Should You Park the Van to Sleep?
You should park the van in places where other people have already explored, such as campgrounds, big chain stores that allow it, and friends or family members' houses. Couch surfing is another option, but instead of sleeping in their home, you can ask for a spot in the driveway.
Keep these three things in mind:
Walmart Sometimes Allows Overnight Sleeping
According to Drivin' Vibin', about half of the Walmarts in the US let people park and sleep overnight. Always call the manager before showing up to know if it's allowed. Also, consider buying a few items as a courtesy. These stores are convenient for bathrooms, supplies, and lots of security.
Always Find a Well-Lit Area
Wherever you say, make sure you have a clear vision, and people can see you in plain sight. Well-lit spots will keep intruders away and let you know everything that's going on outside of the vehicle. They often keep animals away, too. Make sure you have a flashlight nearby in case you're unsure if there will be enough overhead lights.
Check Campground Ratings for Safety Purposes
Parking the van to sleep isn't all about safety. Various inconveniences can make it a frustrating place to be. Whether you're trying to stay safe or not deal with poor camping conditions (or loud people, heavy foot traffic, and other annoyances in parking lots), you could look through Facebook, Reddit, or the previously mentioned Campendium site for results.
Knowing where to park, sleep, cook your meals, and go to the bathroom is half of the battle. These four components are all about being safe and comfortable. Remember, safety standards include health concerns, such as clean bathrooms, potable water, and green algae-free swimming spots.
---
Van Life Safety Equipment
Having the necessary tools will make a big difference in the safety of your van life experience. Many weapons are legal in some states and illegal in others, so it's best to steer clear of them. They can also present unwanted situations. Instead, you should aim your efforts toward preventing unwanted break-ins and fires.
Here's a list of suggestions:
Always use durable, remote-operated locks to keep yourself and your belongings safe. Being able to unlock or lock the van at all times is crucial, especially if you don't trust some of the areas you drive through. Some mechanics and vehicle mod shops can install these locks on rear doors and side hatches, too.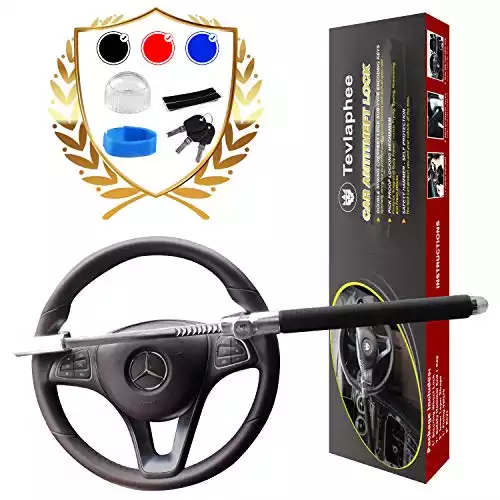 If you make a purchase, you support Hi-van.com by allowing us to earn an affiliate commission (no added cost for you).
Wheel locks will stop potential intruders from taking your house on wheels. The Tevlaphee Steering Wheel Lock will keep your wheel from turning, making it impossible for people to take your van. These locks are surprisingly affordable and trusted by thousands of people across the world.
Security stickers will likely deter people from looking into the van or trying to break in. The stickers should say warnings such as, 'Alarm Activated, Owner Is Armed,' and so on. If you have a dog, you could add a 'Beware of Dog' sign. Anything that will keep people from being too curious is welcome.
Get a fire-proof safe to protect your most valuable belongings. Personal documents such as birth certificates, vehicle registration, pink slips, spare keys, and an emergency cash supply will survive fires and keep thieves out with a lock or number pad. Consider mounting it to the bed or something stable.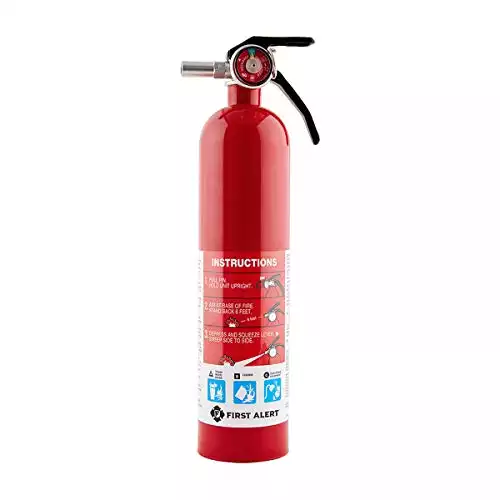 If you make a purchase, you support Hi-van.com by allowing us to earn an affiliate commission (no added cost for you).
Install a fire extinguisher under your seat, bed, or door for emergencies. They're budget-friendly and can save your van from catching fire. Having a fire extinguisher provides much-needed peace of mind, but it's also a great way to protect your hard-earned investment. Your van is your home on the road!
Other safety equipment could include window tints, window covers, bug nets, an air horn (for animals), and a spare radio or walkie-talkie for long-distance communication. Safety gear is only as effective as the user, so make sure you know how everything works before living out of the van.
---
Make a Plan-B for Every Van Life Scenario
Backup plans help you know what to do if things don't go as expected. For example, a car breaking down, a closed roadway, or noisy and questionable campground residents might make you have to mix things up. What will you do when it's time to get up and change directions?
Ensure there's always a second roadway to leave through if you're stuck in a campground. Flash floods, fires, and other natural disasters might make you have to evacuate. You should also think about what you'll do if you have to leave in the middle of the night for one reason or another.
Your plan-B should always include these three factors:
How quickly you can get out of a situation
Where you'll go and how you'll get there
How you can pack everything without forgetting any supplies
Making a plan-B lets you relax and enjoy the adventure rather than dwelling on what-ifs or getting caught in a bad situation with no way to get out of it. Consider making a template with the previous three variables and fill them out before heading to a new spot.
---
Solo Van Living Safety Suggestions
While many people choose to pair up for van life, there are plenty of solo van lifers who enjoy the life-changing adventure. Traveling and living out of a van without a partner can be a daunting task, but it's much easier when you put safety first.
So, how do people stay safe when living in a van by themselves?
Camp in active, social campgrounds as much as possible. It's tempting to find the least busy places when you can, but active campgrounds provide safety in numbers. People are much less likely to try to break into your van or bother you if there are plenty of people nearby.
Never tell anyone that you're living alone or where you're headed next. Even the nicest stranger could have bad intentions, so keep your destination to yourself. It doesn't hurt to share fun adventure stories or where you want to visit someday, but we strongly advise against providing exact coordinates or similar information.
Practice an escape plan to get from the sleeping area to the driver's seat as quickly as possible. You should create this scenario before setting out on your new way of living. Lay in the bed and figure out how you can quickly get to the steering wheel and drive in under 10 seconds.
Stay at a friend or family member's house every so often. Mixing up your route with reliable friends and family is a great way to stay safe, but it also often provides showers, food, laundry washing, and more. Many van lifers plan their route or around-town destinations based on friends and family.
Living alone in a van presents unique challenges, but none of them can't be conquered. With safety first, you'll enjoy long-lasting memories and an interestingly new way to live each day.
---
Conclusion
Living in a van doesn't have to be dangerous. Much like living in a house or apartment, it's best to have durable locks and security stickers to keep unwanted intruders out. It's also a good idea to have escape plans, bright lights, and well-protected and patrolled campgrounds on your list.