Hi-van is supported by its audience. When you purchase using our links, we may earn an affiliate commission (no added cost to you). Learn more
Whether you want to cook in the van or right outside, there are quite a few must-have appliances and utensils. Cooking in a van doesn't mean you can't have your favorite at-home meals. In fact, thousands of full-time van lifers are enjoying new recipes by expanding their mini kitchens without an issue.
The van kitchen essentials for van life include stackable cookware, a portable stove and table, a 12V DC refrigerator, cabinetry, and silverware. Spice racks, paper towel holders, and cutting boards can be mounted to the counter. You can also get mugs, low-power blenders, and storage containers.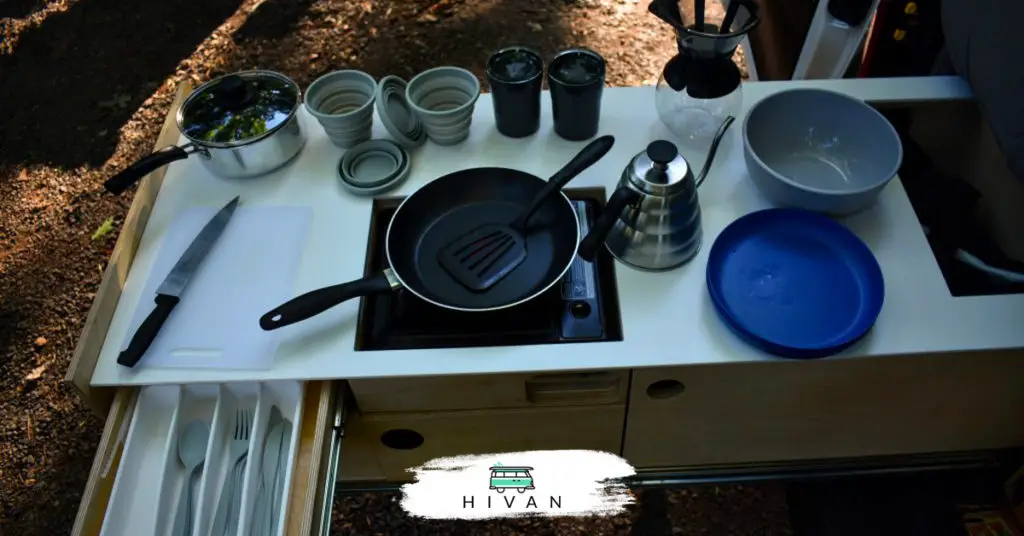 In this post, we'll show you a handful of must-have van life kitchen appliances and other items. We'll also break down why each of them is more than necessary, how you can use and install them, and a few suggestions to get you started.
Convenient Cookware For the Van
Cookware is important, but you should do your best to find stackable solutions. Non-stick pots and pans are excellent because they're much easier to clean and don't demand too much of your time.
If you're not backpacking to cook, it's best to use heavy-duty cookware. Lightweight models are convenient for long treks, but they're usually too cheap for long-term use. They can also break or chip if they're hit together.
There are countless camping cookware items on the market, but for van life, your best bet is the same as someone who has a traditional kitchen. The Calphalon Cookware Set is a one-of-a-kind set that will last several years and keep your food from sticking to them.
Using high-end pots and pans will save time and energy, which are more than worth the expense. You could bring only the pots and pans you need, reducing their space and leaving room for other kitchen essentials on the list.
They'll let you cook amazing vegan meals and other dishes to give your van life experience another dimension.
Get a Camping Stove
Bearfoot Theory suggests getting a portable camping stove since you can use them inside when it's rainy and outside when it's sunny. Some people use indoor, built-in stoves for their van life kitchens.
If you want to use a built-in stove, it's best to use a gas-powered model to reduce your electrical needs and keep your van's batteries in good condition. If you prefer electric stoves, convection is the best route for van life.
The Coleman Gas-Powered Camping Stove is a timeless classic that runs on propane and lasts a lifetime. These handy stoves can be used wherever you go. Twist on a bottle of propane and light the switch, just as you would at home. These efficient stoves are only ten pounds and can be stored almost anywhere.
Collapsible Tables Are Essential for Van Life
Using a collapsible table lets you save space in the van. Instead of having a seating area that consumes half of the van's kitchen, you could use a small foldable table to eat, chop, and cook on. Most van lifers build a counter to set heavy-duty items down whenever they need room to move around and cook.
Perhaps the best reason to use a foldable table is you can cook and eat wherever you want to. Van life is all about removing limitations and experiencing new adventures. What's better than cooking and eating outside in your favorite campgrounds?
When you're ready to move inside or have a couple of guests, you could set up the collapsible tables inside.
Portable Refrigerators or Coolers
If you have solar power, portable propane canisters, or a rechargeable car battery, you can keep your food cold. While a handful of dry-food recipes don't require refrigeration, using a fridge is a massive convenience for anyone who can invest in one. The good news is they're more affordable than ever!
Dometic makes some of the best van life and RV living refrigerators you'll come across. The Dometic CFX 95DZW saves energy by running periodically whenever the fridge hits the preset temperature. This method only runs the internal cooler when it's needed, not at all times. In other words, it's quieter and won't run your battery too often.
Installing a small battery-powered fridge is as good as it gets. Using solar power makes it even better because you never have to worry about your food getting too warm. Use a few containers to make leftovers and save money down the road, too.
Find this content useful 🙂 ?
Subscribe to our Newsletter and get a free Solar Electric Diagram + shopping list.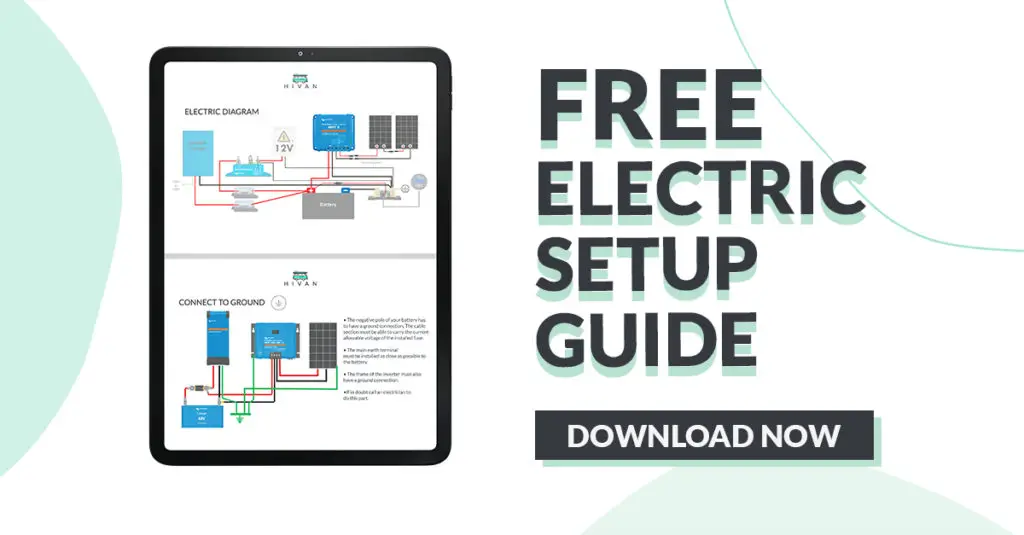 You'll Need a Sink
There are two types of sinks you can use when making a van life kitchen:
A built-in, long-term sink. These sinks often use tubes connected to buckets or water tanks to function as a traditional house sink. You can connect them to RV water systems at campgrounds, but they'll need to be emptied regularly.
Portable, low-cost sinks. These sinks are much more budget-friendly and can be removed and dumped. However, they typically don't have a draining mechanism. If you don't use a sink too often, they're undoubtedly the best solution on the market.
Remember to find a faucet that suits the sink. Those using portable sinks can simply use a reusable water bottle to clean everything. You can also use sponges or dish wipes to save space and water.
Cutting Boards, Forks, Spoons, and Knives
These items are usually the first things that come to mind when people think of kitchen essentials. Find your favorite forks, spoons, and knives; There's no need to cut corners on lightweight utensils since everything will be stored in the van. Much like pots and pans, you don't need low-budget utensils if you're not backpacking everywhere.
A cutting board can be mounted or installed in the van. Mounting the cutting board is a great idea for those who chop a lot of veggies, meat, and other food. You can also design a wooden cutting board into the counter, so it's always ready to go.
Note: Think of van life as a new living experience, not as a constant camping adventure. Unless you're looking for portable fridges, tables, chairs, and stoves, investing in at-home appliances and utensils is almost always the best way to go. Other than those items, it would be best if you used durable utensils.
Heavy-Duty Camping Mugs
According to Mowgli Adventures, mugs and cups are an area of high importance. Using too many cups and mugs will take up tons of space, leaving no room for other items. As a rule of thumb, only bring two more cups, mugs, plates, knives, spoons, and bowls as the people living in the van.
For example, if there are two people in the van, you only need four of each item. This number allows for a meal or two between washing dishes but prevents them from taking up unnecessary room. It also lets you have enough utensils for guests if you ever have them.
One of the best camping mugs is the Snow Peak Double Wall 600 Cup, available on Amazon.com. It is expensive because it's made out of titanium and will last you for your entire life.
Paper Towel and Napkin Holders
Paper towels and napkins are essential for many van lifers. It's best to mount these items since they'll roll around when you're driving. You can mount the napkin holder with double-sided tape, whereas there are dozens of mountable paper towel holders. If you don't want to use paper towels and napkins, you can bring a few washable hand towels.
If you're looking for a mounted paper towel holder, try the Kamenstein Paper Towel Holder. It flexes to the size of the paper towels, prevent them from sliding off the holder. It's also easy to mount with a couple of screws.
Coffee Machines, Blenders, and Other Appliances
If you're a coffee snob or love your morning smoothies, you don't have to give them up when making the transition to van life. The most important thing is to use low-wattage appliances. Even if you have a couple of DC batteries and solar power, most blenders and coffee machines can consume a lot of energy.
An alternative solution is to use an Aeropress, french press, or something similar. These tools use hot water to soak ground coffee beans. You can enjoy a delicious cup wherever you go. A low-power blender is ideal for one person, so you might have to run it twice.
Dry Food Storage Containers
Whether you prefer small Tupperware containers or large sealed mason jars, it's crucial to have dry food storage. You can use them for salt, sugar, rice, beans, and other food. Not only will they save space and improve your diet, but they'll also keep bugs, moisture, and mold away from anything inside.
You can leave your dry food storage containers in cabinets, under the bed, or below the sink. Keep in mind that they will move around when you drive, so they should be mounted or locked.
Dish Drying Racks
We recommend getting a portable dish drying rack if you don't want to dry your dishes by hand every time you use them (including the big pots and pans). They fold and can be stored in the cabinet when you're not using them.
For a better experience, use the drying rack over an absorbent mat or the sink. Either solution will prevent mold, mildew, bacteria, and more. You could run a couple of mini battery-operated fans to accelerate the process if you're in a hurry and want to get back on the road without damaging the dishes.
Build or Insert a Mini Pantry
A pantry lets you store dry foods that don't need to be refrigerated. You can use a clear plastic tub and slide it under a counter or bed. Another solution is to install a cabinet below the sink. This method will let you open and close it like a traditional at-home pantry. You might not be able to store as much food, but it's irreplaceable for most van lifers.
If you don't want a cabinet, pantry, or plastic container to store non-refrigerated food, it'll be hard to find another solution. One of these three items is as essential as it gets. The more food storage you have, the fewer times you'll have to visit the grocery store.
Find this content useful 🙂 ?
Subscribe to our Newsletter and get a free Solar Electric Diagram + shopping list.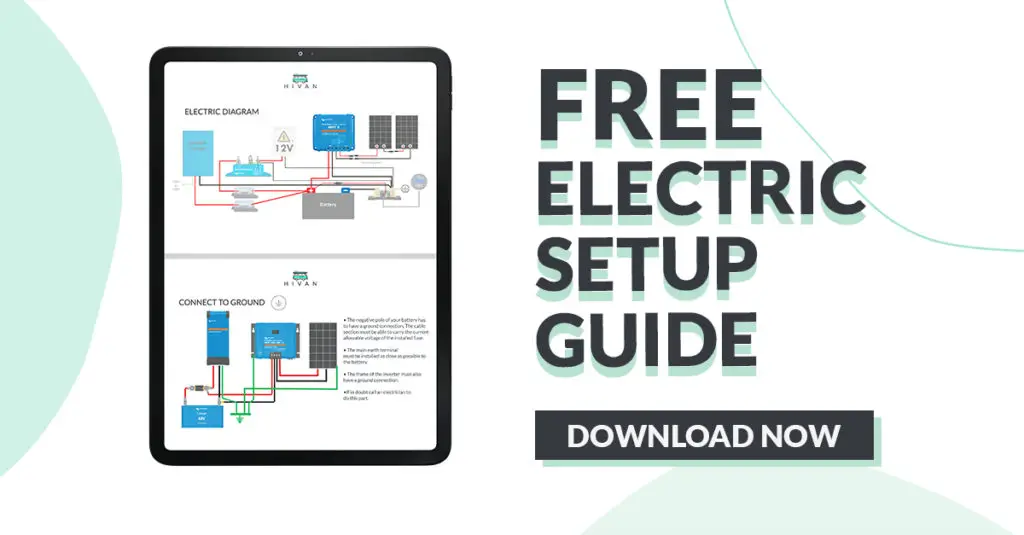 Spice Holders for On-the-Road Chefs
The Wanderful explains how useful spice racks can be. Mounting a spice rack to the counter, cabinet, or wall lets you access your favorite spices while on the road. Instead of trying to prevent the bottles from falling over when you drive, you can get to your next destination, knowing they'll be good to go.
If you don't use too many spices, toss them in a cabinet and use a tension rod. Another solution is to keep the spices in a dry food container, as mentioned above. Either option will prevent them from leaking or breaking.
Ventilation for the Kitchen
Most people don't think of ventilation as a kitchen essential, but cooking inside without airflow can be incredibly dangerous. Camping stoves use propane, which can cause carbon monoxide toxicity if you don't open the windows and doors.
However, the best solution is to get a roof vent. You can open the roof vent and let the fumes and food odors leave through the roof rather than building up inside the van. Not only will it be much safer to cook indoors, but it'll also prevent your van from smelling like old food.
Chairs or Convertible Benches
Much like foldable tables, portable benches and chairs provide optimal convenience. You can eat inside or outside, then fold and slide them under the bed when you're done using them. They save tons of space. You can sit in the driver or passenger's seat or on the bed when you're not eating or cooking.
Some people prefer using tripod chairs since they take up the least space. Whatever you do, make sure your van's whole kitchen setup is based on the following fundamentals:
Safety
Functionality
Convenience
Multipurpose usage (if possible)
Conclusion
Now that you know everything you need for your van's kitchen, you can make the ultimate on-the-road cooking setup. Feel free to cook indoors with plenty of ventilation or move your kitchen outside to cook in nature. Either way, you'll enjoy all sorts of irreplaceable kitchen tools to make your favorite meals. Enjoy!