Just because you don't have a huge fridge, kitchen island, or six burners, doesn't mean you can't make some amazing vegan meals in your camper van.
The best camper van kitchen vegan meals are filling, delicious, and easy to make. Ideally, they should be low maintenance and consist of only a few ingredients since you might not have room for your groceries. You'll likely have only one or two burners so one-pot meals are going to be your best friend.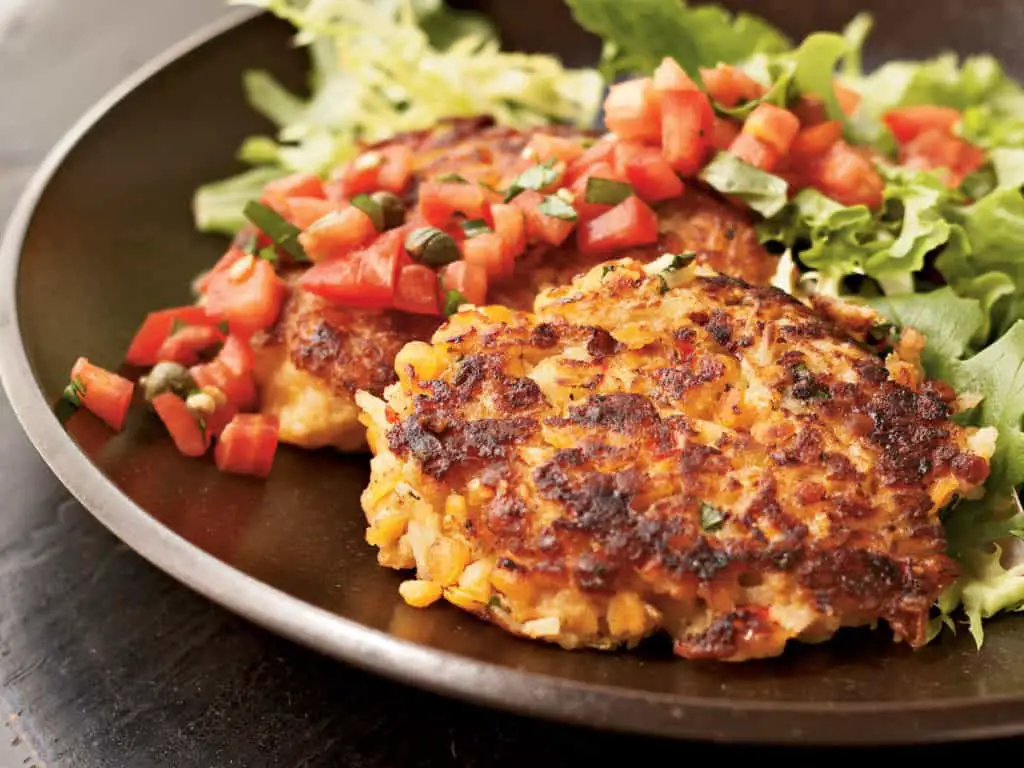 We've scoured the internet, so you don't have to, for some of the best vegan meals out there – and they can all be made right in your camper van kitchen.
Lentil Risotto With Butternut Squash
Vegan on Board specializes in vegan recipes made in a camper van, and they have everything from nut burgers to spinach pancakes. Their blog has a number of fun and easy recipes for breakfast, lunch, and dinner. They even have a baking section for those lucky enough to have an oven.
This recipe for Lentil Risotto With Butternut Squash is not only filling and nutritious but comes together in one pot for a lovely, warming meal. Just forty minutes of your time will create this simple but hearty dish that offers a big protein kick. Unlike with most risottos, this recipe is low maintenance – no need to keep topping up that stock.
It works so well in a camper van because you just need one pot, bowl, and fork! It is easy to make and easy to clean up. Just remember to soak your lentils overnight, then it's only a matter of chopping up your ingredients, adding everything to the pot, and letting it simmer. 
If you're having trouble finding za'atar spice, harissa or Italian seasoning are a couple of good alternatives. Similarly, you can substitute the nutritional yeast with anything you think will add flavor, such as vegan soy sauce or dried mushrooms. 
Vegan Singapore Noodles
Camper Van Kitchen offers a variety of recipes made for beginner vegan cooks and experts alike. The couple lives exclusively out of their van while they travel up and down beautiful New Zealand. The cookbook has recipes that are super simple, with just a few ingredients, as well as some more involved crowd-pleasers. 
A good stir fry should be on everyone's go-to list of easy meals – whether it is vegan or not. But for vegans, it can be so versatile, using whatever vegetables are in season and coming together with just a pot and pan. 
This recipe for Vegan Singapore Noodles comes together so easily and can be adapted to your liking. The noodles will need one pot to boil, and the rest will fry in a large pan. If you only have one burner, it's very easy to do them one at a time, as you will be adding the noodles to the rest of the mix at the end anyway.
The sauce is a simple mix of sugar, water, and soy, mixed with some sriracha for spice. If you're not a fan of spice, you could always try a little sweet chili, or even balsamic vinegar. 
Herby Crusted Fried Tofish With Chunky Pan Fried New Potato Wedges, Mushy Peas, and Samphire
Victoria's Creative Kitchen spends her time traveling throughout Europe, seeking out and creating some amazing vegan dishes. Her beautiful page is loaded with homemade recipes and great restaurants with incredible vegan dishes.
Victoria's goal is to inspire people to look at vegan food as joyful, and it shows in her pictures. She has some easy to follow recipes, such as her Crispy Tofu Dippers and an array of snacks and dips. In addition, she has some more complex vegan meals that might take a little more time but are so worth the effort. 
Her Crusted Tofu With Potato Wedges and Mushy Peas not only looks amazing, but it also has an elegance that will make you feel accomplished. This dish consists of just a few ingredients – tofu, breadcrumbs, herbs, potatoes, and peas – but it does have a few extra steps. 
You need to boil the potatoes before you pan fry them, so if you only have one burner, you will need to do this first. But you're going to cook them again, so it's ok to put them aside to cool while you work on the rest. The tofu not only gets a quick marinade but a herby breadcrumb crust that takes it to a whole other level. And if you're feeling adventurous, making your own mushy peas is a cinch! 
If you're having trouble finding samphire, asparagus makes an excellent alternative.
One-Pot Mushroom and Broccoli Pasta
What Should I Eat For Breakfast Today has an eclectic collection of recipes, from buckwheat eggs to elderflower pancakes to strawberry gazpacho. The recipes are not all vegan or even vegetarian, but the ones that are, are very interesting and look delicious.
The beauty of this One-Pot Mushroom and Broccoli Pasta dish is its simplicity. You will need to substitute the cream for coconut milk or almond milk, along with the parmesan. Nutritional yeast is an excellent alternative because it has a cheesy, nutty flavor that will enhance the creamy pasta.
Essentially, everything gets thrown into a pot and cooked together. Once the pasta is cooked, add the cream alternative and nutritional yeast, cook for another couple of minutes and serve. One pot, one bowl, one fork. Another super simple recipe that is as easy to make as it is to clean up.
A great thing here is that you can change the vegetables out to suit your mood – as long as everything cooks at around the same rate. For example, you could use cauliflower and carrot instead of broccoli and mushrooms. 
Vegan Poke Bowl
Sometimes, you just don't want to cook. Maybe it's hot out, or maybe you're not in the mood for a hearty soup or stew. That's where The Simple Veganista comes in. Her website is full of salads, wraps, soups, and more. With everything from easy weeknight meals to holiday favorites, you will definitely find some recipes to try.
Poke bowls are all the rage online right now, and why should you miss out just because you don't eat tuna or salmon? This Vegan Poke Bowl recipe looks incredible, substituting fish for marinated tofu and onions.
For that extra kick of protein, you will need to cook some quinoa. It adds to the texture of the dish and makes it more substantial. But that's it for the cooking part. The rest is just about prepping your produce and arranging it in the bowl. 
The tofu marinade comes together fast and is ready to serve in 10 minutes. If you can't find sambal oelek, sriracha or sweet chili are great substitutes. Similarly, if you don't like that much cabbage, you can try adding sliced carrots for some crunch. If you like it a little sweeter, some mango chunks will work really well. 
Conclusion
Living in a camper van and exploring the world is an exciting and beautiful opportunity. If you are willing to let go of (most of) your things and commit to the small space and nomadic way of life, you can see the world in a truly unique way.
Though the space is small, cooking in your van doesn't have to be a chore, and you don't have to eat the same boring thing every day. There are plenty of blogs and websites out there with countless vegan recipes that are simple and delicious. Whether you are looking for a quick wrap for lunch or a decadent black bean burger with all the fixing, these guys have you covered. 
Sources