Hi-van is supported by its audience. When you purchase using our links, we may earn an affiliate commission (no added cost to you). Learn more
According to the United States Census Bureau, about 140,000 people lived in non-traditional housing units in 2019. Nasdaq reports that that's a "jump from about 102,000 in 2016″, or an increase of about 27%. Still, folks that choose this lifestyle can struggle to stay connected.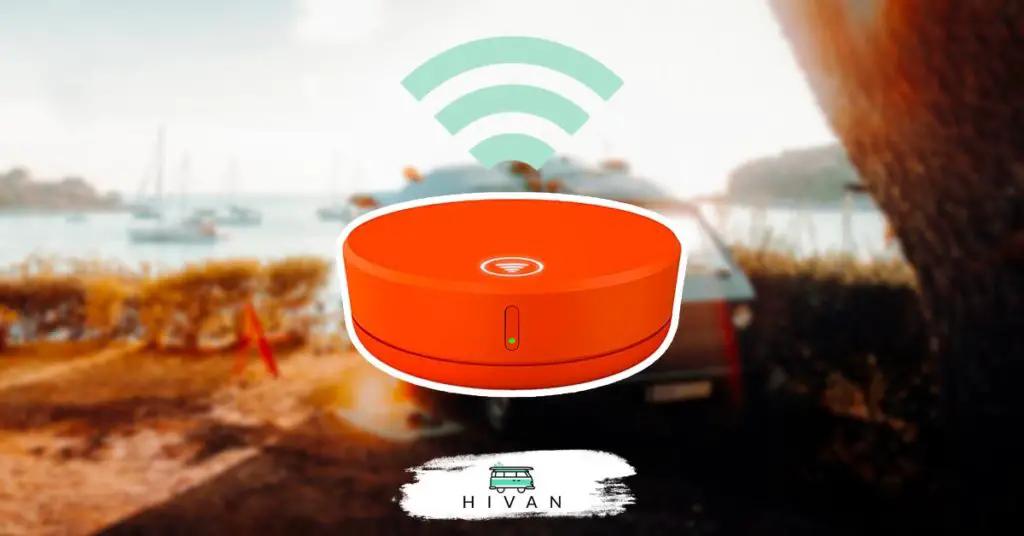 Here are 7 cheap unlimited WiFi options for van life:
Cellular data plans with tethering.
A roaming hotspot device.
Cafes and coffeehouses.
Local libraries.
Large chain restaurants.
RV parks and updated campgrounds.
International airports.
Fortunately, there are several affordable WiFi options for those living the van life. Many public locations offer unlimited free access to networks, while hotspot devices can provide reliable internet while on the road. This availability allows travelers of all means to stay connected with family, friends, and media while on the go. 
---
1. Cellular Data Plans With Tethering
You don't need a modem and a WiFi router to enjoy internet access. After all, your smartphone can connect to the internet without these things. But then again, most smartphones are registered to specific cellular data networks.
You can use this to your advantage when living and traveling in a van. If you already have a nationwide cell phone data plan with one of the major US cellular companies (T-Mobile, Sprint, Verizon, Cricket), you can choose to upgrade your plan to include hotspot and tethering capabilities. 
These allow you to use your phone as a WiFi source, enabling internet access for multiple nearby devices. Many unlimited data plans already include this service, so your monthly bill may end up staying the same.
Before you pack up your vehicle and hit the road, be sure to ask your preferred cellular data provider about on-the-go hotspot options that can work with your current phone.
---
2. A Roaming Hotspot Device
While you could choose to use your smartphone as a hotspot device, you don't necessarily have to take this route. An external hotspot device could also do the trick.
Many of these machines are built specifically for travelers, and allow for roaming network sharing and increased access, no matter where you are. Even better, most have built-in tethering capabilities that make it easy to connect all of your devices at a single time.
Take the Skyroam Solis (available on Amazon.com), for example.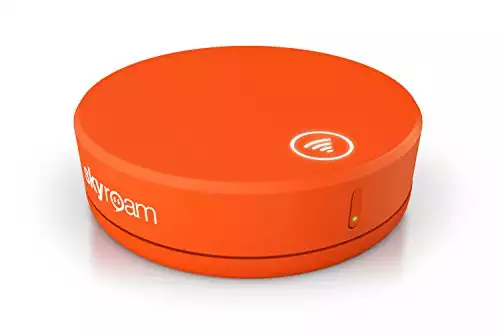 If you make a purchase, you support Hi-van.com by allowing us to earn an affiliate commission (no added cost for you).
This bright orange hotspot device doesn't require a SIM card or a monthly payment plan. It can help travelers gain unlimited internet access from nearly any point on the globe. And did we mention its impressive 16-hour battery life?
---
3. Cafes and Coffeehouses
It's no secret that many of the nation's most popular chain cafes and coffeehouses offer free WiFi. As such, travelers living in a van can occasionally save their data by utilizing these visitor-friendly networks.
Starbucks, Peet's Coffee, and Dunkin' Donuts are some of the most widespread and accessible options. However, some cafes limit their public networks to paying customers. Consequently, this solution isn't a foolproof, long-term option. 
But it could come in handy if you run out of data on your cell phone plan or hotspot device. 
After all, it can be nearly impossible to pay an online bill and replenish your data limit without WiFi. A short trip to your nearest chain coffeehouse could be the ideal way to gain more data. Besides, you can enjoy some delicious beverages while you're there.
---
4. Local Libraries
Living life in a van doesn't mean you can't stop for the occasional reading session. And while you're spending time catching up with your favorite stories, comics, or informational guides, why not access some free WiFi?
Many public libraries throughout the United States offer WiFi services for visitors. That said, some do restrict access to their network, requiring users to input their library card ID number to access the internet.
Consequently, those seeking immediate WiFi access may have better luck at the local Starbucks or Dunkin Donuts. But, of course, you don't need to be a book-reading coffee fiend to find free WiFi while out and about. 
Many large chain restaurants also offer internet access.
---
5. Large Chain Restaurants
Did you know that many of North America's largest chain restaurants offer some form of free WiFi? That's right, in addition to major coffeehouse chains, eateries are also offering diners a little extra connectivity with their meals. 
That said, access varies depending on the chain.
For example, the bulk of McDonald's, Wendy's, and KFC restaurants offer free WiFi with few restrictions or time limits. The data transfer on these networks is typically snail-level slow, but it's free.
Taco Bell, Arby's, and Subway restaurants also offer free WiFi to customers. You can also enjoy some soup, salad, and WiFi at Panera Bread. But be warned, Panera Bread locations tend to kick users off the network after 30 minutes.
---
6. RV Parks and Updated Campgrounds
RV parks and campgrounds have come a long way over the last few decades. In the past, these areas barely had running water and indoor plumbing. Today, many now have swimming pools, communal kitchens, and WiFi access. 
When it's time to park the van and get some shuteye, you'll need to choose a safe location. 
RV parks and campgrounds are some of the best choices for travelers. Not only are they amenity-rich areas, but many also have security cameras or guards.
To access the WiFI connection at a nearby RV park or campground, you'll likely need to pay an accommodation fee. This could range anywhere from as little as $15 to as much as $80 per night. 
Site amenities and lot size often influence the final price for an overnight stay.
Still, if you're staying in a rural area or a small RV park, you might not be able to secure temporary internet access. Though many campgrounds and parks are adding WiFi capabilities, this process is somewhat slow.
---
7. International Airports
If you're out on the road, living your best life in a van, you probably aren't exploring international airports. That said, if you happen to lack an internet connection, you could use an airport as a temporary hotspot.
Many airports, including some smaller regional ones, offer free WiFi to visitors and passengers. You may be able to temporarily park your van within the airport parking lot and utilize this WiFi. But, of course, finding the nearest airport can be challenging without WiFi.
Additionally, this type of connection is brief. Many airport internet networks allow for a specific amount of data transfer between their networks and visitor devices. Consequently, your ability to connect to WiFi may only last for between five and thirty minutes.
But if your cellphone is out of data, your roaming hotspot device fails to work, and you're not near any cafes or chain restaurants, using airport WiFi could be a lifesaver.
Find this content useful 🙂 ?
Subscribe to our Newsletter and get a free Solar Electric Diagram + shopping list.