There are many reasons why you might want to stay connected to the Internet while on the road, whether you're working remotely, staying in touch with friends or family, or looking to stream movies through Netflix. 
To get WiFi in a campervan, choose whether you'd like a built-in mobile hotspot, mobile hotspot router, satellite, or public WiFi. You may need to purchase an unlimited data plan for your phone, a hotspot router, an extra phone line, a satellite, or a combination of these tools and a signal booster. 
This article will discuss options for establishing a WiFi connection in a campervan, including comparisons and a step-by-step guide for getting started. Furthermore, check my van build resources page if you're building your own van.
---
Types of WiFi Internet Connection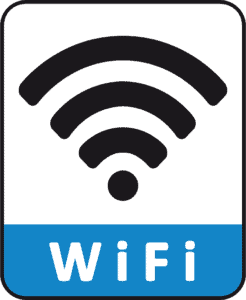 Most cell phone providers provide a quick, easy connection to the internet for smartphones through 4G, 5G, and LTE data services. When determining whether your data plan can support your needs, consider that streaming a high-definition movie requires about 3GB of data per hour while uploading a photo takes about 2-4 MB. 
If your cell phone plan does not provide what you need, you may consider a pricey but much more effective satellite internet connection or finding a campground with public WiFi access.
---
Built-In Cell Phone Hotspot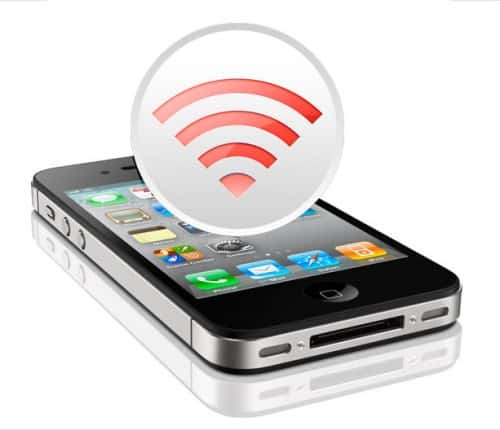 Most smartphones have a built-in hotspot feature accessible through Settings, which allows you to establish your phone as a WiFi source for other nearby devices. This can be a great way to connect your laptop or another device easily if you have unlimited data. 
However, this method can also lead to very slow speeds if you try using large amounts of data. Some providers intentionally slow down internet speeds when your demands exceed a certain amount of data, a technique called throttling. This can decrease their workload or incentivize the purchase of another plan or device. 
How to use your Built-In Cell Phone Hotspot:
Find your personal hotspot settings. This will be in Settings > Personal Hotspot for iPhone or Settings > Network & Internet > Hotspot & Tethering for Android.
Toggle Allow Others to Join and note the WiFi password.
Find your hotspot-enabled device in the dropdown menu of nearby WiFi networks, then use this password to join.
Optional: Upgrade your phone plan to include unlimited data. Streaming video or using data on multiple devices can very quickly exhaust your data plan.
Mobile Hotspot Routers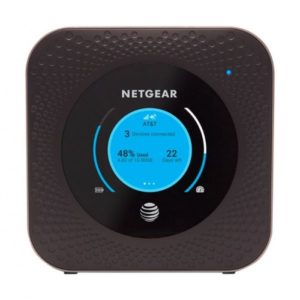 Mobile hotspot routers are standalone devices that receive a cell phone signal and put out a WiFi signal much stronger and faster than what you'd get with a built-in hotspot. They can be added to a phone plan as a secondary line, and vary in quality depending on your provider. 
Some hotspot routers, like the Skyroam Solis X Smartspot also come equipped with features like power outlets for charging and a remote camera. Like the NETGEAR Nighthawk Mobile 1 Hotspot, other hotspot routers have fewer of these bells and whistles but can support very fast internet speeds up to 1 Gbps.
How to use a Mobile Hotspot Routers in your van:
Purchase a mobile hotspot router that is compatible with your cell phone service provider and meets your needs for speed and number of devices and other features you might want or need.
Contact your cell phone provider to establish a phone line for the router. 
Consult the user manual for your chosen device for installation instructions. Some will require you to insert a SIM card, while others need to be powered on. 
Mobile Hotspot Router Plans Compared
| | | |
| --- | --- | --- |
| Verizon Wireless | $20/month | $69/month for 10GB of data |
| At&T | $20/month | $50/month for 10GB of data |
| T-Mobile | Cost of adding device to line included in data plan | $25/month for 6GB or $70/month for 18GB of data |
| Boost Mobile | Cost of adding device to line included in data plan | $50/month for 10GB of data |
| Cricket Wireless | Cost of adding device to line included in data plan | $35/month for 10GB of data |
Satellite Connection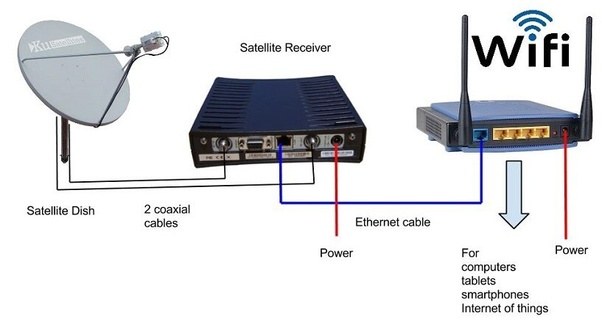 Satellite internet systems range widely in price, but small, portable satellite systems for the RV are reasonably affordable, like this standalone DIRECTV Tripod model at $130. Small, mounted units like this Direct King Dish are slightly more expensive, at $445, but still within a reasonable price range less than what you'd pay for a home satellite connection.
Of course, these costs only cover equipment, and the cost of monthly internet service averages $30-$150.
How to use a Satellite Connection in your van:
Purchase satellite equipment to meet your needs. For a lower cost, seek out portable, standalone, or mounted units for RVs.
Contact a satellite internet provider to establish a connection for your unit. 
Follow the installation instructions in the user guide for your particular device.
Public WiFi Access
Public WiFi is available at public libraries, McDonald's, Starbucks, FedEx, and Barnes and Nobles. If you need quick access to the internet while on the road, any of these might be suitable short-term options. However, you may also look for a campground that offers public WiFi.
You can identify places with public WiFi, including campgrounds, with several offline applications. For example, Google Earth includes a search feature that allows you to find internet access points while off the grid quickly. The GPS feature includes saved locations called waypoints, which can help you find a place to connect to WiFi in a pinch.
If you're able and willing to camp near public WiFi but are disappointed at the slow speed, consider a signal booster.
How to use a Public Wifi Access while in your van:
Find a location with public WiFi.
Connect, but remember that your activity is not private. Do not use credit cards or log personal information if connecting over public WiFi.
Signal Boosters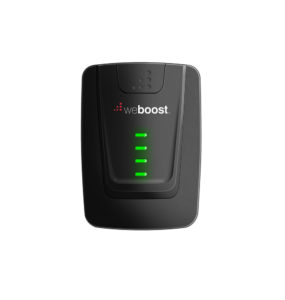 You can find a signal booster for cell service or WiFi, speeding up your existing connectivity significantly. The Weboost Cell Booster is a costly but effective phone service booster, at $500, but could increase your regular cell service speed and shared hotspot internet connection.
A WiFi booster tends to be much less expensive, like the SETEK Superboost model.  
Whether boosting your connection to your internet service through a cell booster or a wifi booster, with a stronger connection, you'll experience a smoother process of streaming audio and video and expand the area reached by your hotspot or wifi. You'll be able to connect more devices and have a better experience with each of them.
How to use a Signal Booster in your Van
Purchase a signal booster for your cellular network or your WiFi service.
Follow the installation structures for the device. An RV-specific cell booster may include an outside antenna to capture the signal and an inside antenna to boost your devices. A WiFi booster may need to be plugged in, ideally as close as possible to your internet source.
---
What to Do if You Lose Your Internet Connection
Depending on whether you're in the middle of a movie or working on a time-sensitive project, losing your internet connection suddenly can be very distressing, especially if you're off the grid and far from any public WiFi locations. Remaining calm will allow you to think clearly.
Next, determine whether the issue has to do with your equipment or your service provider. Check for any loose cable connections or an electrical outage. If possible, try connecting from a different device. If you're relying on a mobile hotspot, make sure you are still receiving a cell signal. 
If you've gone through this checklist and still have no service, contact your provider to be sure that the problem isn't on their end or haven't left their coverage area. 
Always plan to make sure that you won't be stranded without the services you need even in the worst-case scenario.
---
Conclusion
The right WiFi plan for you depends on the particular needs that you have and the amount of money you'd like to spend on your device. Once you've decided what kind of service you'd like to use, setting up the connection is a quick and easy process.