Hi-van is supported by its audience. When you purchase using our links, we may earn an affiliate commission (no added cost to you). Learn more
Enjoying life or vacations off the grid is almost always a wonderful experience. That being said, we often have to go without the internet, TV, and other modern amenities. The good news is that there are several ways to take advantage of the technology to access the internet pretty much anywhere.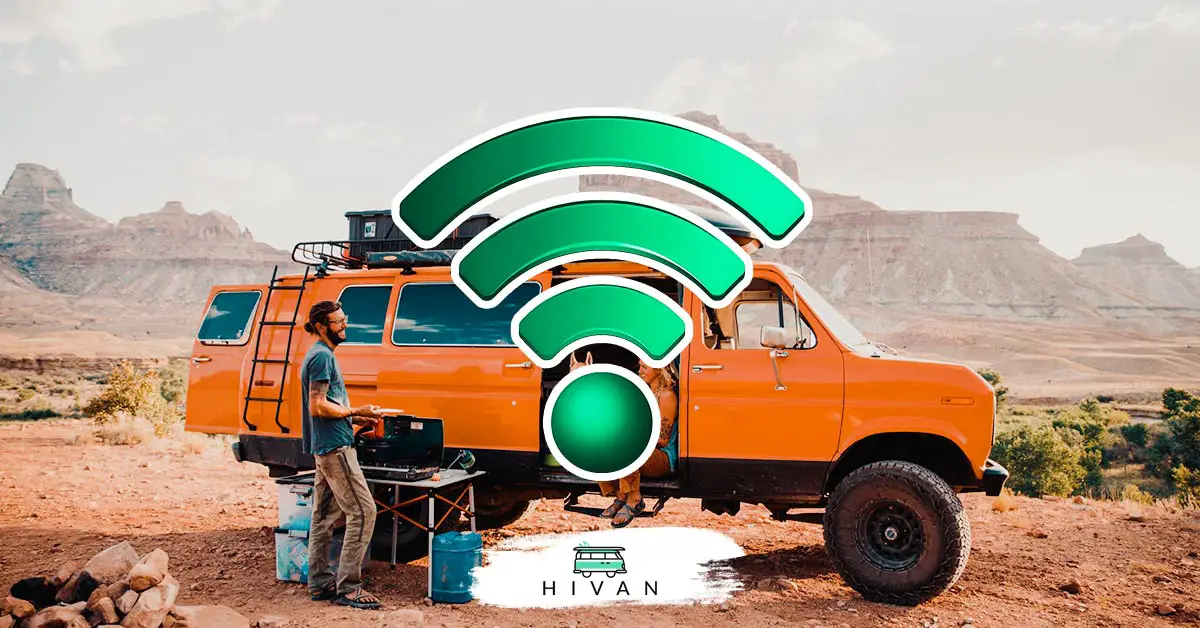 To get internet in areas without service, follow these instructions:
Use a mobile hotspot
Connect to your phone's hotspot
Access public WiFi
Attach a WiFi extender
Find fixed wireless broadband
Use an internet stick
Purchase a satellite internet service
In this article, we'll explain seven must-know strategies to find and use the internet in places without service. We'll also show you a handful of tips to find the cheapest solutions without suffering through low internet speeds. Enjoy!
---
Use a Mobile Hotspot
Mobile hotspots are tech gadgets offered by cell phone service providers. For example, Verizon has its Mobile Jetpack. There are dozens of companies that have mobile hotspots, all of which offer excellent internet access in most places where you can't find it. Rather than relying on your home's internet service, you can pack a mobile hotspot.
Another reason mobile hotspots are so popular is that they let you track your internet usage and speed. Instead of wondering how much data you're using or how quickly it's working, you can pick up the device and cycle through the menu. These settings will give you real-time information that's typically more accurate than home-based internet services.
Those looking for mobile hotspots should contact their current cell phone provider. If you open a new line with your current provider, you'll usually be able to include it in a bundle. Choosing a mobile hotspot from a different company will often add new fees.
---
If you have a smartphone or tablet that's connected to your service provider's internet towers, you can turn on its shareable data option. Most people are unaware that the vast majority of modern cell phone plans include a specific amount of shareable data. This data can be used by any other device, including other smartphones, smartwatches, tablets, TVs, laptops, and more.
To access your smartphone's shareable data, follow this process:
Unlock your smartphone or tablet and click the 'Settings' menu.
Click on the 'Connections' tab and look for 'Mobile Hotspot' or 'Tethering.'
Decide if you want to connect your additional device to your smartphone's internet or Bluetooth (Mobile Hotspot is for the internet, and Tethering is for Bluetooth).
Turn on WiFi on your external device and look for your smartphone or tablet's mobile hotspot (they'll provide a name for you to find).
Enter the password provided by the host phone or tablet.
That's all you have to do to stay connected!
---
Find Fixed Wireless Broadband Internet
Down to Earth Homesteaders share one of the lesser-known tricks of finding internet through fixed wireless broadband internet. These services are becoming more popular in rural locations where well-known internet providers aren't found. For example, if you camp or live in the woods without access to Verizon, T-Mobile, or AT&T, you could use fixed broadband internet.
The way it works is a private company sets up an internet tower in a rural location. You pay them for monthly access to the fixed internet service. Unlike the major providers, they typically don't offer cable and other amenities. You strictly pay for the internet that only works in a specific region.
---
Try Public WiFi at Local Restaurants and Cafes
Public WiFi is found in most locations where companies want to pull customers from highways. For instance, popular restaurant chains like McDonald's and Starbucks often offer public WiFi to attract customers. You can connect to these public internet providers from inside of the restaurant, but a lot of them have signals strong enough to access from the parking lot.
Keep in mind that public WiFi is limited and shouldn't be used for personal information transactions. It's best to avoid using bank accounts, stock investment profiles, and other websites to avoid public WiFi hackers. That being said, this is a great option for replying to emails, checking the weather, and so on.
---
Consider WiFi Extenders if You're Near a City
WiFi extenders should be a go-to solution for those living on the road or camping frequently. These devices let you use public WiFi and shared internet from other smartphones and tablets from much further. You can install a WiFi extender in your vehicle and be ready to use the internet wherever you go.
TP-Link AC750 WiFi Extender
Boost Internet Wi-Fi coverage up to 1200 square feet and connects up to 20 devices - Compatible with Wi-Fi Router, Gateway, Access Point (2.4GHz - 300Mbps ; 5GHz - 433Mbps)
Eliminate Wi-Fi Dead Zones - Enjoy Lag-Free Connection to any type of devices, including wired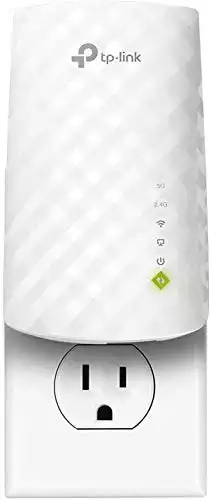 If you make a purchase, you support Hi-van.com by allowing us to earn an affiliate commission (no added cost for you).
The TP-Link WiFi Extender stretches up to 1,200 square feet. If you have an outlet in your vehicle or an inverter plugged into the 12V DC outlet, you can connect up to 20 devices. The internet works up to 750 mb/s, but they offer faster models if you need more connections or a higher speed.
---
Bring an Internet Stick With You
Make Use Of recommends getting an internet stick, WiFi USB dongle, or mobile hotspot. There are countless options on the internet and in popular tech stores. Find out if you want to use a USB port, 12V DC outlet, or a traditional plug-in system.
Wireless USB WiFi Adapter
Dual High Gain WiFi Antenna - Weak Signal Increased by Wireless Adapter for desktop computer Use 2pcs Long Range WiFi Antennas of 5dBi, which makes USB wifi Adapter Ensures Range Extended WiFi Connection and Superior Stability for Desktop, Laptop, PC.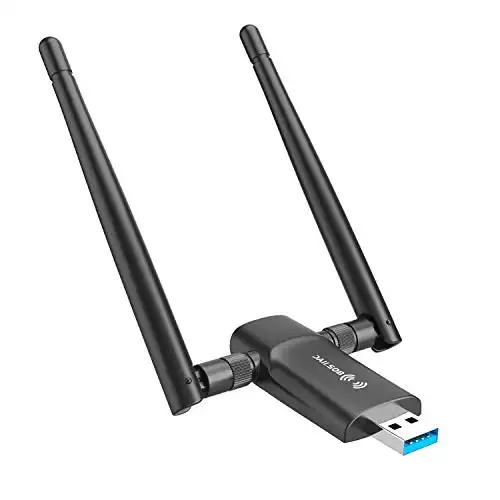 If you make a purchase, you support Hi-van.com by allowing us to earn an affiliate commission (no added cost for you).
The NinePlus USB WiFi Adapter provides access to high-speed internet connections. You can connect it to mobile hotspots, fixed broadband internet, or a third-party service wherever you go. This device plugs into a USB slot and also acts as a WiFi extender.
---
Add a Satellite Internet Package to Your Plan
According to Family Handyman, satellite internet packages are quickly rising in popularity. Rather than connecting to the grid, these towers get WiFi signals from satellites. The result is usable internet in a designated region.
The only issue associated with using satellite internet is that bad weather conditions, humidity, and dense tree lines can limit or hinder the internet's performance. You can drive closer to the tower for a better signal, though. Much like fixed broadband internet, you need to register with the internet tower's provider.