Hi-van is supported by its audience. When you purchase through links on my site, I may earn an affiliate commission. Learn more
Your truck topper provides an excellent sleeping room for when you need to retire after an adventure-filled day. However, these units are rarely equipped to keep out the biting cold or the high noon heat. You'll need to insulate yours if you want to sleep in it throughout the year.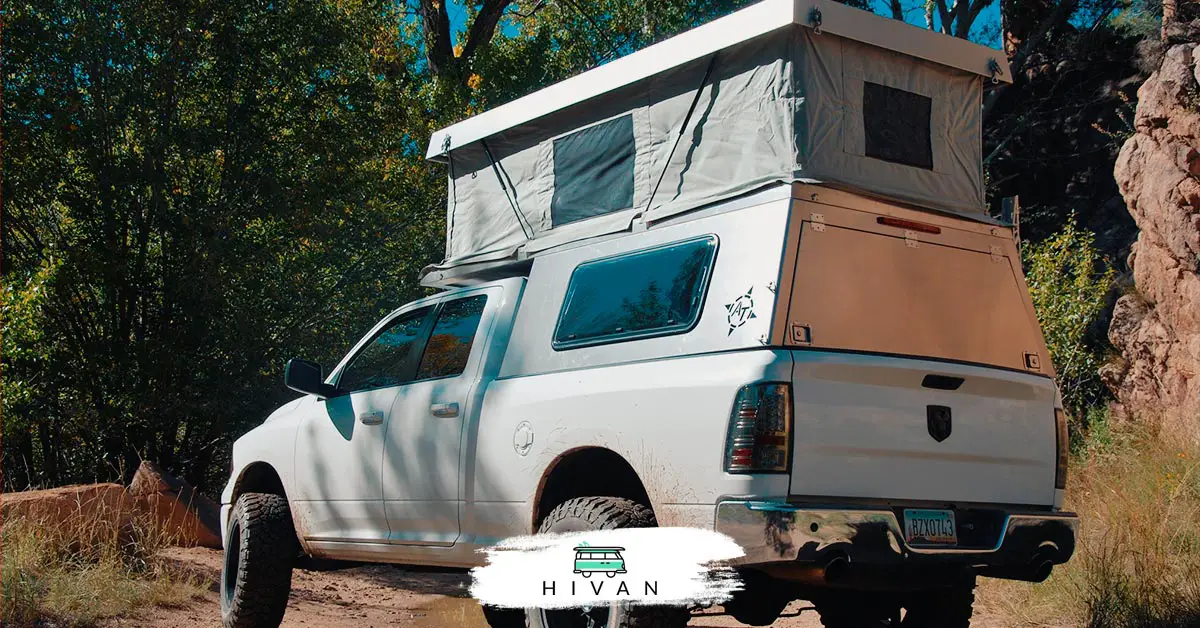 Here's how to insulate a truck topper for sleeping:
Gather the necessary tools.
Measure the truck topper.
Get your insulation materials. 
Clean the truck topper. 
Install the bracing.
Install the insulation.
Watch for spots that require extra insulation.
The rest of the article will go into more detail on the steps above. You no longer have to sleep in your uncomfortable tent when you're outdoors.
1. Gather the Necessary Tools 
Like all other DIY projects, you'll need to put together the materials you need to get this job done. Some of the tools you'll need for the job include:
Plywood
A ruler
A marker
Tape measure
A saw
2x4s and 1x4s
Aluminum strips
Basically, you should gather any tools that will aid in the installation process. Your carpentry toolbox will come in extremely handy here.
2. Measure the Truck Topper
Measuring the truck topper will help you calculate how much insulation material you need to buy. You should measure the ceiling, walls, and windows. You'll also need to take measurements for the bracing. You'll need the bracing to provide support for the setup.
When measuring your windows, you have to decide if you'd want to install insulation over the window or around it. I personally find that the latter is better because you can insulate a board to fit on the windows when necessary instead of losing the functionality of the window completely.
3. Get Your Insulation Material for your Trunk
Once your measurements are done, you can proceed to gather your insulation materials. You need to pay attention to the R-values here. The higher the numbers, the more efficient the insulation you'll need to get.
If you want to insulate your truck topper to withstand cold winters, you'll need to go with insulation materials that have a higher R-value. Options with a lower R-value will work well if you're just looking for recreational insulation or won't be traveling through very cold areas in the winter.
The insulation materials you'll find in the market include:
Spray foam
Reflectix
Natural Fiber
Mineral Wool
Fiberglass
Styrofoam
There are pros and cons to each, but from a DIY point of view, you should consider fiberglass or natural fiber insulation first. Spray foam should only be applied by professionals with specialized gear.
4. Clean the Truck Topper
If you've not used your truck topper in a long time, you have to clean it up to get it ready for insulation. Make sure to keep an eye out for spots that need to be repaired. 
You may be able to seal holes and cracks using patch welds or a fiberglass repair kit, but this will depend on your truck topper material. Don't forget to check the weatherstripping around the truck topper and replace missing or damaged weatherstripping to ensure your insulation will work.
5. Install the Bracing
You can install the wood bracing for your insulation using some construction adhesive. However, you will first need to install a moisture barrier to protect the wood. Additionally, it's best to use treated wood for your bracing to reduce the risk of rotting. 
If you'd like a tutorial on how to apply the adhesive, check out the YouTube video below:
6. Install the Insulation Material
With the bracing and backing installed, you can cut your insulation material to fit the different parts of the truck topper and start the installation process. The installation process should be pretty straightforward if you choose fiberglass insulation, though you may need to enlist extra help to hold up the insulation material as you install it.
If you intend to use glue, make sure to avoid applying it in extremely cold temperatures as it won't cure quickly enough.
Related Articles:
Do You Need To Ventilate a Truck Bed for Sleeping?
7. Watch for Spots That Require Extra Insulation
Despite your best efforts, you're likely to end up with overlooked spots in your insulation. Take the time to scrutinize your installation to shore up any spots before they become problematic. One of the best ways to find poorly insulated spots is to spend some time in the truck topper in cold (or hot) weather.
If you find any spots that are colder or hotter than the rest of the space, you can add extra insulation there. You can use some construction-grade joint tape or normal duct tape to seal your seams tightly. Metal strips can also provide additional support over your insulation.
8. Add Sleeping Mats or Bags
With the insulation done, you can bring in your preferred sleeping material. Foldable sleeping bags work best as you can easily roll them up after your nap. It also frees up the truck topper for when you need to haul cargo.
Willpo Memory Foam Camping Mattress
【GREAT SUPPORT & COMFORT】 High-density foam has great resilience, grants you constant support, memory foam increase more wrapping feelings, brings comfort and relaxation for the body.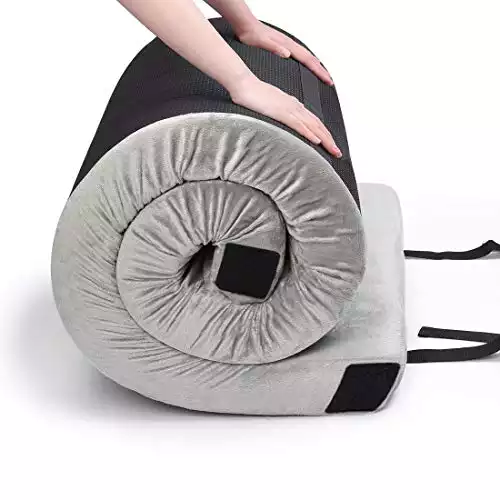 If you make a purchase, you support Hi-van.com by allowing me to earn an affiliate commission (no added cost for you).
The LEEWADEE 2-Fold Mat and the Willpo CertiPUR-US Memory Foam on Amazon.com are both good options. They're easy to use, durable, and weather-resistant.
Other Tips To Keep in Mind
Consider layering your insulation. Layering is a great way to increase the overall R-value of the insulation. It may cost more, but it'll help make your truck topper super comfortable. It may also help to ensure adequate moisture control.
Check the insulation in the truck topper first. Before you head off to buy insulation materials for your truck topper, it's best to get a good feel of the insulation already installed in it. Most truck toppers have some form of insulation pre-installed, so check out what you've got to get a clearer idea of how much additional insulation you need to add.
Why Insulate Your Truck Topper for Sleeping?
You need to insulate your truck topper for sleeping if you want to use it in adverse weather conditions. Insulation makes the topper more comfortable, especially during the hottest and coldest parts of the day.
Tents or a truck topper without insulation will work well if you're looking to sleep outdoors in the summer or in more temperate areas. In the winter, an insulated truck topper is guaranteed to provide more comfort. They're also far more durable than conventional tents.
Final Thoughts
Insulating your truck topper for sleeping is a straightforward process. If you're going for moderate insulation, you can complete it in under a couple of hours with the right gear. The bulk of the work lies in designing the insulation approach and choosing the right materials for the job.
If you don't have the DIY skills to pull it off, you can always get a professional to do the job for a few hundred dollars.
Here are some of my favorite van build tools:
Thank you for reading this article. I hope you found it helpful as you build your own campervan. Here are some tools that I use daily while living on the road that made my life easier. I hope you'll also find them as useful as me. These are affiliate links, so if you do decide to purchase any of them, I'll earn a commission.
But in all honesty, these are the exact tools that I use and recommend to everyone, even my closest friends and family.

Electricity: When I first started my van life journey, I was using the Renogy 200W RV Kit, and I've recently upgraded my setup to the Renogy 400W RV Kit. I'm fully autonomous regarding power now, thanks to this upgrade. I don't know why I didn't choose this option from the beginning.
Quick Fixes: Whenever I need to fix something inside my van, I use my multitool from Victorinox. It's compact and comes with a leather pouch that lets you store it wherever you want. Whenever I need more tools, I get my Cartmann toolset out.
Power tools: If you're converting a van, you'll need some serious tools for the building process. I can assure you, good power tools can make a huge difference. You'll save time and avoid a lot of frustration while having some professional-looking final results. I personally went big with the full combo set from Dewalt.
To see all of my most up-to-date recommendations about van build, check out this resource that I made for you!