Hi-van is supported by its audience. When you purchase using our links, we may earn an affiliate commission (no added cost to you). Learn more
Roof top tents are some of the best camping equipment for those who want to save space, elevate themselves for a better view, and more. However, you might be curious if you can use a new roof top tent if you have a canopy on your truck. Also known as a camper shell, canopies cover the whole bed, preventing you from putting the tent inside of it.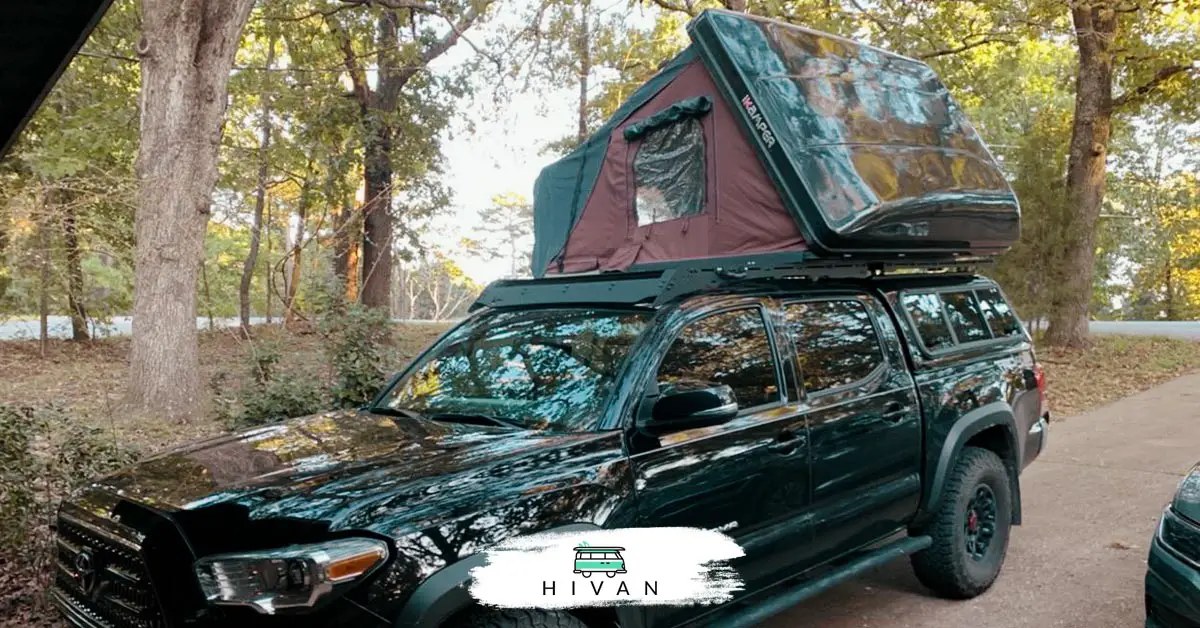 You can put a roof top tent on your truck canopy if you have a root top rack on the shell. This rack provides stability and security points for the roof top tent, preventing it from wiggling or falling off in the middle of the night. Ensure the tent isn't too big for your roof rack, or it won't fit. You also need to double-check the maximum weight your canpopy can handle to not damage it.
Throughout this article, we'll show you the process to attach a roof top tent to your truck's camper shell, which tents fit canopies, and what you should know beforehand. We'll also provide a few tips to make it easier to mount onto your truck.
---
How Do You Attach a Roof Top Tent to a Canopy?
To attach a roof top tent to a canopy, follow this method:
Add a roof rack to the truck's canopy if it doesn't already have one. A roof rack is essential for almost all truck tents. If you don't want to get a roof rack for the camper shell, consider finding a tent that has long legs with stakes that can be hammered into the ground. They're your only option that won't slide around (aside from rare bolted variants).
Tie the right side of the tent to the right side of the truck's roof rack. The tent should be folded before you place it on the roof. Camping on the Roof recommends making a pulley system with a rope if you have to mount it by yourself. This will allow you to move to the other side and pull it over. Some roof tents come with the rope pre-installed.
Secure every strap on the canopy to the roof rack, ensuring they're as tight as possible. Your roof rack needs to be drilled into the roof without wiggle room, too. Check if there are poles or ladders since they all add extra stability. Place the ladder at an angle to secure it with stakes without it falling over.
That's all there is to it! Extra tips include putting the truck's parking brake down to stabilize it as much as possible, testing your tent by moving around inside of it, and parking the truck on a flat surface. You can use a leveling tool to make sure the roof top tent doesn't slide around or lean to one side, making it uncomfortable to sleep in.
Remember, not all roof top tents fit every truck. While many of them are labeled 'one size fits all,' that's not always the case. In the next section, we'll break down everything you need to do to choose the right tent for your truck's canopy.
---
What Roof Top Tents Fit Truck Canopies?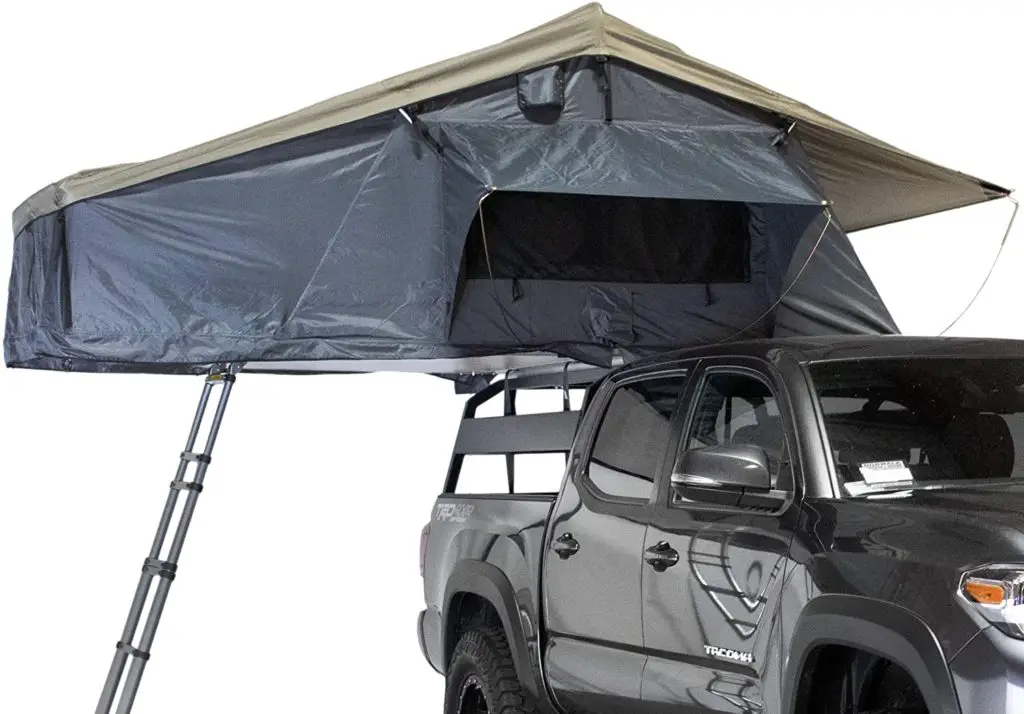 Many roof top tents fit truck canopies, as long as they come with straps for roof racks or extension poles that slide to the ground. These two options provide optimal balance and security that your tent needs to keep it from sliding off the edge. Some roof top tents include straps for D-rings mounted in the truck canopy or bed.
The Overland Vehicle Systems Nomadic 3 Tent is designed to fit most camper shells. It's 122 x 63 x 51 inches and weighs 165 pounds, so you'll enjoy the pulley system that helps you mount it to your vehicle. That being said, you can do it at home and wait to unfold it until you get to the campsite.
Go Downsize explains most cars and SUVs aren't as durable as truck canopies, making them a worse choice for people who want roof top tents. However, these tents often fit most truck canopies since they're designed for their dimensions. We'll dive into more suggestions to choose the right one in the following subheading.
---
What to Know Before Putting a Roof Top Tent on a Canopy?
Before putting a roof top tent on a canopy, you should know that it has to be the same length as the canopy, it can't be strapped to a rusted roof rack, and it has to be certified for canopy use by the manufacturer. With these tips in mind, you can use almost any roof top tent on a truck with a canopy, much like you can with Jeeps and other large vehicles.
Keep these notes in mind:
REI shows some roof top tents bolt to a canopy rather than tied to the roof racks, as mentioned above. While these tents aren't as common, they're definitely a choice for those who have a camper shell but don't want to get a roof rack. They also let you avoid the long stability poles.
You have to choose the right size for your truck's canopy. Truck beds can range from just over five feet long to well over nine feet long. Given these dimensions, we're sure you can understand why not all roof top tents are ideal for every canopy. If you have a short bed and a long tent, it'll hang off of the edge.
Roof top tents can be challenging to install if your system doesn't have a one-person pulley mechanism. If you're the only one camping in the tent, make sure it's outfitted with the necessary equipment to handle the job by yourself. You don't want to be stuck at a campground with a tent that you can't pitch!
---
Conclusion
Roof top tents are perfect for trucks with canopies if there's enough space on the roof rack. They come with ladders to climb higher into the tent, providing the ultimate camping experience for truck owners. You'll also enjoy the elevation to keep you out of reach of animals and crawling bugs.