Hi-van is supported by its audience. When you purchase using our links, we may earn an affiliate commission (no added cost to you). Learn more
Overlanding and boondocking are two of the most immersive ways to explore the great outdoors. Whether you're going off-road into the desert or cruising through the mountains in the snow, you can enjoy both activities at the same time. Overlanding is the means to get to a place to boondock, so you can technically do them simultaneously.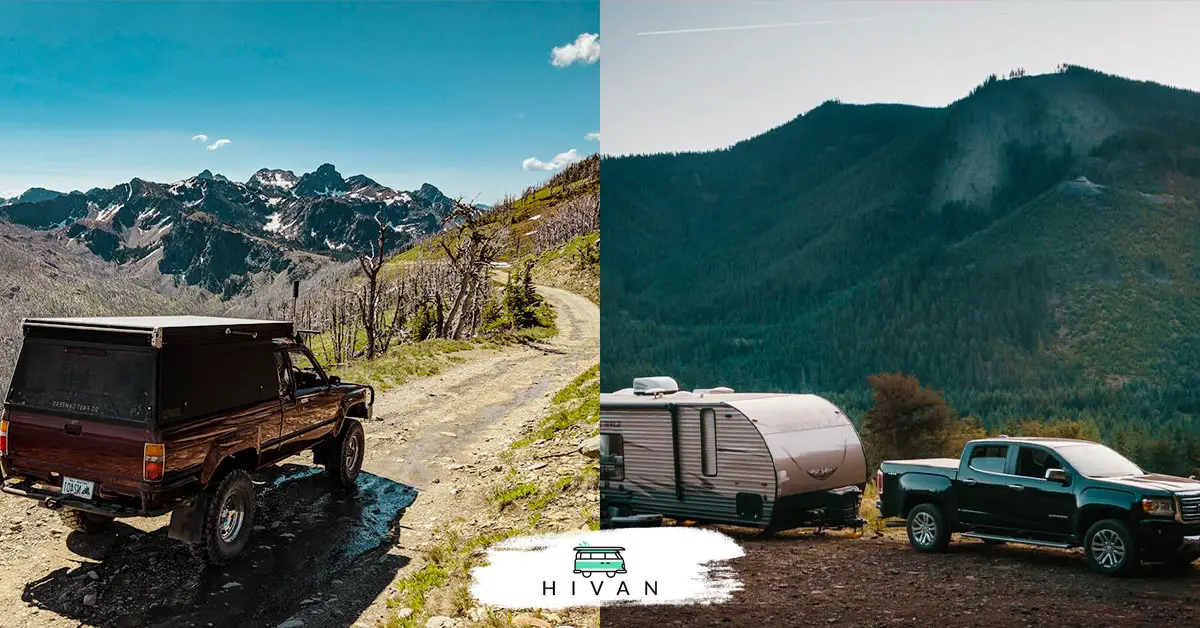 When it comes to overlanding vs. boondocking, overlanding is better for people who want to drive off-road through uneven, unpredictable terrain. On the other hand, boondocking lets people with almost any vehicle dry camp without hookups, but some locations have paved roads.
This article will cover the differences between overlanding and boondocking, what you can expect from them, and how they're similar. You'll also learn which one is the better fit for you and your outdoor aspirations.
---
What's the Difference Between Overlanding and Boondocking?
The difference between overlanding and boondocking is that overlanding is a style of driving that typically involves going off-road. Boondocking is a type of dry camping without any hookups in the backcountry or somewhere else with legal camping locations. You can easily boondock without overlanding.
Here's a list of differences between the two:
Boondocking isn't a form of travel, but overlanding is. According to Campendium, campers often enjoy boondocking because they love outdoor destinations. Boondocking lets people explore all sorts of environments, but you don't need to overland to get to a boondocking place.
You can overland for several hours and head back home, which is the opposite of boondocking. Boondocking takes at least one night to do, but many people overland without spending the night. While overlanding is typically a long-term off-roading process, the goal isn't to always arrive at a campsite.
Many people overland without boondocking by driving to campgrounds with hookups. If you love camping and off-roading but don't want to dry camp, you can outfit your vehicle with hookup attachments. Get water, electricity, sewage, and other hookups at local campgrounds after a long day of overlanding (unlike boondocking).
Some people boondock in parking lots, which breaks the definition of overlanding. Overlanding requires you to drive off-road to get to your destination. Since parking lots are on city roads, you can't overland to get to them. Keep in mind that you have to get approval before boondocking in a parking lot.
You don't need a specialized vehicle to boondock, but overlanding is challenging without the right equipment. Most people boondock in an RV. While you can overland in some campervans, taking a Class A RV overlanding is nearly impossible. Overlanding vehicles have special tires, suspension systems, lights, and more.
As you can see, there are many reasons overlanding and boondocking are far from the same. One is a means to arrive, and the other is what happens when you get there. However, there are many similarities, which is why a lot of people confuse or combine them. Let's review everything you should know below.
Related Articles:
Is Overlanding Bad for the Environment?
Overlanding Vs. Boondocking: The Differences Explained

---
How Are Boondocking and Overlanding Similar?
Boondocking and overlanding are similar because both of them are often off-road or off-the-beaten-path activities in vehicles. You can boondock at an overlanding location, letting you get the best of both worlds. Furthermore, you can convert an overlanding vehicle to have everything you need to boondock.
Review the three common similarities of boondocking and overlanding:
Overlanding and boondocking are always outdoor activities. The most common similarity between them is that they both pique the interest of outdoorsmen. Whether you love off-roading, camping, survival, or all of the above, you'll get a kick out of boondocking and overlanding.
Many campers outfit their overlanding vehicles as boondocking stations. For example, you can make a converted campervan with a raised suspension system, off-road tires, solar panels, and a built-in sewage system that works for overlanding and boondocking. If you go overlanding, you should map the route beforehand.
You can boondock and overland for many days on end (some people do them as a lifestyle). We're the Russos show many people go on overlanding and boondocking trips for a week or more. If you want nothing more than to go outdoors and stay off the grid for a few days, you can try either or both of them.
There's no denying that you can combine boondocking overlanding, but you can also do one without the other. It's hard to compare them since one could be more suitable than the other, depending on your personal preferences. If you want to know which one you should try, read on.
---
Is Overlanding Better Than Boondocking?
Overlanding is better than boondocking for those who appreciate the traveling aspect of it. However, boondocking is best for those who enjoy the destination more than the journey. Neither of them is definitively better than the other because you can combine them for the ultimate outdoor experience.
RV Lifestyle explains how it's difficult to compare overlanding and boondocking because they're far from the same type of activity. As we've discussed, you can do them together or one without the other. It's like comparing apples to oranges; It's impossible to say one is always better than the other option.
One person might prefer overlanding because it's more adventurous and requires them to think on their feet. You'll need a hitch to pull yourself out of sticky situations and a willingness to adapt to changing terrain (especially when it's snowing, raining, or there's a lot of wind).
Other people might enjoy boondocking more because they can drive down a gravel road to get to a beautiful backcountry location far from civilization. There's no need for stressful driving or going up and down slopes, nor do you have to limit the size of your motorhome or campervan when boondocking.
---
Conclusion
Now that you know the differences and similarities between overlanding and boondocking, you can decide which one is the better fit for you. Overlanding usually costs more money, but the intense traveling experience is well worth it for thousands of drivers. You can boondock with or without overlanding, though.