Hi-van is supported by its audience. When you purchase through links on my site, I may earn an affiliate commission. Learn more
If you're considering living in a Jeep Wrangler, there are several important factors to take into account.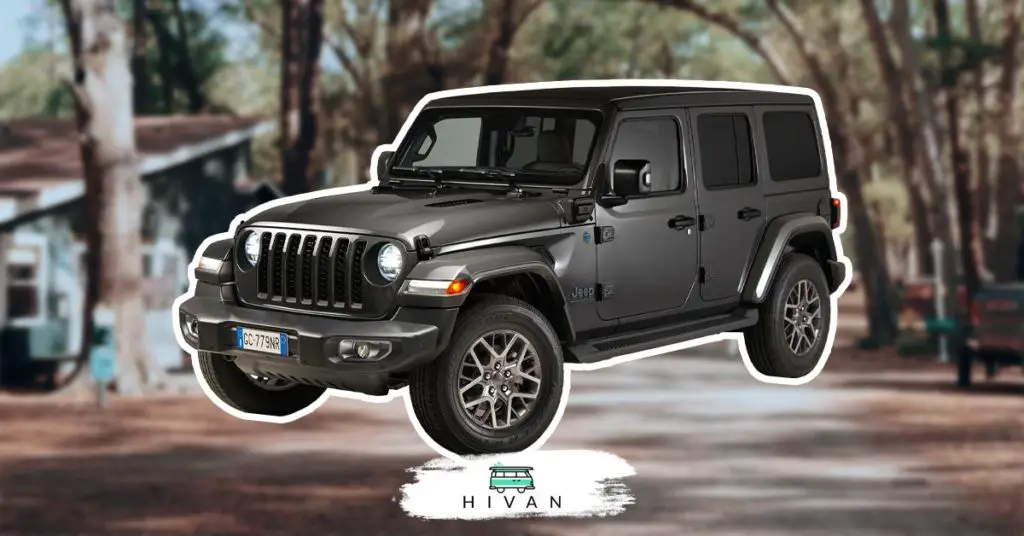 You can live in a Jeep Wrangler, but remember that you'll need to make custom adjustments to make a decent living space out of the car. You'll likely need a water tank and filtration system and a popup roof or roof tent. Additionally, remember to maintain your vehicle to prevent malfunctions.
Read on to learn more about living in a Jeep Wrangler. This article will discuss important facts that you should consider before you decide to live in your Jeep.
---
Things To Know About Living in a Jeep Wrangler
Living in a Jeep Wrangler gives you the option to take your home to remote places that you otherwise wouldn't be able to access without a 4-wheel drive. It's an exercise in freedom, yet a good way to ensure that you have everything you need.
A Jeep Wrangler is a good choice for a car to live in because of its off-roading capabilities and sturdiness, but there are still things that you need to know before making the jump. 
Related Article:
Living in an Expedition Vehicle: 11 Things To Know
1. You'll Need To Install a Water Tank and Filtration System
If you're looking to live out of a Jeep Wrangler, you need to consider how and where you'll have water access. It's a good idea to install a tank that can hold a significant amount of spare water and a filtration system so that you can get water from more sources and for added safety.
You can install a water tank underneath the Jeep or inside the vehicle. The benefits of installing a water tank underneath the car are that it keeps the weight at the bottom of the vehicle and doesn't take up interior space. However, water outside the vehicle may freeze in cold temperatures, and having the tank on the outside increases the risk of damage.
2. A Popup Roof Can Give You More Interior Living Space
Space is at a premium in a Jeep Wrangler, so be prepared to use the entire floor of the vehicle for supplies like water and food. Prepare yourself by installing a popup roof that you can use to make room for a bed. Some installations can provide a significant amount of extra space, even enabling you to get up and walk around in the vehicle's interior.
Falcon Roof Top Tent
INSTALLS EASILY on all Vehicles
POPS UP in Under a Minute
WATERPROOF and Super Durable
FREE SHIPPING Fast Freight
FINANCING Interest Free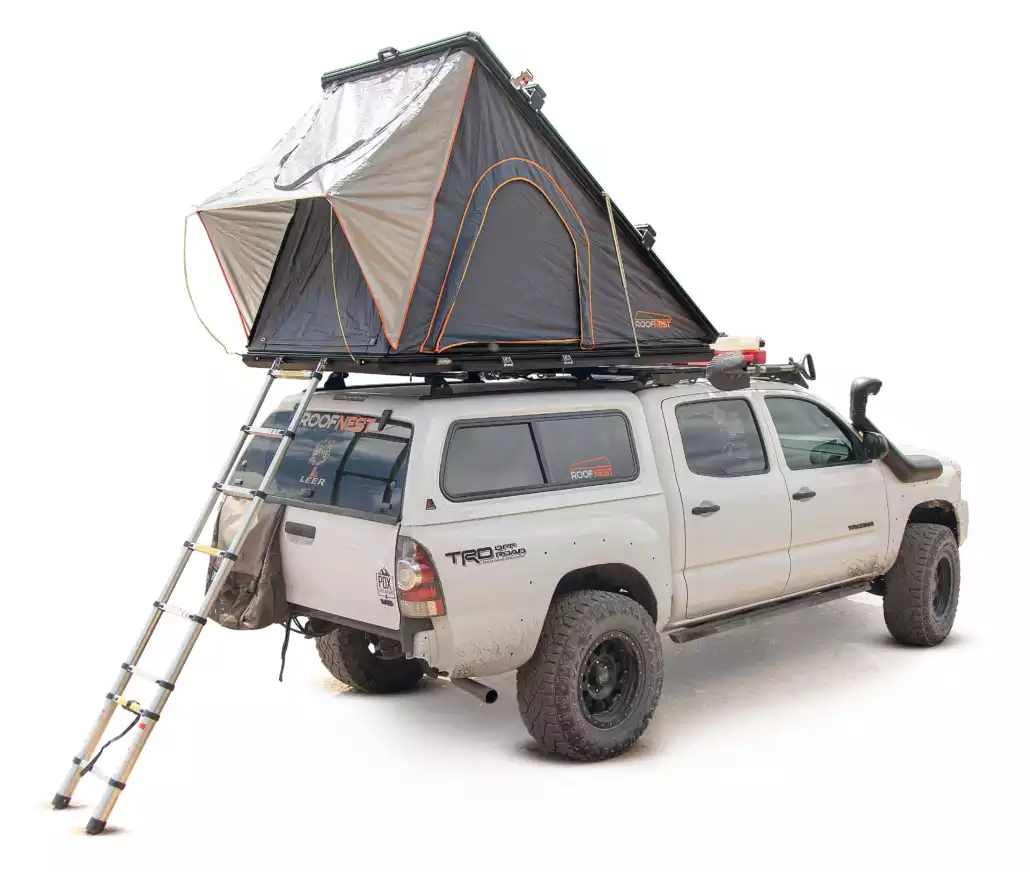 If you make a purchase, you support Hi-van.com by allowing me to earn an affiliate commission (no added cost for you).

You can also use a roof tent such as the Rough Country Roof Top Tent (available on Amazon.com) This particular tent sleeps three and fits on top of a Jeep Wrangler. 
3. You'll Need To Maintain the Car's Engine and Other Parts
Living in your Jeep Wrangler means that any maintenance problems in the car need to be addressed right away. Ideally, you'll take care of your car according to a regular maintenance schedule, preemptively protecting your car from damages. 
Your Jeep's most frequent needs will be oil changes and tire rotations, which you should do every 7,500 miles (12,070.08 km). Every 20,000 miles (32,186.88 km), you should have your brakes inspected and replace your A/C filter. 
Your Jeep's less frequent needs include front and rear axle fluid change every 40,000 miles (64,373.76 km), and a transfer case fluid change every 60,000 miles (96,560.64 km). Finally, once you reach 100,000 miles (160,934.4 km), you should inspect the belts and PCV valve. 
4. Maintaining a Jeep Wrangler Costs Significant Money
No matter how minimalistic your vision is, converting and maintaining a Jeep Wrangler as a home will be a big investment of time and money. Make sure that you have sufficient funds before committing to the idea because otherwise, you'll be left with a huge amount of debt that's difficult to recover from. 
The amount that you pay will depend on how many features you add to your car and how far you plan to drive it between stops. If you're looking for a low-cost option, you may have to make do with shorter trips and less living space. 
Gas can be quite expensive for a Jeep Wrangler, especially if you're carrying heavy equipment; make sure that you consider this. To calculate how much money your gas will cost, try an online gas calculator like the Fuel Economy Trip Calculator from the U.S. Department of Energy.
To give you a sense of how much gas normally costs for a Jeep Wrangler, know that a 2021 Jeep Wrangler gets about 21 miles (33.80 km) per gallon (3.79 L) in gas mileage without any adjustments for extra weight. It's less fuel-efficient than your average vehicle, largely due to its size and power.
5. A Jeep Wrangler Is Cheaper Than a Campervan or RV
Considering the need for modifications, a Jeep Wrangler is cheaper than a bigger vehicle made for living on the road. You can also find one at any standard car dealership, whereas you need to go to a specialized dealer to find an alternative adventure vehicle. 
For reference, an RV usually costs something like $130,000 or more, and a campervan usually costs about $70,000, even if you convert a van yourself. Even a brand new Jeep Wrangler costs less; you can find one directly from Jeep for under $30,000.
Related Article:
5 Reasons Why Camper Vans Are So Expensive
6. A Jeep Wrangler Is Your Best Choice for Off Road Trips
Although many different cars make suitable homes, a Jeep Wrangler is the best 4×4 that you can find to allow you to traverse dirt roads and stay in remote places. Cargo vans and minivans offer significant space, but they can't accommodate the need to travel across uncovered roads. 
A comparable alternative to the Wrangler is the Jeep Cherokee, a bigger car that can also take on remote roads and camping areas. However, you're likely to pay more for gas than you would with a Wrangler because it's bigger.
---
Final Thoughts
You can live in a Jeep Wrangler. Overall, it's a spacious and hearty vehicle that makes for a good home on the road. However, keep in mind that it'll need regular maintenance and that you'll likely want to make a few adjustments to the car before committing to living in it full time. This can be quite an investment of time and money.
Find this content useful 🙂 ?
Subscribe to our Newsletter and get a free electric diagram + shopping list.