Hi-van is supported by its audience. When you purchase using our links, we may earn an affiliate commission (no added cost to you). Learn more
Living in an Expedition vehicle is not always as idyllic as portrayed by social media. Even if your rig is well-kitted out, staying in it full-time has its drawbacks. So it helps to know what to expect before you go on your extended trip.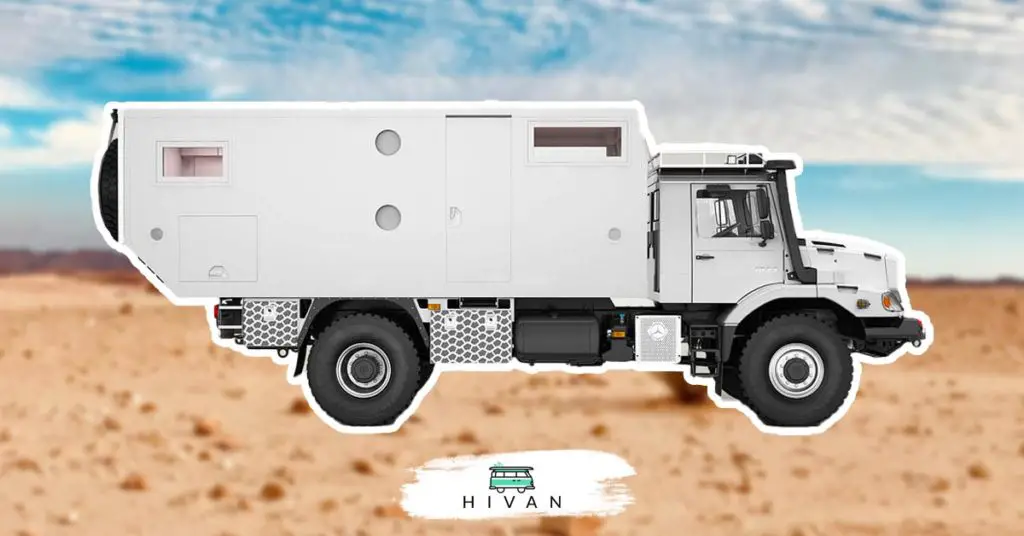 Here are the things to know about living in an Expedition vehicle:
Plan your routes.
Know where to park safely and legally.
Prioritize safety.
Find secure bathroom facilities.
Categorize your needs.
Know how to save space.
Always have a reliable power source.
Don't tire your tires.
Factor in fuel costs.
Be prepared for emergencies.
Brace yourself for cabin fever.
This post discusses living on the road full-time in an Expedition vehicle. There are numerous things to consider before embarking on this type of adventure, so read on to learn what some of them are.
---
1. Plan Your Routes
Most travelers plan routes to their destinations but neglect to check the facilities between the home base and terminus. Before any trip, plot distances between gas stations, repair shops/mechanics, rest stops, groceries/malls, dining establishments, hospitals/clinics, police precincts, and fire departments.
---
2. Know Where To Park Safely and Legally
Highway rest areas. Even if your vehicle has bathroom facilities, you may occasionally crave a bigger space, or you need a repository for cassette toilet waste. Research state laws before parking overnight because rules vary per state.
Campgrounds. Apps like The Dyrt and iOverlander show campgrounds near you.
Big box store parking lots. RVer and van lifer-friendly stores include Sam's Club, Camping World, Cabela's, Bass Pro Shops, and Cracker Barrel. Walmart is generally lenient about overnight parking, but each branch has different rules. Best to call ahead.
Public lands. It's free to camp in national parks/forests and Bureau of Land Management holdings (with rare exceptions). They offer bathroom facilities (some charge a minimal fee).
Boondocking programs. These are open to people with self-contained recreational vehicles. Boondockers Welcome connects them with private property owners allowing overnight camping. Harvest Hosts welcome camping in farms, museums, breweries, wineries, and golf courses for a one-time membership fee.
Truck stops. Most have diners, laundromats, and washroom facilities (some with hot showers). Truckers Report has a list of truck stops nationwide.
---
3. Prioritize Safety
As Expedition vehicles are conspicuous, you can't do stealth parking. So, activate your alarm system and lock all doors and windows before sleeping. If you feel unsafe for any reason, move pronto.
Lizzy VanPatten, the founder of She Moves Mountains, suggests sleeping in day clothes (not underwear, jammies/nighties, or your birthday suit) whenever parked in public areas.
You may also want to invest in a portable solar electric fence to keep animals at bay if you're out in the wild. It may also deter human intruders if you put a warning sign on it.
More info: check this article "Is living in a van dangerous? A safety guide for newbies".
---
4. Find Secure Bathroom Facilities
This tip isn't always applicable to Expedition owners because their vehicles are typically fully outfitted. But say, your built-in shower can't dispense water, or your Cinderella toilet's poop incinerator is on the fritz. It's imperative that you research all available restroom facilities between your home base and destination beforehand and the distance between each. 
Or take your cue from toilet-less van dwellers: buy a multiple-entry, all-access membership to fitness centers with nationwide facilities.
---
5. Categorize Your Needs
The next two tips are from Jorge and Jessica Gonzalez. Divide your requirements into these categories to help you choose which items to take with you:
Clothes
Cleaning equipment
Sleeping effects
Tools and emergency gear
Leisure paraphernalia
After compiling the items, divide them further into must-have, nice-to-have, and luxury.
To help you pare down further, ask these questions:
Does it fulfill a primary need (food, water, shelter)?
Is there a more efficient alternative? 
How much does it weigh? 
Is there room for it?
Is it effective in relation to its cost?
Does it work, or is it just a dippy gizmo?
How durable is it?
Can you survive without it?
---
6. Know How To Save Space
Neaten up your stuff with packing cubes and storage bins inside and cargo racks outside. The Gonzaleses recommend items like the Yakima JetStream Bar Aerodynamic Crossbars (available on Amazon.com) for their compatibility with most vehicles, multiple hauling and securing solutions, and ease of use.
To help determine an item's space-saving capability, ask these questions:
Is it a multi-use product?
Can you nest it?
Can you fold, roll, compress, or hide it in another item?
Can you strap or store it outside your Expedition?
---
7. Always Have a Reliable Power Source
If your vehicle is not outfitted with the latest accouterments, you have to prepare your power sources. Even if your Expedition is self-contained, it doesn't hurt to have a backup.
With vehicles in motion, DC-to-AC inverters provide electricity to laptops and mini-refrigerators. With stationary vehicles, solar-powered generators, like the Goal Zero's Yeti 1000x Portable Power Station, are appropriate. Pair your chosen unit with the Nomad 50 Foldable Solar Panel, also from Goal Zero. 
This combination will not only fuel your AC-power needs but also extend the life of your Expedition's alternator and battery. Both Goal Zero items can be found on Amazon.com.
More info: Looking to install a solar system to generate and store your own energy? Check these articles:
- How many solar panels do I need for my van?
- A guide to the best batteries for on the go solar
- How to attach solar panels to a van roof

---
8. Don't Tire Your Tires
Before your tires get worn out, upgrade to all-terrain tires instead of replacing their stock rubber. Outside Online's Chris Brinlee Jr recommends BFGoodrich's All-Terrain T/A KO2 Radial Tire (from Amazon.com), one of the best all-terrain, all-season tires available, which also has excellent traction in snow.
You don't even have to travel to the supplier or fitter. Companies like Tire Rack have partnerships with mobile tire installers who will accept your new tire shipment then install them wherever you are.
---
9. Factor in Fuel Costs
Expedition Portal's Christophe Noel mentions a Unimog owner who racked up over $7,000 in fuel costs making a round trip from Indiana to Argentina. Your Expedition's mileage use may be modest, and you probably won't want to go that far. Still, it helps to familiarize yourself with its capacity, so you can budget expenses accordingly. 
---
10. Be Prepared for Emergencies
Even if your Expedition is brand-spanking new, it's going to conk out at some point. It may even get burglarized. But these realities come with freedom on the road.
So be prepared. You can't depend on AAA in all circumstances. Study and practice doing basic repairs and maintenance. Know how to get your vehicle out if it gets stuck. 
You'll stay calm if anything untoward happens because you know what to do. Add to your self-sufficiency by investing in these life-saving tools.
Must-Haves for Emergencies
Outside Online's Ty Brookhart suggests these essential accessories for emergencies available on Amazon.com:
A satellite communicator like the Garmin inReach Mini is indispensable where there's no mobile communications signal. This device allows you to do two-way texting via the global Iridium network. With a satellite subscription, you can trigger an SOS to the search and rescue monitoring center.
Mechanic's tool kit
Automotive fire extinguisher
Various kinds of tape, cable ties, bonding agents
Crank-up radio (When high-tech is on the blink, go low-tech.)
Portable jump-starter
Jerry can
The portable Kensun D1001 AC/DC Heavy Duty Multi-Function Air Compressor Tire Inflator has three nozzle adapters that let you inflate all kinds of tires, toys, sports gear, and camping equipment.
For consumer safety, this Hi-lift jack has a shear bolt that prevents it from being used on loads heavier than 3,175 kilos/7,000 pounds.
Vehicle recovery gear like the Smittybilt towing and recovery strap is useful for pulling machinery, moving waste, and towing vehicles.
The Tooluxe 50002L Universal Heavy-Duty Tire Repair Kit is beneficial for fixing punctures and plugging flats.
Uncharted Supply Co's Seventy2 Emergency Preparedness Kit is encased in a backpack of military-grade tarpaulin able to withstand the toughest conditions. Its polyurethane shell is 100% waterproof.
Essential Additions
A full-sized spare tire 
Extra fuel
Spare keys
Several flashlights
Batteries and chargers
An extra gallon of water per person per day
Cash hidden in separate places
Vehicle manual (print and electronic)
Spare parts that frequently fail
---
11. Brace Yourself for Cabin Fever
No matter how glitzy or spacious your Expedition is, there will come a time when you and your companions will get on each other's nerves. The diminished real estate may be fun at first (like a pajama party), but it can get old after some time.
The solution? Ben Jamin and Leah Jade, the authors of Off Grid & On the Move: An Expert's Guide to Vehicle Dwelling and Nomadic Living, suggest dividing your time equally between inside and outside the vehicle. Make a pact with your travel mates that whenever you're outdoors, each one should set aside a "corner of solitude." This will give the breather necessary for cramped communal living.
Find this content useful 🙂 ?
Subscribe to our Newsletter and get a free electric diagram + shopping list.