Hi-van is supported by its audience. When you purchase using our links, we may earn an affiliate commission (no added cost to you). Learn more
Living a van life is fantastic and one of the most unique experiences you could have. However, owning a campervan comes with many responsibilities. This includes maintaining the water tank and knowing how to deal with it when it freezes.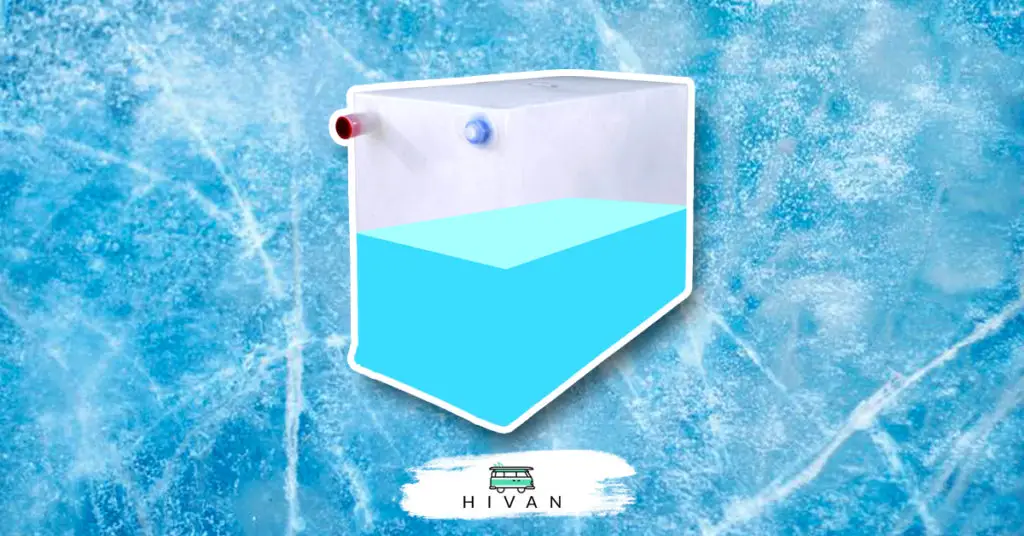 Here's how to keep a campervan water tank from freezing:
Dismantle the water tank and the water supply connection.
Use a ceramic cartridge heater to activate heating.
Insulate and protect the fresh water tank.
Drain the plumbing correctly.
Let the water faucet run for a short amount of time.
By reading this article, you'll undoubtedly learn how to prevent your campervan water tank from freezing during the cold and wintertime periods. These tips and advice will surely help you when these times arise. 
---
1. Dismantle the Water Tank and the Water Supply Connection
There are quite a few ways in which you can help your campervan's water tank. The tip provided on this site is "eliminating the use of the local water supply."
This is a very popular option during the wintertime, especially if you're camping in a park that no longer uses the water tank in that season.
You'll most likely park in campgrounds, so you should take advantage of what they offer you and your campervan.
After all, who wants their water tank to freeze during the winter and potentially cut you off from using hot water!? No one! 
In order to do this properly, fill your water tank completely, then disconnect the water hose from the main water supply line. Be sure you keep the water house somewhere safe to prevent it from freezing.
You should also be aware of emptying all of the other water tanks. Oh, and don't forget to close the sewer valves!
As a precaution, limit the amount of water you use from your tank, and try to stick to using the water supply at the camp in which you've parked.
After all, you should be parked in a place that has excellent amenities, so don't hesitate to use them.
---
2. Use a Ceramic Cartridge Heater To Activate Heating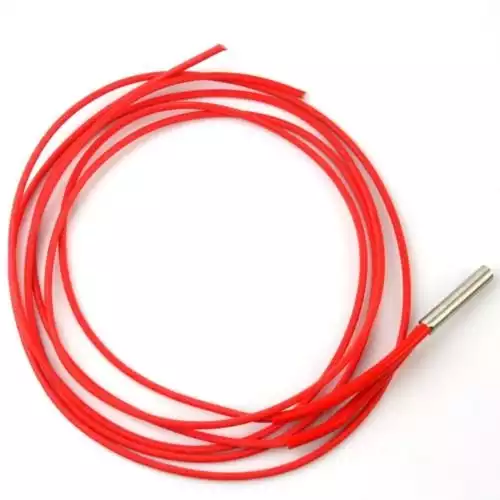 If you make a purchase, you support Hi-van.com by allowing us to earn an affiliate commission (no added cost for you).
A ceramic cartridge water heater made of stainless steel material such as the Balance World Inc Wire Heater (available on Amazon.com) is a simple product that can help you keep your water tank nice and warm, therefore preventing it from completely freezing over.
All you need to do is to put it in the water tank and activate its wattage settings.
It'll boil the water, and hopefully, that'll do the trick for you.
If it doesn't work, then definitely try the other methods provided in this article. I'm sure something will be of great benefit to you. 
---
3. Insulate and Protect the Fresh Water Tank
You can also insulate your water tank, which is a process you will likely have to do yourself. 
If you enjoy doing manual labor and are very handy, you may actually enjoy doing this project.
You'll be able to use the following on your water tank to insulate it properly: 
"Half-inch (1.27 cm) Polyiso under the tank
One inch (2.54 cm) on the two sides
Half-inch (1.27 cm) styrofoam on the front wall
One inch (2.54 cm) Polyiso on the back wall."
Try this out for yourself, and see if it works! 
Alternatively, here's an excellent tutorial on YouTube about how to keep your fresh water tank from freezing during the winter in an RV camper van:
I recommend watching this because I believe it'll provide some invaluable tips about how to keep a campervan water tank from freezing.
If other people provide fantastic information for free online, it's best to watch it and see if you can learn something from it. 
So take a look and check it out! At best, you've gained useful knowledge about fixing a potential problem on your water tank. At worst, you've wasted five minutes of your time.
---
4. Drain the Plumbing Correctly
In order to use this option effectively, you need to know exactly how to drain the plumbing.
Let's break it into simple steps so it'll be very easy to understand. The steps are as follows:
Locate the tank isolation valve. If you have difficulty in finding it, you can take a look at the picture, which is linked right here. Once you find it, you need to open the valve. Are you ready for the next step? Let's do it!
Locate the galley sink faucet. When you find it and are sure it's the right thing, all you need to do is open it.
Now you pump. Okay, here's the last step. Pump and once only air remains and is the only thing coming out, you know you have drained the plumbing. Well done!
---
5. Let the Water Faucet Run for a Short Amount of Time
This last option is really quite simple!
What you need to do is to keep your water faucets running for a period of time. What's very interesting is that "moving water is less likely to freeze."
Empty all of your tanks, and then open your sink drains and run your bathroom and kitchen faucets.
If you're concerned about wasting water unnecessarily, then please don't resort to this method. 
It's recommended only to do it if you really need to and want to be absolutely certain your water tank does not freeze when you need to use it the most.
---
Key Takeaways
Owning a campervan is a great privilege. Keeping it operative and functioning is necessary to truly enjoy all that it offers you and your lifestyle.
So keeping your water tank from freezing is integral to your enjoyment of living in the campervan.
These tips will help you a great deal:
Disconnect the water hose.
Get heating products and use those.
Create your own insulation system.
Drain everything related to the plumbing.
Run the water faucets.
I hope this article helped provide you with great tips so that you can keep on living it up in your campervan!
Find this content useful 🙂 ?
Subscribe to our Newsletter and get a free Solar Electric Diagram + shopping list.